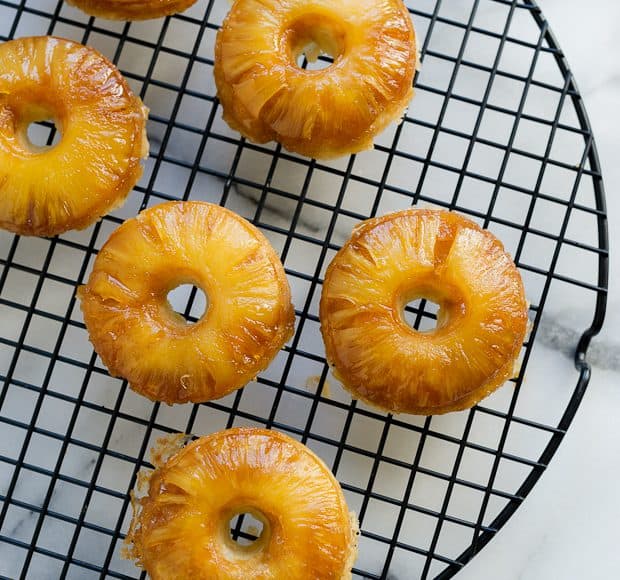 Pineapple Upside Down Cake Doughnuts
Every so often I pull out a little black folder tucked in the bottom of my desk drawer. I take it to the couch or into my bed, and with the same sense of calm as reading a novel, I sift through the hodgepodge of…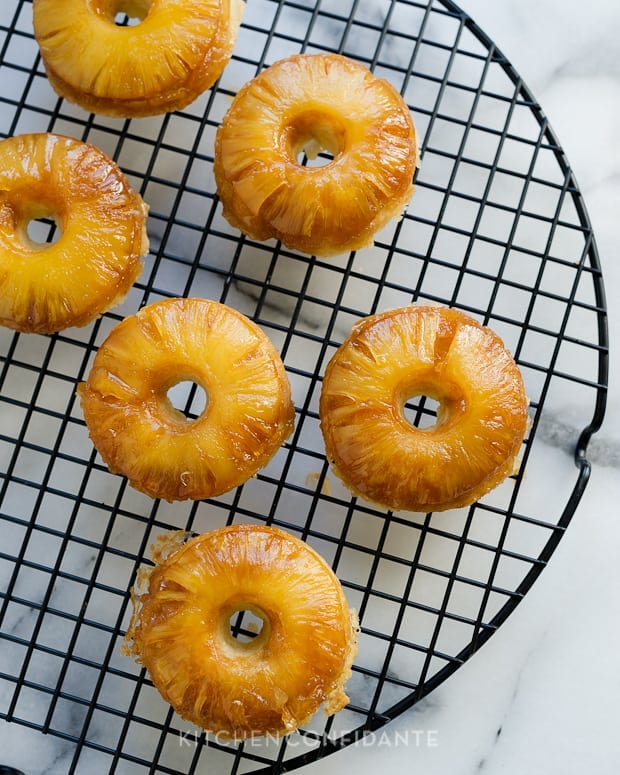 Pineapple Upside Down Cake Doughnuts
Every so often I pull out a little black folder tucked in the bottom of my desk drawer. I take it to the couch or into my bed, and with the same sense of calm as reading a novel, I sift through the hodgepodge of papers…recipes…from my mother. Some are laminated index cards with her handwriting in blue ink, cleanly written. Some are torn scraps of paper, franticly scribbled, as though she were in a rush. I imagine her taking these notes as she watched The Frugal Gourmet or Julia or Martin Yan. Then there are the magazine clippings, the newspaper food sections, yellowed with age.
I stopped at one the other night. On one side, ads for the local grocer, where you could buy fillet mignon for $2.38 a pound and cucumbers were 5 for 49 cents. A rotisserie chicken was $1.99 each. Each. On the other side, were several recipes for Pineapple Upside Down Cake. There was a version from 1925, another from Dole, and another for the skillet.
It brought me back to her Pineapple Upside Down Cakes. She favored crushed pineapples over slices, and the cake itself always had a lovely crumb. I've often wondered which of these versions she liked best.
As I reminisced, I had a vision of Pineapple Upside Down Cake Doughnuts. The little canned slices seem to be begging for it, don't you think?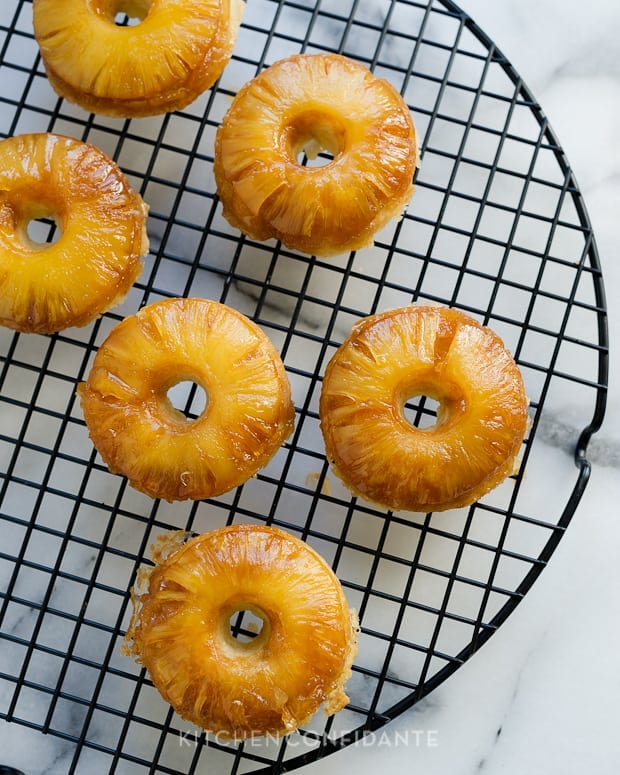 I baked a batch yesterday, and was so excited I just had to share them right away. I think you'll forgive me for not posting my intended healthy recipe and letting this skip the queue. Between nostalgia and sweet euphoria, I couldn't resist.
Pineapple Upside Down Cake Doughnuts
There's nothing more retro (and nostalgic) as Pineapple Upside Down Cake. The adorable round rings just lend itself perfectly to be made as baked doughnuts!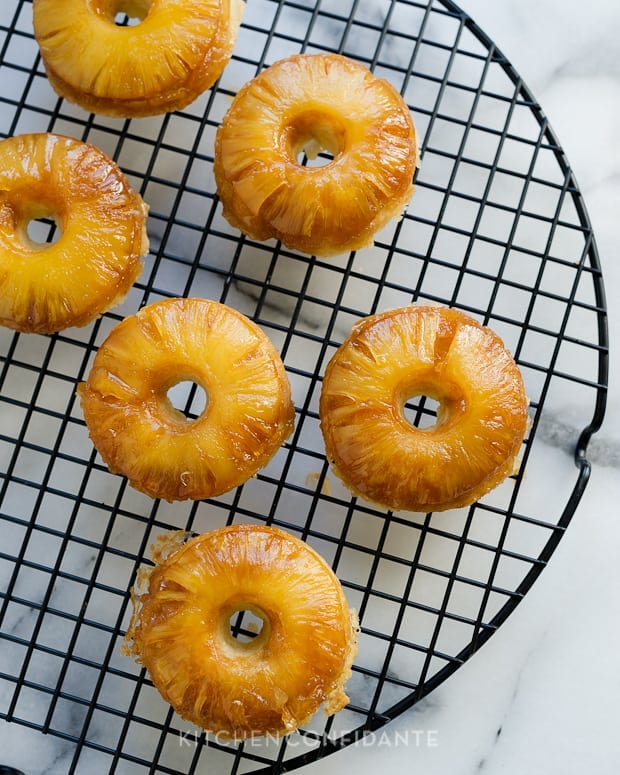 Print Recipe
Ingredients
1/4 cup butter
1 cup brown sugar
1 15 oz can sliced pineapple, drained
1/2 cup butter
1/2 cup granulated sugar
1 large egg
1 1/2 cups all-purpose flour
2 1/4 teaspoons baking powder
1/4 teaspoons salt
1/2 cup buttermilk
1/4 teaspoon vanilla extract
Instructions
Preheat the oven to 350 degrees.
In a small saucepan, melt the butter over medium heat. Stir in the brown sugar until it is moist. Spread in the bottom of your doughnut pan.
Sliced the drained pineapples in half into thinner rings. Place the rings in the doughnut pan and press into the brown sugar.
In the bowl of an electric mixer, beat the butter until it is creamy. Add the sugar and continue beating until fluffy. Add the egg and beat until it is fully incorporated.
In a separate bowl, whisk together the flour, baking powder and salt. In a measuring cup, stir in the vanilla into the buttermilk. Add the flour mixture in increments to the butter mixture, alternating with the milk. Beat until just combined.
Fill the doughnut pan about 2/3 full. Bake for about 18-20 minutes or until golden brown. Gently remove the doughnuts from the pan by inverting onto a plate.
Let it cool on a wire rack...or enjoy immediately.