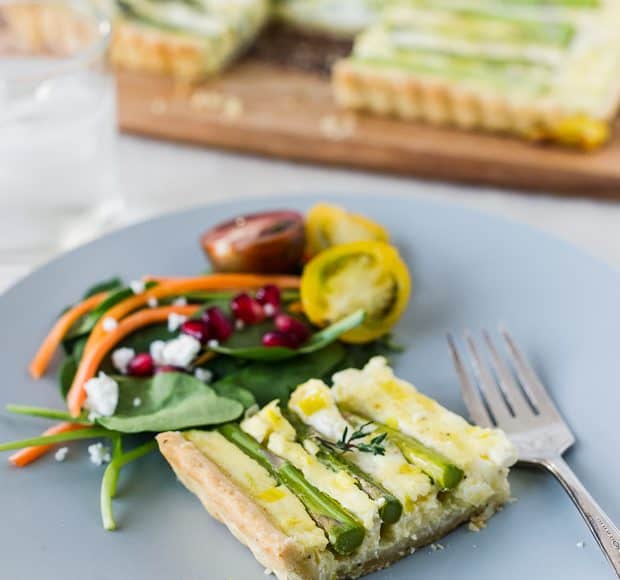 Buttermilk Asparagus Quiche
Try making quiche with buttermilk instead of heavy cream. This recipe for Buttermilk Asparagus Quiche lightens up a classic dish with a simple swap.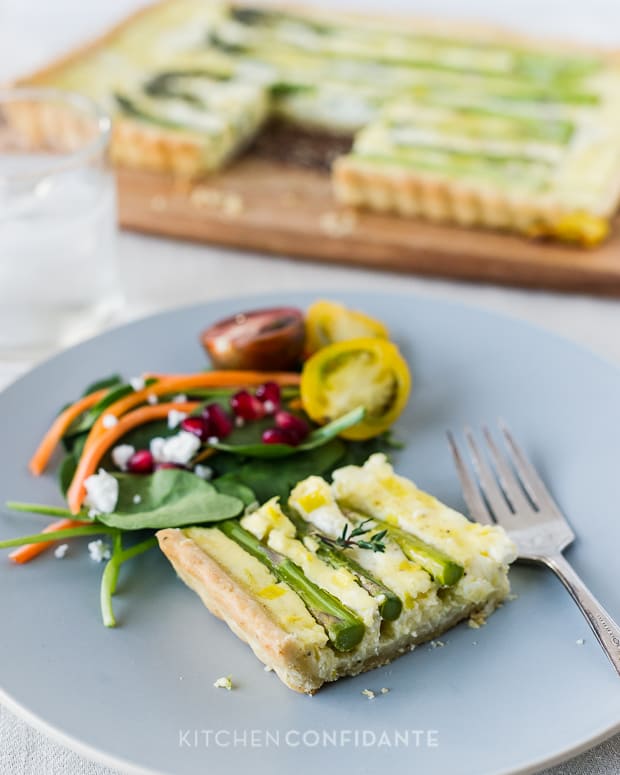 Buttermilk Asparagus Quiche
This simple recipe for a Buttermilk Asparagus Quiche (with a from-scratch crust too) lightens up a classic dish through the use of buttermilk instead of heavy cream. Fresh stalks of asparagus provide a pop of color and flavor that you will love.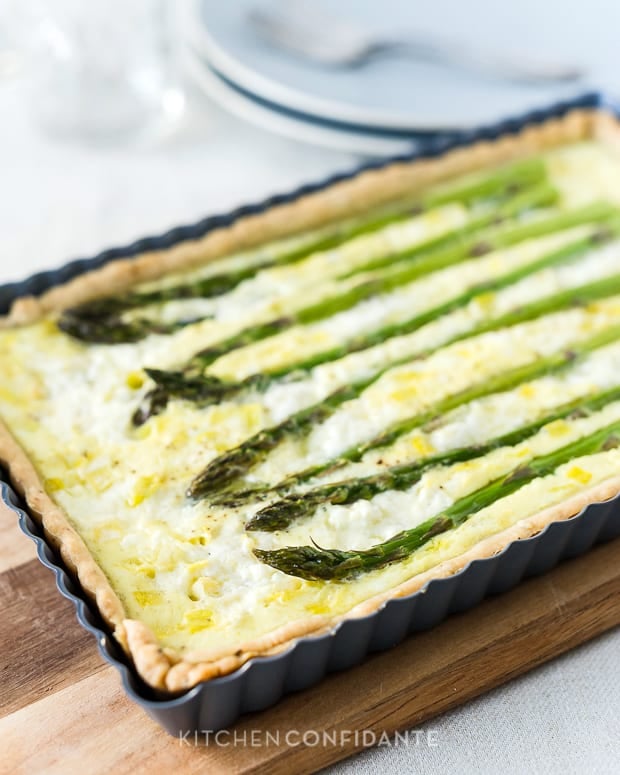 This post first appeared on April 7, 2013 and featured on Wayfair.com. I hope you enjoy this favorite from my kitchen!
If you asked me as a little girl to name my favorite color, I wouldn't hesitate. Little Liren would have gushed, "lavender!" in a heartbeat. I dreamed of a lavender bedroom, from ceiling to carpet, fluffy pale violet sheets, maybe a splash of mauve mixed in. I never did get to renovate my room in that dream color. And I never understood my father's penchant for green. Green carpet, green car, it all seemed quite ugly to me.
These days, as I drive through the hills splashed with spring rain, I say a silent prayer of thank you for the verdant green that surrounds this valley…how I wish the emerald hills could last all year long! Here in Northern California, once the rains end, we do not see another drop until late fall, and the hills turn into golden mounds. While beautiful in its own way, I am always sad to say so long to the hills of spring.
I do understand now the beauty of green.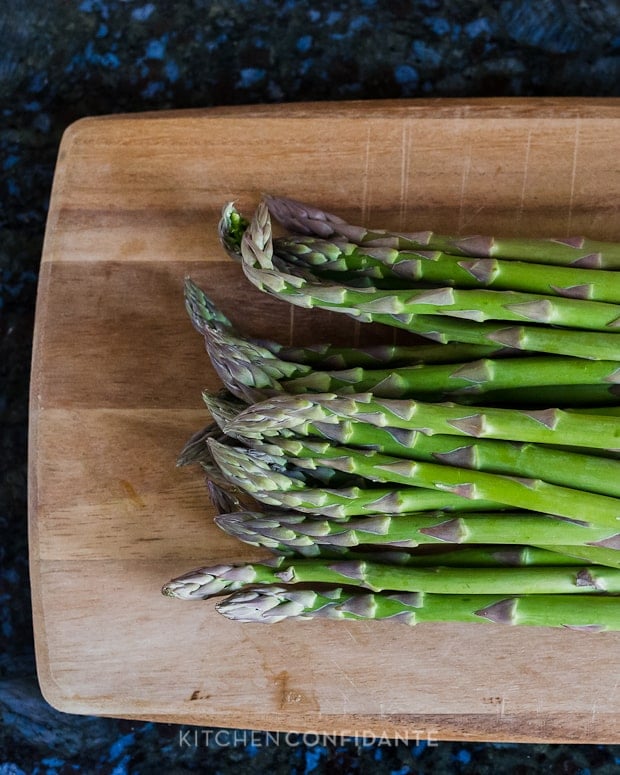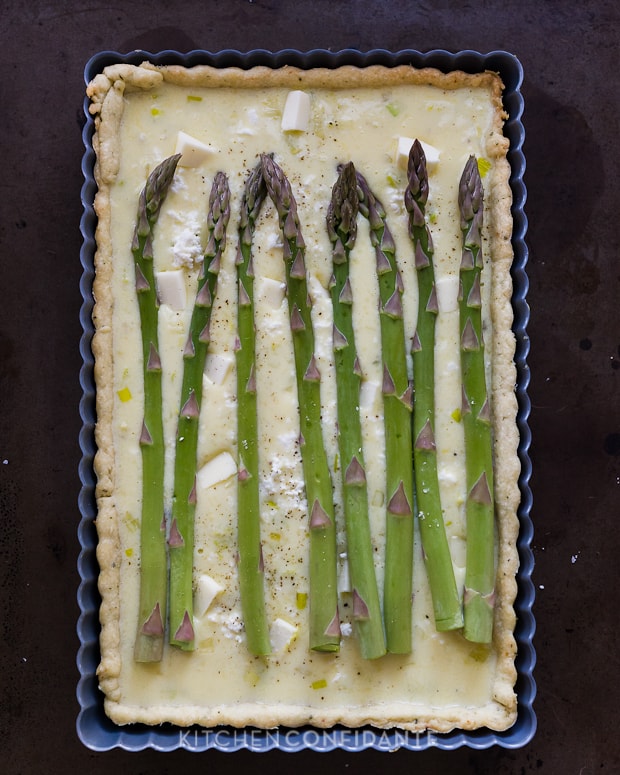 Now is the time to embrace the freshness of spring and all things green: the hills, the leaves budding on the trees, and vegetables like English peas, artichokes, and asparagus.
In this Buttermilk Asparagus Quiche, the buttermilk makes for a lighter quiche that does not leave you with a haunting guilt from heavy cream. It's just the type of spring quiche that would be perfect for a brunch or a picnic lunch where you could linger, toes wiggling in the cool green grass.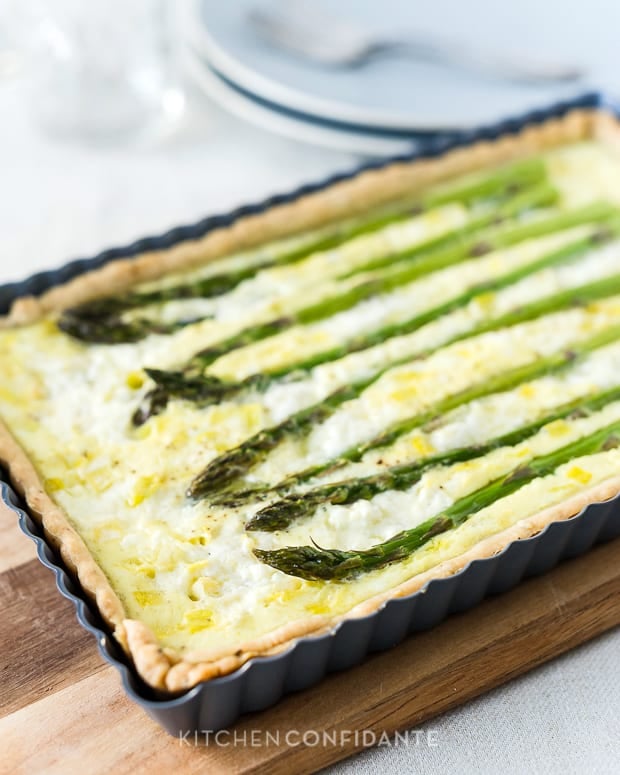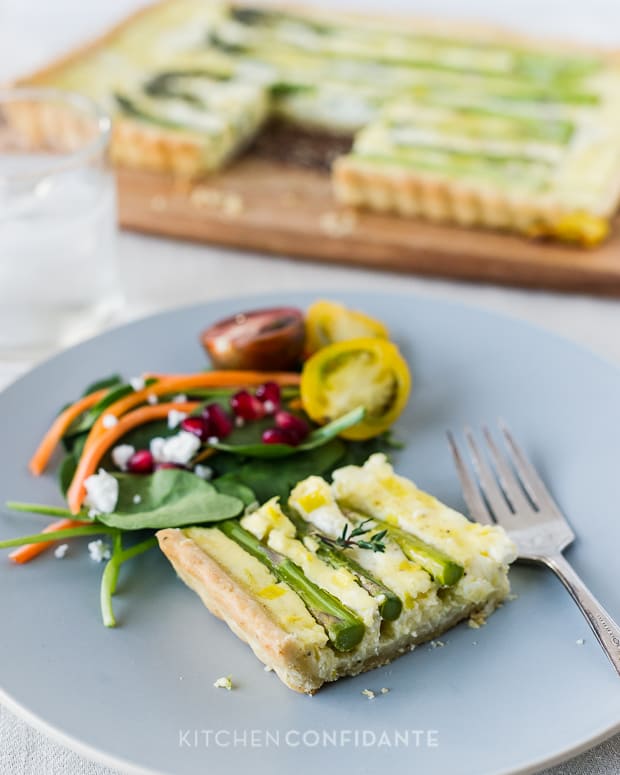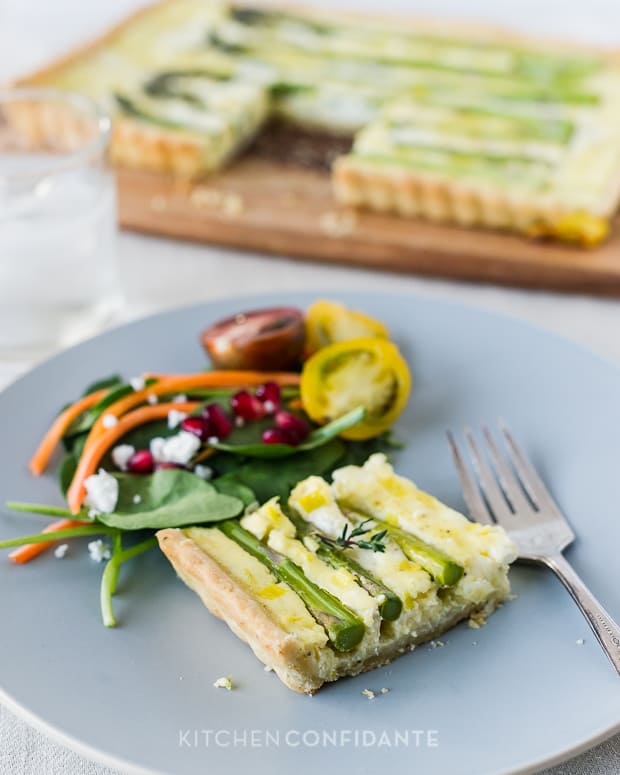 More Great Brunch Recipes
Apple Oatmeal Blender Waffles
Tater Tot Breakfast Casserole
Sheet Pan Banana Pancakes
Breakfast Tortilla Pie
Scottish Smoked Salmon Bagel with Scrambled Eggs
Buttermilk Asparagus Quiche
The use of buttermilk instead of heavy cream in this simple Buttermilk Asparagus Quiche lightens up a classic dish. Fresh stalks of asparagus provide a pop of color and flavor that you will love. This recipe will make one 11×7-inch rectangular or one 10-inch round quiche.
Ingredients
For the Crust:
1 1/2

cups

all-purpose flour

1/2

teaspoon

kosher salt

8

tablespoons

(1 stick) unsalted butter

chilled and cut into small pieces

1

tablespoon

fresh thyme

1

shallot

minced

3

tablespoons

ice water
For the Filling:
1

leek

sliced and cleaned

4

tablespoons

butter

divided

kosher salt

to taste

3

large eggs

1 1/2

cups

buttermilk

1/8

teaspoon

freshly ground pepper

pinch

nutmeg

1/4

cup

feta cheese

or your favorite cheese, grated

6

stalks asparagus

ends trimmed
Instructions
Prepare the crust:
In the bowl of a food processor, combine the flour and salt. Process the butter for about 10 seconds, until the flour mixture looks like course crumbs. Mix in the thyme and shallot, pulsing for a few seconds to combine. With the motor running, add the water, one tablespoon at a time, until the dough just begins to ball together. Take care not to make the dough too wet.

Place the dough on a sheet of plastic wrap and form a disk. Cover and chill in the refrigerator for at least 30 minutes. This can be done the day before.
Make the quiche:
Preheat oven to 375°F. Butter your quiche pan or lightly coat with baking spray, if necessary. This recipe will make one 11 x 7-inch rectangular quiche or one 10-inch round quiche.

Roll out the dough to the shape of your quiche pan. I like to roll the dough between two sheets of plastic wrap, as it is easier to manage. When the dough is the correct shape and about 1/8 inch thick, gently place the dough into the pan, pressing it into place. Trim the excess dough from the edges, but not too much as the dough will shrink slightly. Use a fork to prick the dough lightly in a few places. Place the quiche pan on a baking sheet and bake for about 8 minutes.

Meanwhile, prepare the filling. In a small pan, melt 3 tablespoons of the butter over medium low heat. Add the leeks and a pinch of salt, and cook until the leeks are wilted. Remove from heat.

In a small bowl, whisk together the eggs, buttermilk, pepper and nutmeg. Season with salt to taste (I used about 1/2 teaspoon). Stir in the leeks. Pour into the partially baked pastry crust. Sprinkle with feta cheese, season with pepper, and distribute the remaining butter. Arrange the asparagus on top.

Bake for about 25 minutes, or until the quiche is puffed and golden brown.
Nutrition
Calories:
624
kcal
|
Carbohydrates:
46
g
|
Protein:
15
g
|
Fat:
43
g
|
Saturated Fat:
26
g
|
Polyunsaturated Fat:
2
g
|
Monounsaturated Fat:
11
g
|
Trans Fat:
1
g
|
Cholesterol:
231
mg
|
Sodium:
816
mg
|
Potassium:
354
mg
|
Fiber:
3
g
|
Sugar:
6
g
|
Vitamin A:
2052
IU
|
Vitamin C:
7
mg
|
Calcium:
214
mg
|
Iron:
4
mg