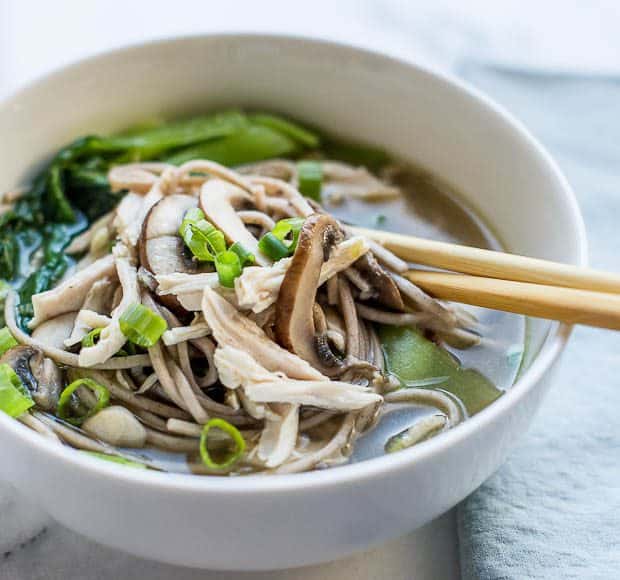 Chicken Mushroom Soba Noodle Soup
I think I'm finally starting to get excited. About autumn, that is. A few weeks ago, when I spied the first pumpkins next to the watermelons and cantaloupe at the markets, I shook my head in disappointment. I have been holding on to summer for…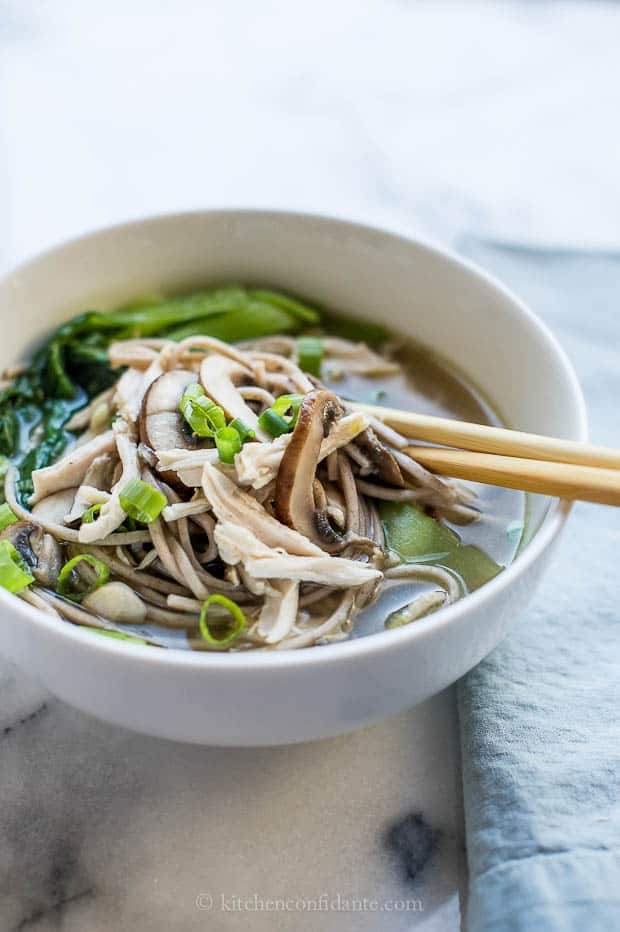 Chicken Mushroom Soba Noodle Soup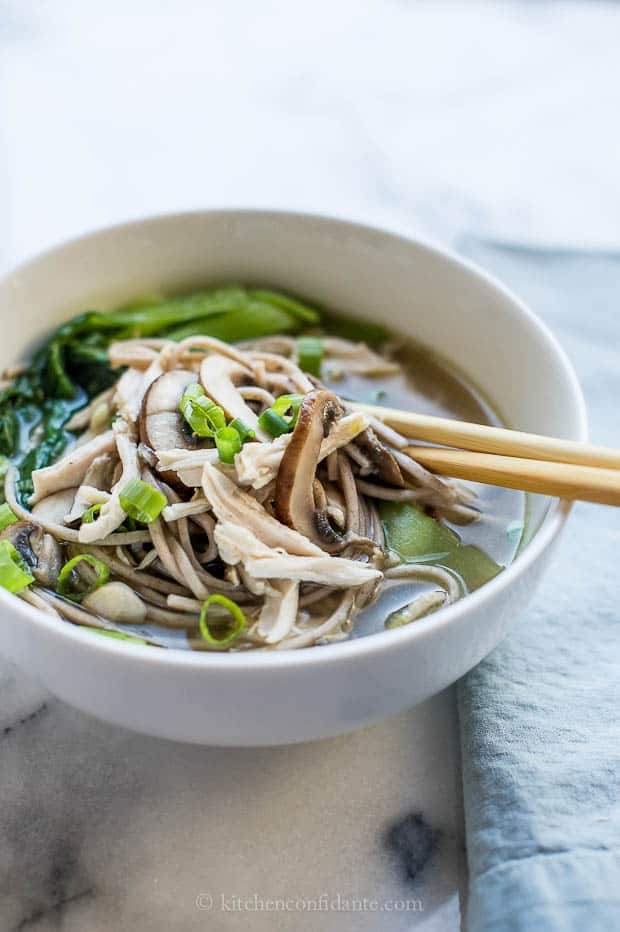 I think I'm finally starting to get excited. About autumn, that is.
A few weeks ago, when I spied the first pumpkins next to the watermelons and cantaloupe at the markets, I shook my head in disappointment. I have been holding on to summer for dear life. As the evenings grew chillier, I grumbled when it was time to put the "winter" weight comforter on the bed. The darkness at 6 am greeted me when I woke and I sighed in dismay.
But then I spotted the candy corn at the checkout line.
That helped.
And then I started thinking of leather boots and cozy sweaters. And the corners of my mouth twitched, curling up into a little smile. And even though fall weather is not quite here yet, I have been warming up with noodle soups. In fact, this whole week, it's been one soup after another.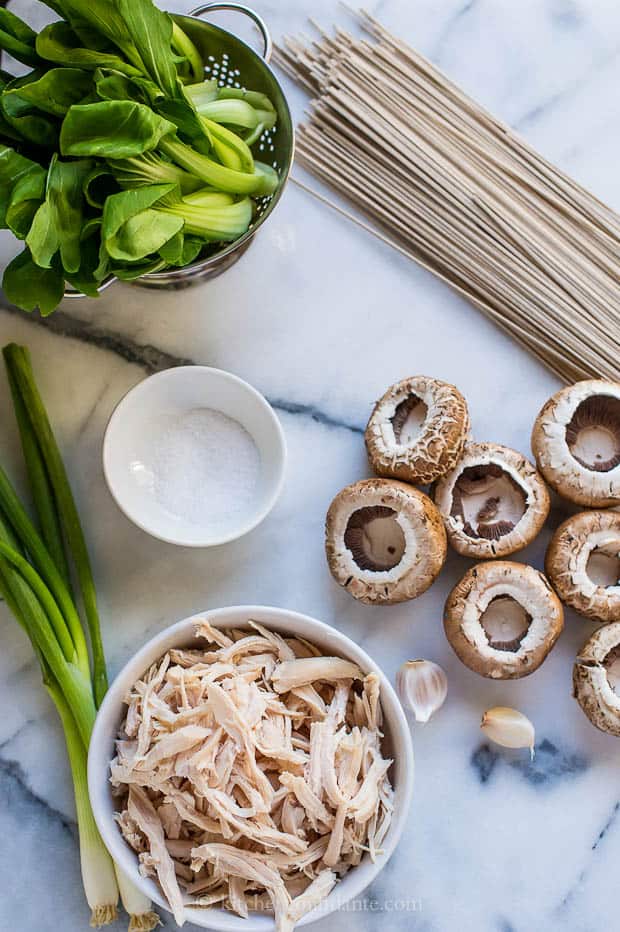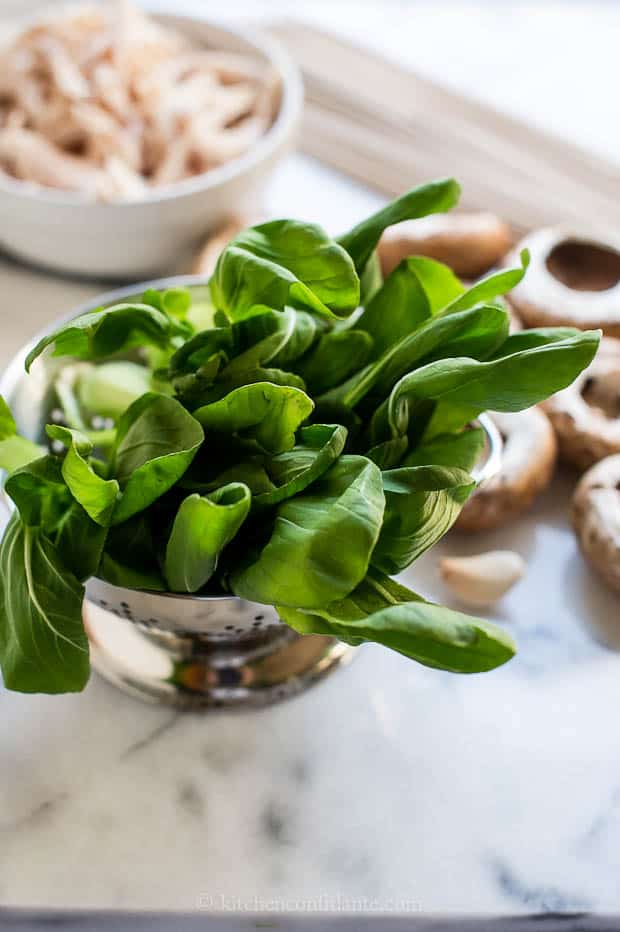 Tonight, I revisited pho and shared some with a friend. And earlier this week, it was all about soba.
This Chicken Mushroom Soba Noodle Soup came about because of leftovers. Our Sunday rotisserie yielded more chicken than I expected, so I shred the leftovers and decided to reincarnate it in soup. A simple soup that makes for easy cooking mid week, I do think the best part is that half the work is already done for you. And as afternoons grow shorter and daylight more precious, I'll take any shortcut I can get.
What do you like to do with leftover chicken?
Chicken Mushroom Soba Noodle Soup
If you have leftover chicken from a roast or rotisserie, then perfect! Give it new life with this soup. But if not, then you can certainly poach some chicken breast as you start the soup.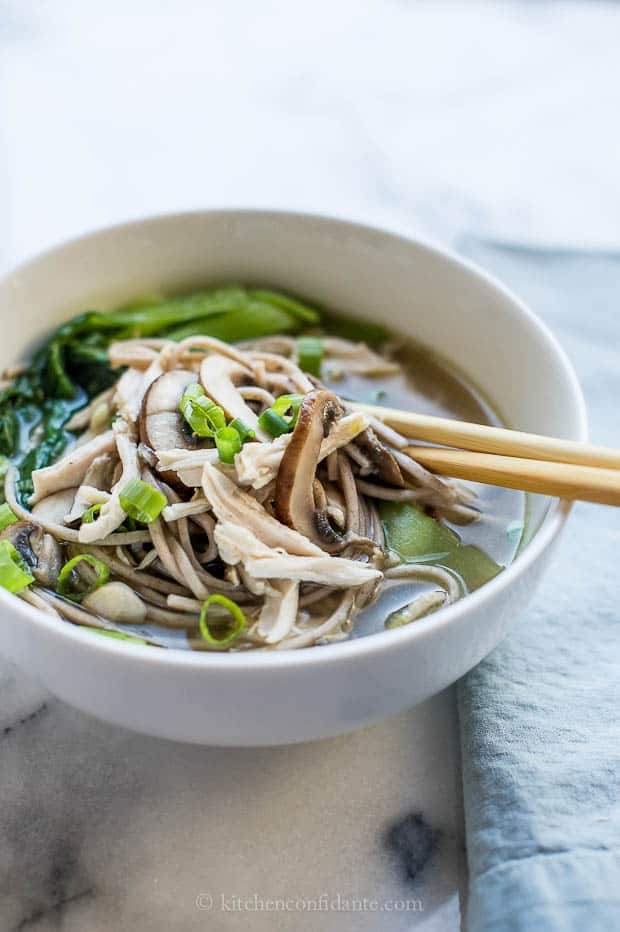 Print Recipe
Ingredients
2 tablespoons canola oil
2 cups mushrooms (shiitake or cremini work well)
4 scallions, greens separated from whites and sliced
3 garlic cloves, minced
1 1-inch piece ginger, peeled
Kosher salt, to taste
5 cups reduced sodium chicken broth
2 cups water
4 oz soba noodles
2 cups shredded chicken
12 oz baby bok choy, ends trimmed
juice of 1 small lime
1 tablespoons low sodium soy sauce
Instructions
In a stockpot over medium heat, heat the canola oil. Add the mushrooms, scallion whites, garlic and ginger. Season lightly with salt and cook until the mushrooms are soft, about 5 minutes. Add the chicken stock and 2 cups water and bring to a boil. Add the soba noodles and cook for 5 minutes. Add shredded chicken and bok choy and cook for about 2 minutes more. Squeeze in the lime juice and stir in the soy sauce. Ladle into bowls and serve topped with scallions greens.