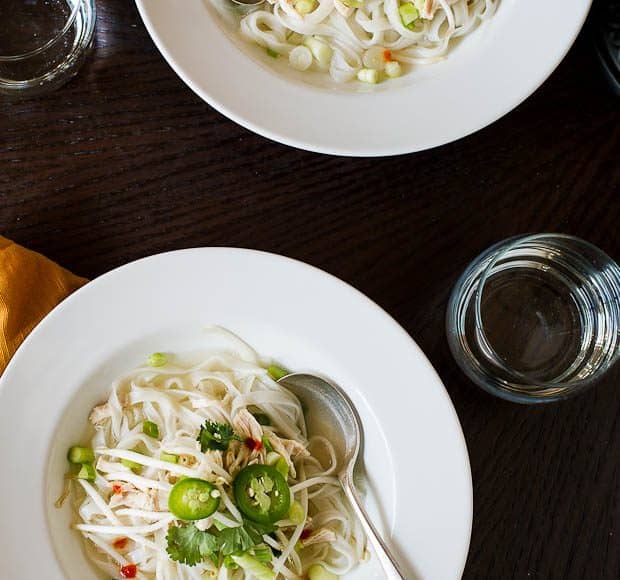 Chicken Pho + Le Creuset 7 1/4-Qt Dutch Oven Giveaway
In the weeks leading up to my sister's wedding in Southern California, we were busy wrapping all sorts of loose ends up on this side. Between various projects and drama camp performances, dress alterations and wedding favor packaging, business trips and hair cuts, the end…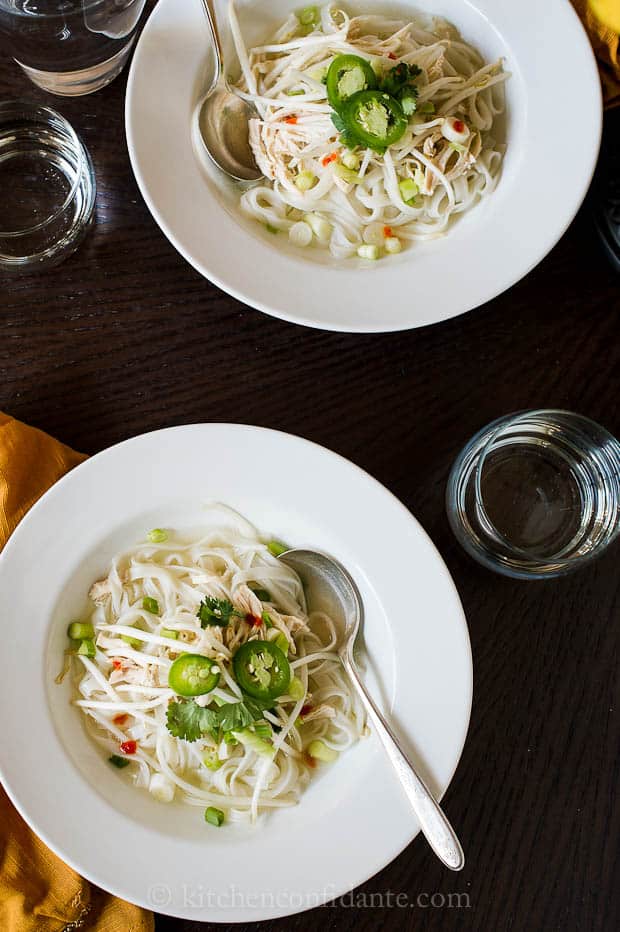 Chicken Pho + Le Creuset 7 1/4-Qt Dutch Oven Giveaway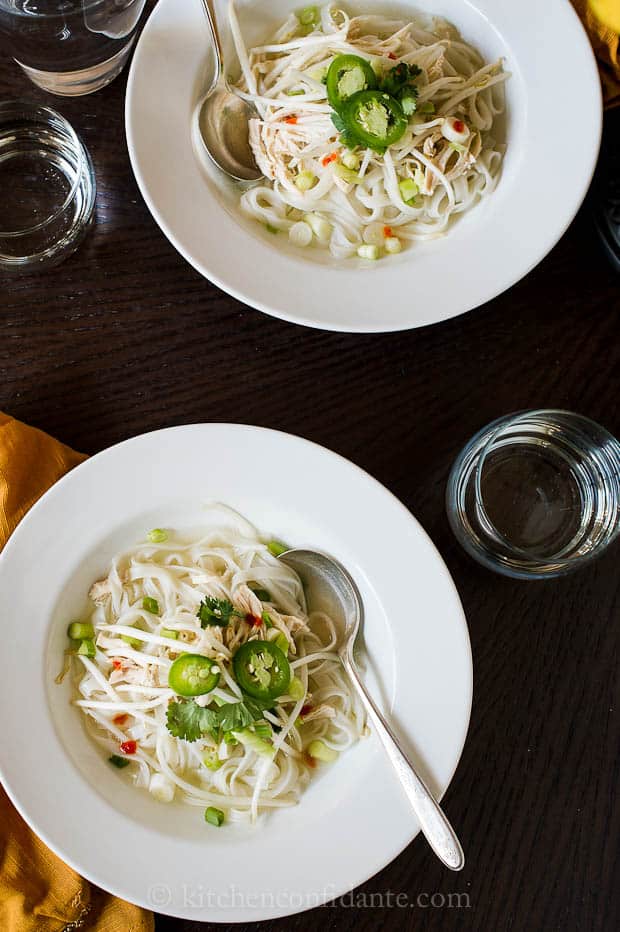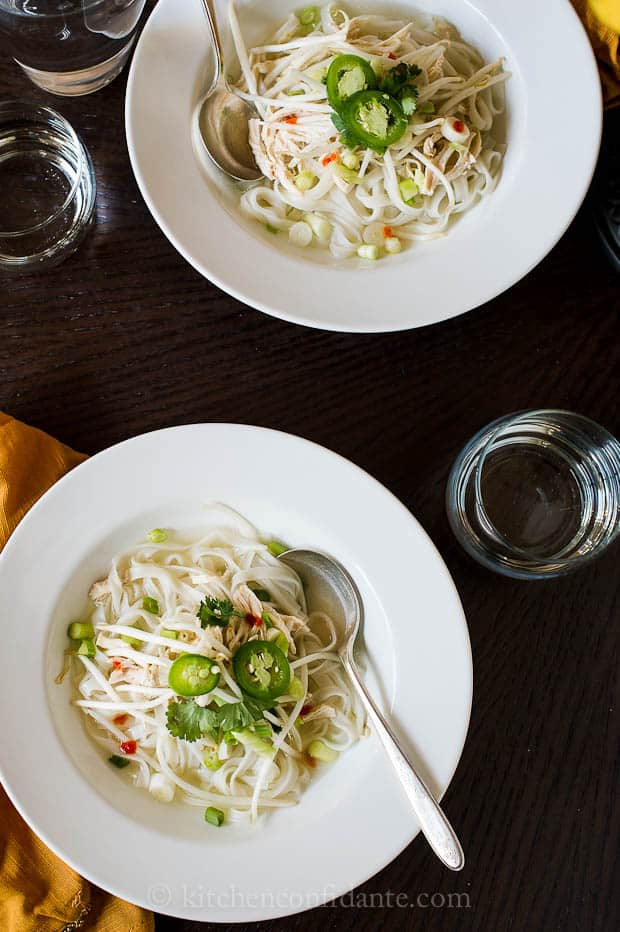 In the weeks leading up to my sister's wedding in Southern California, we were busy wrapping all sorts of loose ends up on this side. Between various projects and drama camp performances, dress alterations and wedding favor packaging, business trips and hair cuts, the end of July was go go go. So it came as no surprise when one after another, my son, daughter and I became sick. It may have been an amazingly busy and fulfilling summer, but our bodies called for rest.
It was time for soup. Never mind that it was hot outdoors, Chicken Pho seemed like just what we needed. The kids loved twirling the long, flat noodles round their forks, and I certainly appreciated the clear and flavorful chicken broth, laced with ginger to sooth my stomach and spicy heat from the jalapeno to help me breath deeper. Each sip nursed me back to health.
I was ready for wedding celebrations in no time.
It's time for my final Wedding Registry Kitchen Must-Have Giveaway! I l-o-v-e my Dutch Oven and know you will too. Soups and stews, wintery braises, deep frying, and even no-knead breads – there's nearly nothing this heirloom quality piece will not do well. I know you will love this Le Creuset 7 1/4-Qt Dutch Oven, and I'm so excited to be able to share one with one of you!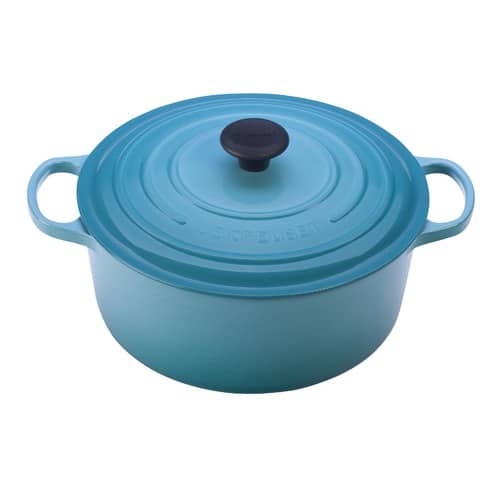 Wedding Registry Kitchen Must-Have Giveaway :: Le Creuset 7 1/4-Qt Dutch Oven Giveaway
This giveaway is now closed. Sincerest thanks to everyone for entering – I truly enjoyed reading all your responses! Congratulations to Gina M, winner of this Le Creuset Dutch Oven!!!
Ready to enter? Here's how:
Please leave a comment below and feel free to share: What will you stir up in this dutch oven?
Bonus entry: Share this page on Facebook and leave another comment saying so.
Entries/Comments accepted until 10 pm Pacific, Sunday, 19 August, 2012.
One winner will be randomly selected and notified by email.
This contest is open to US residents only, my apologies to my international friends!
Disclosure: In celebration of their newly launched Wedding Registry, Wayfair is generously sponsoring this giveaway by giving one winner a Le Creuset Dutch Oven. I am grateful to the for their support and for making this giveaway possible. The author was not compensated for this post/giveaway. All opinions are strictly my own.
Please check out my Top Ten Wedding Registry Must Haves for my personal picks when starting out in the kitchen!
Thanks to all who have been part of these giveaways so far, I have really been enjoying your comments and ideas. And congratulations to our winners thus far! Becca H is now the owner of a shiny new All-Clad Stainless 3Qt Sauté Pan, and Rebecca L, is the winner of the Cuisinart Custom 14-Cup Food Processor. Happy Cooking!
In Charles Phan's original recipe, he calls for roasting the vegetables prior to adding it to the soup stock. With summer temperatures as high as they are, I opted to not fire up the oven and simply started the stock on the stove.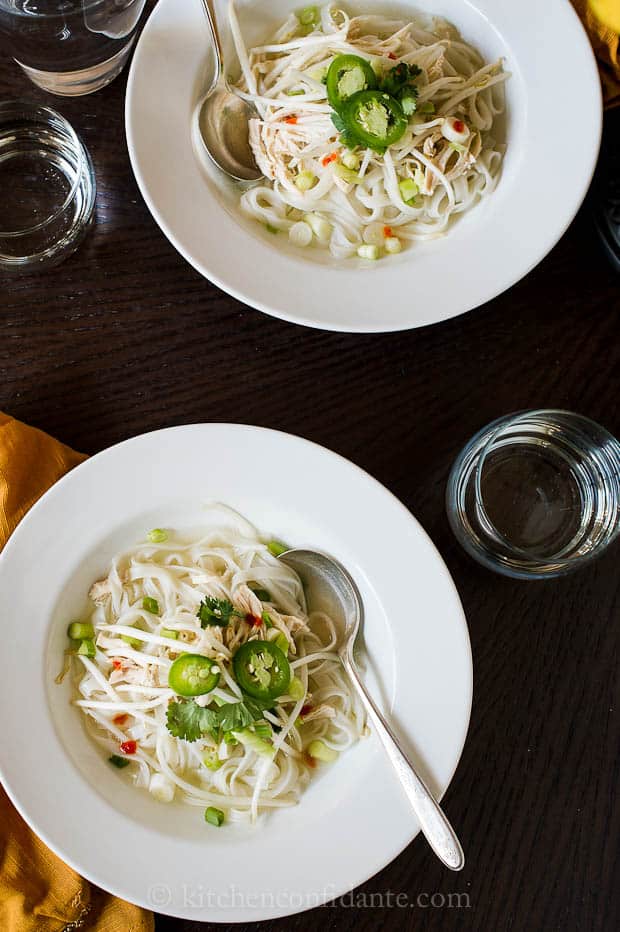 Print Recipe
Ingredients
1 5-lb chicken, quartered
1 onion, skin intact, quartered
3 1 inch pieces of ginger
4 quarts cold water
1 tablespoon salt or fish sauce
1 teaspoon sugar
1/4 cup fish sauce
freshly ground black pepper
1 lb dried pho noodles (Vietnamese rice noodles)
1 lb mung beans
2 scallions, thinly sliced
1/4 cup basil, roughly chopped
1/4 cup cilantro, roughly chopped
2 limes, sliced in wedges
2 jalapeños, thinly sliced
Asian chili garlic sauce and/or hoisin for serving
Instructions
In a large stock pot, place the chicken, onion, ginger, water, salt/fish sauce, and sugar. Place the pot over medium-high heat and bring to a boil. Lower the heat to simmer and cook for 30 to 45 minutes. Remove the chicken, allow to cool for a moment, but let the soup stock continue to simmer on the stove. When the chicken is cool enough to handle, debone the chicken and shred. Place the shredded chicken into the refrigerator while the rest of the meal is cooking. Place the bones and the skin back into the soup pot and continue to simmer for about 3 hours. Strain the soup stock into a large pot or dutch oven, add the fish sauce, and cook over high heat until the liquid reduces to roughly 12 cups. Season to taste with additional fish sauce and freshly ground black pepper, if necessary.
Soak the noodles in a bowl of hot water for 30 minutes, or until soft.
Bring a pot of water to boil. Salt it generously, then drop in the softened rice noodles and cook for about 3 minutes. Drain. Do the same for the mung beans, blanching them briefly.
Divide the rice noodles, mung beans, and shredded chicken into bowls, and ladle chicken broth into each bowl. Garnish with scallions, basil, cilantro, jalapeño slices and chili sauce. Serve immediately.
Recipe adapted from Chicken Pho, by Charles Phan on Food & Wine: Vietnam a la Cart, September 2005.