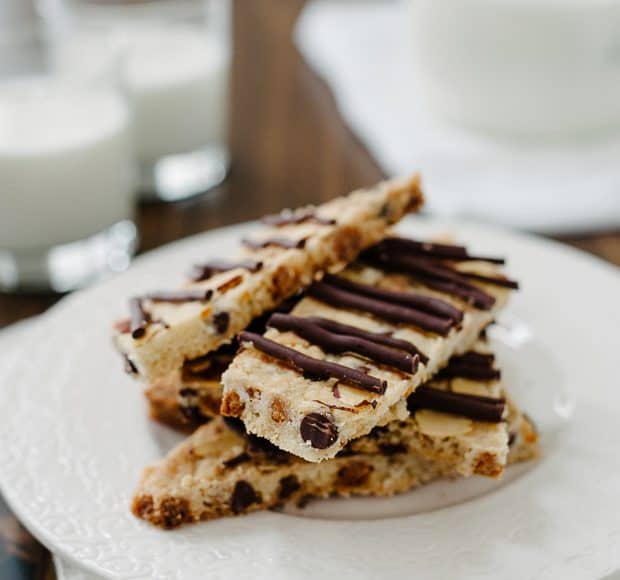 Chocolate Butterscotch Cookie Brittle
Imagine a cookie. Now imagine brittle. Imagine them together, and you've got one easy, delicious treat! Chocolate Butterscotch Cookie Brittle is also a great homemade gift for the holidays. The wipers were beating in wild unison, fending the downpour, as my daughter and her best…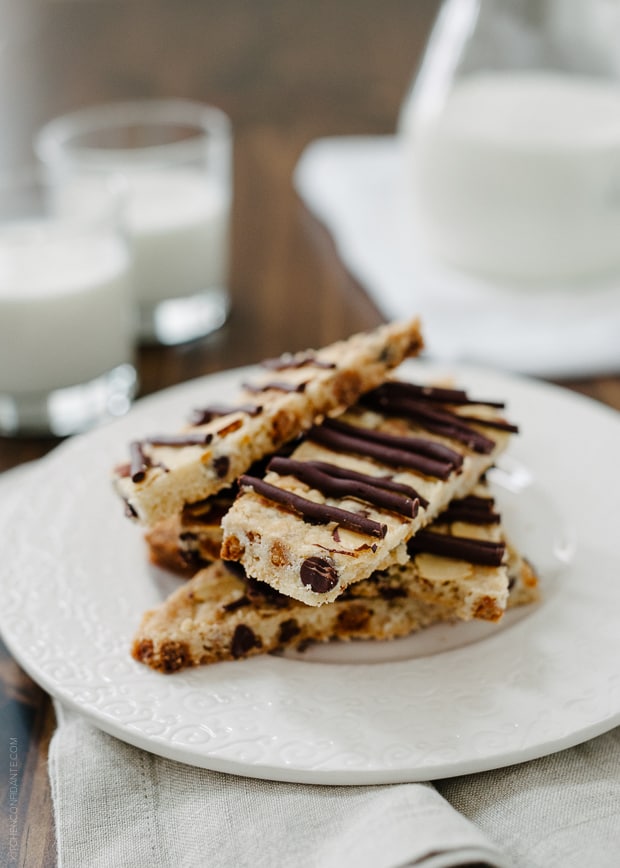 Chocolate Butterscotch Cookie Brittle
Imagine a cookie. Now imagine brittle. Imagine them together, and you've got one easy, delicious treat! Chocolate Butterscotch Cookie Brittle is also a great homemade gift for the holidays.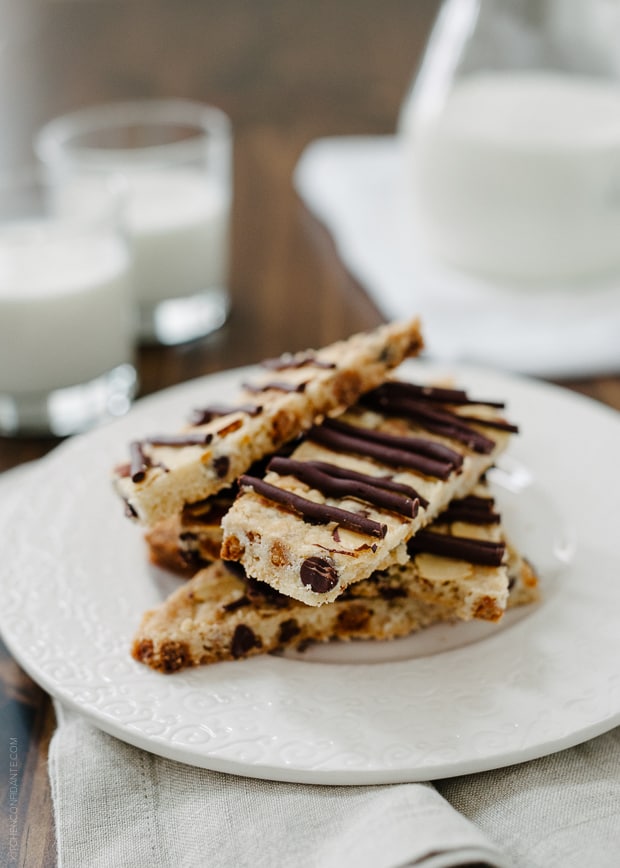 The wipers were beating in wild unison, fending the downpour, as my daughter and her best friend hustled into the car after school yesterday. "I got a 65 year old grandma!" She bellowed from 12 inches away. "She wants a purse or pajamas! How am I supposed to know what size she is when she didn't write it on the tag?" she groaned.
It took a moment to register, but I quickly caught on that they had picked their sister school's Adopt-a-Family member. They puzzled over some of the requests (cars and bikes were listed on some) and very much understood some of the others (a doll from a 7-year old girl). But I couldn't help but think that they were missing the point.
My children, as much as we hope to open their eyes to the great needs of the world, to instill a heart of service, while protecting them from such sadness, have so much to learn. Yes, a car may sound demanding. But it's a wish. Mom may need a car to drive her children to school, to get to work each day, to earn the money she needs to put food on the table. And yes, a purse may sound frivolous, but maybe grandma has been scraping by, every penny going to basic life necessities. Maybe she hasn't bought herself a purse in many years. Maybe she secretly would like to have something pretty to carry her things. Everyone deserves to feel beautiful. What's wrong with giving someone something they normally wouldn't dream of buying for themselves?
As we head into the season of gift giving, I want my children to look beyond the gifts, to look beyond themselves and the life they take for granted. I may be able to pick her up from school on a rainy day, to get her boots to protect her feet, to pack her a good lunch, every day. I can bake her cookies (or cookie brittle), and she can wash it down with a glass of milk. Not everyone has that.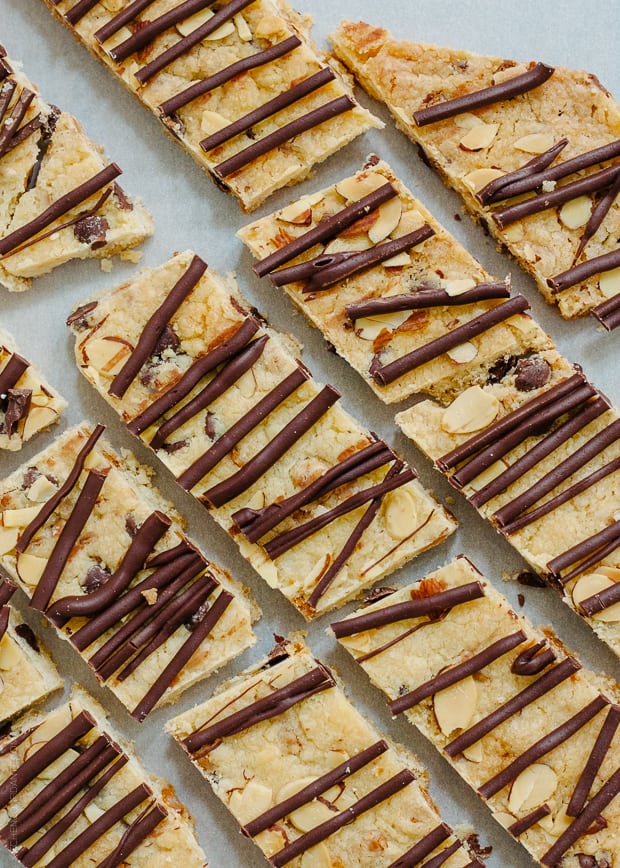 I want them to be thoughtful as they draft their wish lists to Santa and as we plan gifts for friends and family. As much as I bemoan the abundance of sweets during the holidays, I still appreciate the homemade treats that we exchange with friends the most – knowing they were made with love means more to me than anything else.
I made Chocolate Butterscotch Cookie Brittle the other day. It started when I was trying to think of something new to make for neighbors this holiday. A quick search on the internet surprised me – my dream of marrying cookies and brittle together exists! And it's so easy to make.
Is it a cookie? Is it a brittle? Well, it's both. Imagine the chewy flavor of your favorite cookie, with the crunch of a delicious candy brittle. It comes together perfectly, and I think it's best shared with others.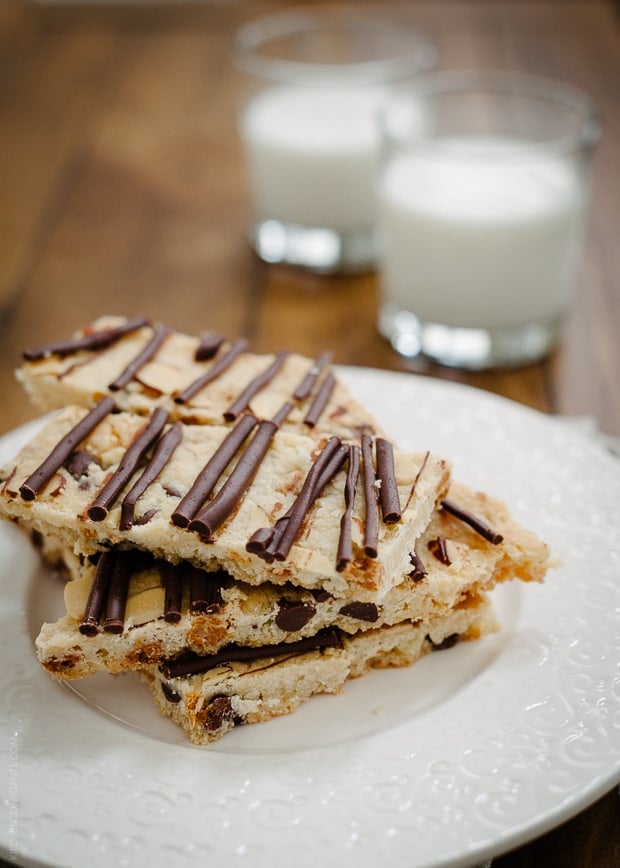 There's one more thing. You need a glass of milk.
Have you heard of Cookies for Santa's Milk Drive? Santa's Milk Drive is part of the Great American Milk Drive and Feed America, an effort to provide fresh milk to local food banks. Why milk?
Milk is one of the most requested items at food banks, but is rarely donated. The dairy industry has come together by joining Feeding America food banks to help get milk to those who need it most. I would love if you could join me in helping. Here's how:
Please visit Santa's Milk Drive to learn more and consider making an online donation. All it takes is just one gallon of milk to make a difference! Simply visit the site, type in your zip code, and your donation will be distributed to a food bank in your own area, so you will be making an impact in your own community. Thank you!
Chocolate Butterscotch Cookie Brittle
Imagine a cookie. Now imagine brittle. Imagine them together, and you've got one easy, delicious treat! Chocolate Butterscotch Cookie Brittle is also a great homemade gift for the holidays.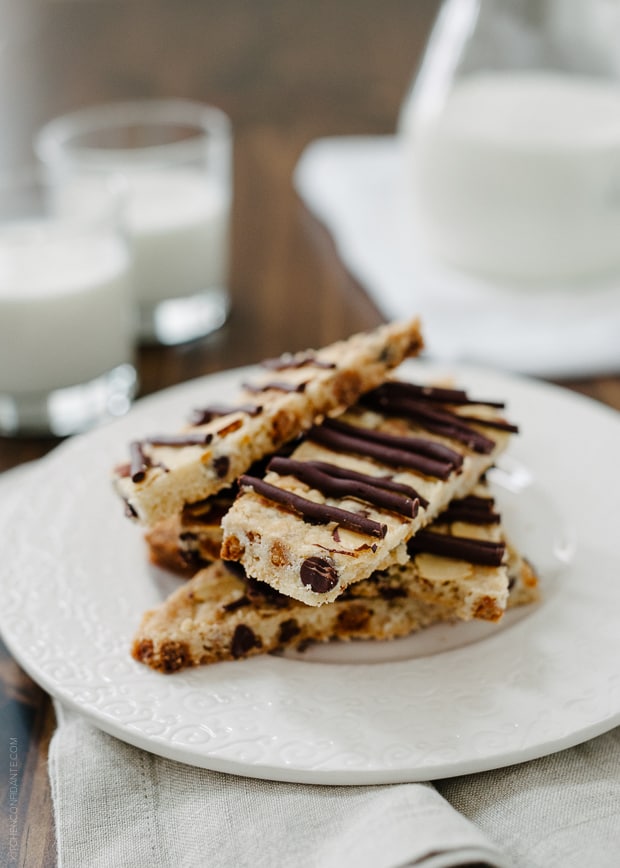 Print Recipe
Ingredients
1 cup (2 sticks) unsalted butter, room temperature
1 cup granulated sugar
1 1/2 teaspoons vanilla
1 teaspoon salt
2 cup all-purpose flour
1 cup butterscotch chips
1 cup semi-sweet chocolate chips, divided
1/2 cup chopped nuts (pecans, sliced almonds, etc.)
Instructions
Preheat the oven to 375 degrees F.
In the bowl of an electric mixer, beat the butter until smooth. Add the sugar, vanilla, and salt and mix well. Add the flour in 2 portions, mixing well with each addition. Stir in the butterscotch chips, 1/2 cup of the chocolate chips, and the nuts. The mixture will be crumbly.
Pour the batter into a 9 1/2" x 14" jelly roll pan. Press into an even layer. Baker for 20 minutes or until golden brown. Cool.
While the brittle is cooling, warm the remaining 1/2 cup chocolate chips in the microwave for 30 seconds. Stir. Continue heating the chocolate in the microwave in 10-15 second bursts until it is thin and smooth. Transfer to a decorating bag or resealable bag, cut the tip and drizzle of the slightly warm brittle.
When the cookie brittle is completely cool break or cut the brittle into pieces. Enjoy.
Slightly adapted from Chocolate Chip Cookie Brittle, Very Best Baking by Nestle.
https://www.verybestbaking.com/recipes/30137/chocolate-chip-cookie-brittle/