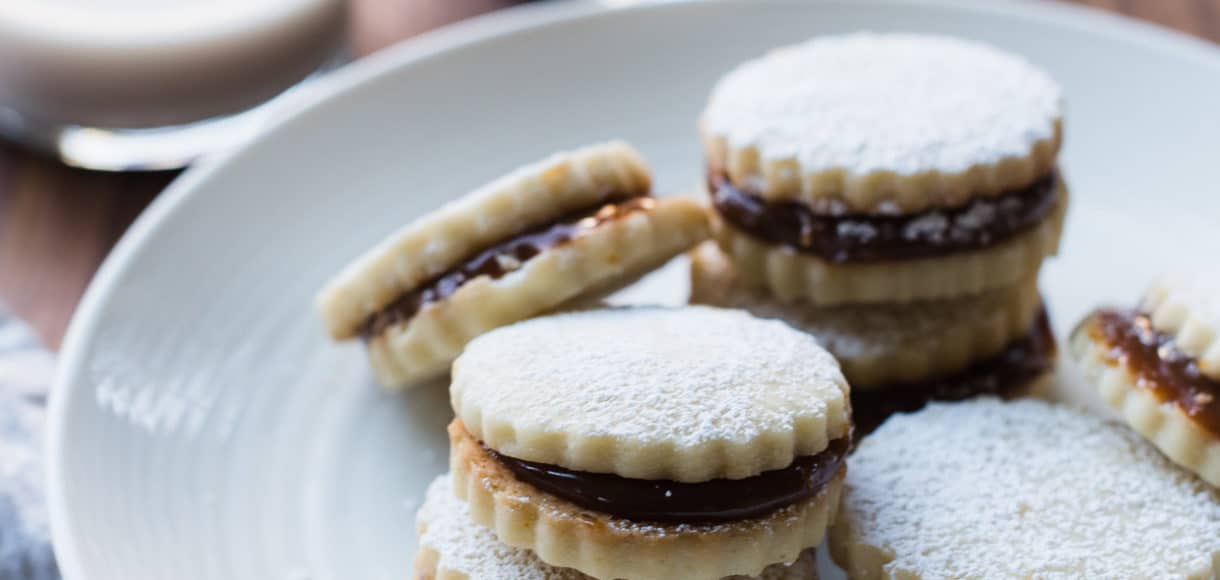 Alfajores
Alfajores are dulce de leche shortbread sandwich cookies found across Latin America, as well as the Philippines. This recipe is irresistible!
Alfajores
 Alfajores are dulce de leche sandwich cookies found all across Latin America, as well as the Philippines. You will love this recipe for irresistibly soft shortbread cookies with dulce de leche filling!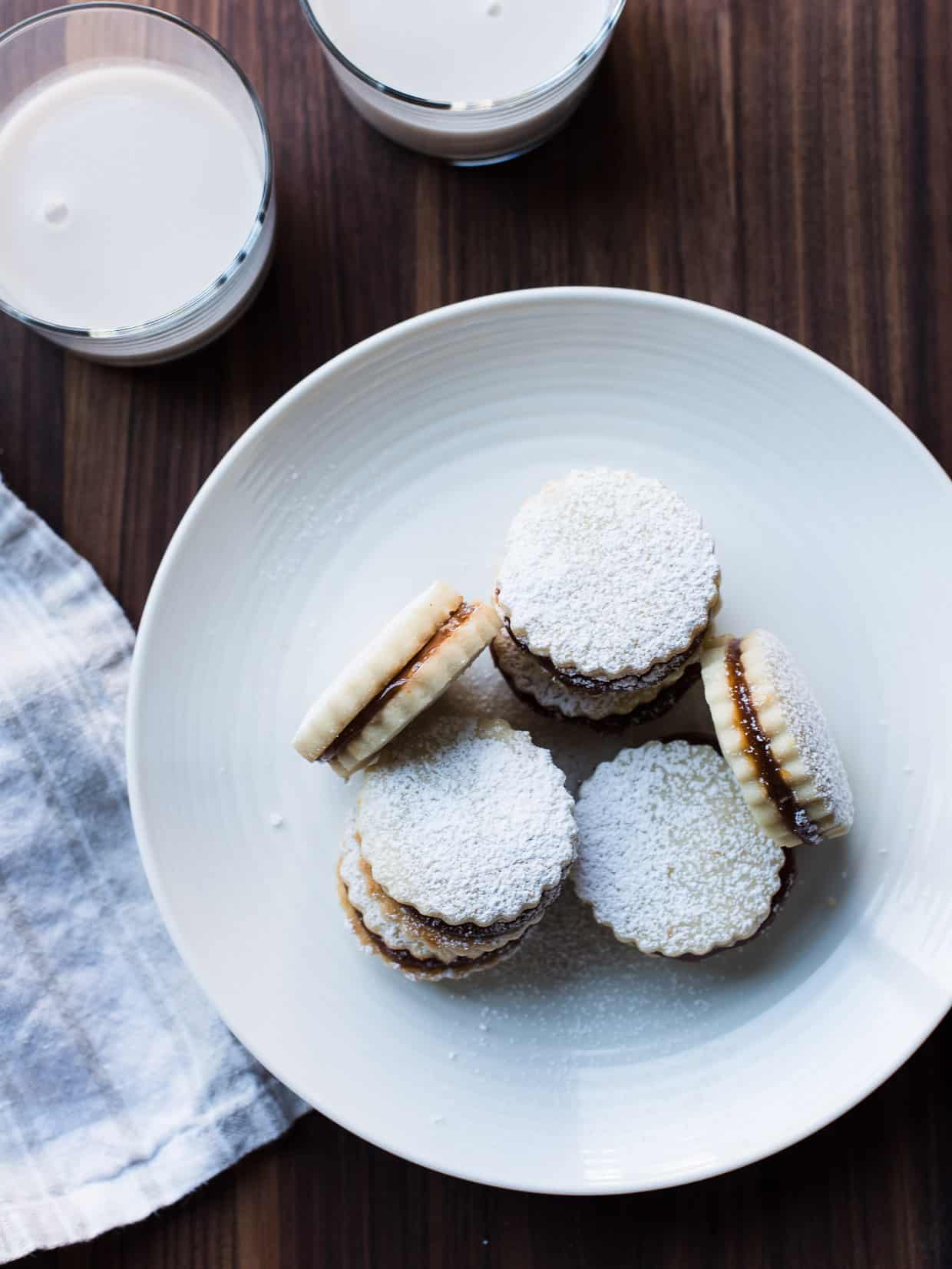 With most potlucks, I find myself waiting until almost the last minute for inspiration to strike. This, my friends, I do not recommend, but I'm hardwired this way, I'm afraid, which means that if you invite me, I may bring something (a) truly tried and true or (b) an experiment, in which case, we will be guinea pigs together.
This weekend, I gathered for my annual (6th annual, as a matter of fact!) holiday cookie exchange potluck with dear friends I have made in this crazy world of food blogging. To me, it's the kick off for my Christmas celebrations, and perhaps what makes it extra festive is all the cookie baking.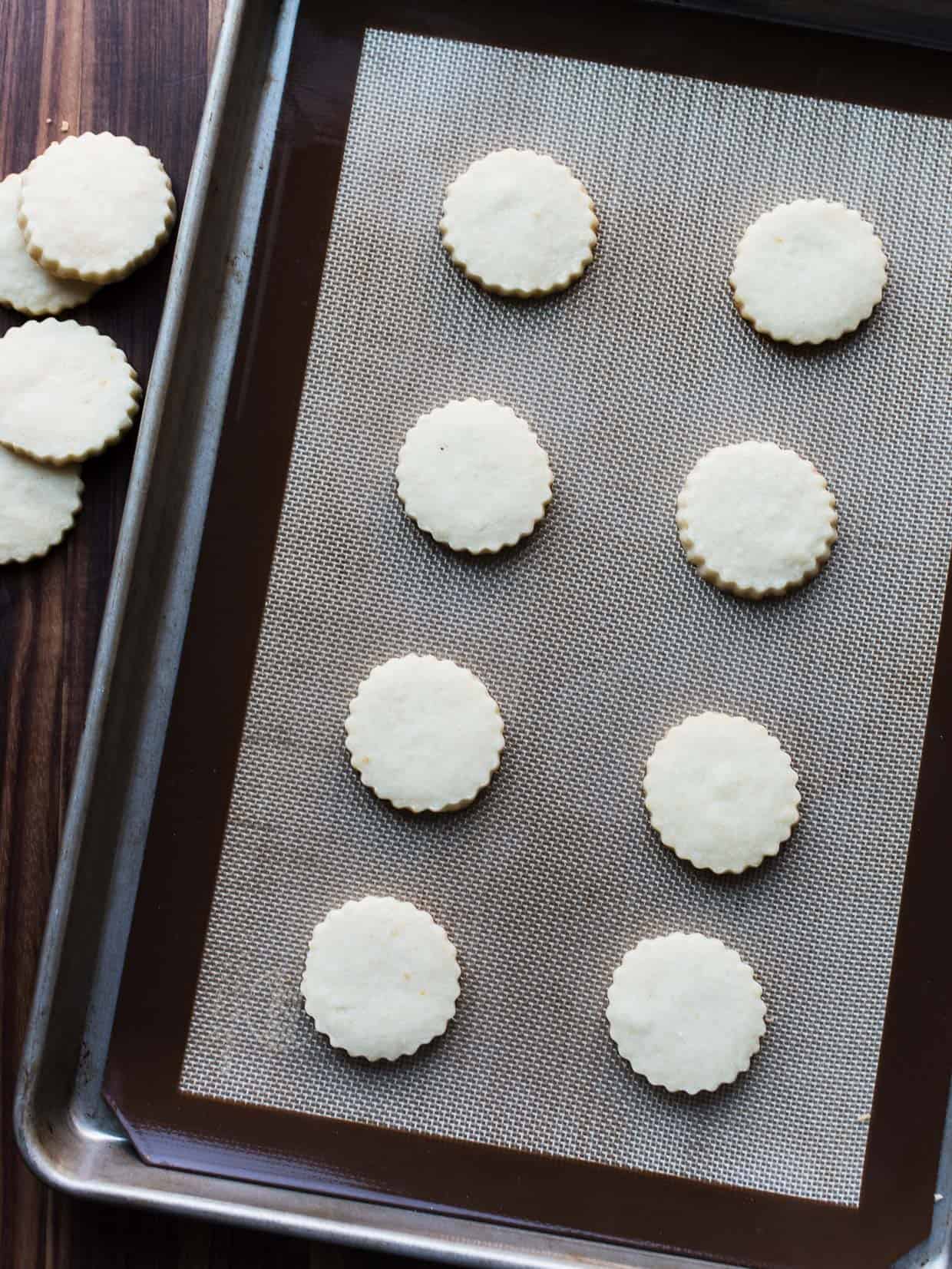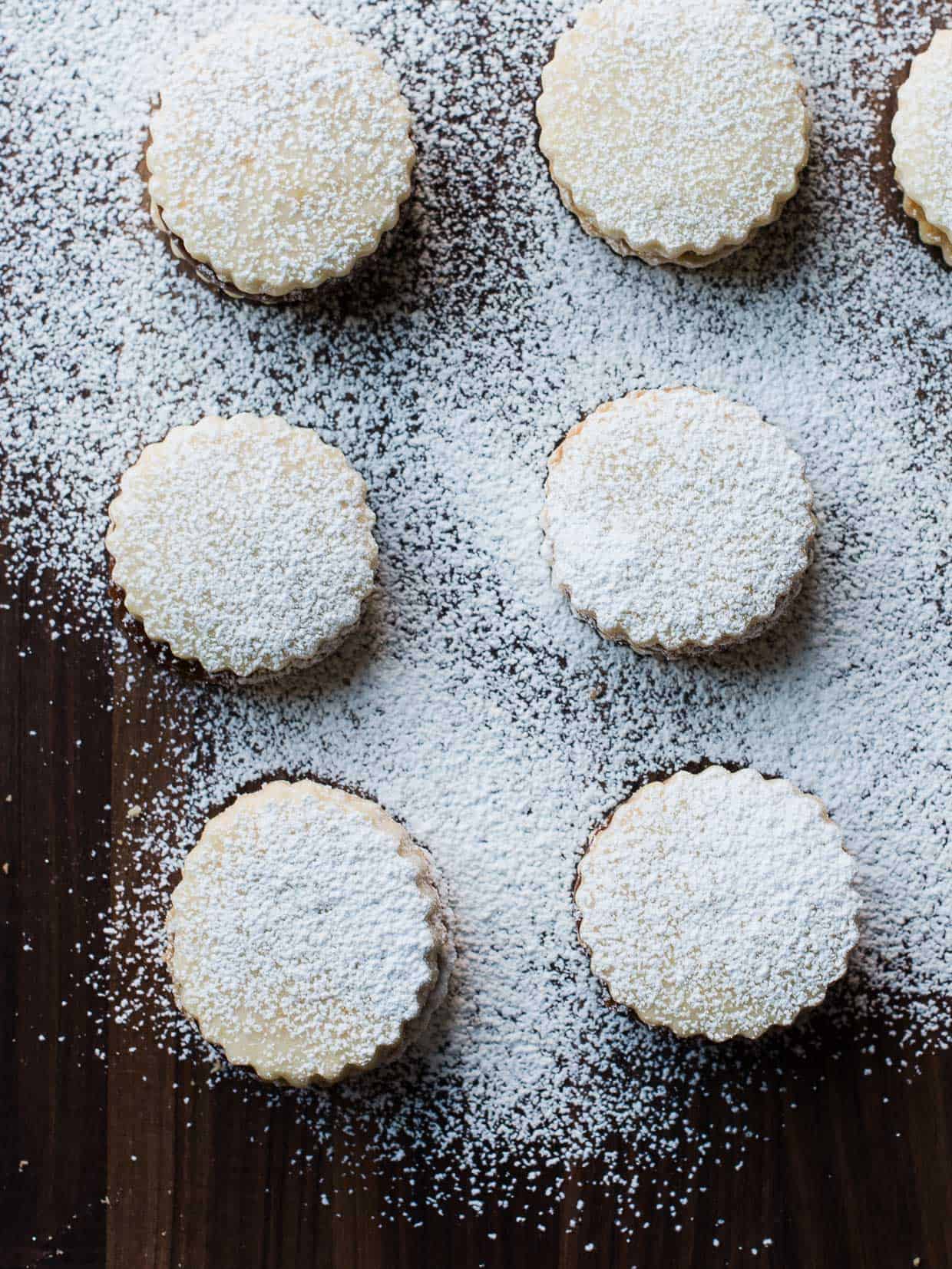 I've shared some of the recipes I've brought over the years. Last year's World Peace Cookies, Quinoa Salad with Roasted Red Beets, Oranges and Pomegranate, and Crostini with Gorgonzola and Prune Chutney remain some recent favorites. So this year, as we all agreed to take an international spin, I decided I should bring some recipes close to my heart and heritage.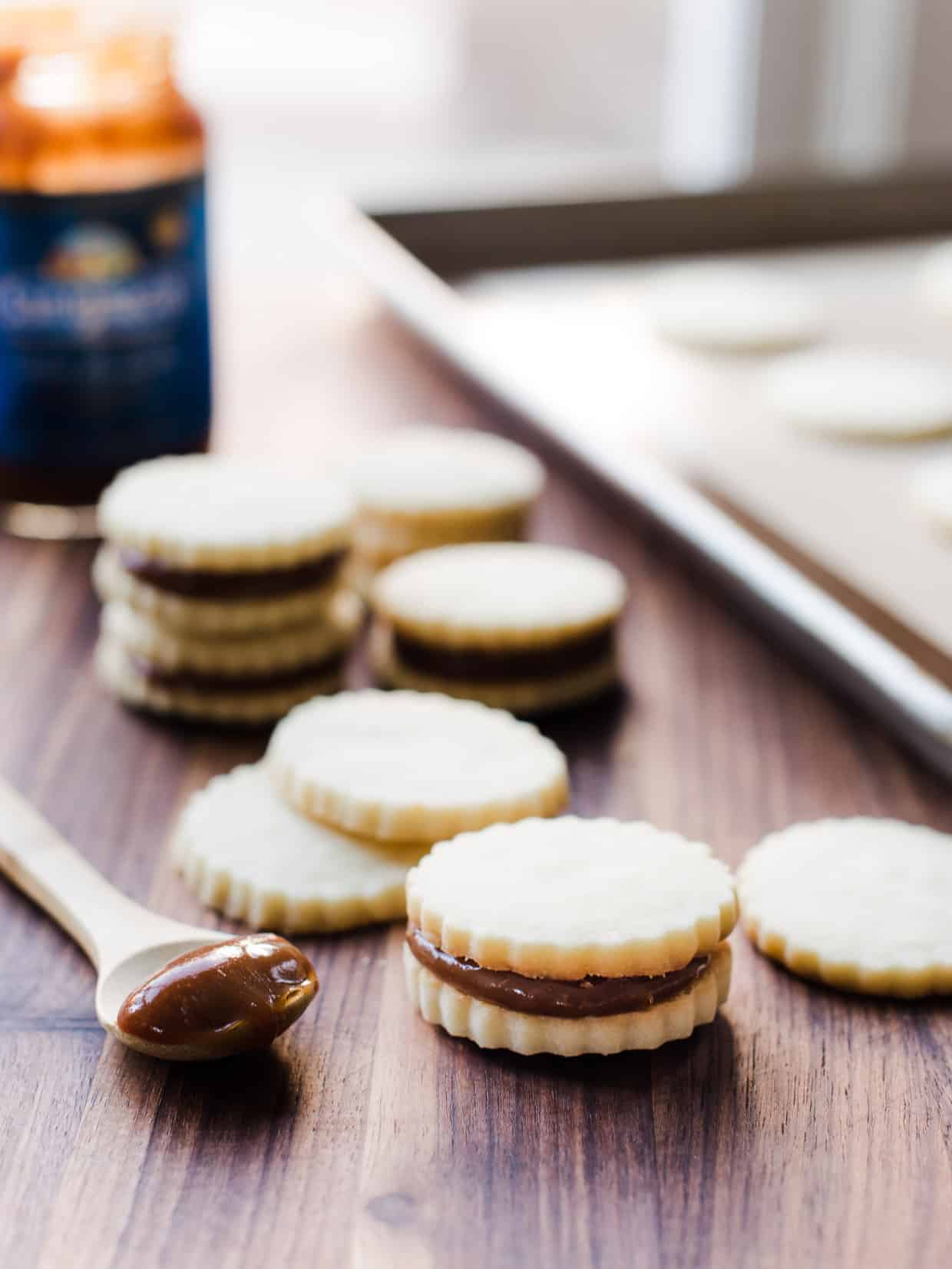 The no brainer for me was the main dish — my truly tried and true Pancit Bihon, or Filipino rice noodles. I can make this for holiday parties or a weeknight meal with my eyes closed, so that was the easy one. But as for the cookie, what to bring?
I wanted to bring a cookie with a nod to the Philippines as well, but which one?
Alfajores. You may already know all about them, especially if you are from Spain or Latin American. Many associate alfajores with Argentina, for example, but the Philippines, with its long history of Spanish influence, has their own version of these delicious shortbread cookies filled with dulce de leche.
As I researched this recipe, I found that the variety of shortbread cookies were endless. Some used egg yolks, others a liquor, some used cornstarch, others not.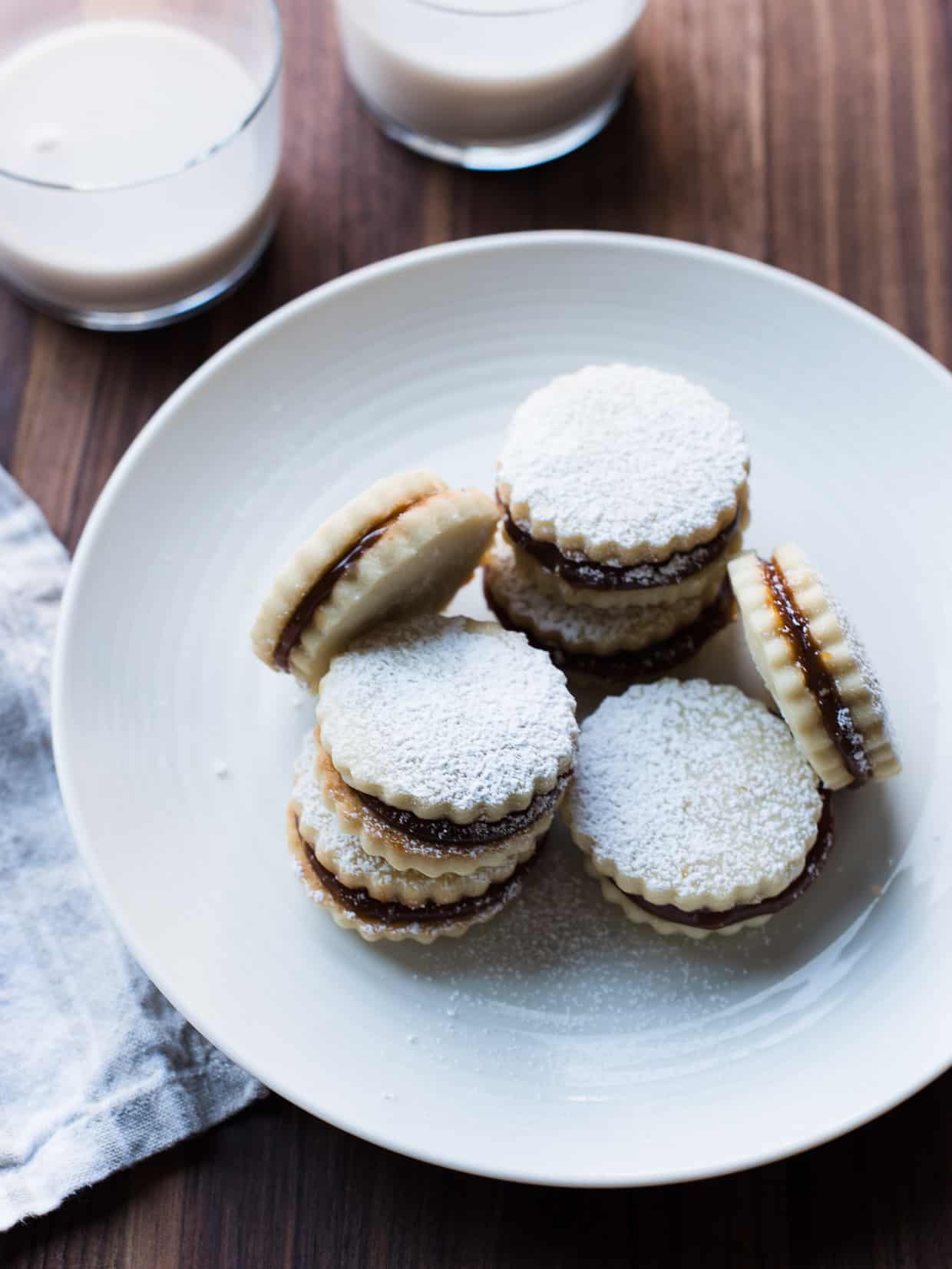 I decided to make mine using the basic ratios of a shortbread, but customized it to coax a more tender cookie. I wanted something light and soft and not too dense as you bite into the dark caramel filling. To do this, I called on some cornstarch (not quite as much as you would see in some Argentinian recipes, as cornstarch can certainly have a flavor all its own) – if you've made my cream cheese chocolate chip cookies, you know I'm already a fan of a touch of cornstarch in my cookies. Also, using confectioners sugar as opposed to granulated sugar added to a very soft dough.
To flavor the shortbread, I kept it simple, with some vanilla, of course, but with a nice dose of orange zest, to give the cookie a hint of brightness.
So, here we are, a very simple cookie! The only thing about alfajores is that it can take a little time, especially if you're making a lot, like I did. This recipe I share with you makes about 40 cookies, and when you're rolling and cutting and filling, can take a bit of time, but it's absolutely worth it. And do not worry, I share some tips to make it easier! In fact, I have some dough in my freezer at the ready so that I can easily whip up a batch for my next holiday party!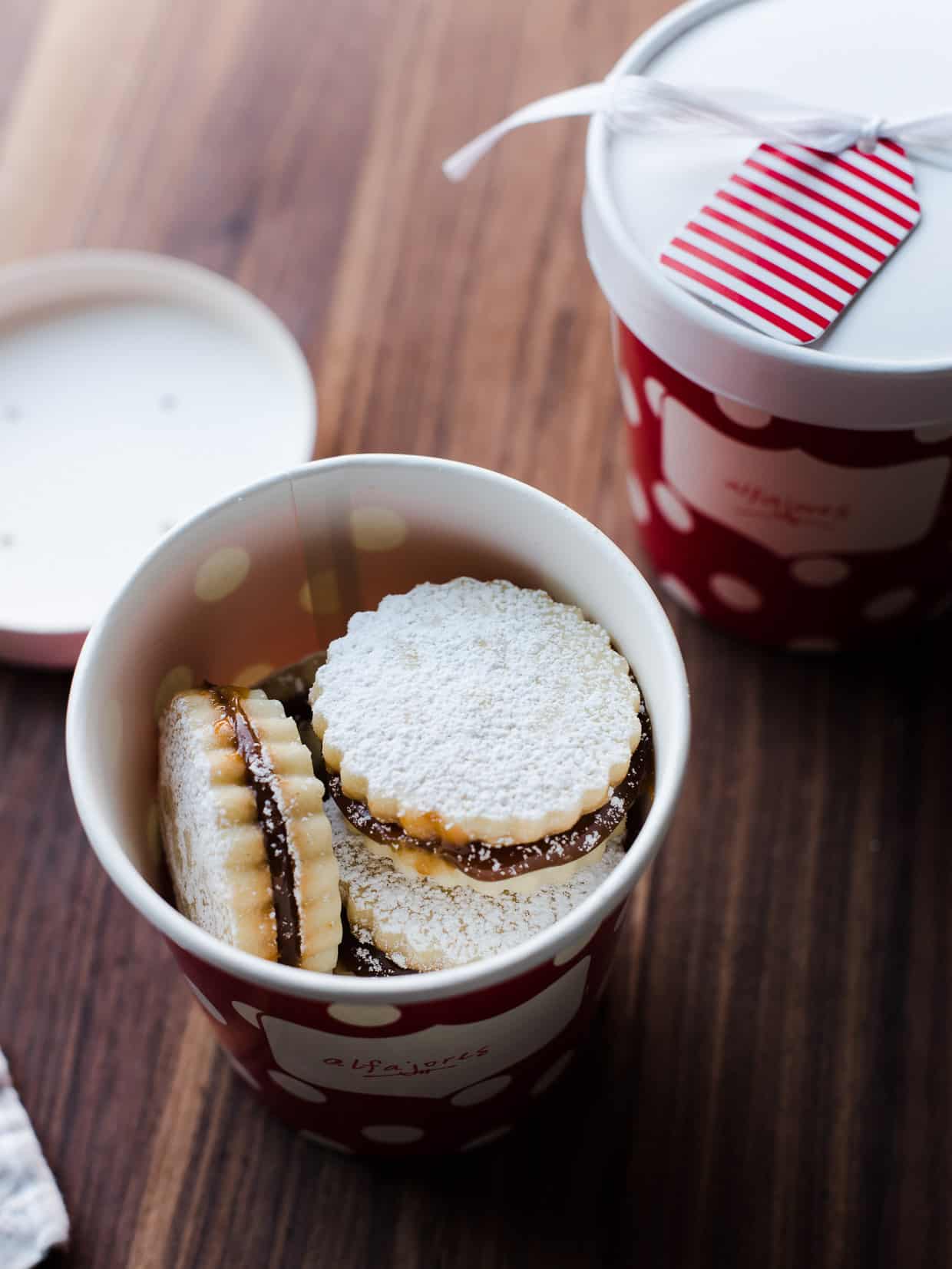 In case you were wondering what my guinea pigs thought, they loved the alfajores! To me, this means so much, since I trust their tastebuds and value their opinions. And my family can't wait for me to make more — I left the house leaving them with just one cookie each, haha! But don't worry, they were rewarded with more cookies upon my return.
More sweet treats to make this holiday season:
Chocolate Butterscotch Cookie Brittle
Eggnog Mousse
7 Layer Bars
Lemon Spritz Cookies
Cranberry Nut Butterhorns (Rugelach)
Authentic Pizzelle
Alfajores - Dulce de Leche Sandwich Cookies
Alfajores are dulce de leche sandwich cookies found all across Latin America, as well as the Philippines. You will love this recipe for irresistibly soft shortbread cookies with dulce de leche filling!
Ingredients
2

cups

unsalted butter

room temperature

1

cup

confectioners sugar

1

teaspoon

vanilla

1

teaspoon

fresh orange zest

3 3/4

cups

all-purpose flour

sifted

1/4

cup

cornstarch

16

oz

dulce de leche
Instructions
In the bowl of a stand mixer fitted with the paddle attachment, or with a handheld electric mixer, beat the softened butter for about 2-3 minutes, or until the butter is light and fluffy.

Add the confectioners (powdered) sugar and beat for another minute or two, or until well blended.

Add the vanilla and orange zest and mix until combined

In a bowl, whisk together the sifted flour and cornstarch. Stir into the butter mixture in batches until just combined, scraping down the sides of the bowl periodically. Do not overmix.

Dump the dough out onto a lightly floured surface and divide into 4 equal parts. For each part into ball and flatten into disk between two sheets of parchment paper.

Roll each disk to an even layer 1/4 inch thick while between the parchment paper. Stack the sheets of dough and chill in the refrigerator for 3 hours or overnight. Alternatively, you can chill the dough for 1 hour in the freezer.

When you're ready to bake, preheat the oven to 350°F with a rack in the center of the oven.

Working with one rolled out sheet of cookie dough at a time, use a 2-inch round or fluted cookie cutter and cut out the cookies. Place on a lined baking sheet about 2 inches apart. Re-roll and chill any remaining scraps of dough, and continue cutting out cookies. Repeat for all the dough; you will have enough for about 80 rounds to make 40 sandwich cookies.

Bake the cookies one tray at a time for 8-10 minutes, or until just lightly golden on the bottom. Let the cookies cool for 5 minutes on the tray before transfering to a wire rack to cool completely.

To assemble the alfajores, place a heaping teaspoon of dulce de leche on the bottom side of a cookie. Gently press another cookie on top. Repeat for all the cookies.

Before serving, sprinkle with powdered sugar.

Rolling the dough out before chilling not only make it easier to roll out the dough, but helps prevent any dough cracking from working with cold dough.

The cookies can be made the day before, completely assembled, and stored in an air tight container at room temperature. If you plan on keeping the cookies for longer, make the cookies with the exception of the final sprinkling of powdered sugar and store in the refrigerator.

The layers of dough can also be frozen so that the cookies can be baked at a later time. You can cut and bake directly from the freezer.

The recipe can easily be halved for a smaller batch.
Nutrition
Calories:
139
kcal
|
Carbohydrates:
12
g
|
Protein:
1
g
|
Fat:
9
g
|
Saturated Fat:
5
g
|
Cholesterol:
24
mg
|
Sodium:
1
mg
|
Potassium:
15
mg
|
Sugar:
2
g
|
Vitamin A:
285
IU
|
Calcium:
4
mg
|
Iron:
0.5
mg