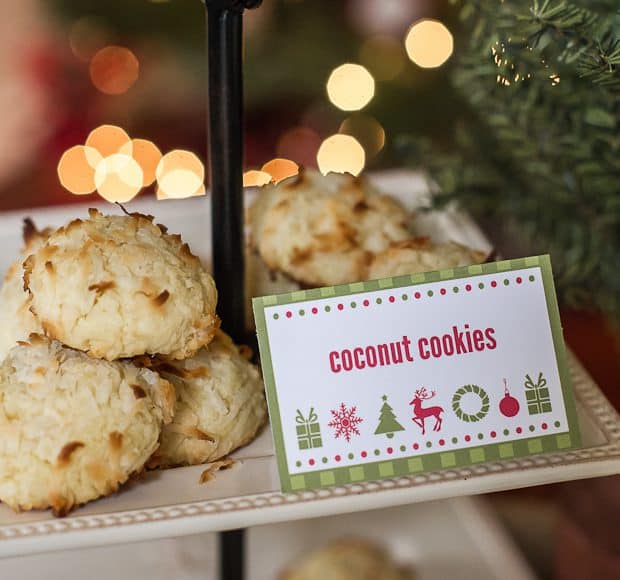 Coconut Cookies + Free Holiday Printables
When I moved to California, I was rather bewildered by the cookie swap. How is it that in all my years growing up in New York, I had never encountered such a thing? Was it a regional phenomenon? I was curious: why create extra work…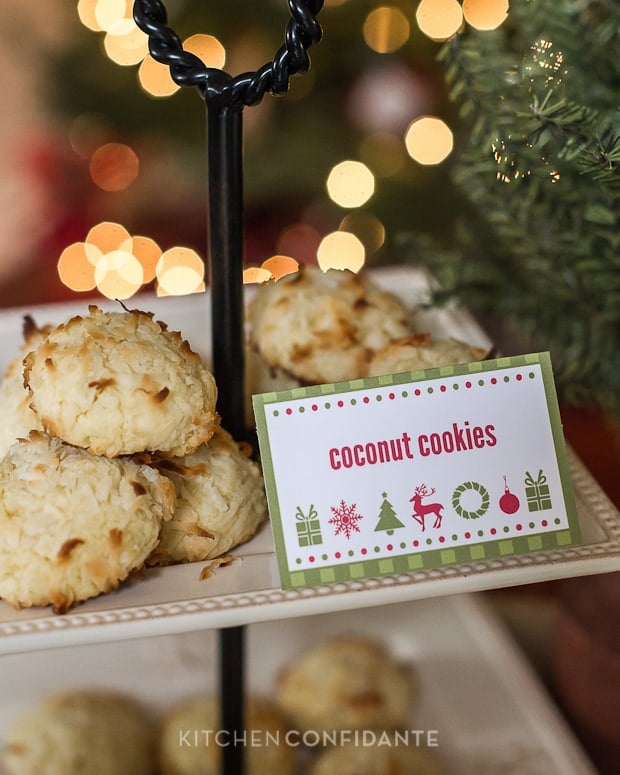 Coconut Cookies + Free Holiday Printables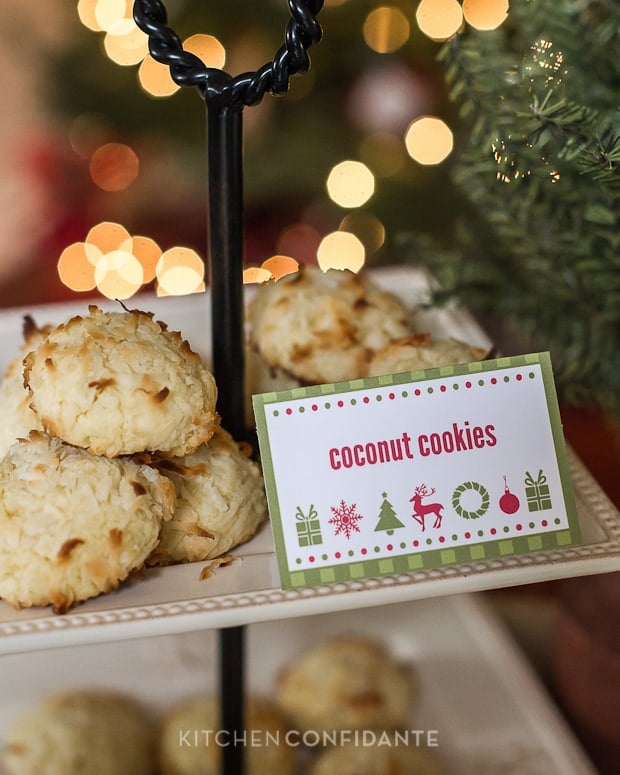 When I moved to California, I was rather bewildered by the cookie swap. How is it that in all my years growing up in New York, I had never encountered such a thing? Was it a regional phenomenon? I was curious: why create extra work baking? Why were all the kitchens in my neighborhood churning out cookies like miniature factories? I couldn't understand the purpose, other than to have an excuse to eat cookies.
It took me a while, but I've decided that if the purpose was simply to eat cookies, then it was fine by me. And I realize now it is much more than that.
I have yet to host a cookie swap, but have been invited to a handful this season, and as I prepare for one tomorrow, I thought it would be the perfect time to use some free printables that were created by the talented folks at Catch My Party. I was looking for just the right way to decorate my bags of cookies, and the festive designs in the collection were just the thing!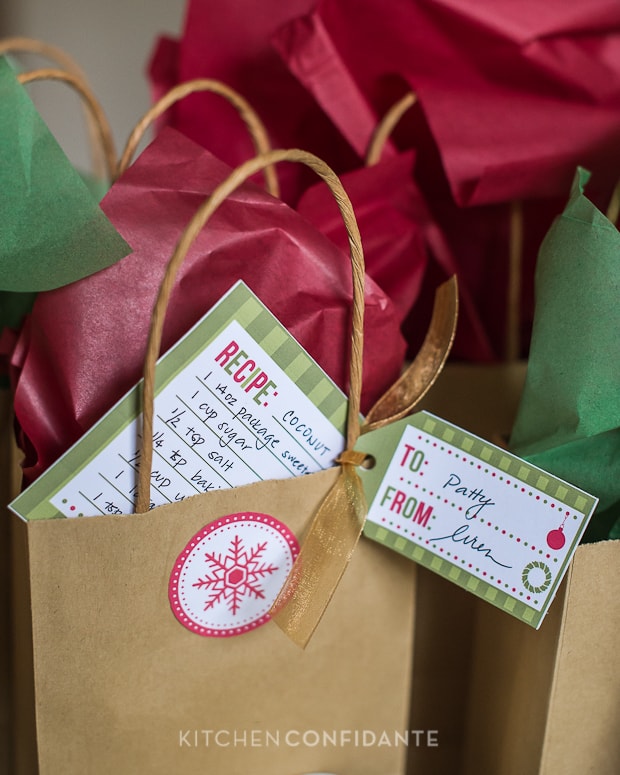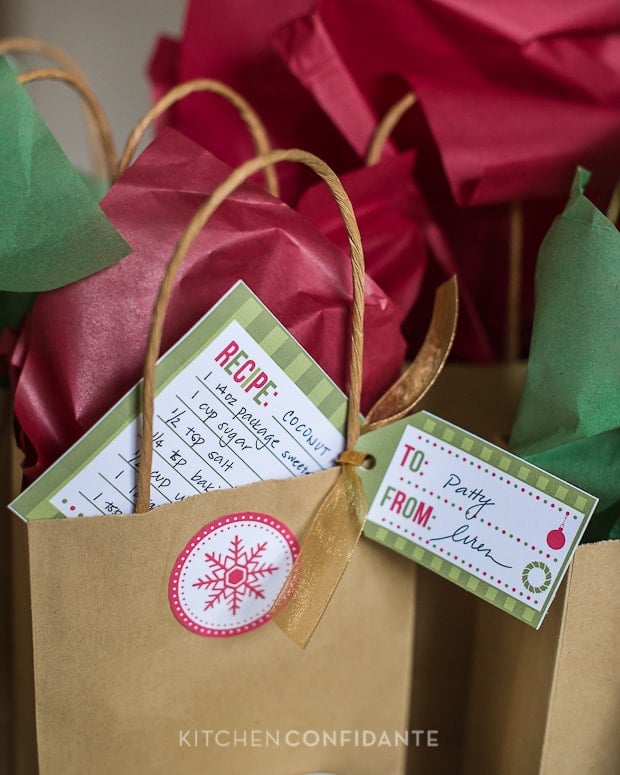 What's inside these adorable bags? To be honest, I wasn't sure what to make for the gathering this week, organized by Patty of Patty's Food. It took me several days to ponder over what to make, when finally, slightly exasperated, I turned to my daughter and asked, "If I could make you any cookie right now, what kind would you like?" She didn't hesitate: "Coconut Cookies!"
Well, then. So it was done. And that is what I will bring.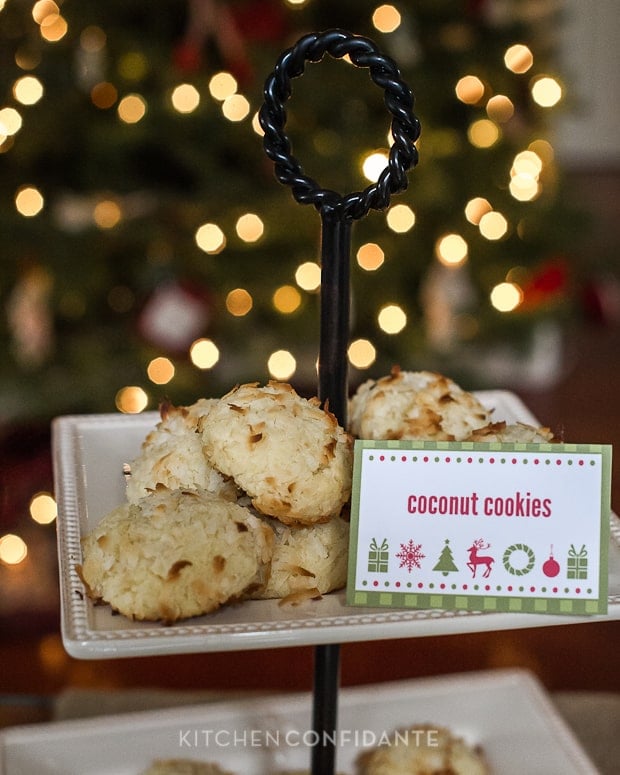 It's like sugar cookie meets macaroon. You have a little crunch of sweetened coconut that gives way to a tender sugar cookie laced with more coconut. Let's just say my coconut-lovin' daughter was coco-nuts about them. (I was, too).
As I went through the other holiday printables, I couldn't resist but use some of themm to surprise my children with a hot cocoa bar when they came home from school. Now that I have it all ready, I just have host a swap of my own!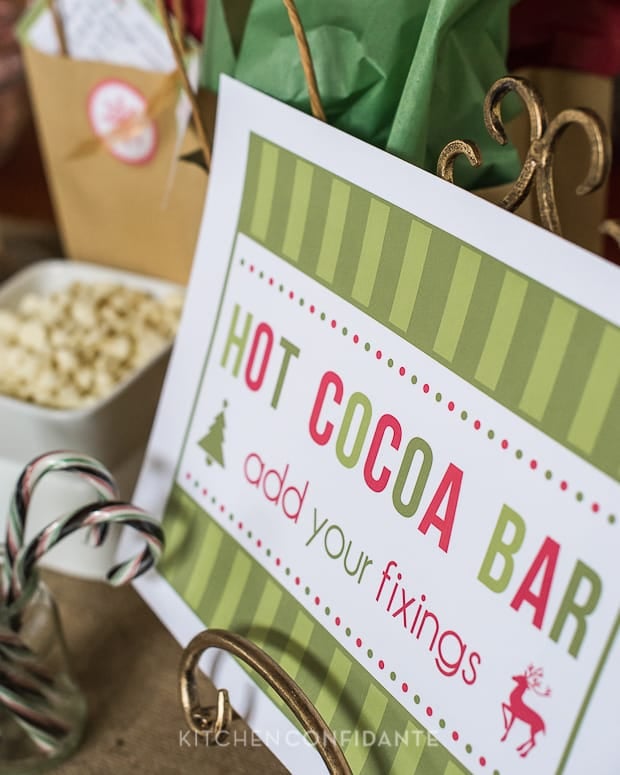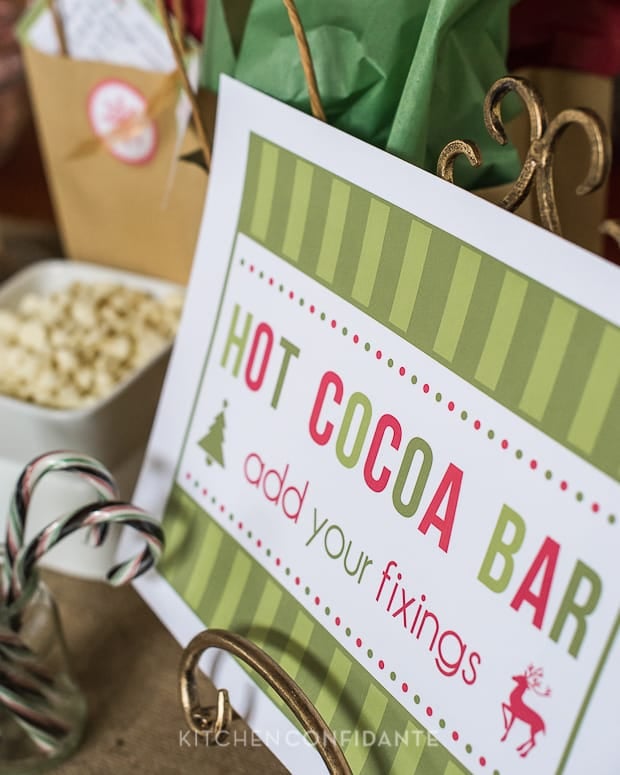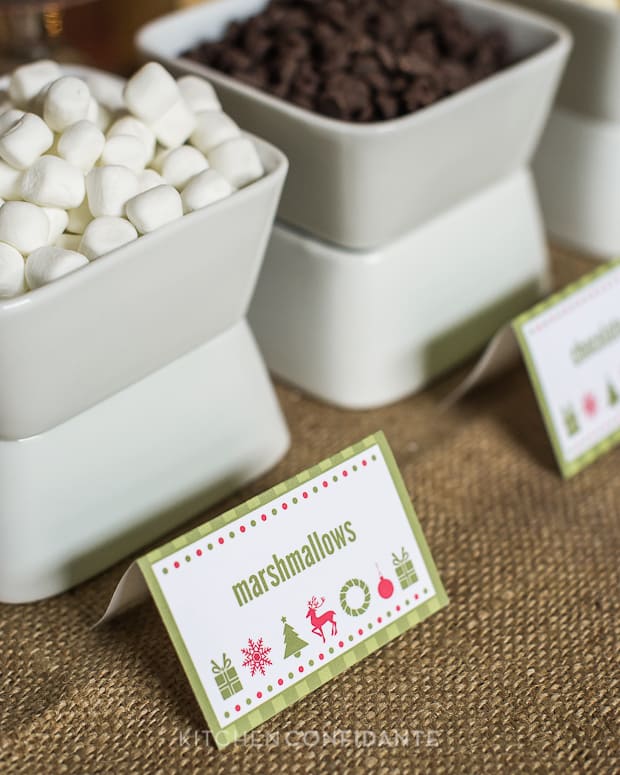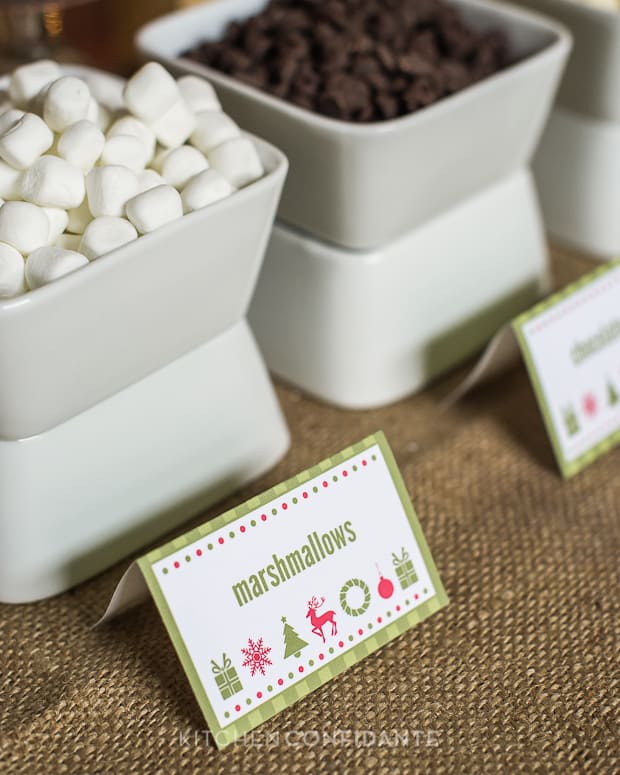 So how about you? Are cookies and cocoa in your future? If so, CLICK HERE TO PRINT the adorable Holiday Printables I used – there's so much more to the collection: invitations, banner swags, even water bottle labels!
All you need now are some Coconut Cookies!

This holiday season, let loved ones know how much you care. Use your favorite photos to create something personalized and unique for everyone on your list. Make it memorable. Make it meaningful. Make it matter. Go to hp.com/holiday for inspiration and ideas."
Disclosure: Compensation was provided by HP via Glam Media. The opinions expressed herein are those of the author and are not indicative of the opinions or positions of HP.
Sugar cookies meet macaroons in this easy to make crowd pleaser!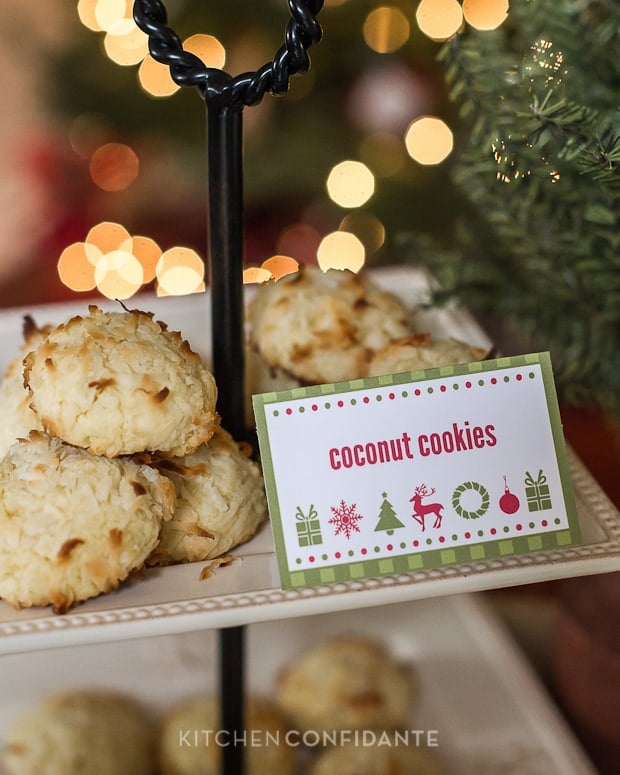 Print Recipe
Ingredients
1 14-ounce package sweetened shredded coconut, divided
1 cup sugar
1/2 teaspoon salt
1/4 teaspoon baking powder
1/2 cup unsalted butter, cut into small pieces and chilled
1 large egg
1 teaspoon vanilla extract
1 1/2 cups all-purpose flour
Instructions
Preheat the oven to 350 degrees.
Place 2 cups of the coconut on a plate and set aside.
In the bowl of a food processor, process the remaining coconut with the sugar, salt and baking powder until it is finely ground. Add the butter and pulse until it is a loose crumb. Add the egg and vanilla extract and process until smooth. Add the flour and pulse until the dough starts to comes together into a crumbly ball, making sure you scrape down the sides of the bowl.
Using a small ice cream scoop or spoons, scoop a tablespoon ball of dough and drop it into the reserved coconut. Repeat and work in small batches. Form the dough into balls pressing some of the coconut evenly around and gently into the dough. Place on lined cookie sheets, about 2 inches apart.
If your dough has softened significantly, allow the cookie dough to chill in the refrigerator.
Bake for about 15-18 minutes, until the coconut has turned a golden brown. Cool on wire racks.