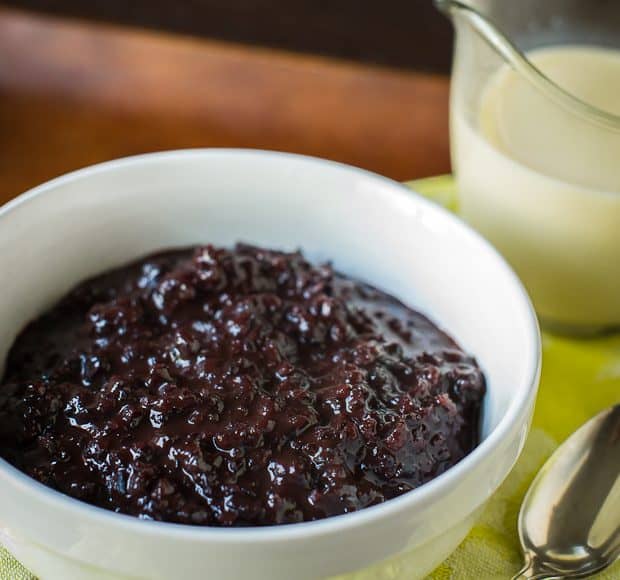 Simple Sundays | Champorado: Filipino Chocolate Rice Pudding
A few nights before my sister was scheduled to arrive for the Thanksgiving holiday, I tucked my daughter into bed. As we said our goodnights, I paused. Is there anything special we should make while your Tita is here? I asked. I expected her to…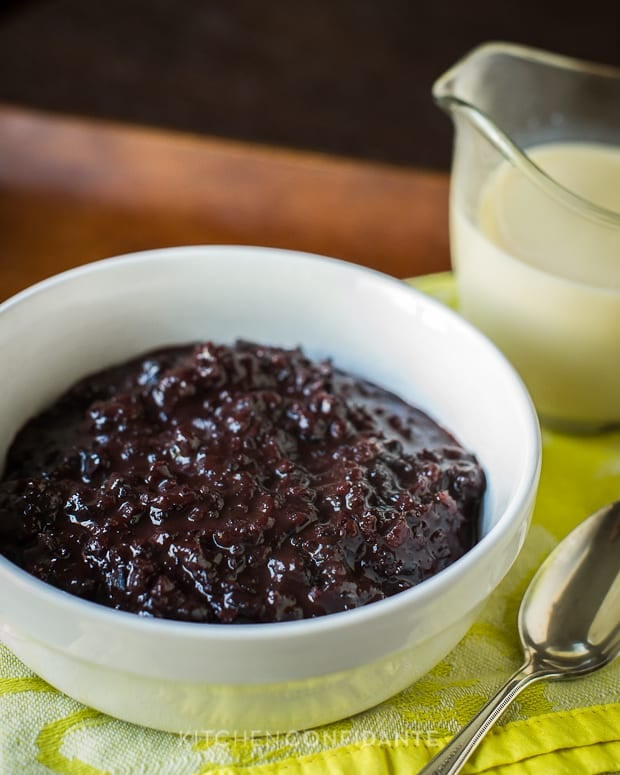 Simple Sundays | Champorado: Filipino Chocolate Rice Pudding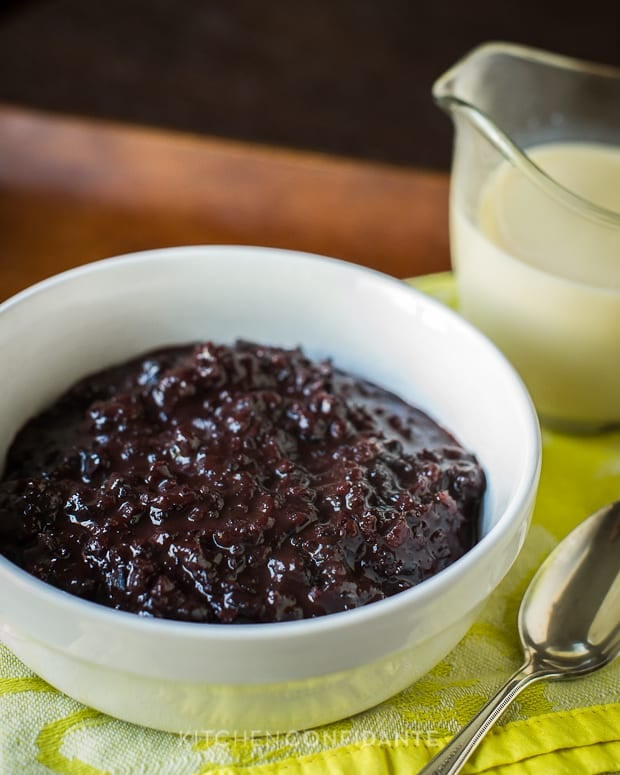 A few nights before my sister was scheduled to arrive for the Thanksgiving holiday, I tucked my daughter into bed. As we said our goodnights, I paused. Is there anything special we should make while your Tita is here? I asked. I expected her to respond with her favorite coconut desserts, but she surprised me.
Ooh, can we make that chocolate pudding thing that we read about? The one that starts with a C?
She was referring to the chocolate rice porridge or pudding that we often read about in a book my sister gave to her years ago, My First Book of Tagalog Words. For the letter C, the authors chose the very delicious Champorado, which always made me stop mid-story to reminisce of sweet mornings that began with this traditional Filipino breakfast.
Oh! Champorado? I asked.
Yes!
I thought for just a moment. I do have sticky rice. And I do have chocolate. I even have condensed and evaporated milks. We could make it!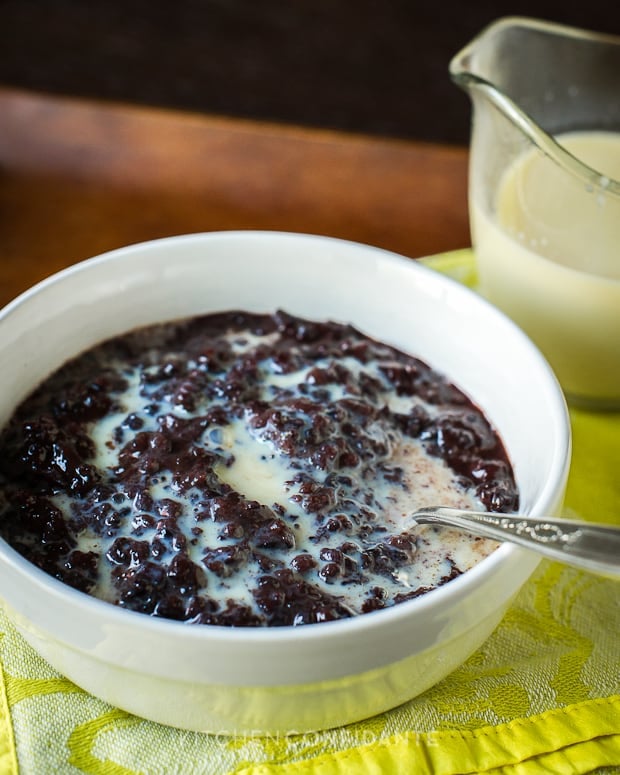 Soon after my sister arrived, I made a batch of Champorado for breakfast. Dark chocolate swirled into my sticky rice and coated the grains with richness. It brought me back to those weekends when my mom would surprise me with this rare treat.
With a generous drizzle of milk, the Champorado was ready and spoons dove into bowls. Mmm. My daughter was thrilled. My son approved. My sister had seconds. And I was in chocolate heaven.
Champorado (Filipino Chocolate Rice Pudding)
This may sound like a decadent way to begin the day, but it's not overly sweet as it is made with dark chocolate, and traditionally, served with a sprinkling of salty dried fish. As a child, I was not quite convinced that the fish was necessary, but now that I'm older, it makes complete sense. A little salt to balance the sweet for total umami. But even if eaten alone, do drizzle it with evaporated milk, or condensed milk for the ultimate in decadence. And I daresay, it is great any time of day.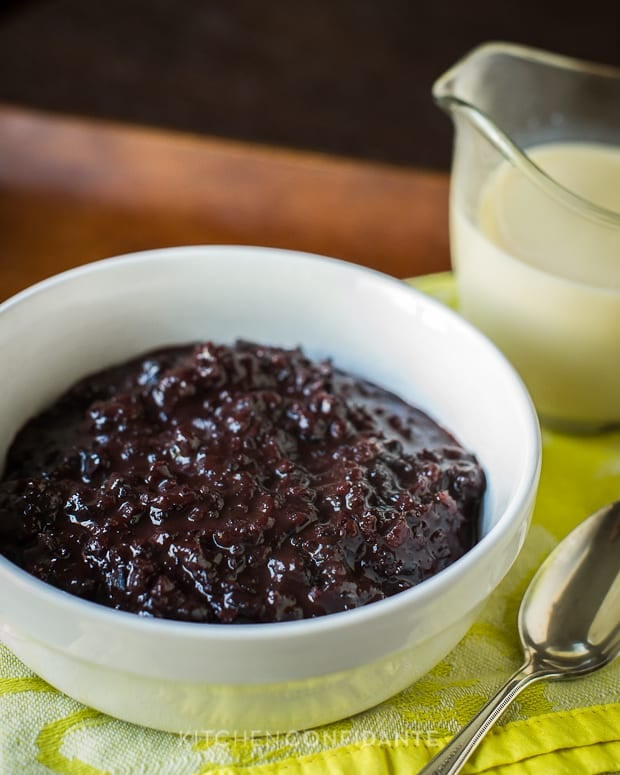 Print Recipe
Ingredients
3 ounces bittersweet or semisweet chocolate chips
1 cup sticky rice
5 cups water
1/3 cup cocoa powder
1/3 cup granulated sugar
evaporated or condensed milk, for serving
Instructions
In the bowl of a double boiler, melt the bittersweet chocolate over simmering water, stirring until completely melted. Set aside.
Rinse the sticky rice and drain. In a large sauce pan, stir the sticky rice and water and bring to a boil over medium heat. Lower the heat to a simmer and cook, stirring occasionally, until the rice has thickened, about 15 minutes. Add the melted chocolate, cocoa powder and sugar, stirring well. Cook until the rice is a creamy consistency.
Serve warm with a drizzle of evaporated milk or for pure decadence, condensed milk. Regular milk can also be used.