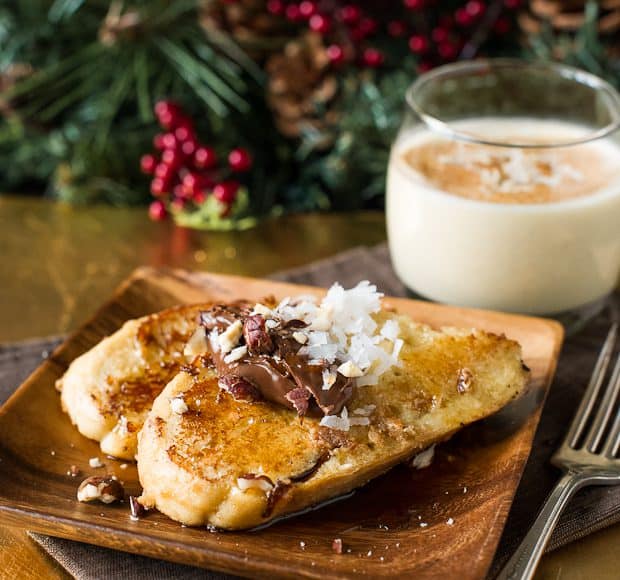 Coconut Hazelnut Eggnog French Toast
I just couldn't stop. Two sips into my decadent Coconut Hazelnut Eggnog and I knew I had to save some…for breakfast. Thick slices of crusty Pugliese were given a bath in the silky custard, immediately soaking in the rich coconut flavor into every nook and…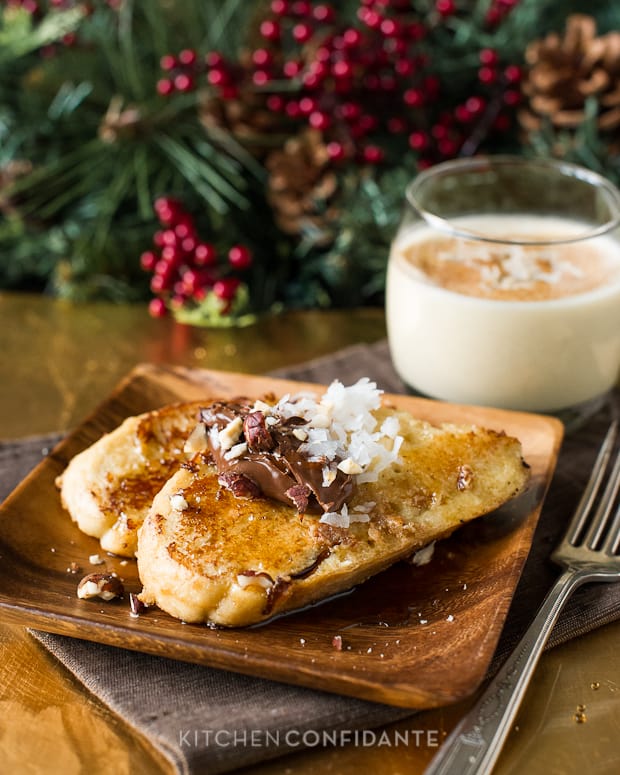 Coconut Hazelnut Eggnog French Toast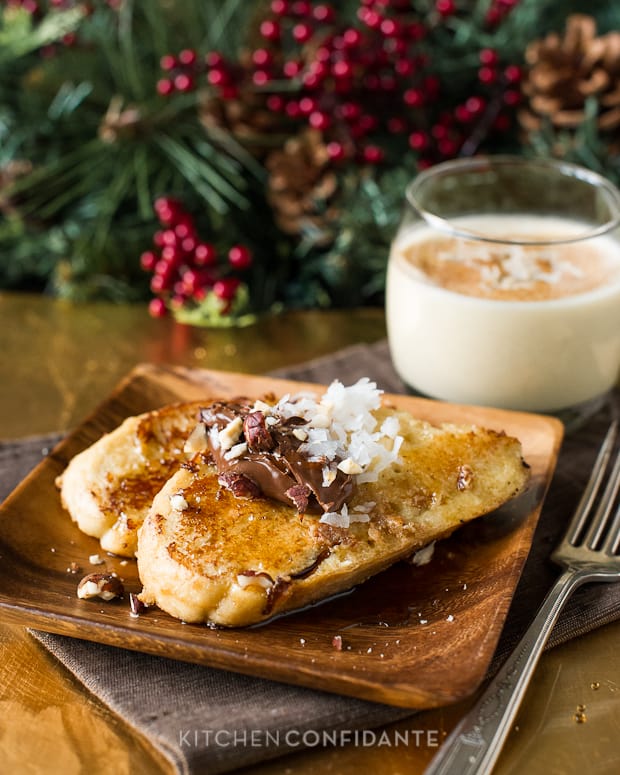 I just couldn't stop.
Two sips into my decadent Coconut Hazelnut Eggnog and I knew I had to save some…for breakfast.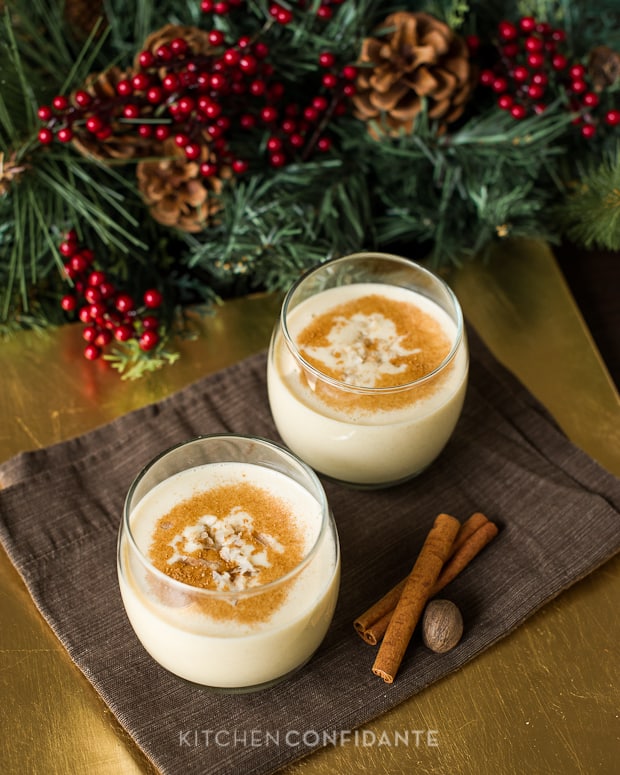 Thick slices of crusty Pugliese were given a bath in the silky custard, immediately soaking in the rich coconut flavor into every nook and cranny. Into a buttered pan it went, browning on both sides until I slid the slices onto a plate. And then came the toppings. A sinful dollop of Nutella, flakes of sweet, chewy coconut, crunchy hazelnuts, and yes, just a wee bit of maple syrup. I didn't want to go too crazy, you know.
One bite, and…it was divine.
When it comes to Christmas morning, breakfast is pushed aside by rushes down the stairs and excited yells from little ones. I often try to make sure my husband and I have something to nibble on as we groggily sip our coffee and watch the delight of our children as they open presents. But soon after, a heavy brunch is in order, and this year, I know what I will be making.
How about you?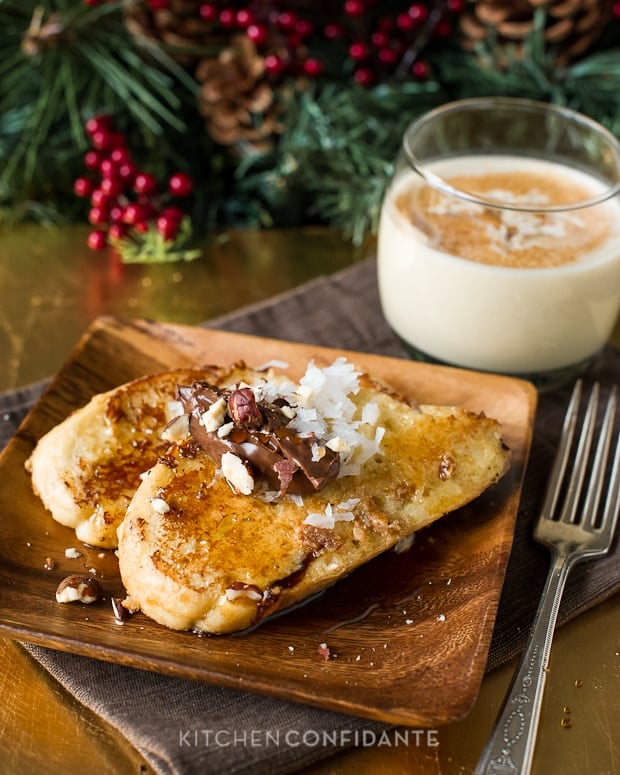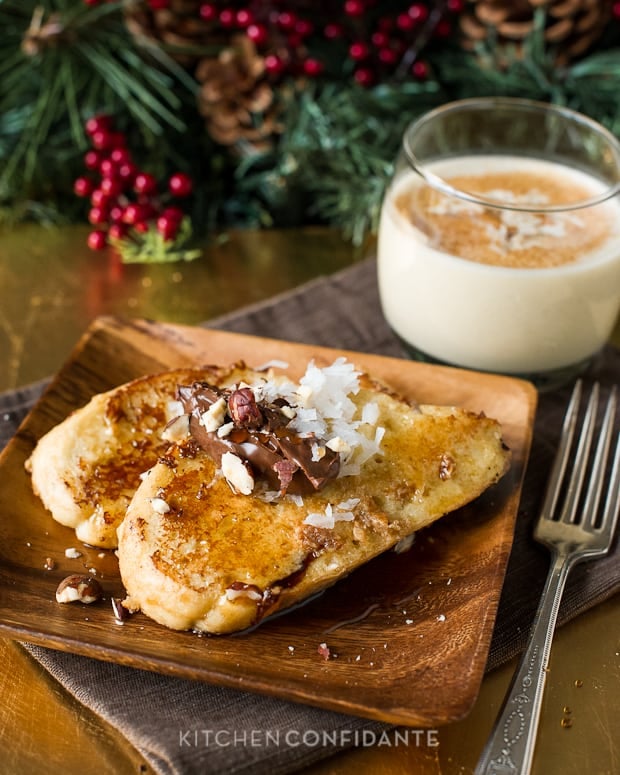 Coconut Hazelnut Eggnog French Toast
One bite of this and I was in utter bliss. In between chews and licking my fingers, I told my husband, "I think this is the best thing I ever made." Well, that may or may not be true, but I honestly can say, it's pretty freakin' good. You've got to just make some and let me know if you agree!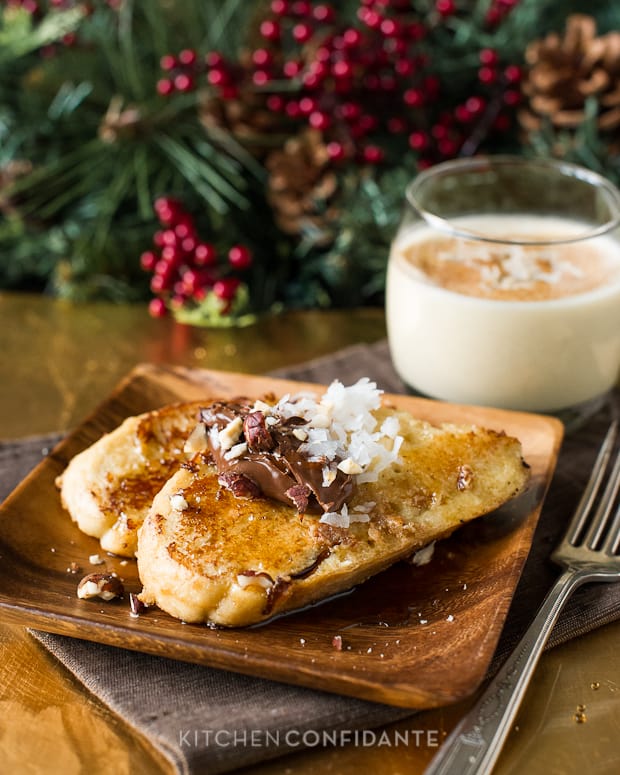 Print Recipe
Ingredients
2 cups Coconut Hazelnut Eggnog, recipe here
8 1/2-inch slices day old bread, such as Pugliese, Brioche or Challah
4 tablespoons unsalted butter
Toppings:
4 tablespoons Nutella
4 tablespoons sweetened flaked coconut
4 tablespoons crushed hazelnuts
4 tablespoons maple syrup
Instructions
Pour the Coconut Hazelnut Eggnog in a pie pan or similar deep sided dish. Dip the slices of bread in the eggnog, briefly coating both sides of the bread, then set aside as you prepare the frying pan.
Heat a non stick frying pan or griddle over medium-low heat. Melt 1 tablespoon of butter in the pan, then lightly brown two slices of bread, about 3 minutes per side. Continue working in batches of two until all the butter and bread have been cooked.
Serve immediately, garnishing each serving with a tablespoon each of Nutella, flaked coconut, crushed hazelnuts and a drizzle of maple syrup.