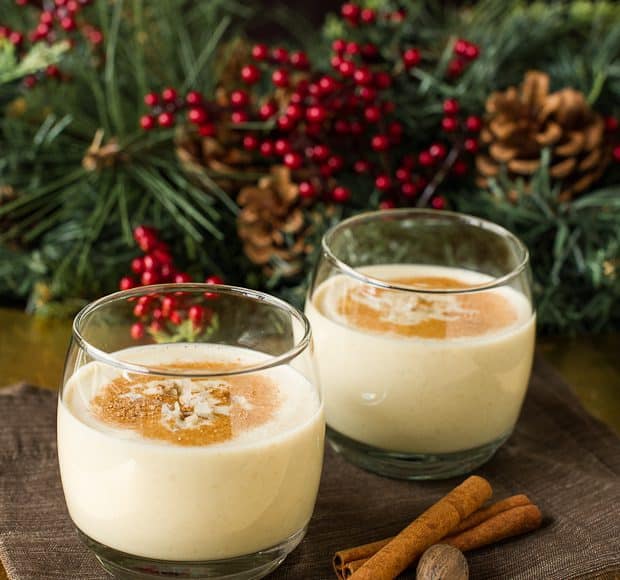 Coconut Hazelnut Eggnog
Eggnog is synonymous with Christmas for many people. This Coconut Hazelnut Eggnog is our family's fun spin on the classic version!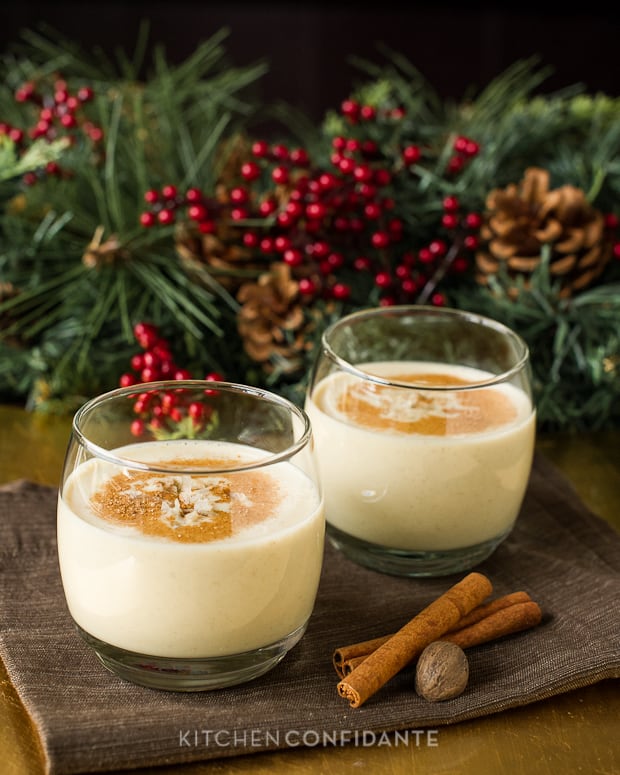 Coconut Hazelnut Eggnog
Coconut Hazelnut Eggnog is one of our new family traditions. I added a bit of fun to the classic version so it felt more like our family, and we love it! This eggnog recipe is very easy to edit so that it reflects your own family, or to make non-alcoholic for any children and non-drinkers at your gathering!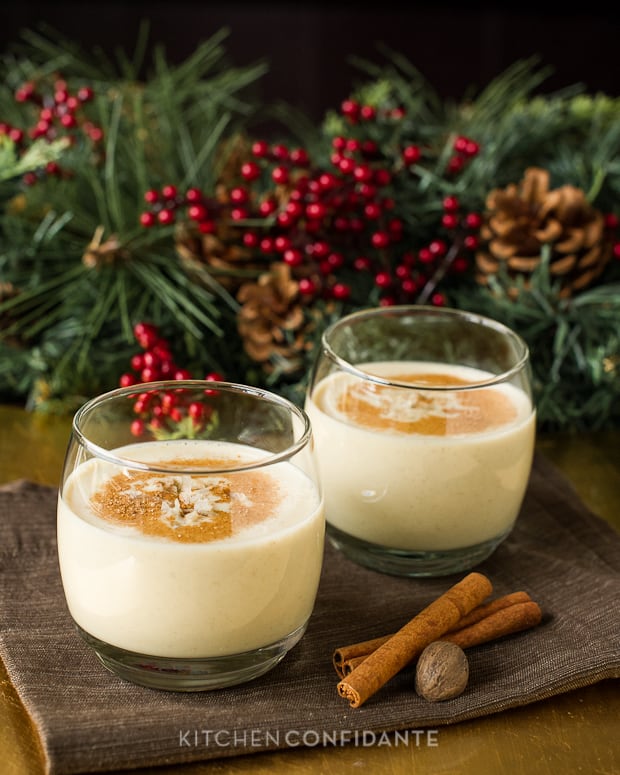 This post first appeared December 23, 2012 as part of the Simple Sundays series. I hope you enjoy this favorite from my kitchen!
Christmas as a Child
Some say that the holidays are for the children. And in many ways, that is true. When you are little, the magic of Christmas blends with the traditions created by your family, each year creating memories and joy that we continually look back upon decades later. Some of those traditions we pass on, and some we create brand new.
I often wonder, What will my children remember of our Christmases together? As we spent some time away this week, escaping to the snow of Lake Tahoe, I realized that they will surely remember long drives where rain turns into snow, the landscape transforming from rolling green hills to rocky peaks and pine trees, pure and white. They will probably remember mornings eating oatmeal by the fireplace, the elf on the shelf smiling down on them (he followed us on vacation!)…mornings full of skiing (or snowboarding – my little guy decided this year he was making the switch). Evenings that begin with hearty dinners and end with hot cocoa.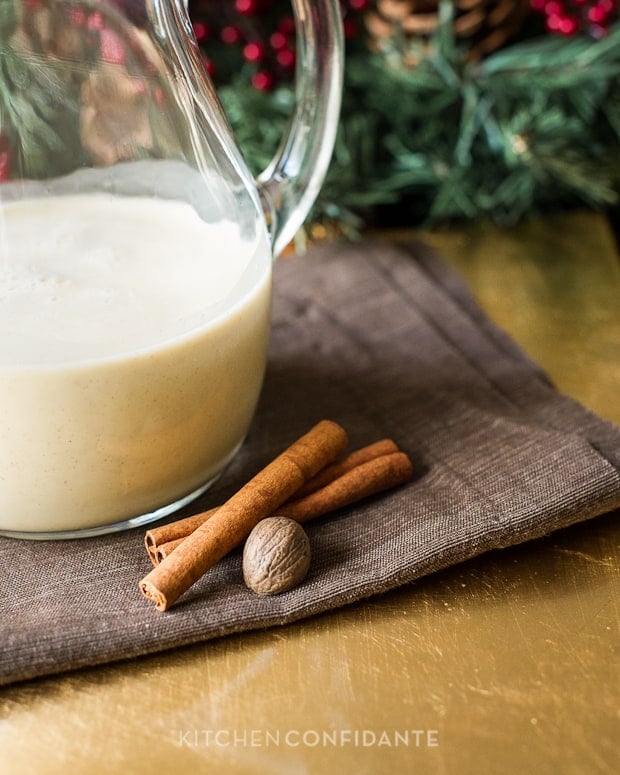 Mama, tell us a story of when you were little, they begged as I tucked them into bed. We had just watched The Christmas Carol snuggled together on the couch. I remembered my own winter evenings, as a little girl. I told them how we would watch the Christmas specials on tv, too, but instead of jelly beans or cups of cocoa, we would sit with warm napkins of roasted chestnuts or peeling grapefruits.
Eggnog always mystified me. It was a holiday tradition I yearned for. It has always seemed quintessential to Yuletide cheer, however, it was never something my mother ever made. She had enough memories to recreate.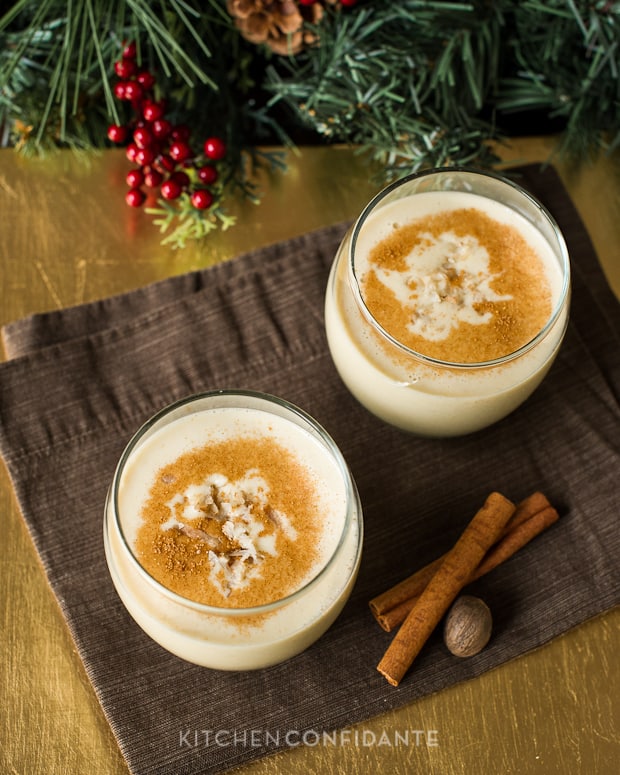 Coconut Hazelnut Eggnog
We are back from the snow, and I'm finally in my kitchen again. I spent all day cooking and baking. The first thing I made was eggnog… made in a way I believe that my mother would have loved. But as I stirred the sweetened coconut milk to a steamy froth, I smiled knowing that my daughter would adore it, too. Her love for coconuts has me dreaming up so many ways to cook with them. I sometimes joke that this blog will be known as the coconut blog.
A cup of Coconut Hazelnut Eggnog for her. A cup for all of us. A taste of tradition and my family's favorite flavors. I don't know if it is something my children will toast with when they begin their own families, but for now, it is ours.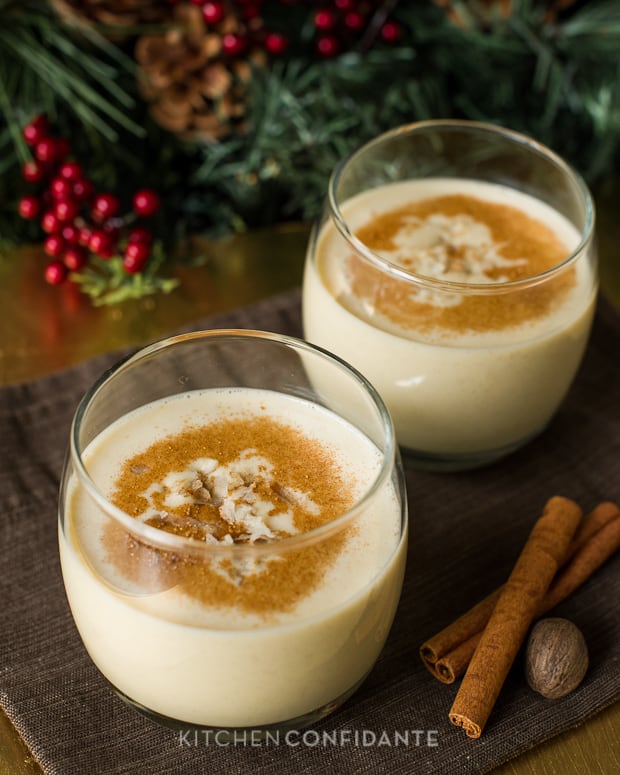 More Holiday Drink Recipes!
Cranberry Pomegranate Mojito
Mulled Wine (Gløgg)
Chai Hot Toddy
Pomegranate Cranberry Moscow Mule
Coconut Hazelnut Eggnog
It wasn't until after I made this Coconut Hazelnut Eggnog that I learned of the Puerto Rican Coquito, which is quite similar with its rum spiked coconut milk. As I mentioned, eggnog is still new to me, but a drink I just knew I would love. This decadent version with coconut milk and hazelnut liqueur can easily be made kid-friendly by omitting the liqueur, or substituting with a hazelnut syrup.
Ingredients
4

cups

coconut milk

1/2

cup

granulated sugar

1/4

teaspoon

vanilla

6

large egg yolks

1/2

teaspoon

cinnamon

1/4

teaspoon

nutmeg

1/2

cup

hazelnut liqueur

6

egg whites

optional

2

tablespoons

sweetened flaked coconut

for garnish (optional)

1

tablespoon

cinnamon sugar

for garnish (optional)
Instructions
Prepare an ice bath and set it aside.

In a medium saucepan, heat the coconut milk, 1/4 cup of the sugar, and vanilla over medium low heat. Whisk periodically until the sugar is fully dissolved and the milk begins to steam and slowly comes to a gentle simmer.

As the coconut milk heats up, whisk the remaining sugar into the egg yolks, beating continually until the eggs are paler in color and smooth in texture.

When the coconut milk is just scalded, pour about 1/4 cup of the coconut milk in a gentle stream into the egg yolks as you whisk it together. Add another 1/4 cup of coconut milk and whisk thoroughly. Pour the warmed egg yolks into the saucepan and whisk into the rest of the coconut milk.

Add the cinnamon and nutmeg and stir constantly over medium low heat until it begins to thicken (about 3-5 minutes).

Stir in the hazelnut liqueur.

Place saucepan into the ice bath and stir as the eggnog cools. Refrigerate at least 2 hours or overnight.

If you wish to use egg whites, beat the whites will a few tablespoons of sugar until frothy. Gently fold into the cooled eggnog. This is optional, especially if you are concerned about consuming raw egg.

Serve garnished with flaked coconut and a sprinkling of cinnamon sugar.
Notes
Adapted from Amazingly Good Eggnog, AllRecipes.com.
Nutrition
Calories:
466
kcal
|
Carbohydrates:
26
g
|
Protein:
9
g
|
Fat:
38
g
|
Saturated Fat:
32
g
|
Polyunsaturated Fat:
1
g
|
Monounsaturated Fat:
4
g
|
Cholesterol:
194
mg
|
Sodium:
92
mg
|
Potassium:
419
mg
|
Fiber:
1
g
|
Sugar:
21
g
|
Vitamin A:
260
IU
|
Vitamin C:
2
mg
|
Calcium:
55
mg
|
Iron:
6
mg