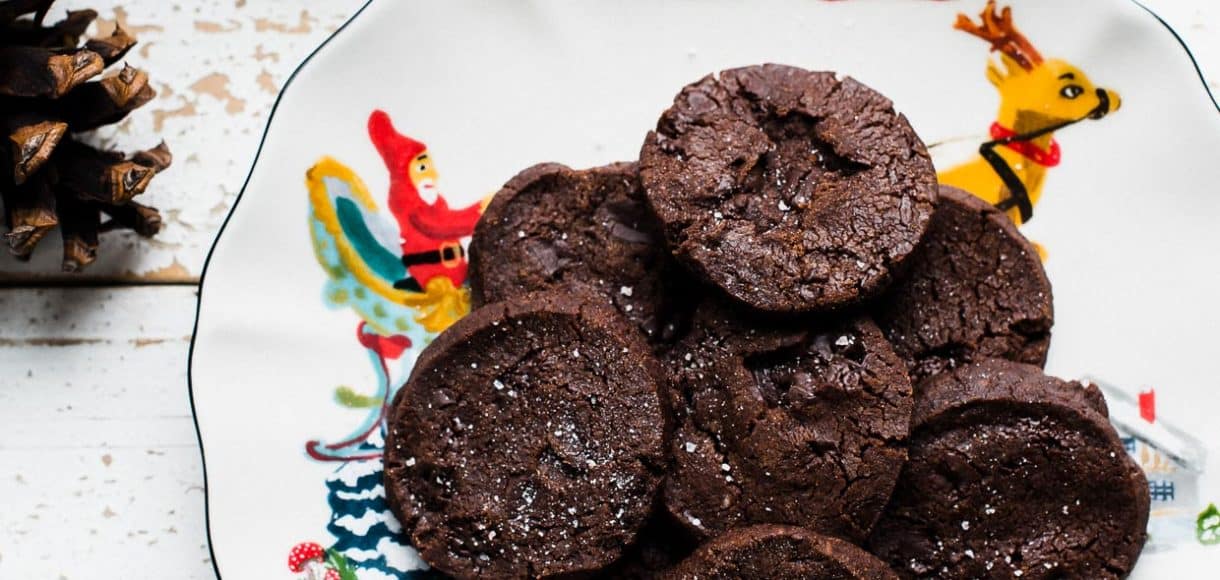 Dorie Greenspan's World Peace Cookies
If there's a cookie that could live up to its name, Dorie Greenspan's World Peace Cookies might be it, especially for salted dark chocolate cookie lovers.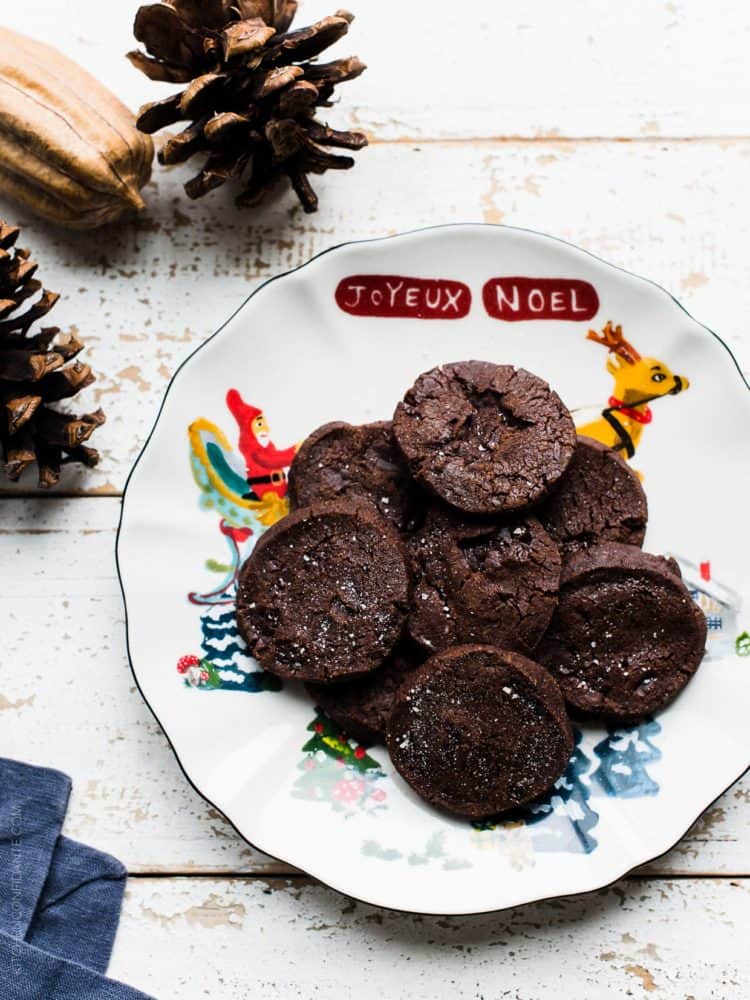 Dorie Greenspan's World Peace Cookies
If there's a cookie that could live up to its name, Dorie Greenspan's World Peace Cookies might be it, especially for salted dark chocolate cookie lovers.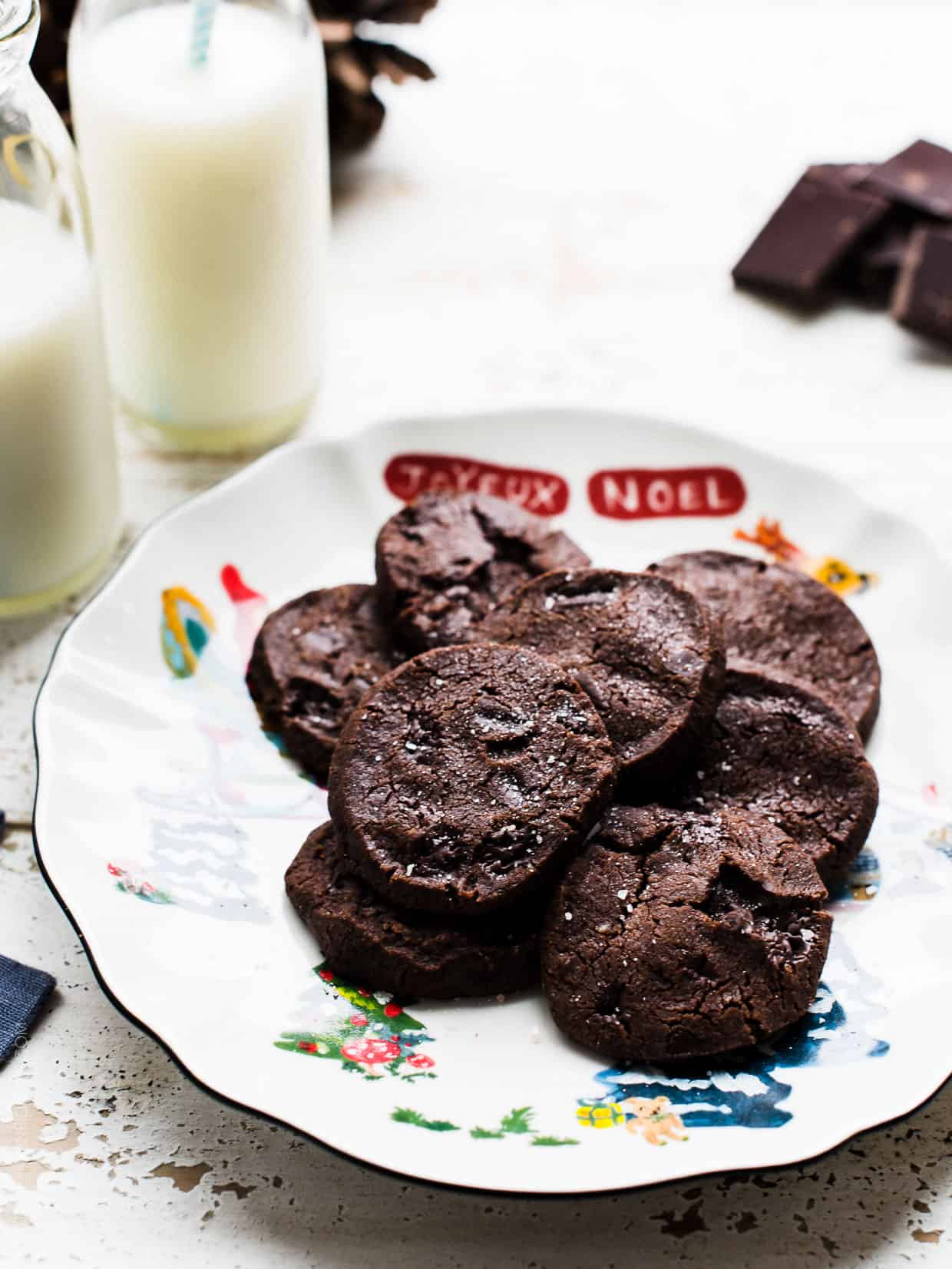 I took a step back this week. There were certain things that needed my attention, namely family. And friends. My focus each morning has been to bring the true spirit of Christmas to everything I do – I don't want this season to whiz by with any regrets, or simply, not feeling as though Christmas ever happened at all.
This morning, I am allowing myself some time to linger in my robe, after a whirlwind drive to LA and back to celebrate the life and sudden passing of one of my favorite uncles, and sitting here in my pajamas makes me feel as though I can still feel the hugs of my brother, sister, cousins, aunts and uncles. During times like these, you can find comfort in the little things, the most important things, and it makes you appreciate the holidays even more.
All I want right now is to bake and nourish, and if it is possible to find comfort in a cookie, then I do believe it.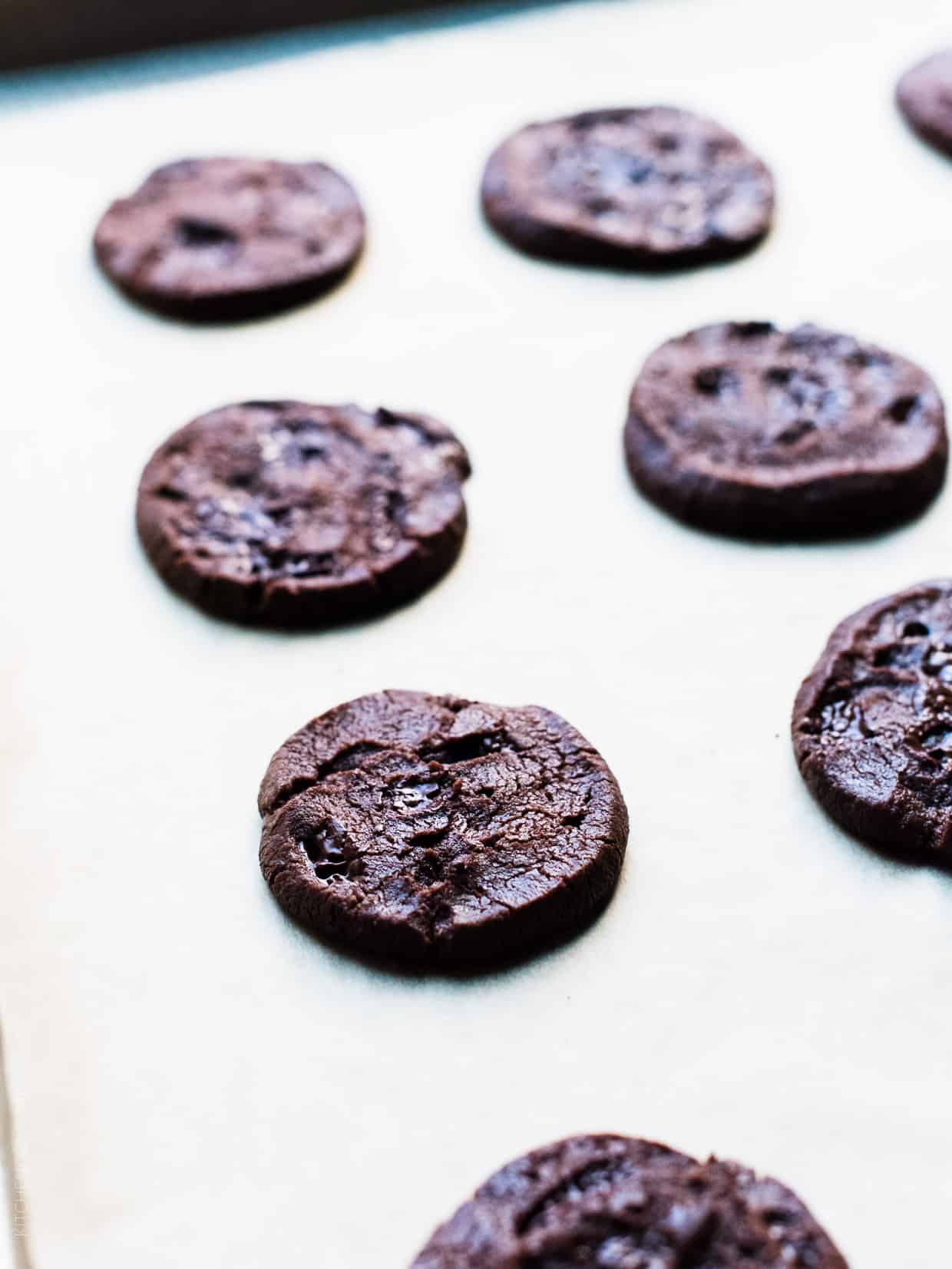 I found comfort among friends last weekend, where we stayed in from the pouring rain, for our annual holiday brunch. The potluck dishes we bring are a highlight, but it's the cookie exchange that steals the show.
Each year we bring cookies to share – some are old favorites, some are new experiments. I was feeling the pull of a salted dark chocolate, and quite honestly, was persuaded by a name.
You may have already heard of Dorie Greenspan's World Peace Cookies – they've been featured all over the internet, and in her latest book, Dorie's Cookies (affiliate link), but even if it weren't, the promise of world peace was too alluring to pass up. Does the cookie live up to the hype…to its name?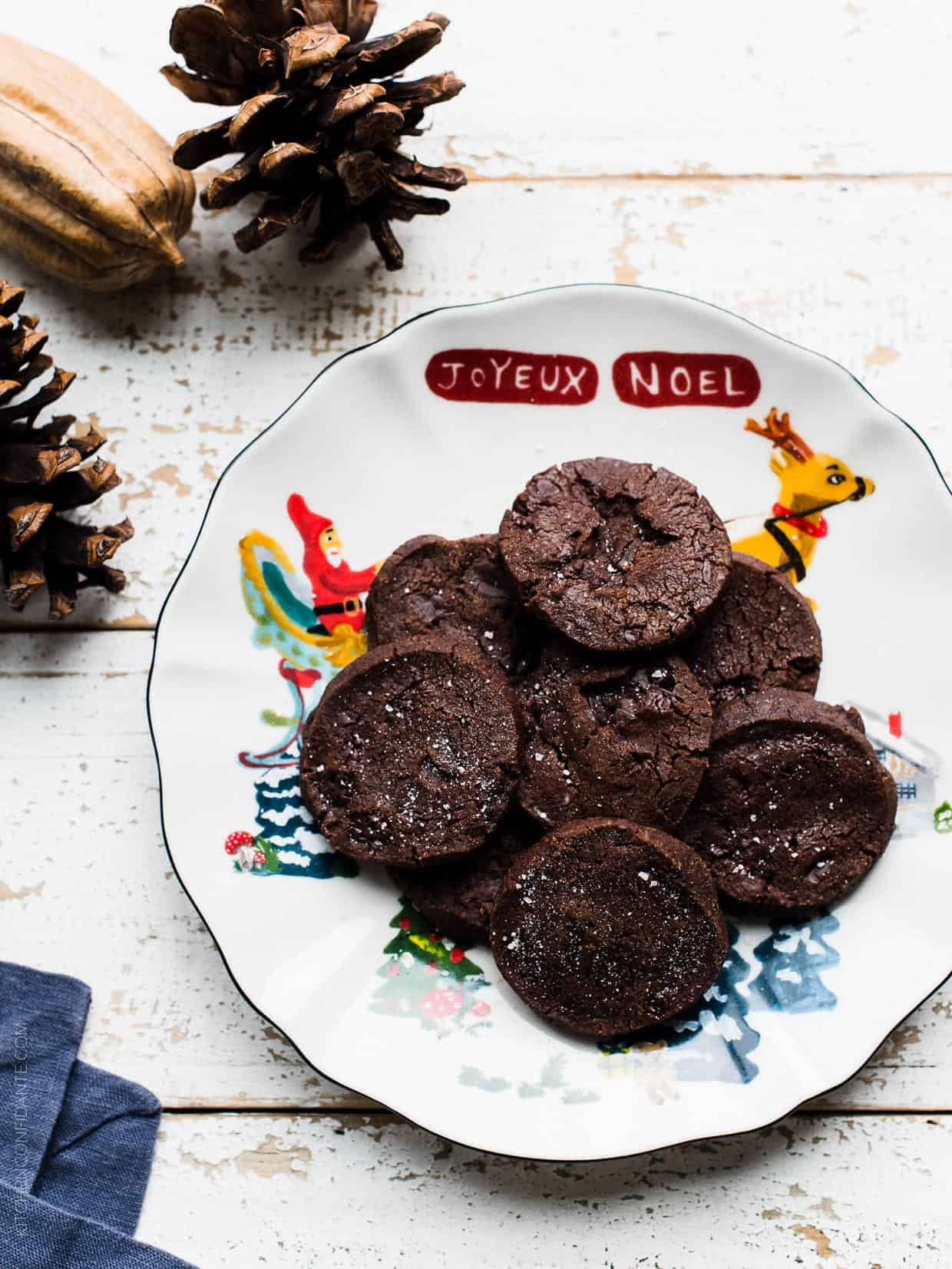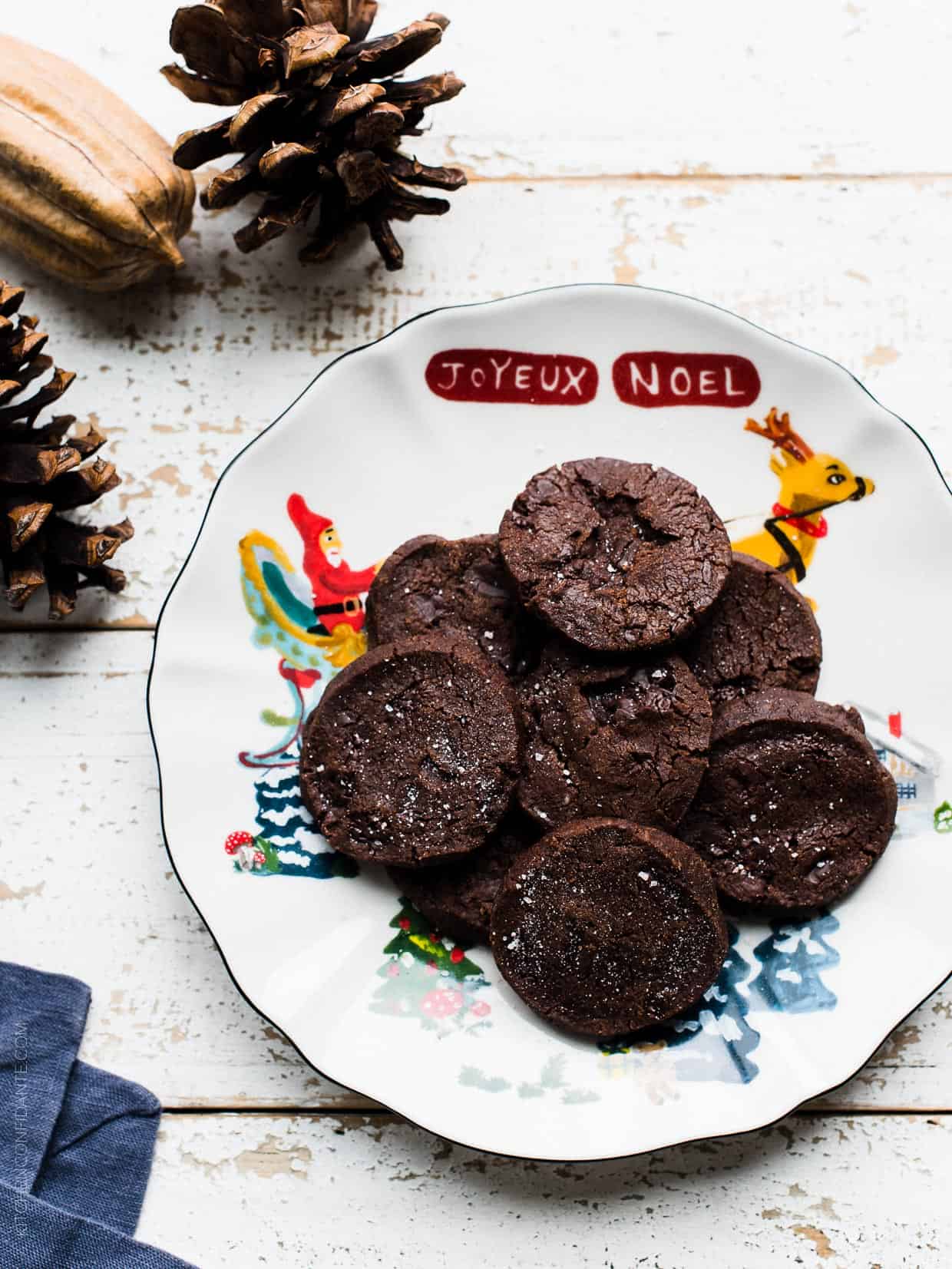 I'm happy to tell you that it most certainly does. As far as cookies go, it's an odd mix of textures, techniques, and familiar flavors. You've got a salted dark chocolate chip cookie living in a shortbread dough, one that Dorie herself claims can be finicky to mold, but will eventually and consistently succumb to your hand.
It is tender and flakey, dark and chocolatey, and with a hint of sea salt, never overbearing. I made several batches, some to share at our cookie exchange, and I am keeping a few logs in the freezer for more gatherings with family over Christmas. Or for that unexpected need for a cookie hug.
You just never know when you might need one.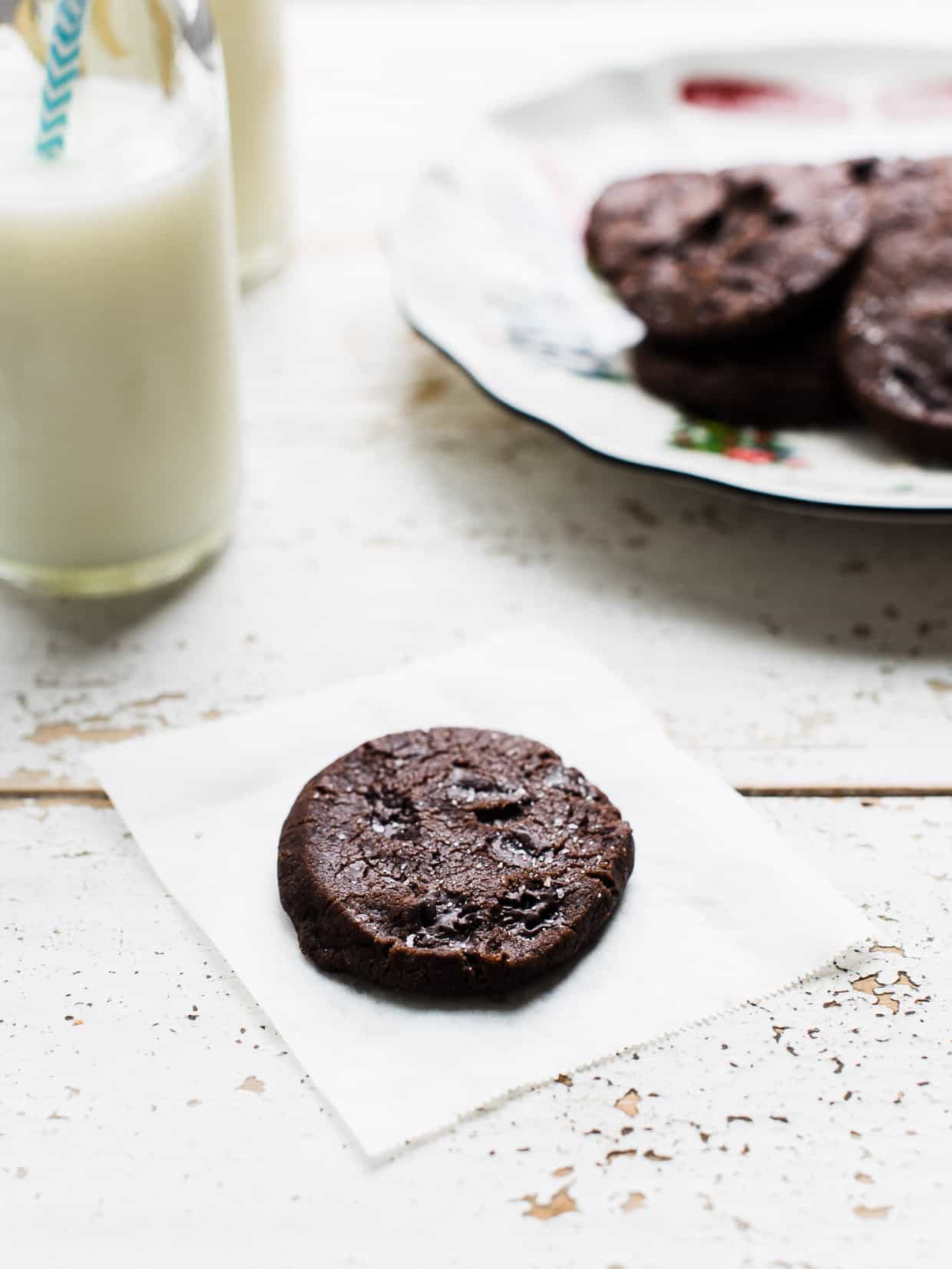 Disclosure: There may be affiliate links in this post. Please see my Privacy & Disclosure page for details.
More Holiday Cookie Recipes
Alfajores
Cream Cheese Chocolate Chip Cookies
Chocolate Butterscotch Cookie Brittle
Nutella Berry Filled Waffle Cookies (Pizzelle)
Lemon Spritz Cookies
Coconut Cookies
Cranberry Curd and Hazelnut Shortbread Bars
Dorie Greenspan's World Peace Cookies
If there's a cookie that lives up to its name, this might be it. Dorie Greenspan's World Peace Cookies are salted chocolate chip cookies that meet crumbly shortbread for the ultimate in getting-along. Perfect for your next holiday cookie exchange!
Ingredients
1 1/4

cups

all-purpose flour

1/3

cup

unsweetened cocoa powder

1/2

teaspoon

baking soda

11

tbsp

unsalted butter (1 stick plus 3 tablespoons)

cut into chunks, at room temperature

2/3

cup

packed light brown sugar

1/4

cup

sugar

1/2

teaspoon

fleur de sel or 1/4 teaspoon fine sea salt

1

teaspoon

pure vanilla extract

5

ounces

best-quality bittersweet chocolate

chopped
Instructions
In a small bowl, sift the flour, cocoa and baking soda.

In the bowl of an electric mixer using the paddle attachment (or using a hand mixer), beat the butter brown sugar and granulated sugar until the mixtures is soft and creamy, about 3 minutes. Use a spatula to scrape the sides of the bowl, add the salt and vanilla and mix until blended. Turn off the mixer, then add the flour mixture all at once, mixing first at low speed. As the dough starts to come together, beat the dough on medium-low speed until the dough forms chunky pieces. Add the chopped chocolate and mix to incorporate. The dough is usually crumbly and sandy — do not worry, it will come together as you work the dough!

Turn the dough out onto a work surface (I like using a silicone mat. If you don't have one, don't worry!). Use your hands to gather the dough together, don't be afraid to work it, even if crumbly, it will eventually come together. Divide in half and continue to work one half of the dough, pressing and rolling, forming it into a log 1 1/2 inches in diameter. Repeat with the other half of the dough. Wrap the logs in plastic wrap and freeze for at least 2 hours or refrigerate for at least 3 hours, or overnight.

To prepare the cookies for baking, preheat the oven to 325°F with a rack placed in the center. Prepare two baking sheets with parchment paper.

Work with one log of dough at a time, keeping the other log chilled. Using a sharp knife, slice the dough into 1/2-inch rounds. If you're working with frozen dough, allow the dough to soften a bit. Place the sliced rounds onto the baking sheets, 2 inches apart.

Bake the cookies for 12 minutes, then remove from the oven. The cookies will still be soft, but they will change in texture as you let them rest for a few minutes on the tray. After about 4-5 minutes, gently transfer to a cooling rack to cool completely. The cookies are especially good while warm, but if you can resist the temptation, they're also wonderful when completely cool.

Repeat baking the remaining dough. Once the cookies are cool, store in an airtight container.
Nutrition
Calories:
92
kcal
|
Carbohydrates:
11
g
|
Protein:
1
g
|
Fat:
5
g
|
Saturated Fat:
3
g
|
Cholesterol:
9
mg
|
Sodium:
50
mg
|
Potassium:
46
mg
|
Fiber:
1
g
|
Sugar:
7
g
|
Vitamin A:
109
IU
|
Calcium:
9
mg
|
Iron:
1
mg