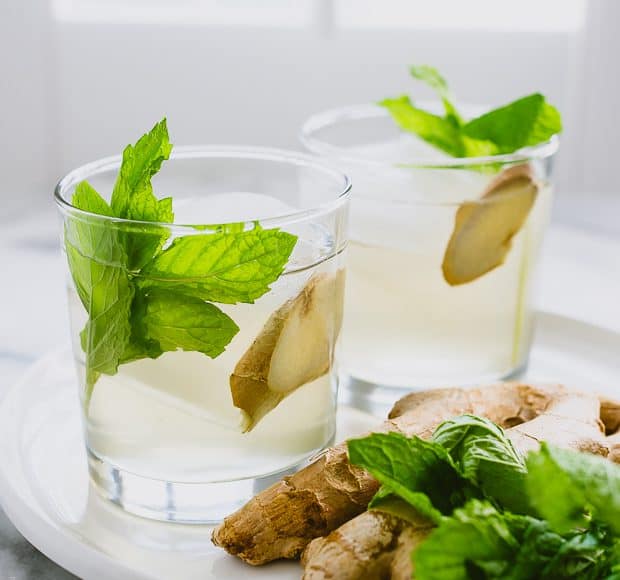 Simple Sundays | Ginger-Mint Coconut Water Cooler
We arrived cloaked by darkness, the evening sky chirping with cicadas as the car engine rolled to a stop. It had been a long, long ride from Manila, to the beachside town where my grandfather still had a rice plantation, where my mother spent many…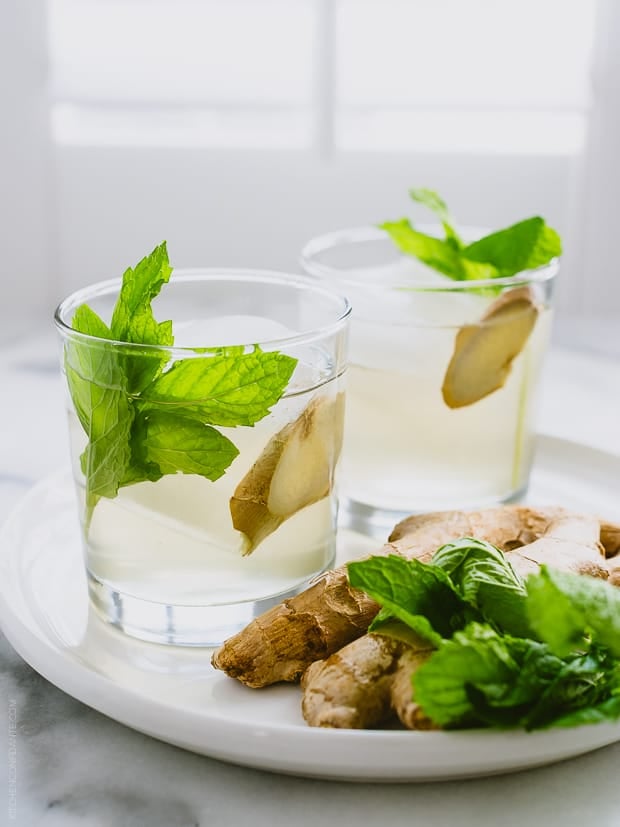 Simple Sundays | Ginger-Mint Coconut Water Cooler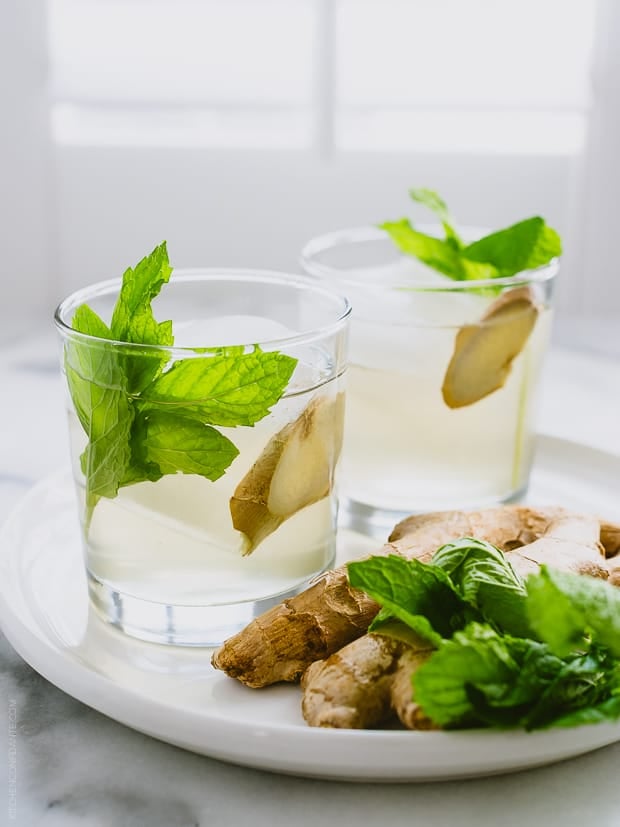 We arrived cloaked by darkness, the evening sky chirping with cicadas as the car engine rolled to a stop. It had been a long, long ride from Manila, to the beachside town where my grandfather still had a rice plantation, where my mother spent many summers as a little girl. Stories from her childhood were peppered with memories from summer visits to this provincial town, where my uncles would hunt for fresh shrimp in the streams, and the women would bathe in the fresh springs on Mount Mayon.
I was about 9 years old, and as familiar as the rice paddies and water buffalo felt from my mother's stories, it was a world away from my life in New York. Clearly, I wasn't the only one who felt that way. I would find myself reading the comics in the morning after breakfast on the porch, when a gaggle of eyes would peer at me through the wooden fence. The children would stop on their way to school to observe me, the odd visitor. They would follow us through town, remarking about my knee-high socks (80's fashion still puzzles me today, it's no wonder they were intrigued) or my fancy strapped sandals. "Moooom!" I would complain, but she would hush me and remind me that I was just as novel as I found the outdoor kitchen.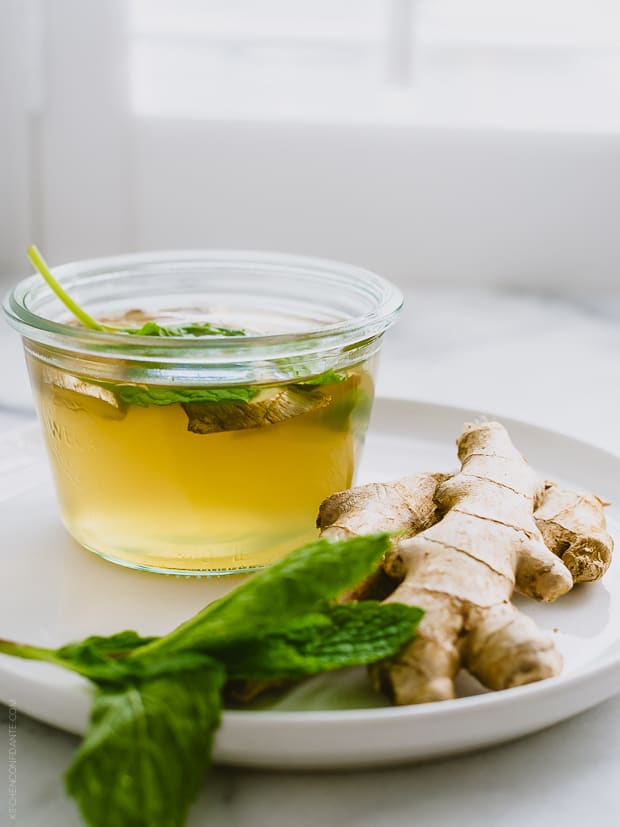 We took a hike up Mayon Volcano one afternoon, and our guide shimmied effortlessly up the coconut tree, bolo knife in hand, and dropped down the young, green fruit. With a swift slice, he cracked them open, and whittled spoons from the coconut tops. I was mesmerized and charmed at once. And then that sip — cool, refreshing, and sweet. Coconut water so fresh, and so needed after a hot hike. And then the best part: using my fashioned spoon to scrape the tender coconut meat. I decided this was heaven.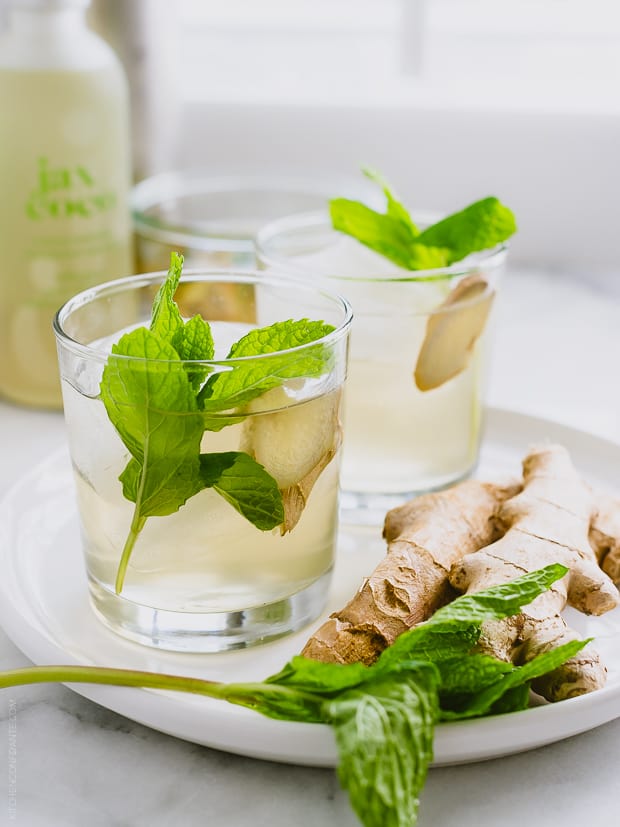 These days, when I roll my metal cart through the fluorescent grocery stores, I find myself by the growing display of coconut water – hearing snippets of conversation from people in the aisle, touting the benefits, post work out. Yes, it's true. But for the longest time, I was always disappointed with the coconut water I would find – it never quite tasted the same. Until now.
Many many months ago, I received a package of coconut water to try, and I nearly forgot about it until one morning after a particularly tough workout. I cracked one open and my eyes lit up. It's the closest I have found that reminds me of that summer in 1984. I drank it all up and decided I needed to play with it some more.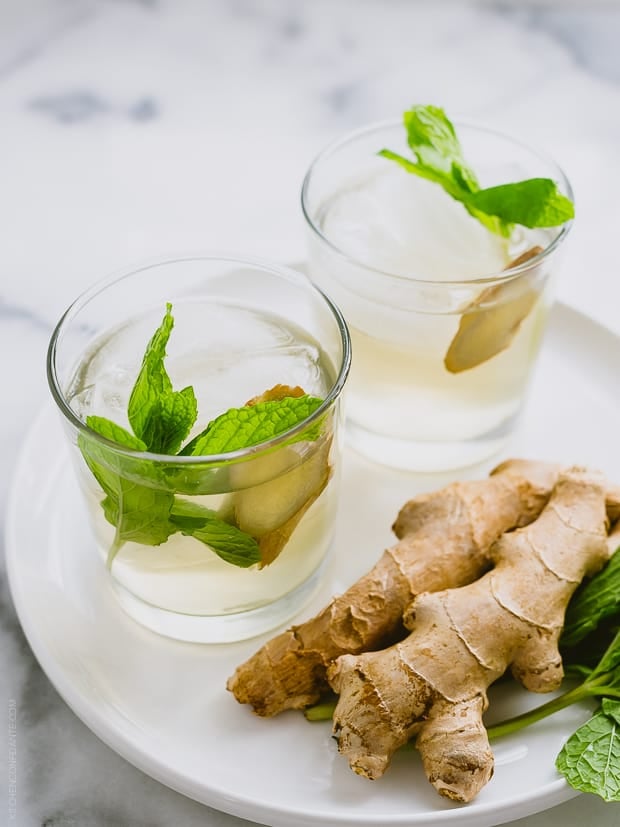 This Ginger-Mint Coconut Water Cooler is my antidote to a scorching summer day, when all you want to do is lay on a hammock under the palm trees, the ocean breeze drifting, and the perfectly shaped Mayon Volcano towering behind you. Coconut water sweetened with a ginger-mint syrup and spiked with a dose of white wine swirls in the ice, and is a gentle wind with every cool sip. I hope you try it and think of this little slice of heaven I found years and years ago. Cheers.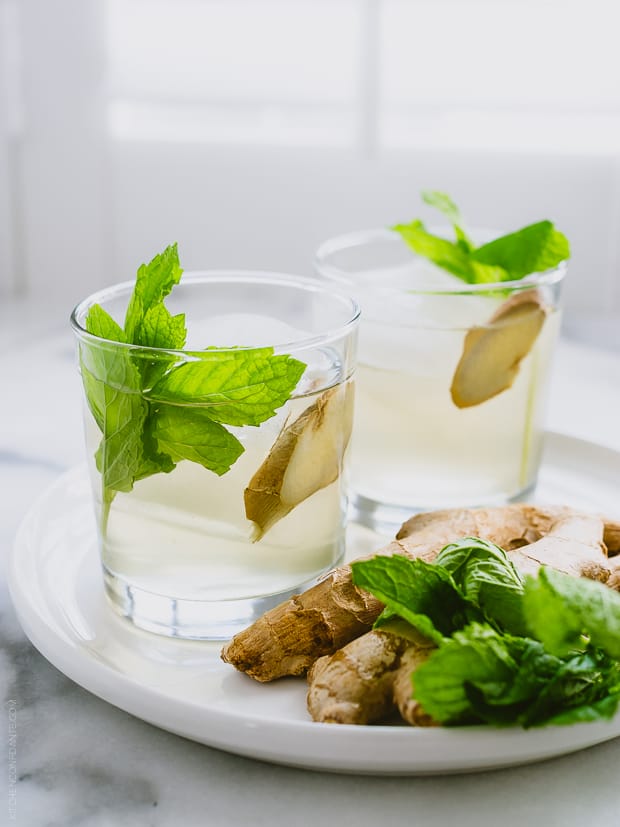 Disclosure: The coconut water used in this beverage was received from Jax Coco. I was not compensated by Jax Coco for this post; I am sharing it because I truly enjoyed their product. As always, all opinions are my own.
Ginger-Mint Coconut Water Cooler
While I almost always welcome a glass of wine, this cooler is just as delicious as a refreshing non-alcoholic drink. I love it just as much without the wine, making it a delicious way to beat the heat any time of day.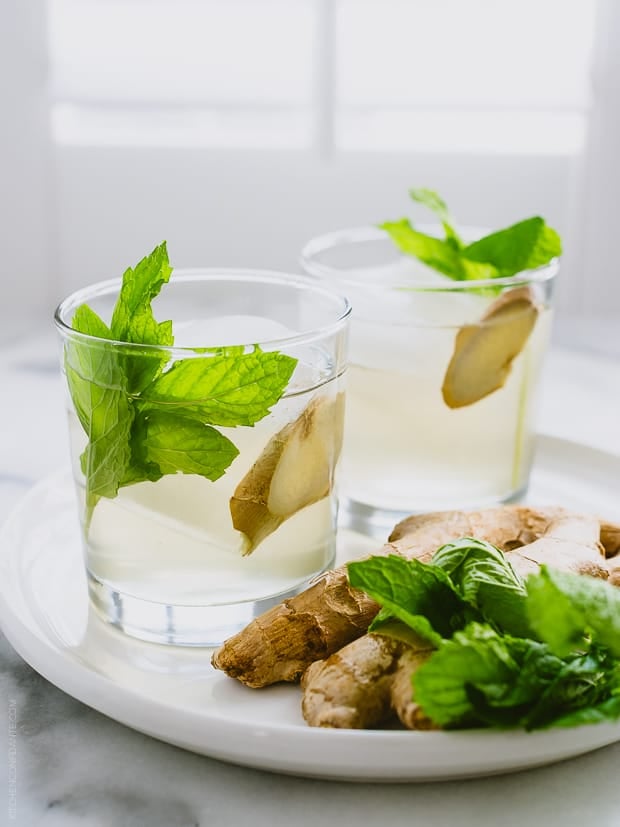 Print Recipe
Ingredients
Ginger-Mint Syrup:
1 cup water
1/2 cup granulated sugar
6 slices fresh ginger
2 sprigs mint

Cooler:
1 cup coconut water
1/4 cup ginger-mint syrup
1/4 cup Chardonnay
ginger, sliced, for garnish
mint, for garnish
Instructions
To make the Ginger-Mint syrup: Combine slices of ginger, water and sugar in a small sauce pan and bring to a boil. Lower heat, cover and simmer for about 20 minutes, adding mint sprigs during last 10 minutes. Let it cool in the refrigerator. Strain. This can be made a few days in advance and kept in a tightly sealed container in the refrigerator.
To make the cooler.
Fill glasses with ice cubes. Add 1 cup coconut water, 1/4 cup ginger-mint syrup, and 1/4 cup blood orange juice to a cocktail shaker with some ice. Shake and strain, pouring into two glasses. Garnish with a ginger slice and mint and serve.