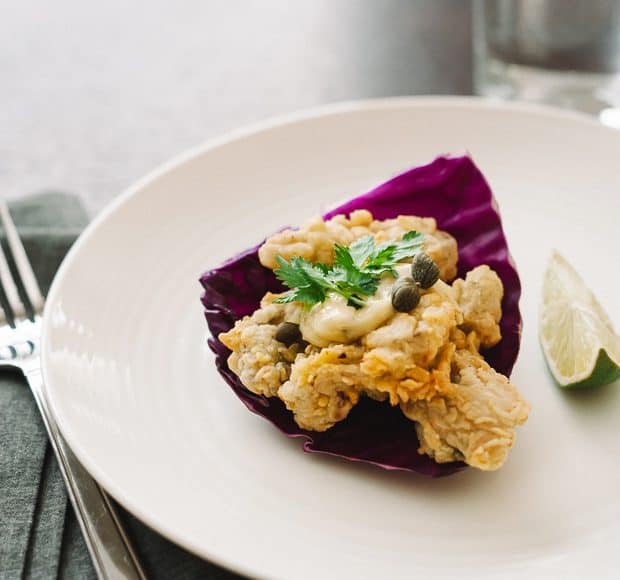 Simple Sundays | Buttermilk Fried Oysters with Caper Aioli
Last night, I settled my head on the pillow feeling quite content. My tummy and my heart were full. It's been a wonderful weekend of celebration, just full of small moments gathered with the people I love the most. Champagne toasts with friends. Bites of…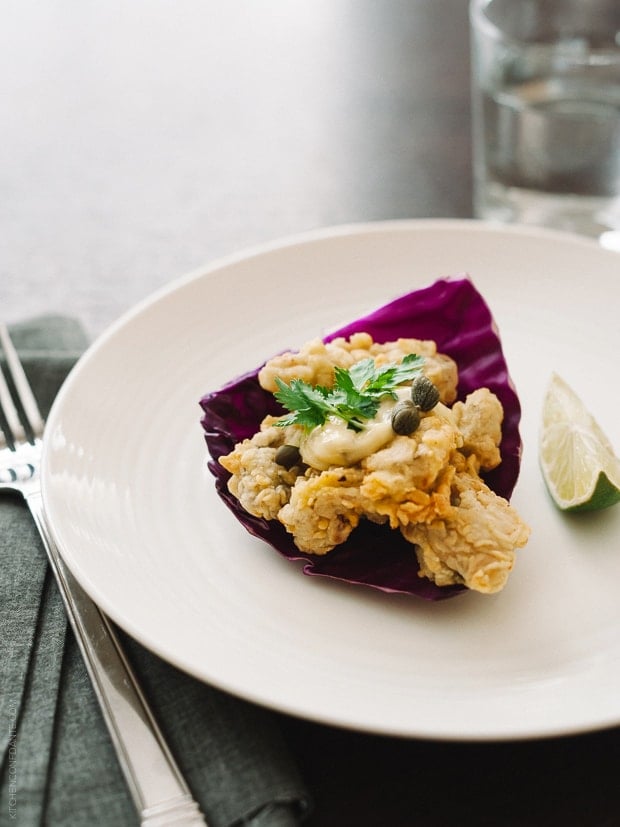 Simple Sundays | Buttermilk Fried Oysters with Caper Aioli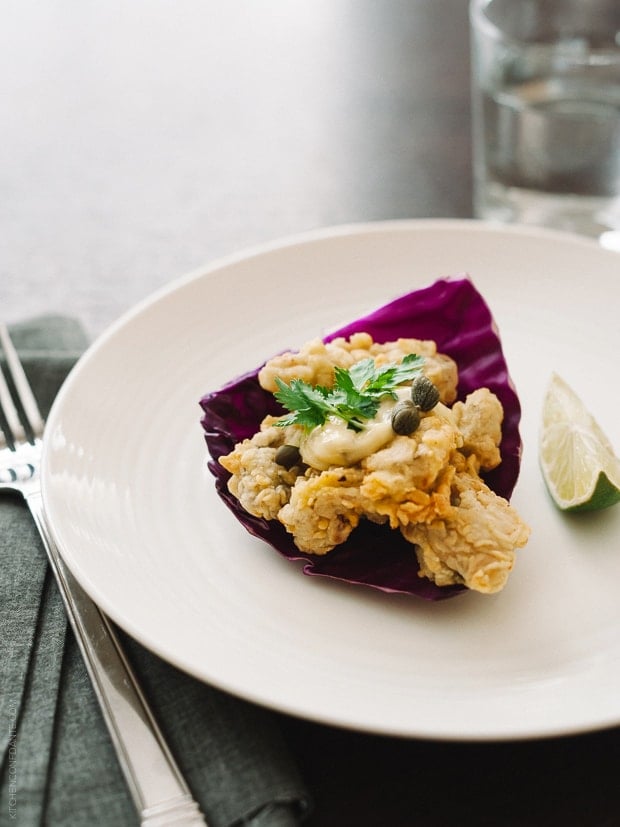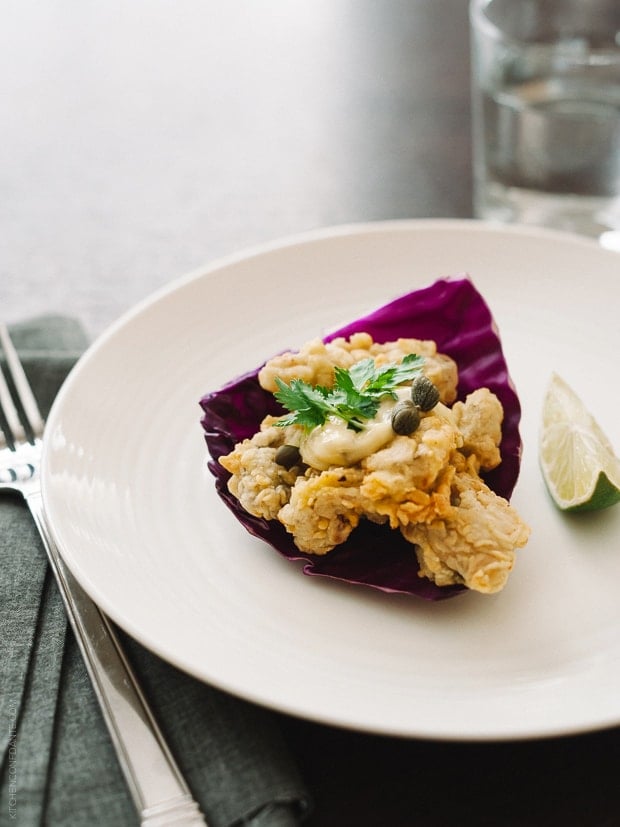 Last night, I settled my head on the pillow feeling quite content. My tummy and my heart were full. It's been a wonderful weekend of celebration, just full of small moments gathered with the people I love the most. Champagne toasts with friends. Bites of savory and sweet scattered throughout. And surprises. Or near surprises.
My husband is notorious for never keeping a secret. I joke that I have not opened a present from him on Christmas day in so long because the holidays with him is more like Hanukkah. I love him dearly, but keeping secrets are not his forte, and while he orchestrated an incredible surprise for my 40th birthday this week, he cracked. He couldn't hold it in any longer.
"You have to go to the airport," he told me last week. My mind immediately thought, "oh dear, must I pack, too?" But then he spilled the beans: "I have one more surprise – I'm flying your sister in." My heart leapt – he flew my sister and brother in law into town, and last night we – all of us, including the children – enjoyed a delightful dinner at Prospect.
The food, well, was in a word, perfect. I was not surprised. Prospect is the sister restaurant of our nostalgically beloved Boulevard, and we were all pleased with every bite. But above all, what made it extra special was having my family at the table, and sharing this dining experience with my son and daughter. While we love to take them out to wonderful places when we are traveling, this was perhaps their first true meal out with us in San Francisco, where they were to order from our menu, the sole menu, a menu that doesn't dumb things down for children or assume that buttered noodles are the only thing they will eat.
Their delight was mine – I loved seeing my daughter cut through her quail with relish, and my son sigh with happiness with each bite of lobster stuffed sole. Their peeks into the kitchen to see the preparation brought a smile to all our faces. And their appreciativeness when Chef Pam Mazzola stepped out of the kitchen to say hello and grace the table with their trademark caramel corn was a highlight.
"Can we eat here every night?" my son asked. Oh, buddy, wouldn't that be nice?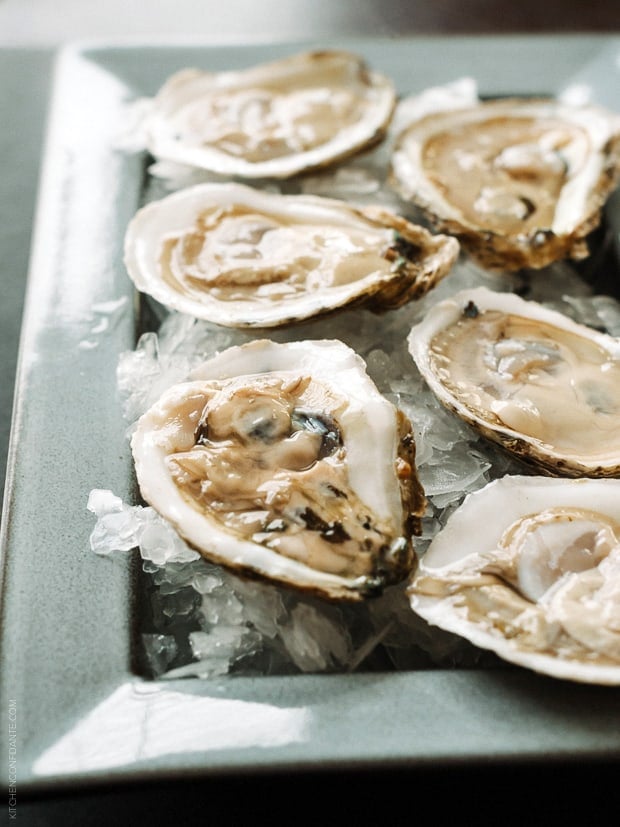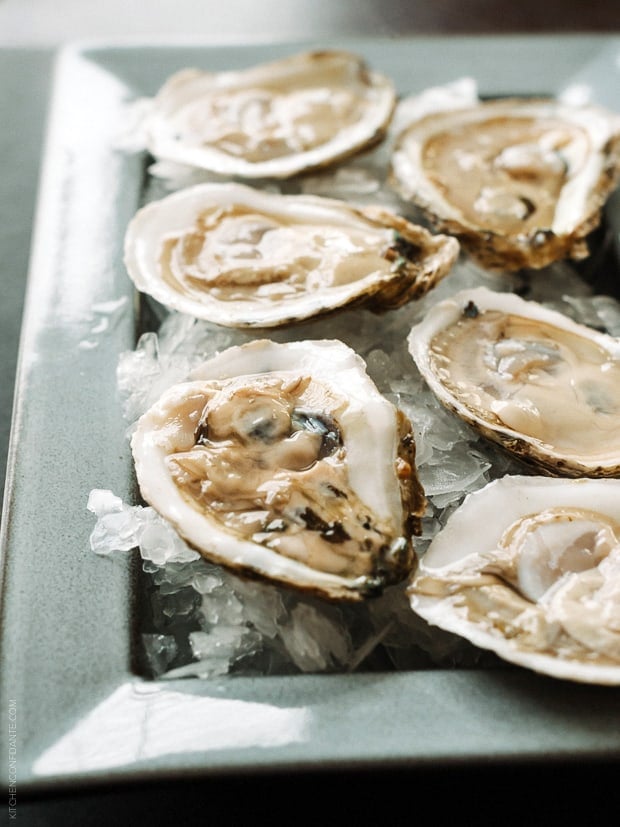 I saw a fire in my son's eyes that reminded me of those memorable meals that make an indelible mark in your life – you know the ones, right? He was in awe and bliss of the whole experience. It reminded me of one of our old favorite appetizers that we fell in love with when we first went to Boulevard years and years ago – a Buttermilk Fried Oyster with a Buffalo Carpacio. It was one of those bites that left its mark, and over a decade later, we still think of those buttermilk fried oysters.
Over the last several weeks, my husband and I have been playing with oysters here at home, recreating just a portion of that delightful bite. These Buttermilk Fried Oysters with Caper Aioli stands on its own as a perfect appetizer – salty and crunchy, tender and tangy. It works well on its own, if you have no patience to plate it, straight out of the fryer or pan. Or assemble it into a salad if you wish. I thought of making myself a birthday cake, but you know what? I may make another batch while my sister and her husband are here. Who needs cake? Oysters are for celebrating, after all.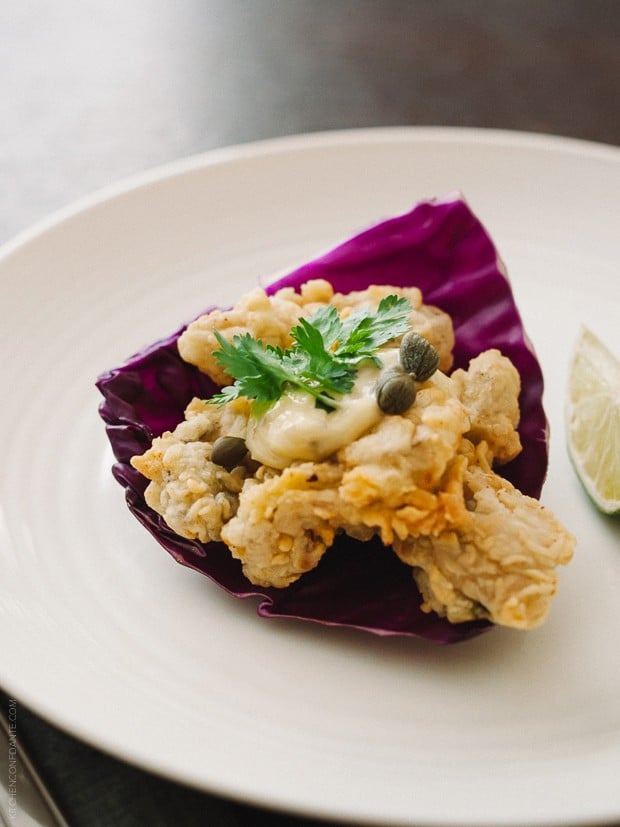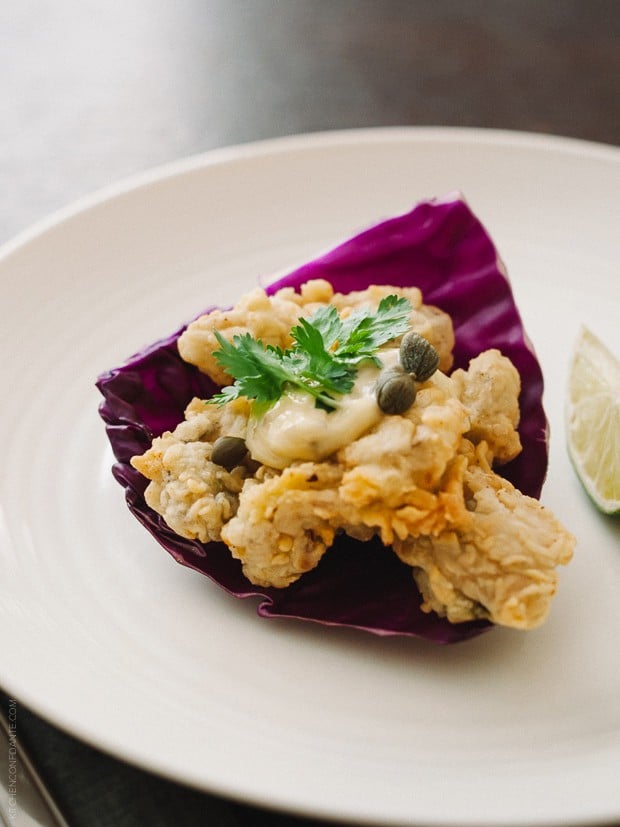 Buttermilk Fried Oysters with Caper Aioli
Serve these oysters as part of a salad or simply on its own - they are an absolute savory treat. There is no need to wait for a special occasion - let the celebrating come to you.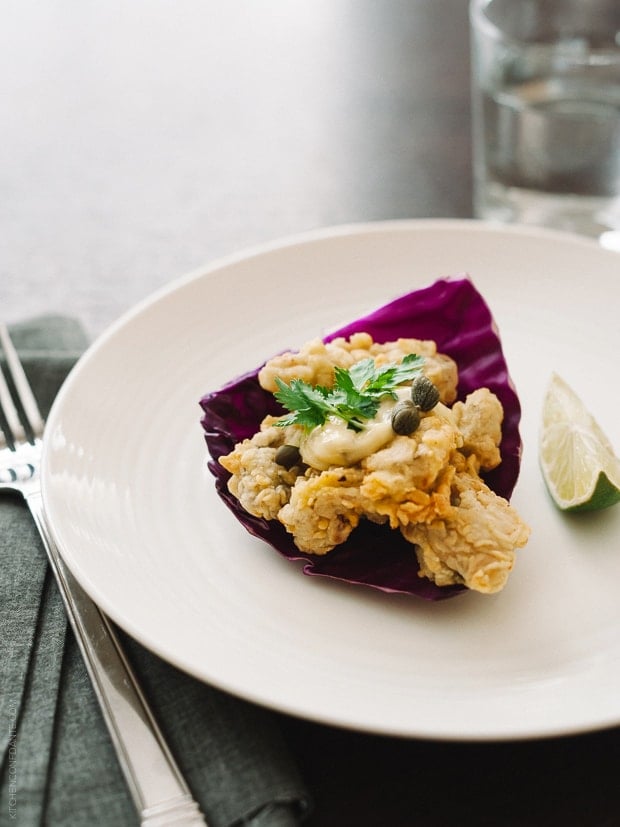 Print Recipe
Ingredients
For the Buttermilk Fried Oysters:
12 medium sized oysters
1/2 cup buttermilk
pinch of salt
several dashes Tabasco
1/2 cup all purpose flour
1/4 cup cornstarch
1/4 teaspoon cayenne pepper
1/4 teaspoon salt
1/8 teaspoon freshly ground black pepper
For the Caper Aioli:
3 cloves garlic
1/4 teaspoon kosher salt
Freshly ground black pepper
1 large egg yolk
1/2 cup extra virgin olive oil
1 1/2 teaspoons capers, finely chopped
1 teaspoon finely chopped cilantro
1/8 teaspoon caper juice
pinch of cayenne pepper
Kosher salt
Freshly ground black pepper
Instructions
Make the Buttermilk Fried Oysters
Shuck the oysters and discard the shells. In a small bowl, stir together the buttermilk, salt and Tabasco. Marinate the oysters in the buttermilk bath for about 10 minutes.
Meanwhile, in a medium bowl, whisk together the flour, cornstarch, cayenne pepper, salt and pepper. Preheat the oil in your deep fryer or deep sided sauté pan to 350 degrees F.
Remove each oyster one at a time and let the excess buttermilk drip off, then dredge in the flour mixture. Place in the hot oil, and working in batches, let it the oysters fry for about 1 minute per side, until they are golden brown. Using a slotted spoon, remove the oysters and set it on a plate lined with paper towels to drain and cool slightly.
Make the Caper Aioli:
Peel and mash the garlic along with the salt, finely mincing and pressing with the side of the knife to create a paste. Place the garlic in a small bowl, season with some freshly cracked black pepper and whisk in the egg yolk until it is creamy. As you whisk, begin to add the olive oil gradually: begin with just a few drops of olive oil, fully whisking until the yolks thicken and emulsify. Continue adding the olive oil in drops, then in a very slow stream, continually whisking. It should be thick and very creamy. Stir in the capers, cilantro, and caper juice, and season with cayenne pepper, salt and pepper, to taste. Store in a tightly sealed container in the refrigerator until ready to serve. This can be done a few days in advance.
Buttermilk Fried Oysters inspired by and lightly adapted from Boulevard: The Cookbook (Oakes, Mazzola & Weiss, 2005). Aioli sauce adapted from The Creamiest Aioli Recipe, Suzanne Goin, via Bon Appetit (April, 2012).