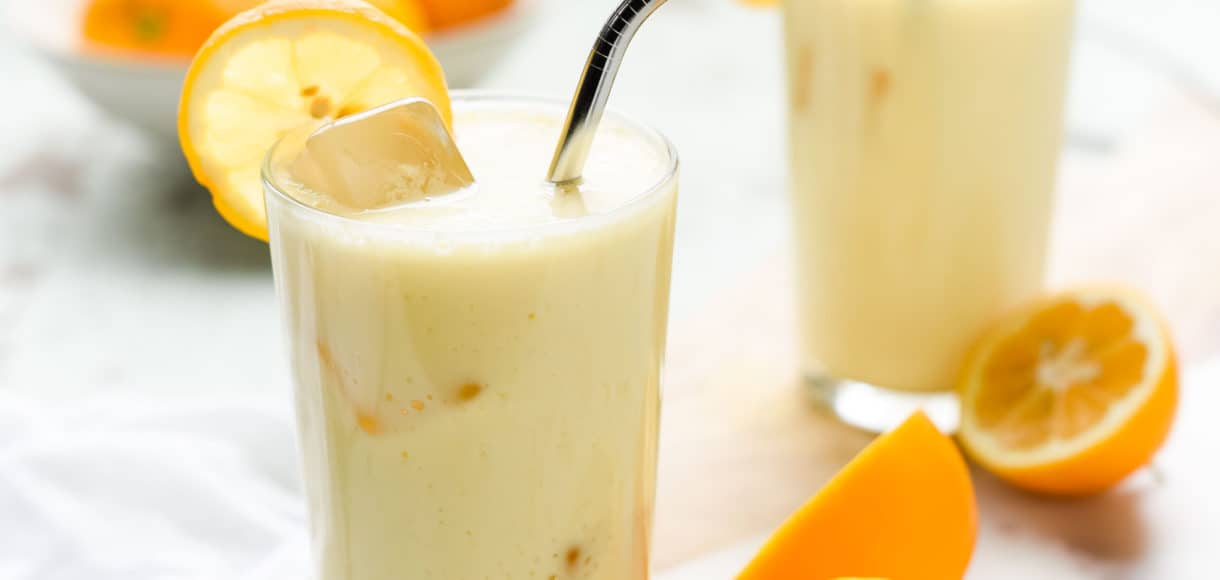 Meyer Lemon and Honey Lassi
Squeeze a little sunshine into a Meyer Lemon and Honey Lassi. This Indian-inspired smoothie is a tangy, lip-smacking treat! I don't know what it's like by you, but I miss the sun. We're in the depths of winter, and it doesn't look as though we…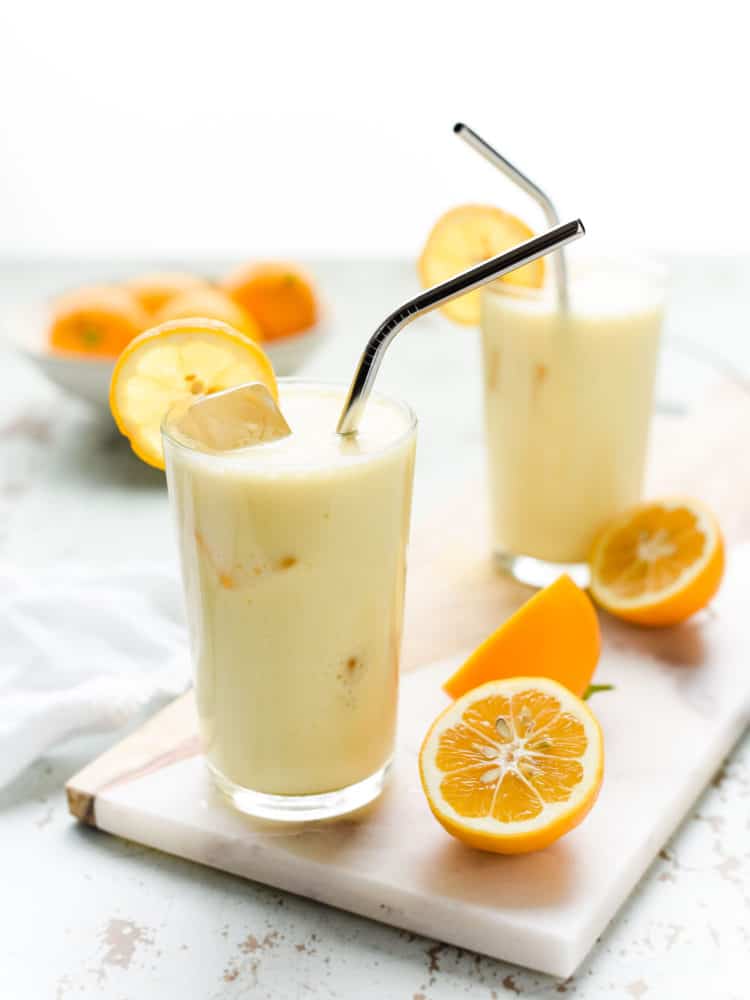 Meyer Lemon and Honey Lassi
Squeeze a little sunshine into a Meyer Lemon and Honey Lassi. This Indian-inspired smoothie is a tangy, lip-smacking treat!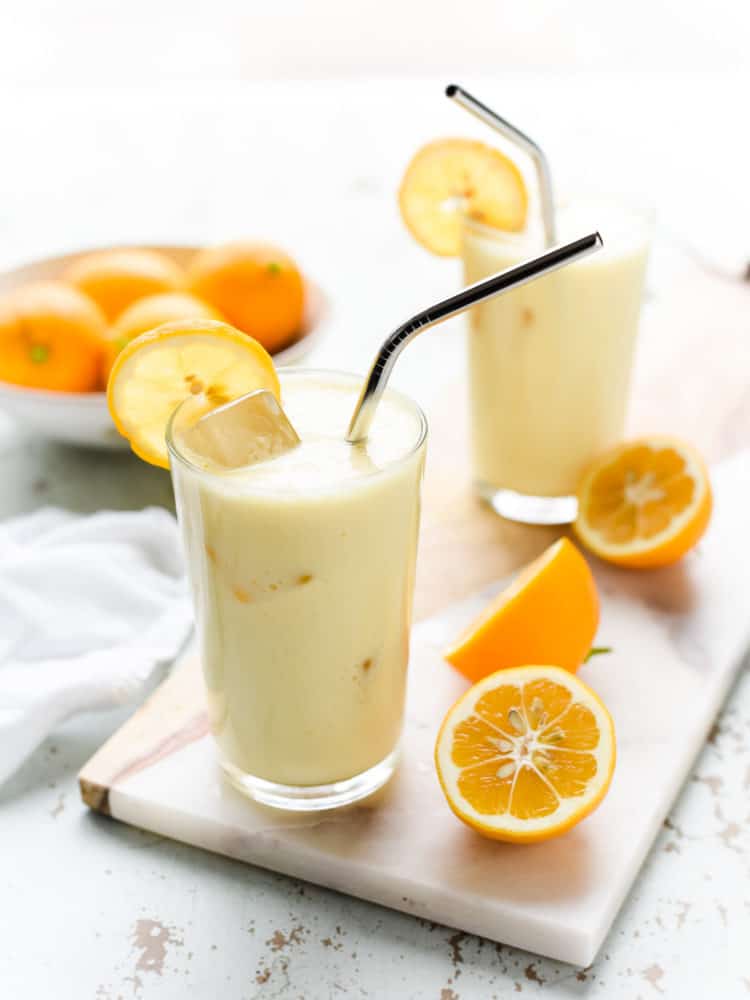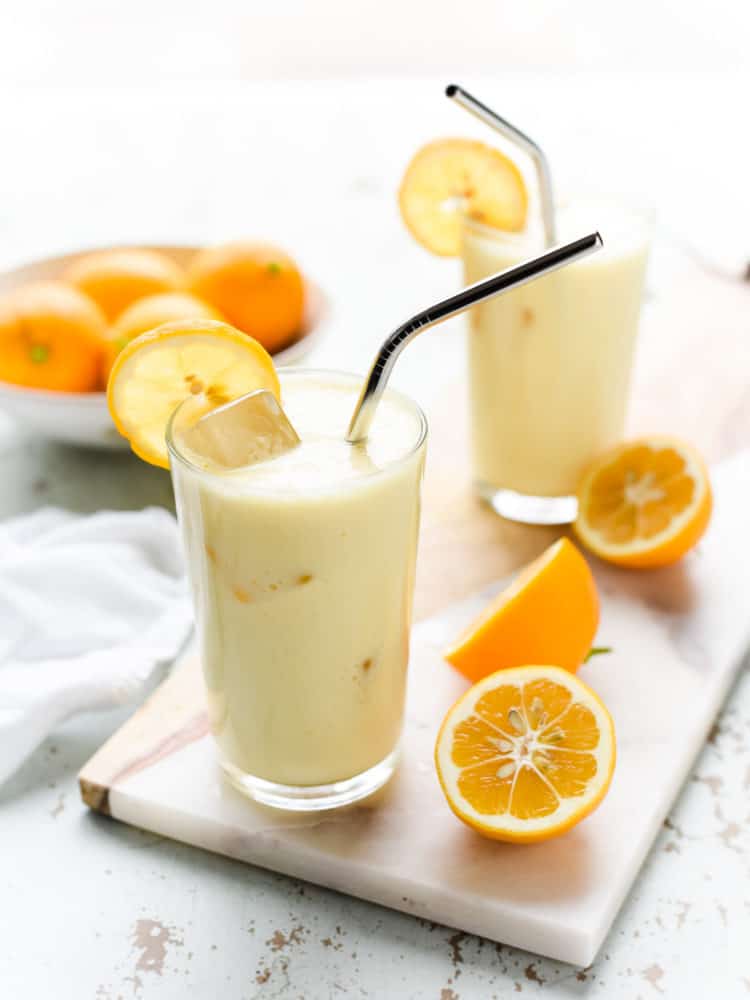 I don't know what it's like by you, but I miss the sun. We're in the depths of winter, and it doesn't look as though we will ever see spring. The clouds have been hovering over us here on the west coast and I pretty much live in my rain boots and rain coat! We may start building an ark soon.
When we first moved to California, our first winter was just about as wet as this one. And my husband and I assumed that every winter brought rain for months on end. But we quickly learned that droughts are just as common, and for many years, assumed that rain was a thing of the past. I'm realizing that there is a cycle to these things, and perhaps we have come full circle when it comes to the weather.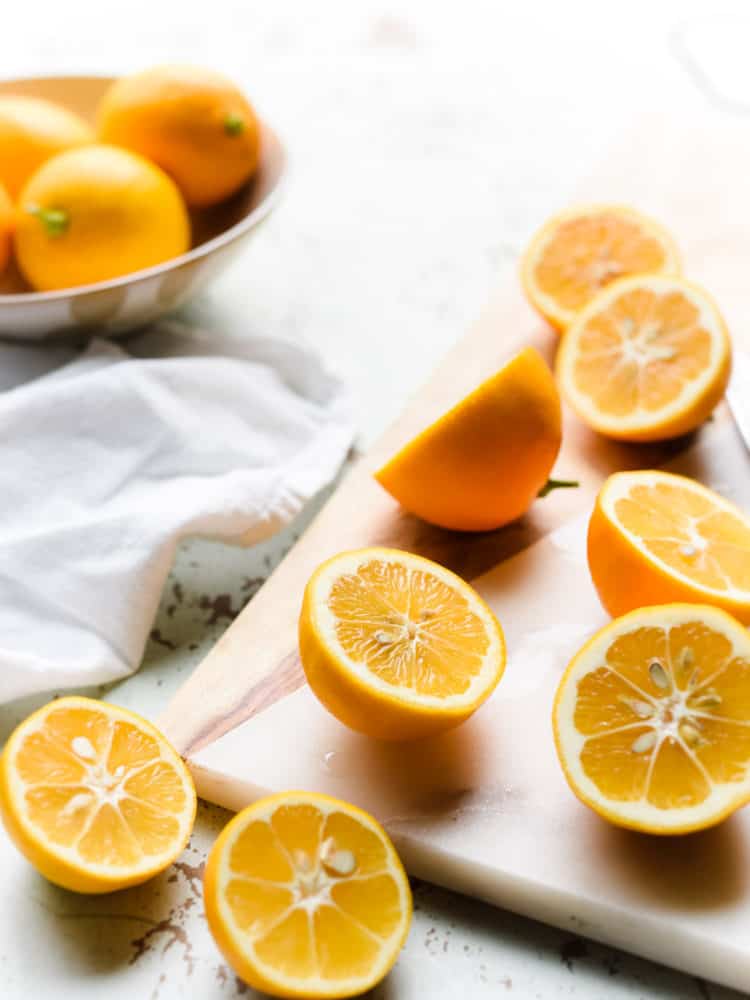 The bright side is, as you can guess, we've got Meyer lemons! And I have to say, I'm quite content to stay indoors, and I do hope the rain continues for as long it is willing. In the meantime, I'm pouring sunshine into a cup.
One of my favorite drinks is a lassi, which is essentially an Indian smoothie, but lighter — for many years, mango lassis were my go to — I still remember guzzling so many of those back when I was working in New York, especially on hot summer days! Despite the fact that it's cold and rainy, I'm turning to the lassi as a sunny treat, and there's something about Meyer lemons and honey that just work perfectly together. So I'll sip my Meyer lemon and honey lassi, watch the rainfall, and wait until the sun decides to return.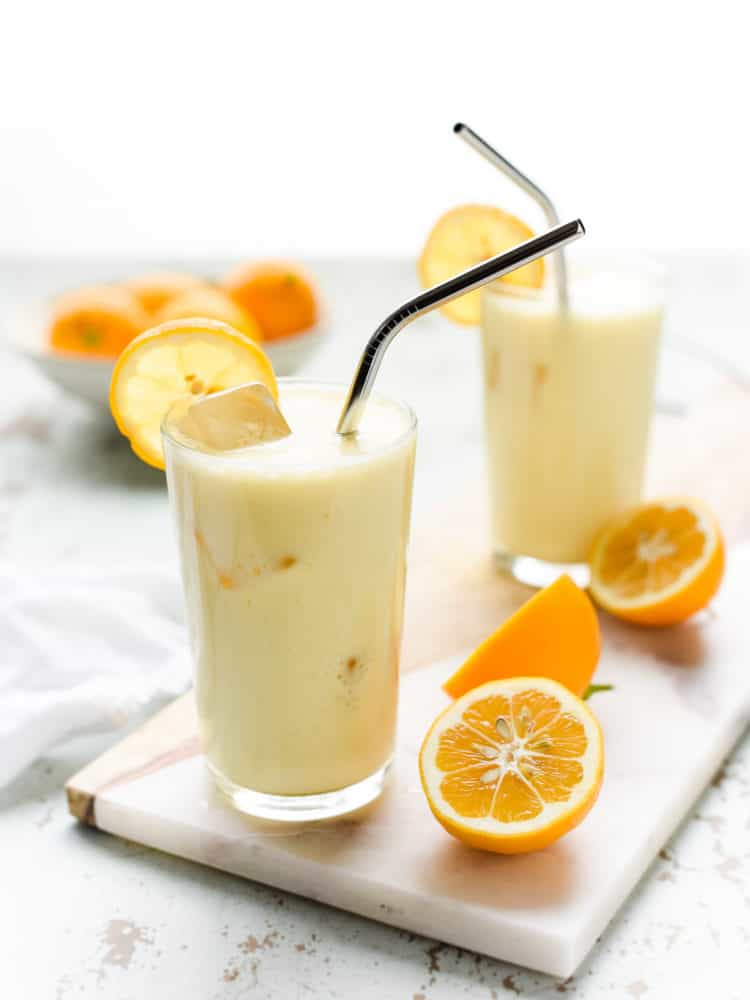 Eat Seasonal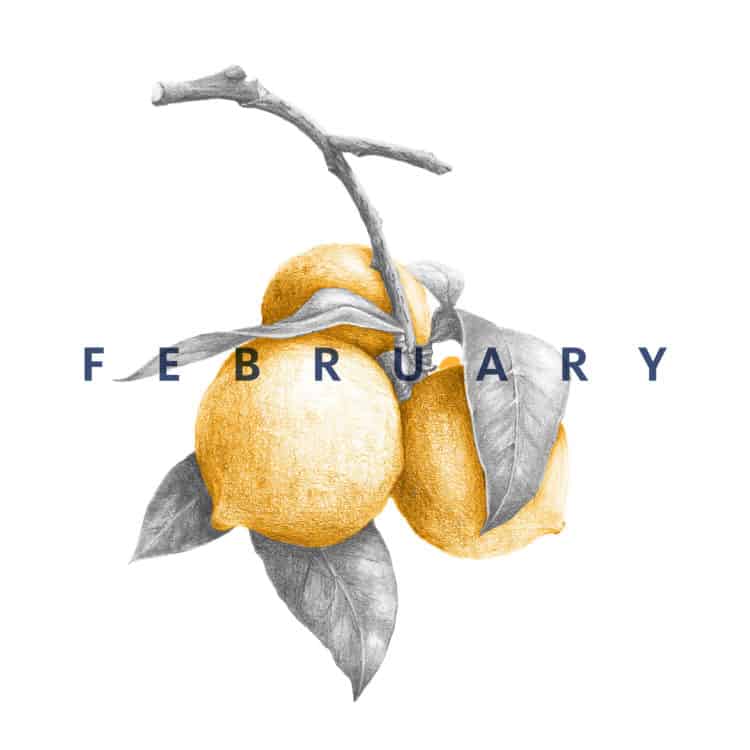 Just as winter seems like it will never end, you are sure to find some bright recipes as I join Becky from Vintage Mixer and our friends to share dishes that embrace eating seasonal! Check out these recipes for more #EatSeasonal inspiration this February.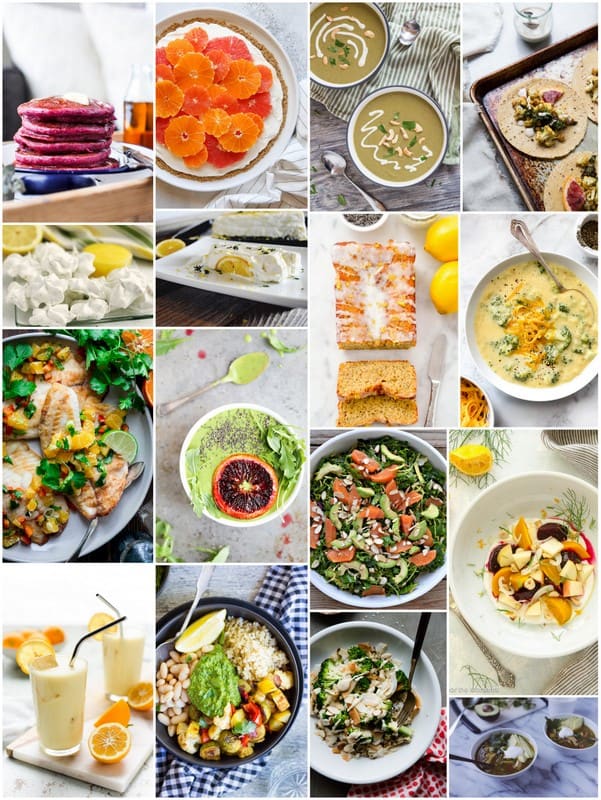 Beet Buckwheat Pancakes by Simple Bites
Citrus and Yogurt Fruit Pizza with Granola Crust by Completely Delicious
Spicy Cashew Spring Greens Soup by Letty's Kitchen
Cauliflower Chickpea and Crispy Kale Tacos with Orange Tahini Sauce by Vintage Mixer
Lemon Poppy Seed Meringue Cookies by Project Domestication
Meyer Lemon & Thyme Semifreddo by Suitcase Foodist
Paleo Lemon Poppy Seed Bread by Joy Food Sunshine
Broccoli Cheese and Potato Soup by Foodie Crush
Tilapia with Tangerine Salsa by Healthy Seasonal Recipes
Orange and Arugula Smoothie Bowl by Floating Kitchen
Shredded Brussels Sprouts and Kale Salad with Orange and Avocado by Mountain Mama Cooks
Beet and Apple Salad with Citrus Honey Yogurt by Flavor the Moments
Roasted Veggie Buddha Bowls with Pesto by She Likes Food
Coconut Quinoa Bowls with Roasted Broccoli and Tahini Sauce by Cafe Johnsonia
Cilantro-Lime Chicken Soup Food for My Family
Recommended Tools & Products
Disclosure: This post may contain affiliate links.
Meyer Lemon and Honey Lassi
Squeeze a little sunshine into a Meyer Lemon and Honey Lassi. This Indian-inspired smoothie is a tangy treat!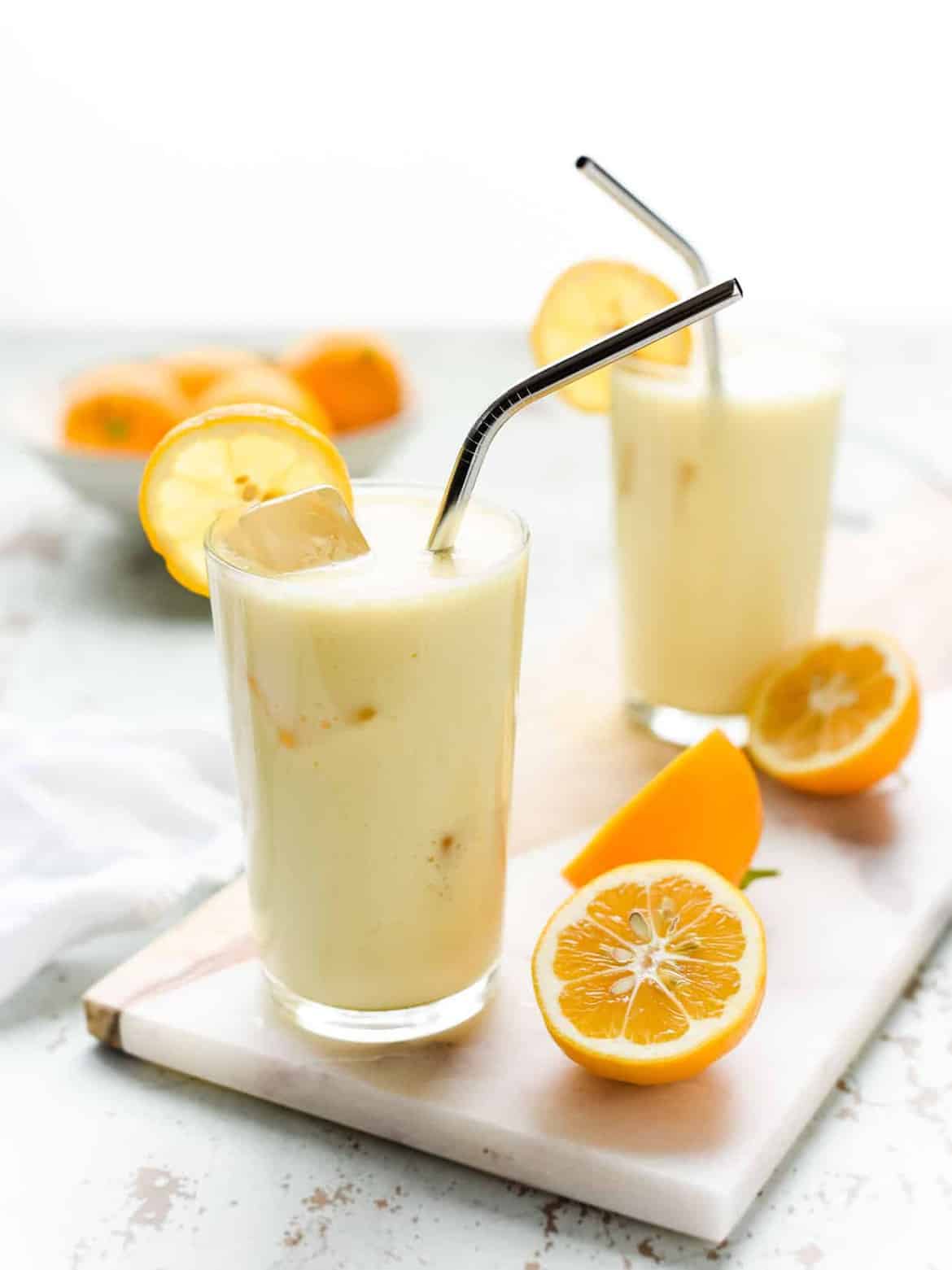 Print Recipe
Ingredients
12 oz plain yogurt
zest of 4 Meyer lemons
1/2 cup Meyer lemon juice (from about 4 Meyer lemons)
4-6 tablespoons honey, to taste
6 ice cubes
Instructions
In the jar of a blender, add the yogurt, Meyer lemon zest and juice, honey and ice cubes. Blend until smooth. Adjust sweetness to your liking with more or less honey, or sugar, if you wish. Serve immediately.
Notes
Meyer lemons are sweeter than a standard lemon, so do note that this drink will be much more tart if you use a regular lemon and you will have to adjust the sweetness to your taste.