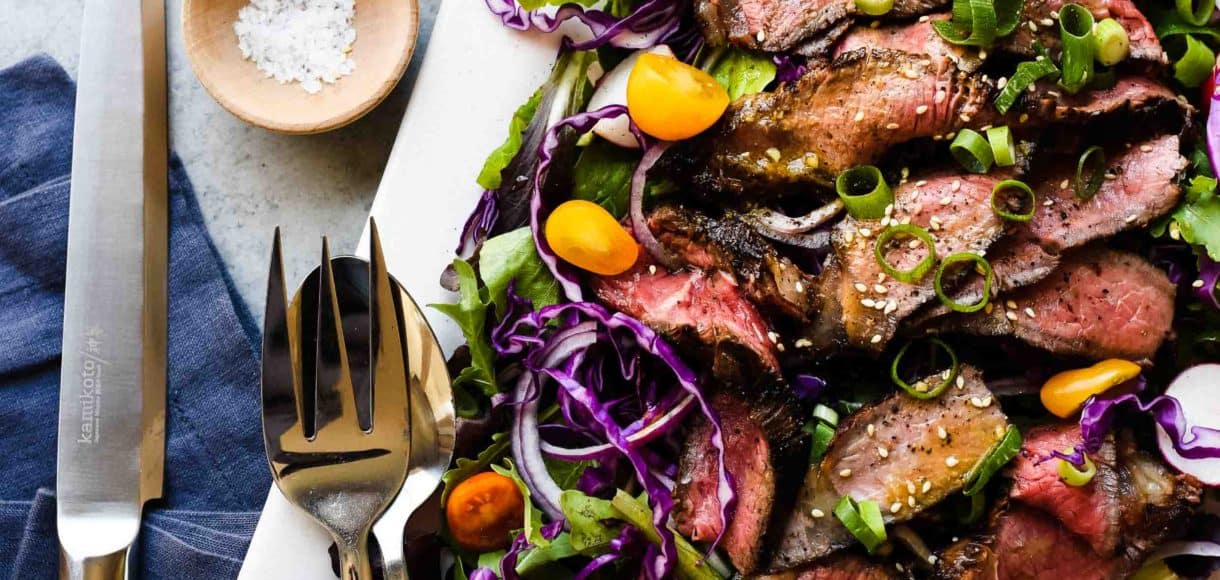 Miso-Marinated Steak Salad + Kamikoto Knives Review
Taste a slice of grilling season with a juicy Miso-Marinated Steak Salad with a Miso-Ginger Dressing. This post is brought to you by Kamikoto. Someone once asked me, "what one piece of advice would you give someone just starting out with cooking?" Without hesitation, I…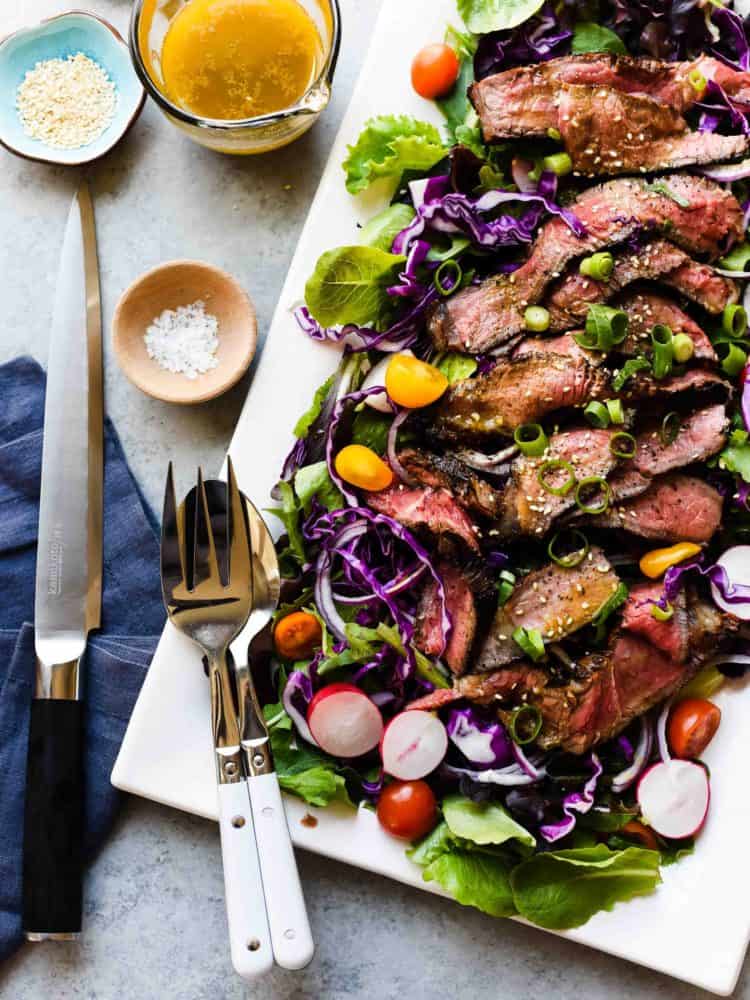 Miso-Marinated Steak Salad + Kamikoto Knives Review
Taste a slice of grilling season with a juicy Miso-Marinated Steak Salad with a Miso-Ginger Dressing. This post is brought to you by Kamikoto
.
Someone once asked me, "what one piece of advice would you give someone just starting out with cooking?" Without hesitation, I knew my answer.
"Invest in a good, sharp knife."
Recipes and skills aside, I will never forget when I held my first real knife in my hand – one that was properly weighted and sharpened to perfection. Cooking became a joy. Well, it was already a joy, but now it really was a joy. Prep time was faster, not to mention safer (Did I ever tell you the story about how a dull knife sent me to the ER?) — no more fussing with a dull blade that could barely slice a tomato — I could whip through recipes with such ease.
One simple tool, but it makes all the difference in the world.
When I meet friends who confess that they hate cooking, I have to admit that I take note of their knife. 9 times out of 10, it's flimsy, or worse, dull.
As the years have passed, I've amassed a crazy number of knives in my collection, and grown to feel an odd affection for each one. So lately, I was very pleased to welcome into my knife family some from Japan.
Kamikoto knives
are part utilitarian, part work of art. From the moment I opened the case to my kanpeki knife set and lifted the vegetable knife in my hand, I could appreciate the craftsmanship, from the gorgeous steel to its balance and weight. I have found myself reaching for these knives again and again — and they quickly became a favorite.
I've been storing them on the floating knife block on my counter – which is perfect for protecting the blades, but also to keep them within easy reach. And to keep them sharp, using the whetstone is something that is not just necessary, but cathartic – there is something soothing about passing the blades over the stone until they reach sharp perfection.
Now that grilling season is beckoning, I couldn't wait to use my Kamikoto knives in making this Miso Marinated Steak Salad with a Miso-Ginger Dressing. The vegetable and utility knives make quick work of slicing all my vegetables, from the cabbage to the ginger, and carving the steak is a dream with the slicing knife, producing ribbons of steak that make it easy to eat.
And just like my knives, this is a salad that I will turn to all season long, with joy!
Disclosure: This post is brought to you in partnership with Kamikoto. Thank you for supporting brands that matter to me; sponsored posts such as this help behind the scenes at Kitchen Confidante. There are affiliate links in this post. All opinions in this post are, as always, my own.
Miso-Marinated Steak Salad with Miso-Ginger Dressing
Fire up the grill and sharpen those knives! This Miso-Marinated Steak Salad with a Miso-Ginger Dressing is perfect for kicking of grilling season.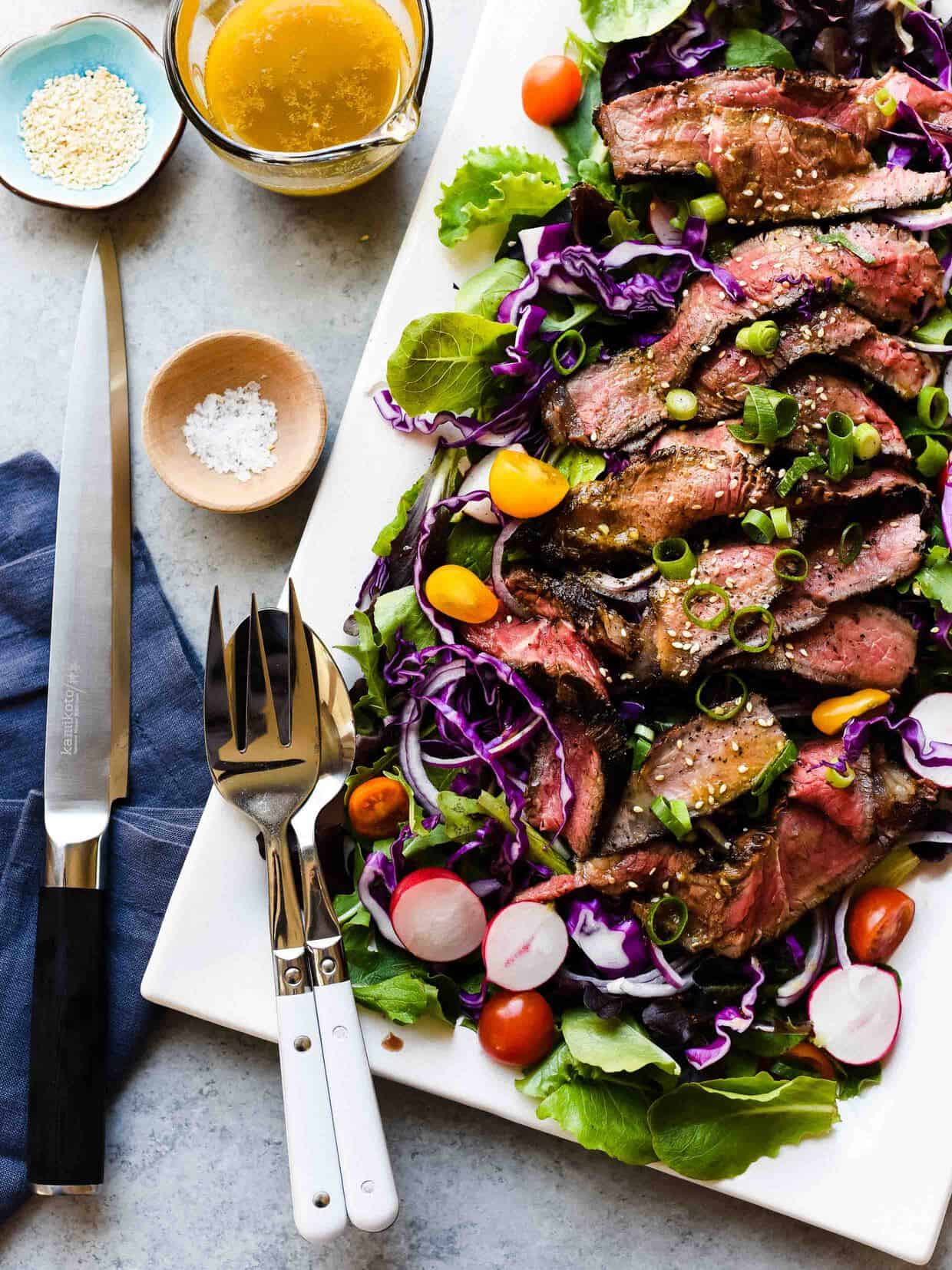 Print Recipe
Ingredients
1/4 cup miso paste
1/4 cup soy sauce
3 tablespoons rice wine vinegar
1/2 teaspoon sugar
4 cloves garlic, minced
1 1-inch piece ginger, peeled and grated
2 tablespoons olive oil
1 lb steak (flank, rib eye, New York, etc)
12 oz mixed greens
2 cups thinly sliced red cabbage
1 cup thinly sliced red onion
4 radishes, trimmed and quartered
1/2 cup halved cherry tomatoes
1/4 cup thinly sliced green onion
2 tablespoons sesame seeds
Kosher salt
Freshly ground black pepper
Dressing:
2 tablespoons miso paste
2 cloves garlic, minced
1 1-inch piece ginger, peeled and grated
1/4 cup + 1 teaspoon rice wine vinegar
1/4 cup olive oil
1 tablespoon sesame oil
1 teaspoon kosher salt
Freshly ground black pepper
Instructions
Whisk together the miso paste, soy sauce, vinegar, sugar, garlic, ginger and olive oil. Marinate the steak in a glass or non-reactive bowl, or resealable bag, for about 15 minutes.
Heat a grill pan or grill to medium high heat. Grill the steak for about 6 minutes per side, or until a thermometer inserted into the thickest part reads 120°F. Allow the steak to rest while you prepare the rest of the salad.
In a large bowl, toss together the greens, red cabbage, onion, radish, and tomatoes.
In a jar, whisk together the miso paste, garlic, ginger and vinegar. Add the olive oil and sesame oil, season with salt and pepper. Seal the jar with a lid and shake vigorously.
Lightly dress the salad with some of the dressing, then arrange on a platter. Slice the steak against the grain and place on top of the salad. Drizzle with a little more dressing and top with the green onions and sesame seeds. Season to taste with salt and pepper.