Pork Belly Buns (Gua Bao)
Making Pork Belly Buns (Gua Bao) is a multi-step process that takes some time—but is so worth it! You'll love the caramelized pork belly meat sandwiched between fluffy steamed buns.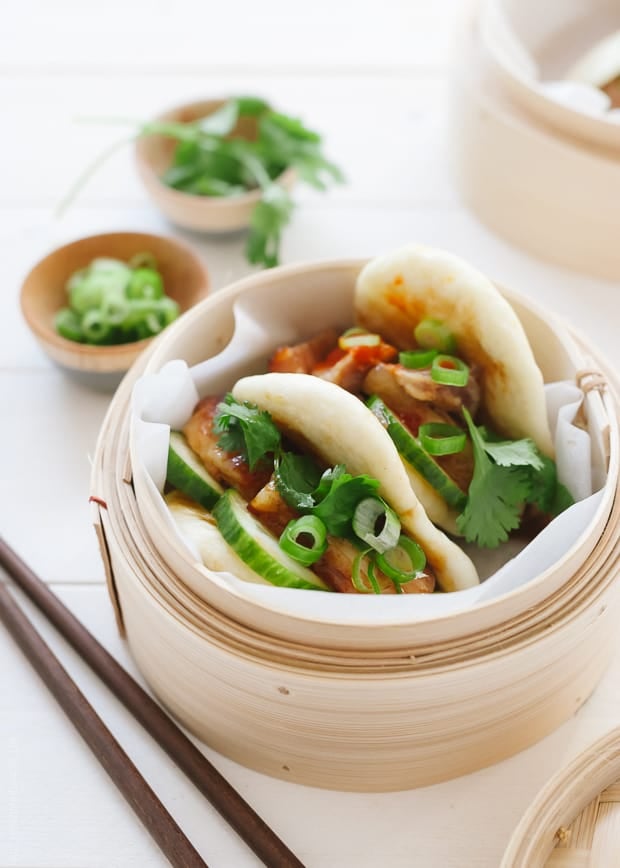 Pork Belly Buns (Gua Bao)
Making Pork Belly Buns (Gua Bao) is a multi-step process that is worth every bit of your time. The wonderful thing is that all of it can be done in advance!
Disclosure: This post was originally brought to you by the National Pork Board.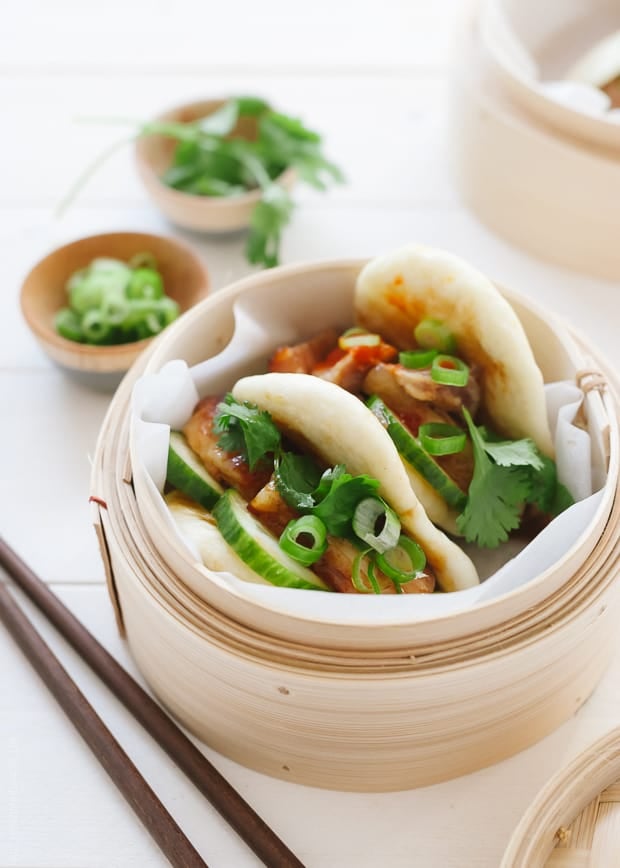 Favorite Places
The buildings tend to feel closer together in lower Manhattan, and the streets no longer make sense. The logical, planned, numbered streets and avenues are replaced by Mott St, Delancey St, Canal St, and as a little girl, I found it confusing.
To be honest, I still do. But that was part of the charm of a visit to Chinatown, the bustling, confusing streets, with its tiny restaurants and sidewalk markets. My parents had their favorite places, and we couldn't leave until we stopped at the tiniest place ever for some siopao, or char siu bao.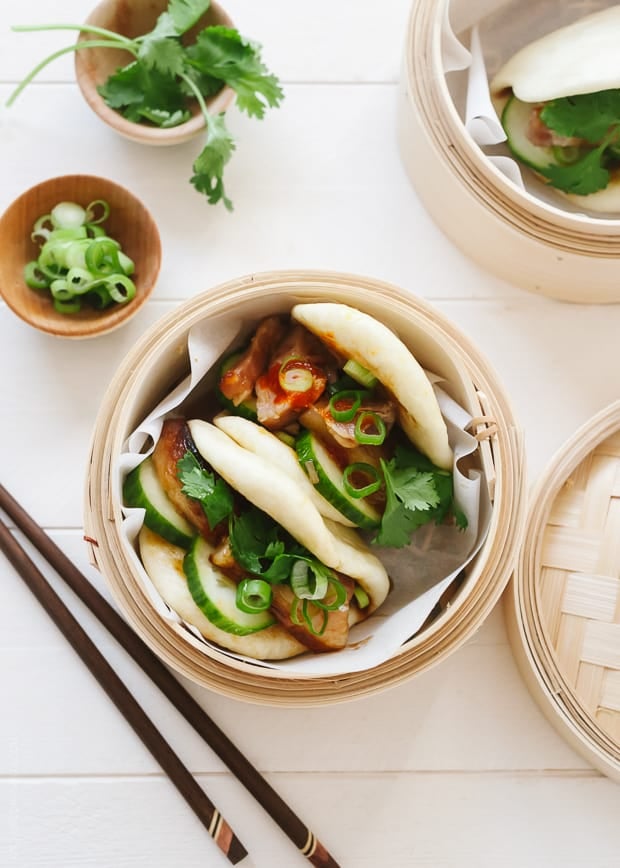 This little stall was known among Philippine transplants as the place to find these steamed bbq pork buns that were as close to the ones they remembered from back home. You would walk in and the man in the shop would immediately ask, "asado?" – the Spanish word also used in Filipino to describe barbecue. We would bring a box of these tender buns home, for a special snack, or merienda.
Years later, David Chang's Momofuku fame brought steamed buns to popularity, but I have to confess, that I personally loved the pork belly buns I tried at Ippudo NY a few visits back. Amid bowls of steaming ramen, I fell in love with the glistening pork belly, enveloped in the steamed buns, tender and flavorful. I've always wanted to recreate them at home.
Bucket List
I added it to my bucket list, my #porkbucketlist, that is! What's a #porkbucketlist, you ask? Well, it's all the things you've ever wanted to do with pork! For me, it's making Pork Belly Buns, taking a class in sausage making, curing my own bacon, visiting Spain and the land of Jamon Iberico and Serrano, and letting my children experience a lechon (roast pig) in the Philippines (I am convinced the lechon here is not quite the same).
Do you have a #porkbucketlist?
Homemade Pork Belly Buns
Checking off homemade Pork Belly Buns from my #porkbucketlist turned out to be more rewarding than I ever hoped. Making these little savory buns was a several-day process, but worth every bit of effort. It all started with the pork belly. I don't cook with it often enough, I've decided.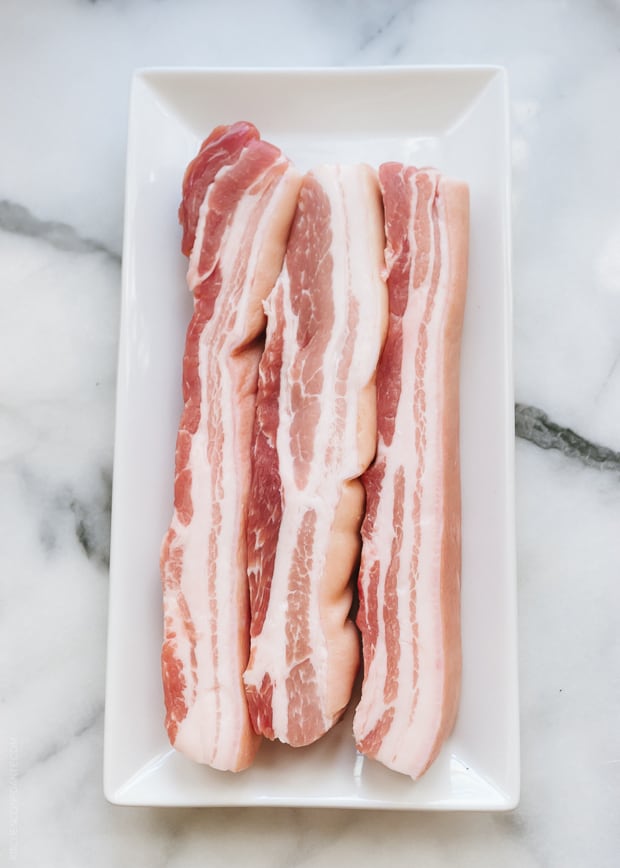 Brined and roasted, the pork belly caramelized in the oven, tender and salty. I forget how versatile this ingredient is, and how utterly delicious. But it doesn't stop there.
The next step was to find the perfect bao dough. I thought it would be simple enough – dough is dough, right? I followed the recipe from David Chang to a tee, but along the way, it just was not coming together right. It lacked the pillowness, the lofty dough I remembered well. I threw a whole batch of steamed buns in the trash, upset at the waste. I searched online, but then remembered my mother's recipe folder. Could there be a recipe?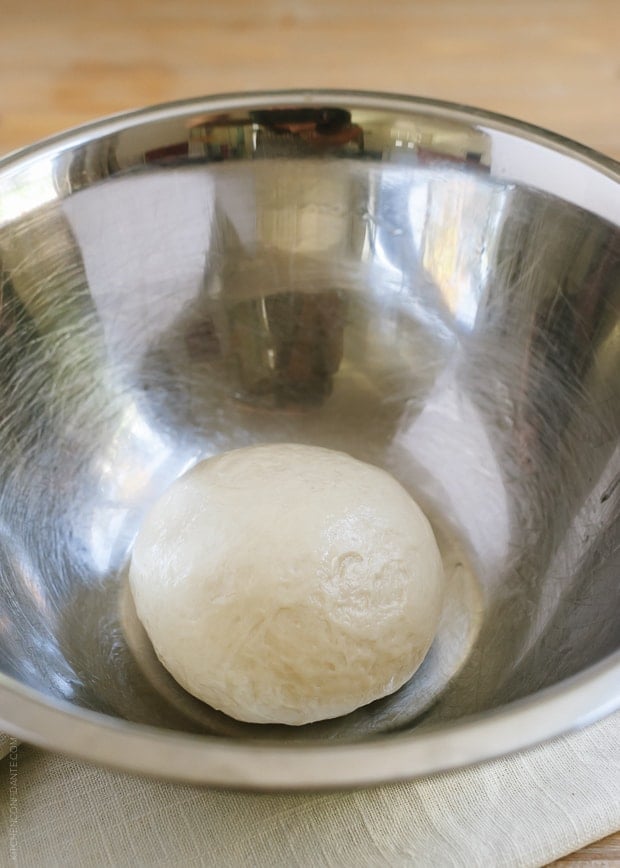 And yes, there was. For siopao. The dough recipe is essentially the same, whether siopao or bao, so I set to work using her version.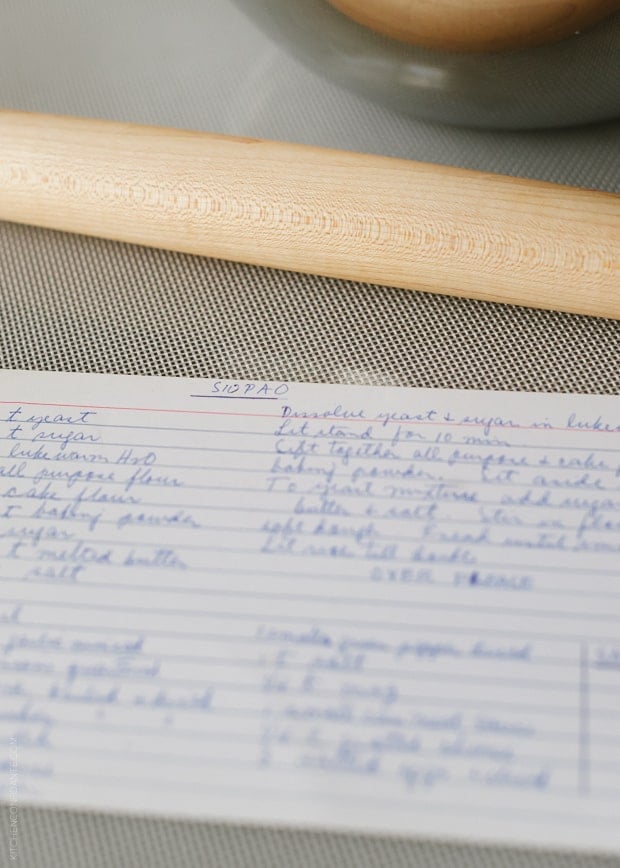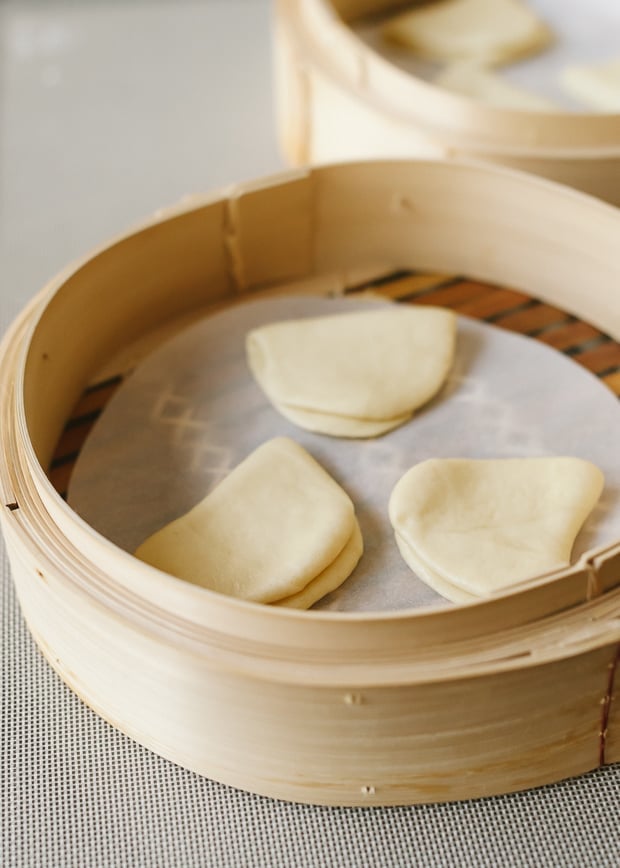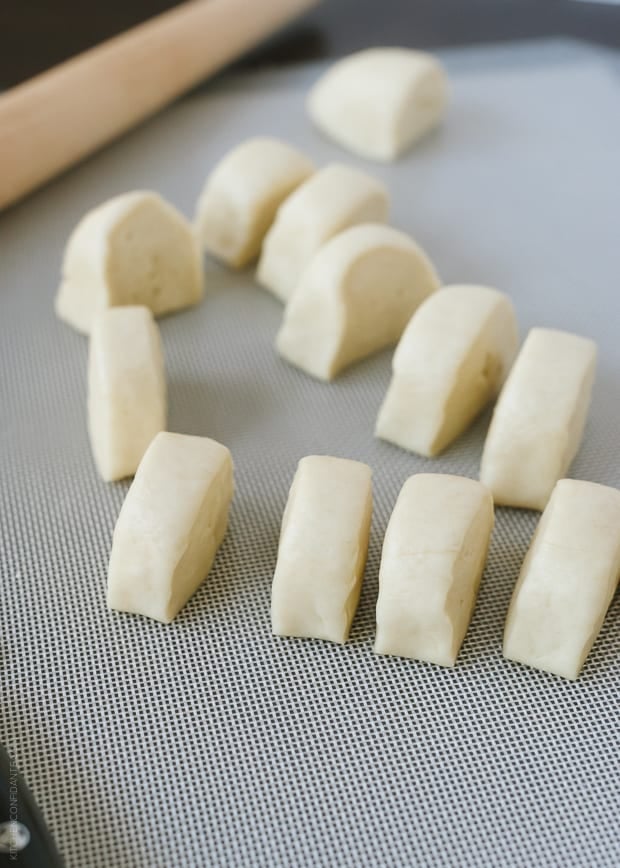 It turns out her recipe was the best, after all. I imagine she wrote it down from one of my aunts, and the dough yielded supple under my hands, smooth and light. And once I was ready to assemble the Pork Belly Buns, I knew I was close to crossing this wonder off my bucket list.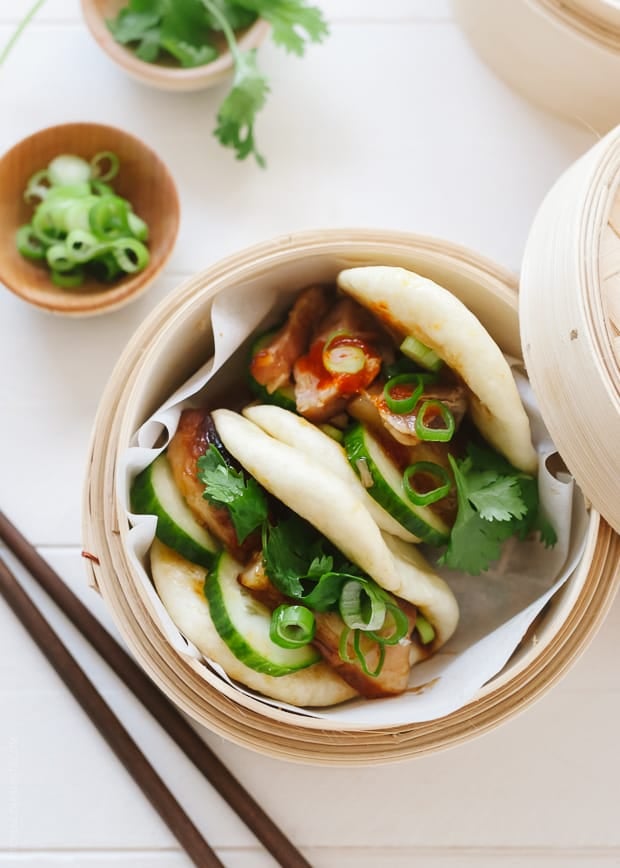 Eating Pork Belly Buns
Sandwiched between the fluffy steamed buns, the pork belly melted in the hoisin sauce, with a little bit of chile sauce for a kick. Fresh cucumbers added crunch, along with scallions and a few sprigs of cilantro. My son declared it "the best thing you ever made." And my daughter…well, if you recall, she recently decided to stop eating pork after meeting some adorable pigs. You won't believe what happened.
"Mom?" she walked over to the counter with her plain steamed bun. "Do you think you can put a little pork in here?"
"Really? Are you sure?"
She nodded.
And she ate.
She asked for more.
And she decided that she will make an exception to her pork abstinence for Pork Belly Buns.
How's that for fulfilling my #PorkBucketList?
Thanks to the National Pork Board, I am looking forward to crossing off another thing on my list: learning how to make sausage! I've done it before, but I'm completely self-taught – so I can not wait to get some real sausage-making under my belt. Stay tuned for my adventures in sausage-making and crossing another item off my #PorkBucketList!
Disclosure: This post is brought to you by the National Pork Board. Sponsored posts such as these help behind the scenes at Kitchen Confidante. All opinions are always my own.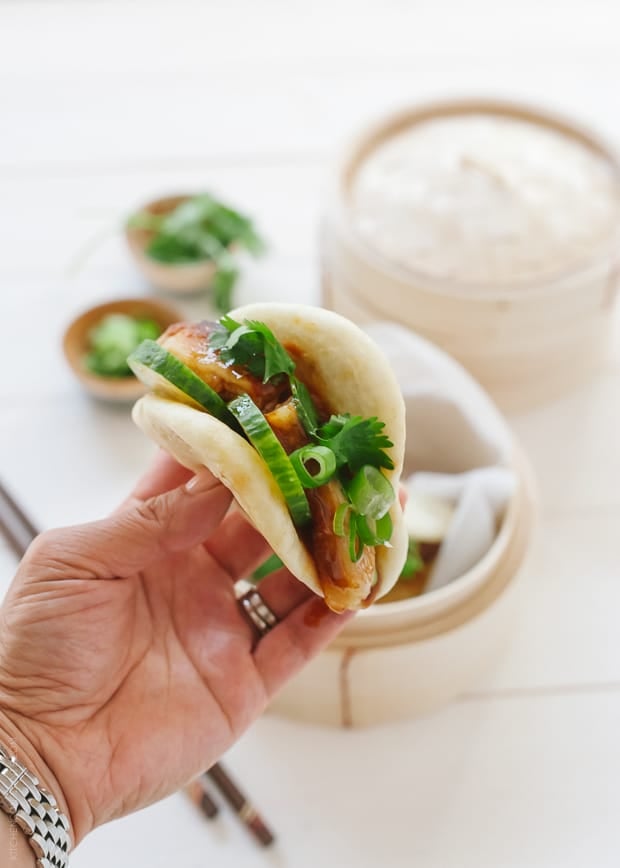 More Family Favorites
Pancit Palabok (Filipino Rice Noodles with Pork and Shrimp Sauce)
Egg Roll Bowl (Filipino Lumpia Bowl: Lumpiang Hubad)
10 Easy Filipino Desserts with Coconut Milk
Filipino Pork Adobo
Filipino Chicken Adobo
Pork Belly Buns (Gua Bao)
Making Pork Belly Buns (Gua Bao) is a multi-step process that is worth every bit of your time. The wonderful thing is that all of it can be done in advance! The buns taste amazing reheated, too.
Ingredients
For the Pork:
1/2

cup

kosher salt

1/2

cup

sugar

4 1/2

cups

water

divided

2 1/2

lbs

boneless skinless pork belly

cut into four pieces lengthwise

1/2

cup

chicken stock
For the Buns:
1

teaspoon

active dry yeast

1

teaspoon

granulated sugar

1/2

cup

water

1/2

cup

all purpose flour

1 1/2

cups

cake flour

1 1/8

teaspoon

baking powder

1/4

cup

sugar

2 1/2

teaspoons

melted unsalted butter

1/4

teaspoon

salt
To serve:
Hoisin sauce

Sliced cucumbers

Scallions

Cilantro

Chili sauce or sriracha

optional
Instructions
Brine the Pork:
Combine the salt, sugar, and 4 cups water until dissolved. Place the pork belly in a resealable plastic bag, pour in the brine, and seal. Place the bag in a bowl and place in the refrigerator to brine for at least 12 hours, or overnight.
Make the Dough:
Dissolve the yeast and the 1 teaspoon sugar in warm water (105° F), and let it stand for 10 minutes. Sift together the all purpose and cake flour, as well as the baking powder. Set aside. To the yeast mixture, add the melted butter and salt. Stir in the flour to form a soft dough. Knead until smooth (5-10 minutes). Place in an oiled bowl, and cover lightly with plastic wrap, and let rise in a warm place until doubled in size. This should take about 1-2 hours.
Roast the Pork:
Preheat the oven to 300° F, with a rack placed in the center of the oven. Remove the pork from the brine, and place it in a baking pan, fat side up. Pour the chicken broth and 1/2 cup water into the pan. Cover tightly with foil and roast the pork belly for about 2 1/2 hours, or until tender. Remove the foil and increase the oven temperature to 450° F. Roast for another 20 minutes or so, or until the fat on the pork belly is golden. Remove from the oven and let it cool for 30 minutes, then chill in the refrigerator for 1 hour. Slice the chilled pork belly crosswise in 1/4 inch pieces. Return to the pan juices and place in the refrigerator to chill again. This can be done the day before serving, if you wish.
Make the Buns:
When you are ready to make the buns, roll the dough into a log measuring about 16 inches long. Slice into 16 1-inch pieces, then set aside, covering with plastic wrap to keep the dough from drying out. Take each piece of dough and make a round ball, then roll out to about 3×6 inch ovals. Lightly brush the dough with canola oil, fold lightly then set aside to rise, covered, for another 20 minutes.

Prepare your steam bath in a wok or deep sided skillet with a steamer. The water should be about 1/2 inch below the steaming rack. Line with waxed or parchment paper and steam the buns, making sure they have room to expand between (do not crowd the steamer!). Work in batches as necessary. The buns can also be prepared in advance, just keep covered in the refrigerator and re-steam when ready to serve.
To Serve:
Preheat the oven to 350° F. Heat the pork belly in the baking pan with the pan juices until hot. Coat the inside of the steamed buns with hoisin sauce, and layer with cucumbers, pork belly, chile sauce if using, scallions and cilantro. Serve immediately.
Notes
Pork Belly recipe from Pork-Belly Buns by David Chang, Gourmet (October, 2007), as seen on Epicurious.
Bun recipe from my family collection.
Nutrition
Calories:
457
kcal
|
Carbohydrates:
18
g
|
Protein:
9
g
|
Fat:
39
g
|
Saturated Fat:
14
g
|
Polyunsaturated Fat:
4
g
|
Monounsaturated Fat:
18
g
|
Trans Fat:
1
g
|
Cholesterol:
53
mg
|
Sodium:
1489
mg
|
Potassium:
191
mg
|
Fiber:
1
g
|
Sugar:
6
g
|
Vitamin A:
27
IU
|
Vitamin C:
1
mg
|
Calcium:
22
mg
|
Iron:
1
mg