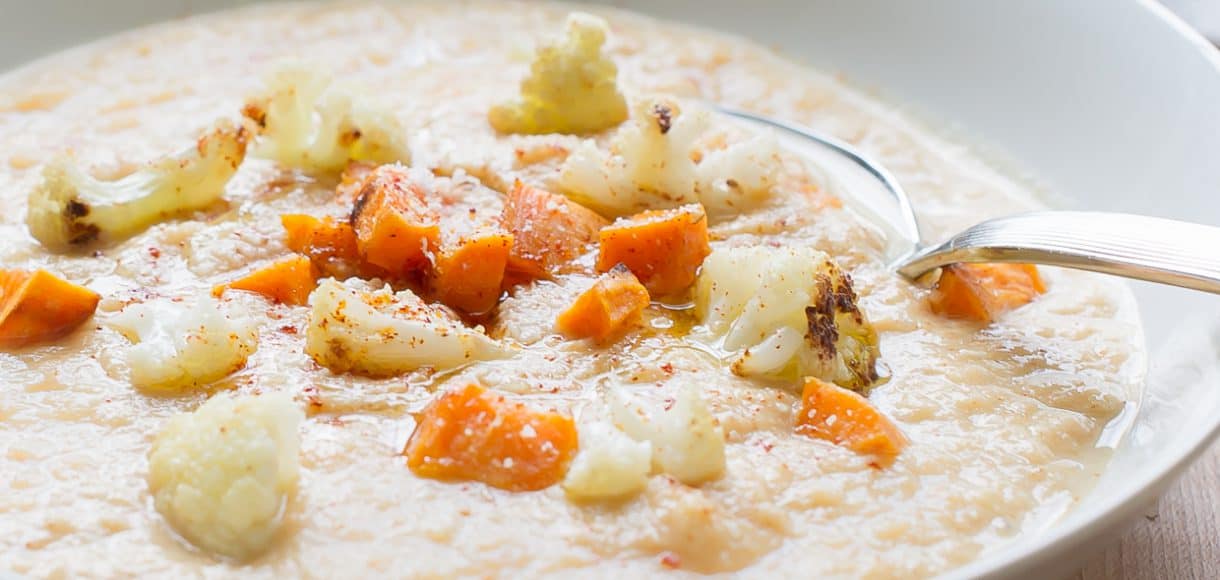 Roasted Cauliflower and Sweet Potato Chowder
I set my alarm a little earlier than usual this morning. Those early hours are already a little rushed – no matter what day – but since this is the last day of school for my children before Halloween, I knew there would be all…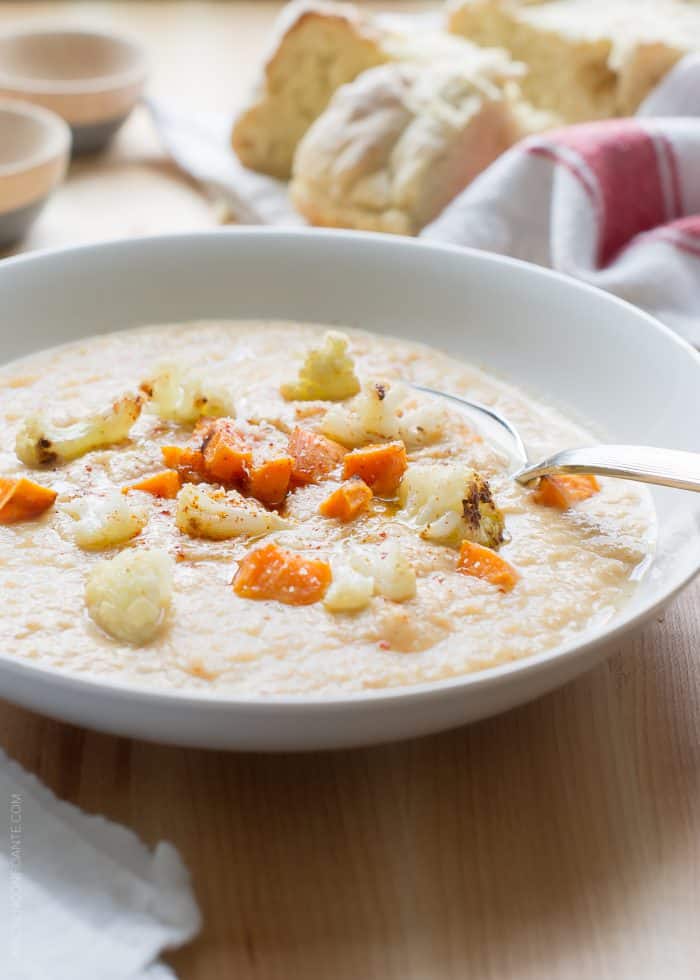 Roasted Cauliflower and Sweet Potato Chowder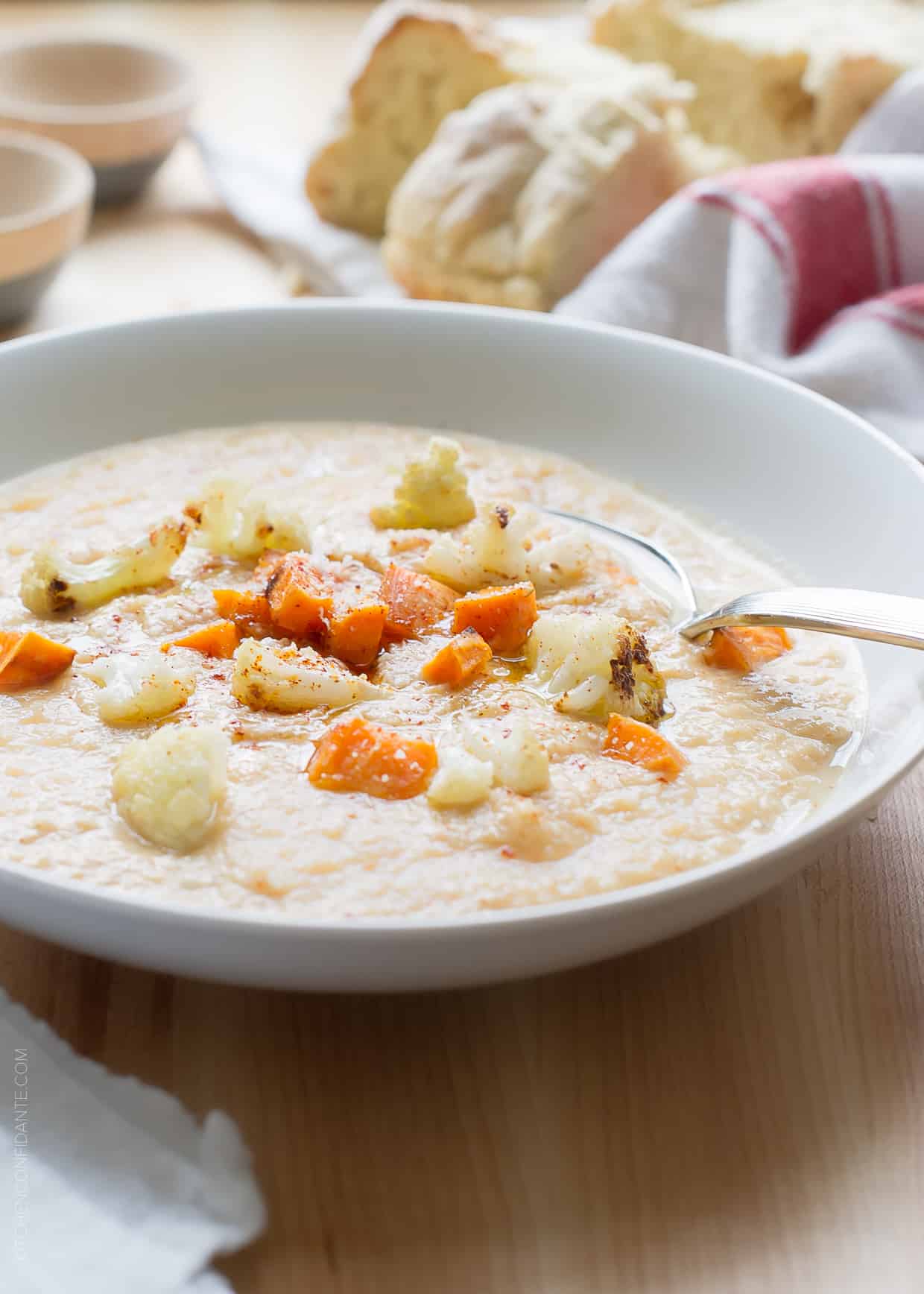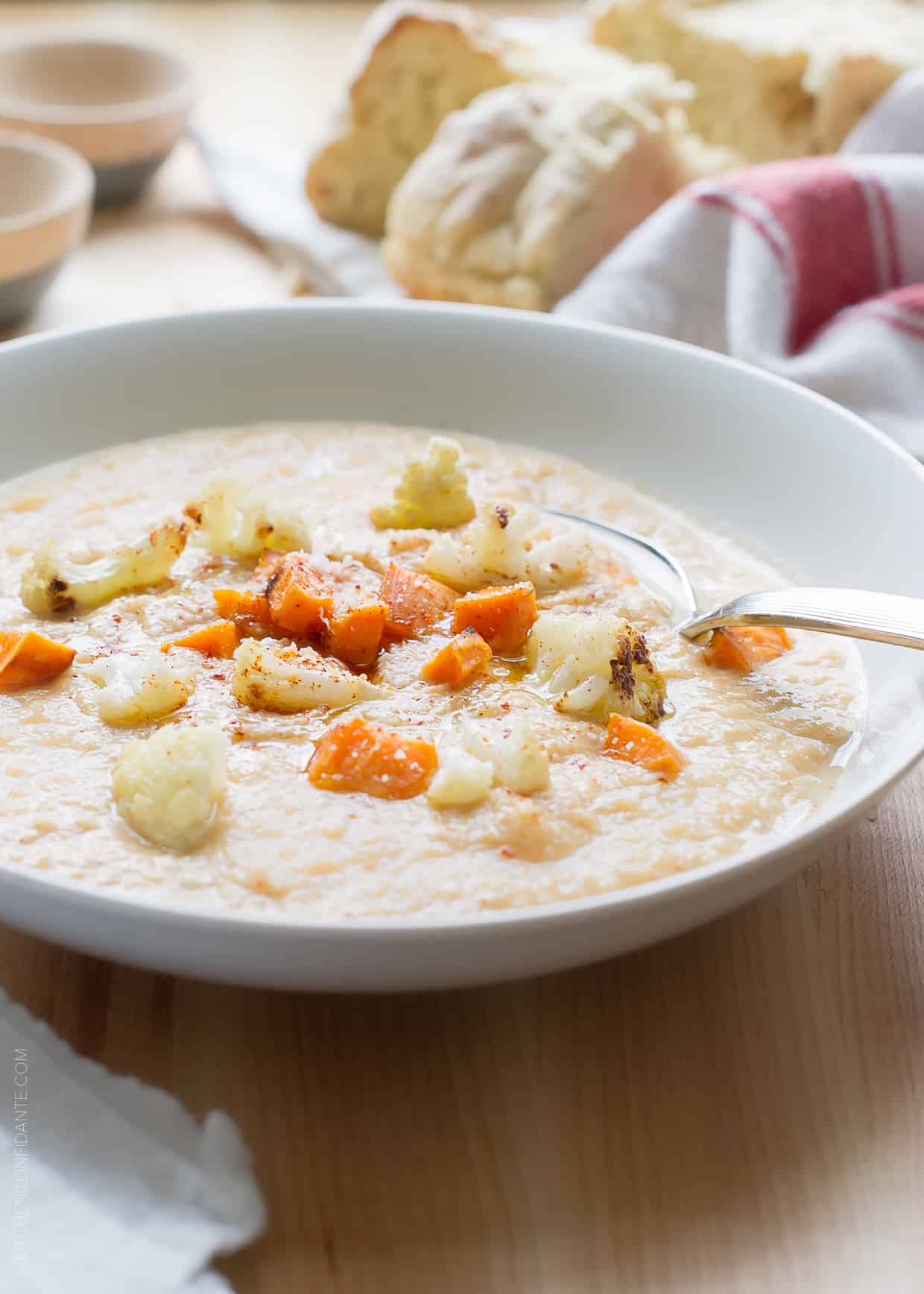 I set my alarm a little earlier than usual this morning. Those early hours are already a little rushed – no matter what day – but since this is the last day of school for my children before Halloween, I knew there would be all kinds of last minute costume adjustments needed. As for the costumes, that seemed to be in good hands – my daughter is old enough to take charge of putting her Cheshire Cat together, including hair and makeup. And my son took it easy as the UPS Guy (or whom I like to call the Year Round Santa). Nonetheless, I found myself printing up a logo to paste onto his clipboard about 20 minutes before he was ready to leave, and coaxing him to wear my brown jacket since it was definitely jacket weather. No luck with the latter, but everyone got out on time, costumed and happy. Whew.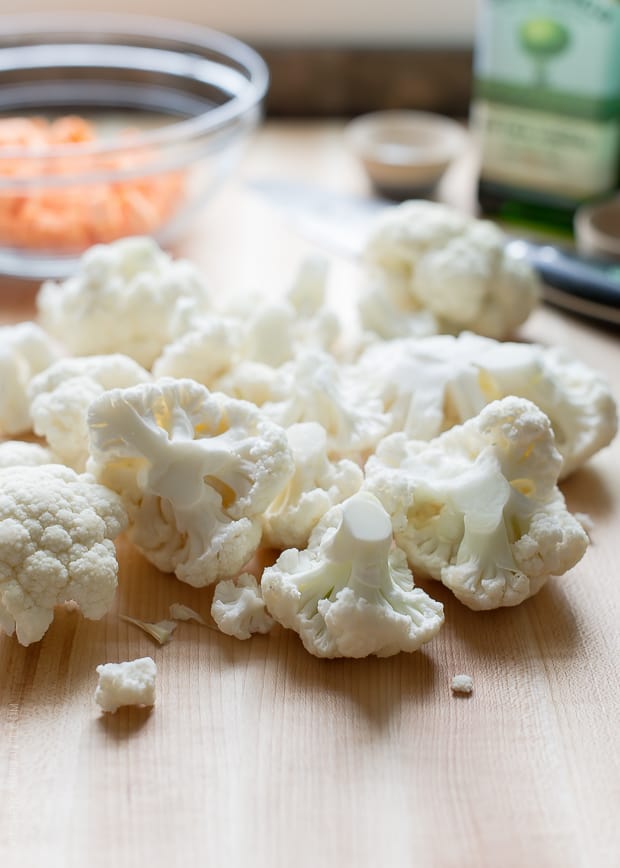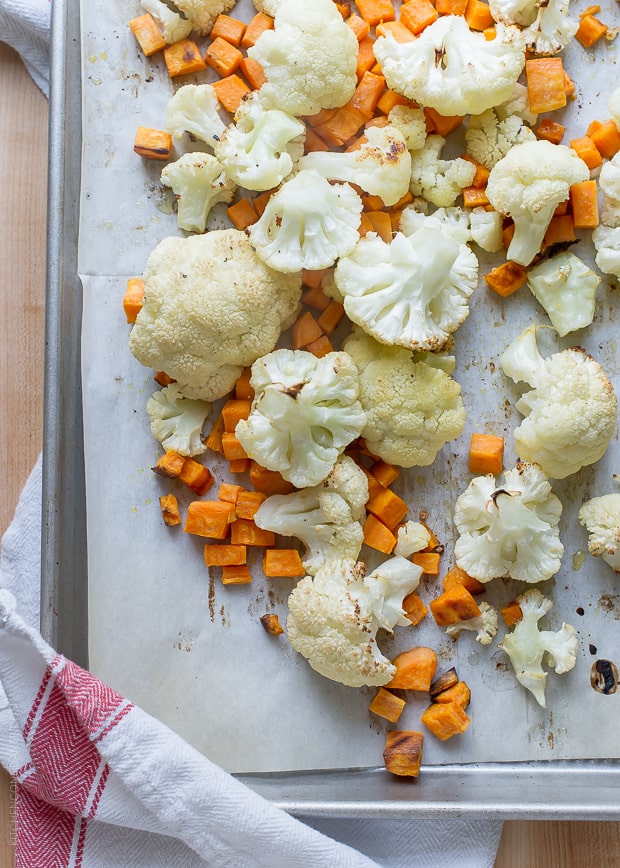 Now that the morning scramble is through, I can start thinking about lunch, and I have a lot of soup in the refrigerator. Soup, soup, soup – it's all I crave – whether I'm home or out to lunch. It feels restorative, and it feels cozy. Or maybe it's the excuse I need to bake some bread to go on the side. And that's just fine with me.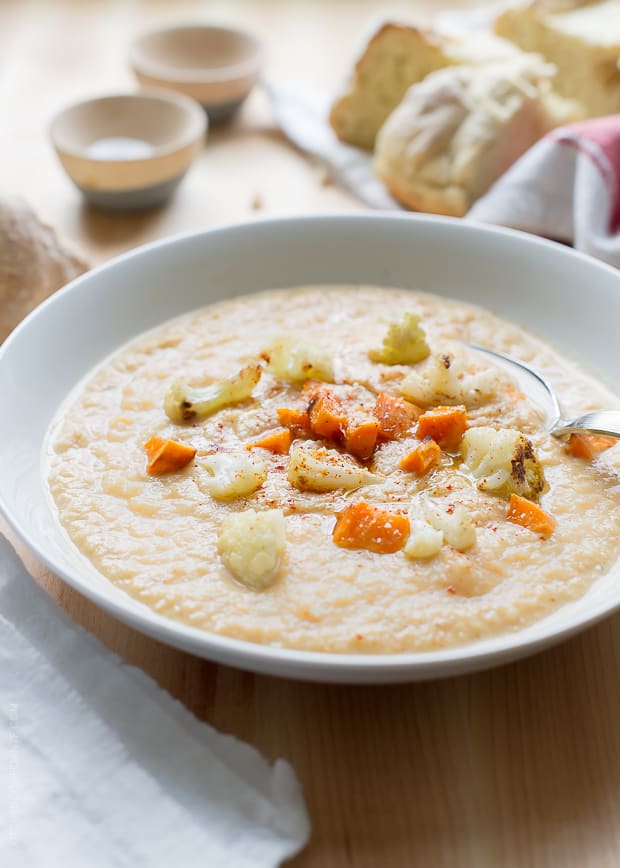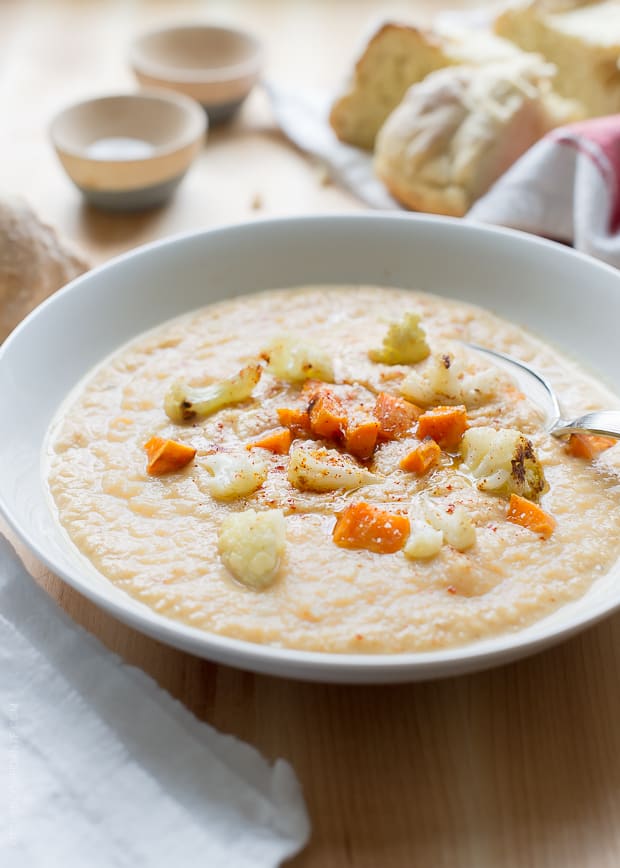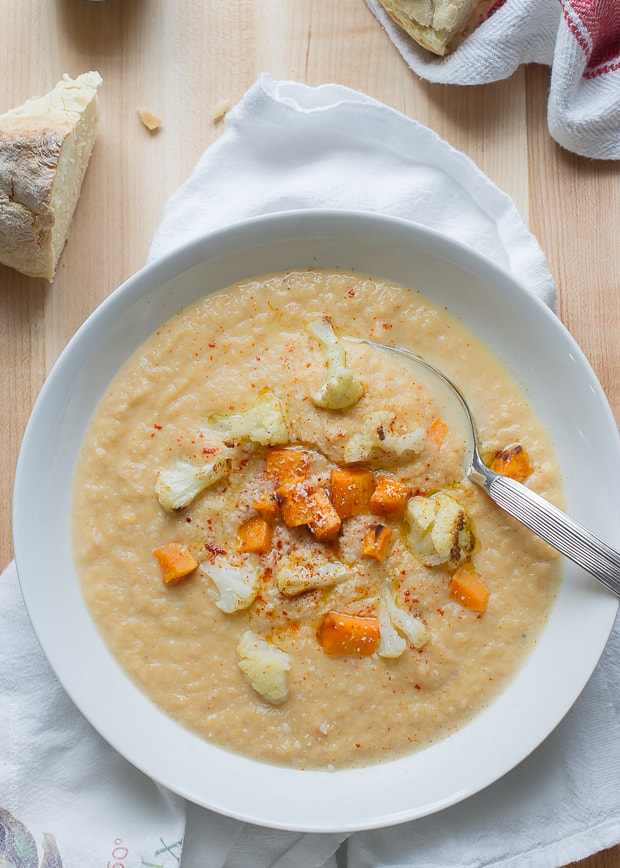 I've been dreaming of chowders ever since my daughter ordered a huge bread bowl of clam chowder at my son's birthday dinner a few weeks ago. Thick, creamy, stick to your ribs soup, the kind that you crave on days like today. This Roasted Cauliflower and Sweet Potato Chowder has the creaminess I love without the dreaded heavy cream, getting its creaminess from pureed cauliflower, and its rich flavor from clam stock, a touch of pancetta, and parmesan cheese. Sweet chunks of roasted sweet potato swim in each spoonful, and now I am ready for the next round of Halloween fun. Are you?
Roasted Cauliflower and Sweet Potato Chowder
A simple recipe for a hearty Roasted Cauliflower and Sweet Potato Chowder that will satisfy without weighing you down.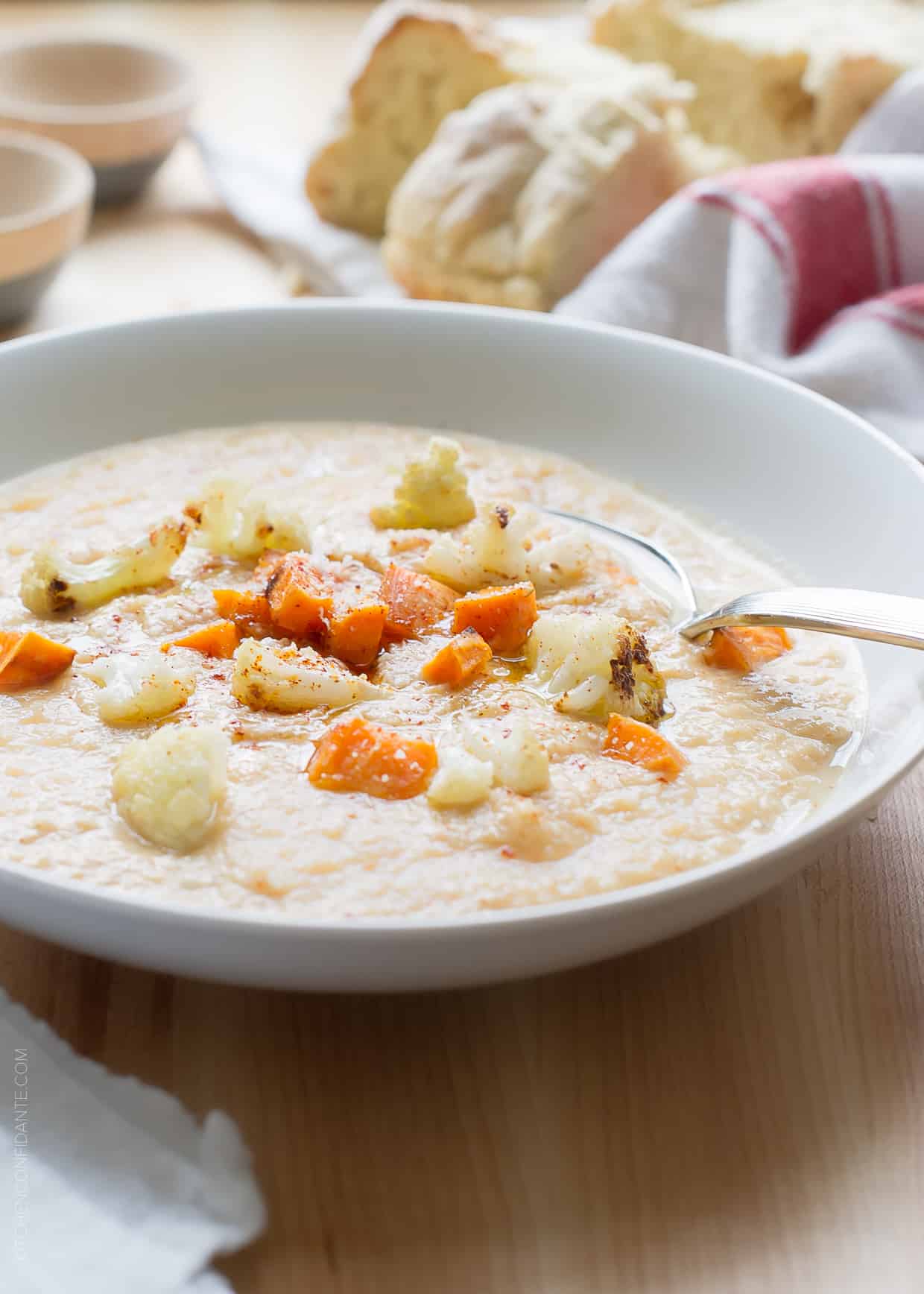 Print Recipe
Ingredients
1 head cauliflower, florets removed and separated
1 sweet potato, peeled and diced
1/4 cup olive oil, plus more for serving
kosher salt
freshly ground black pepper
1 cup finely diced yellow onion (about 1/2 medium onion)
1 clove garlic, minced
3 oz pancetta, diced
1/4 teaspoon paprika
1/8 teaspoon nutmeg
5-6 cups clam stock
2 inch chunk of parmesan cheese (about 2 x .5 inches), plus more for serving
Instructions
Preheat the oven to 425°F. Line a baking sheet with parchment paper and set aside.
In a large bowl, toss the cauliflower and diced sweet potato with a few tablespoons of the olive oil. Season with salt and pepper. Spread the vegetables onto the baking sheet and roast for about 20-30 minutes, until fork tender and browned in spots.
In a large pot or Dutch oven, heat remaining olive oil (about 1-2 tablespoons) over medium-low heat. Add the onion and garlic, and season lightly with salt. Let it cook, stirring periodically, until the onions are just beginning to wilt. Add the pancetta and continue to cook until the pancetta is browned, about 5 more minutes. Stir in about half of the roasted vegetables, and season with paprika and nutmeg. Stir in the clam stock and bring to a boil. Lower heat to a simmer. Add the chunk of parmesan cheese, allow it to melt in, then season to taste with salt and pepper.
Using an immersion blender or a standard blender, puree the soup until nearly smooth. You can either go chunky or smooth to your preference. Stir in remaining roasted vegetables.
To serve, ladel the soup into bowls, drizzle with a bit of good olive oil, and sprinkle with parmesan cheese.