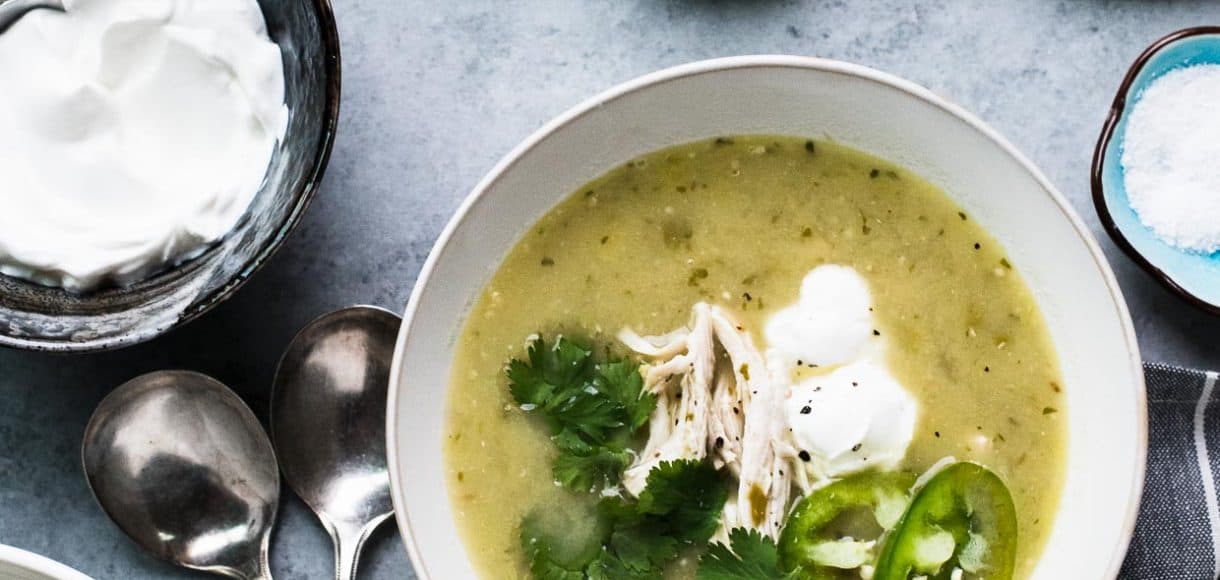 Roasted Tomatillo Chicken Soup
Roasted Tomatillo Chicken Soup – let the magic of roasted tomatillos and jalapeños warm you from the inside with this simple recipe.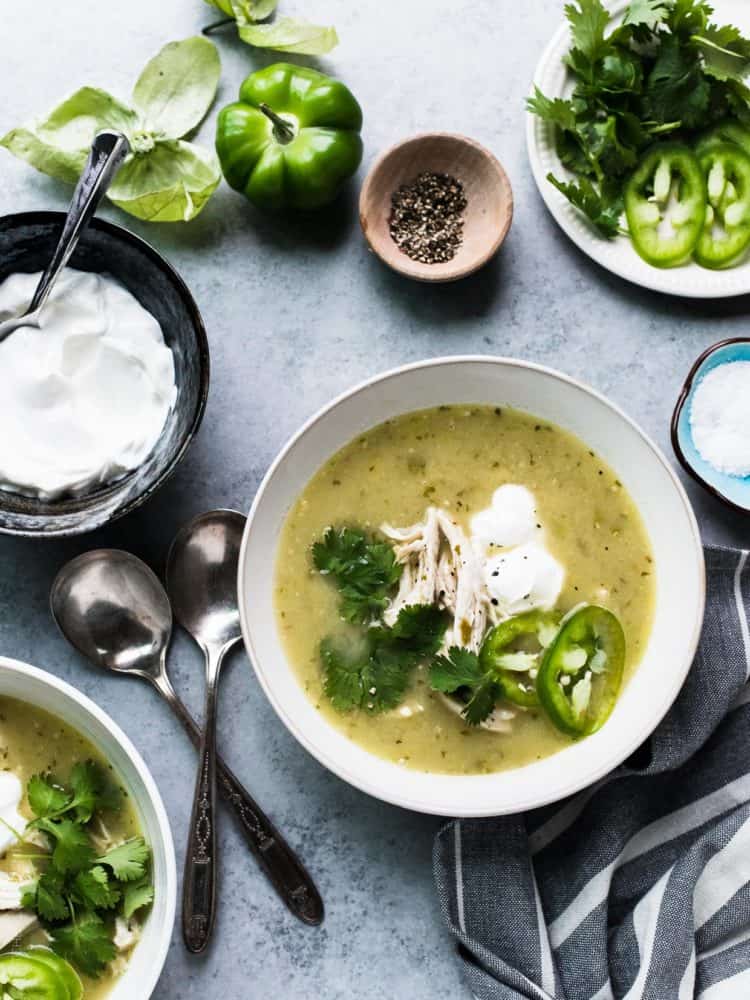 Roasted Tomatillo Chicken Soup
Roasted Tomatillo Chicken Soup – let the magic of roasted tomatillos and jalapeños warm you from the inside.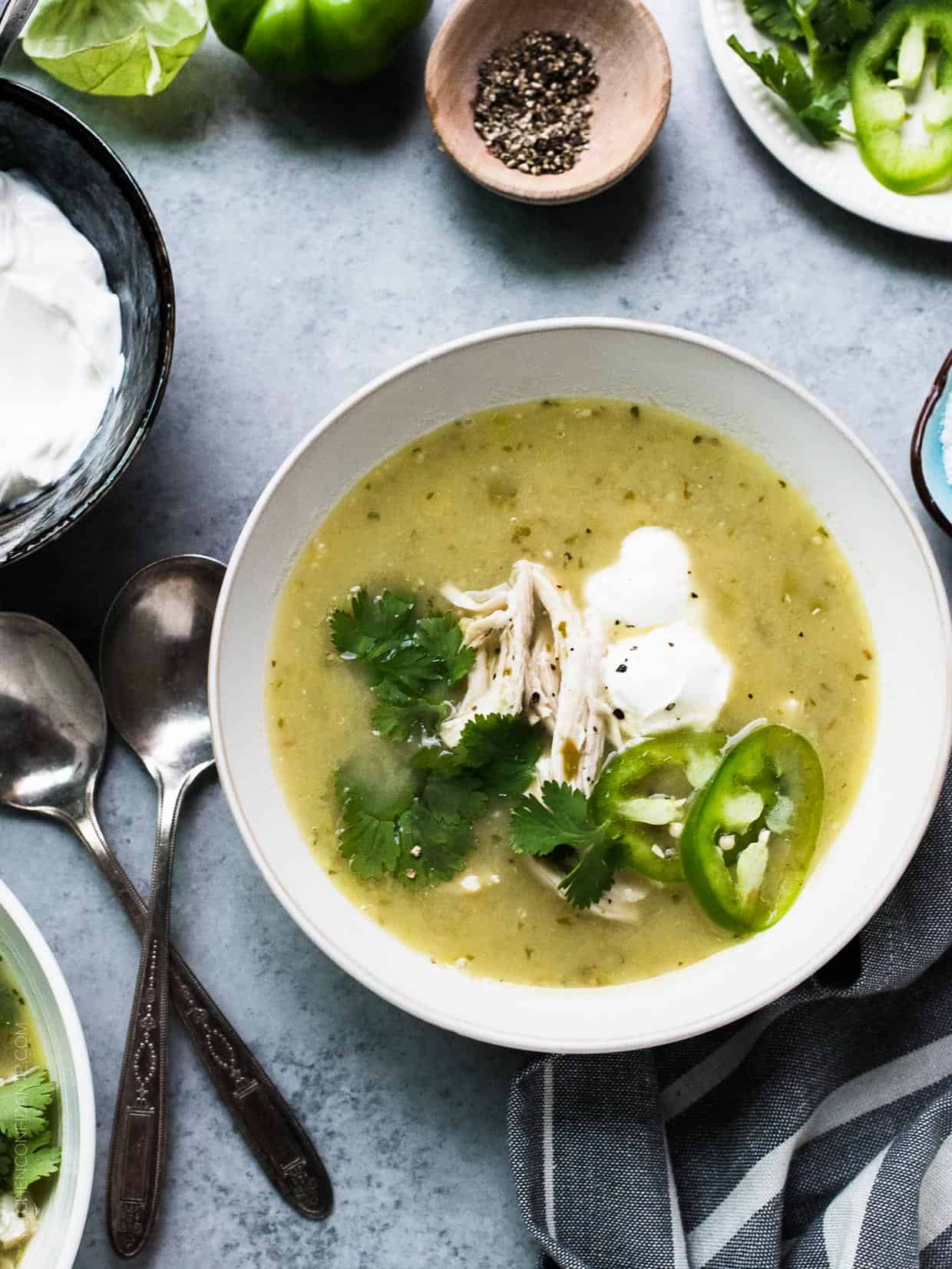 It'll put hair on your chest.
But I'm guessing you could use some right now. Some soup, that is. Though, who knows, maybe you might want a little hair on your chest, because winter is, indeed, back. And it's cold.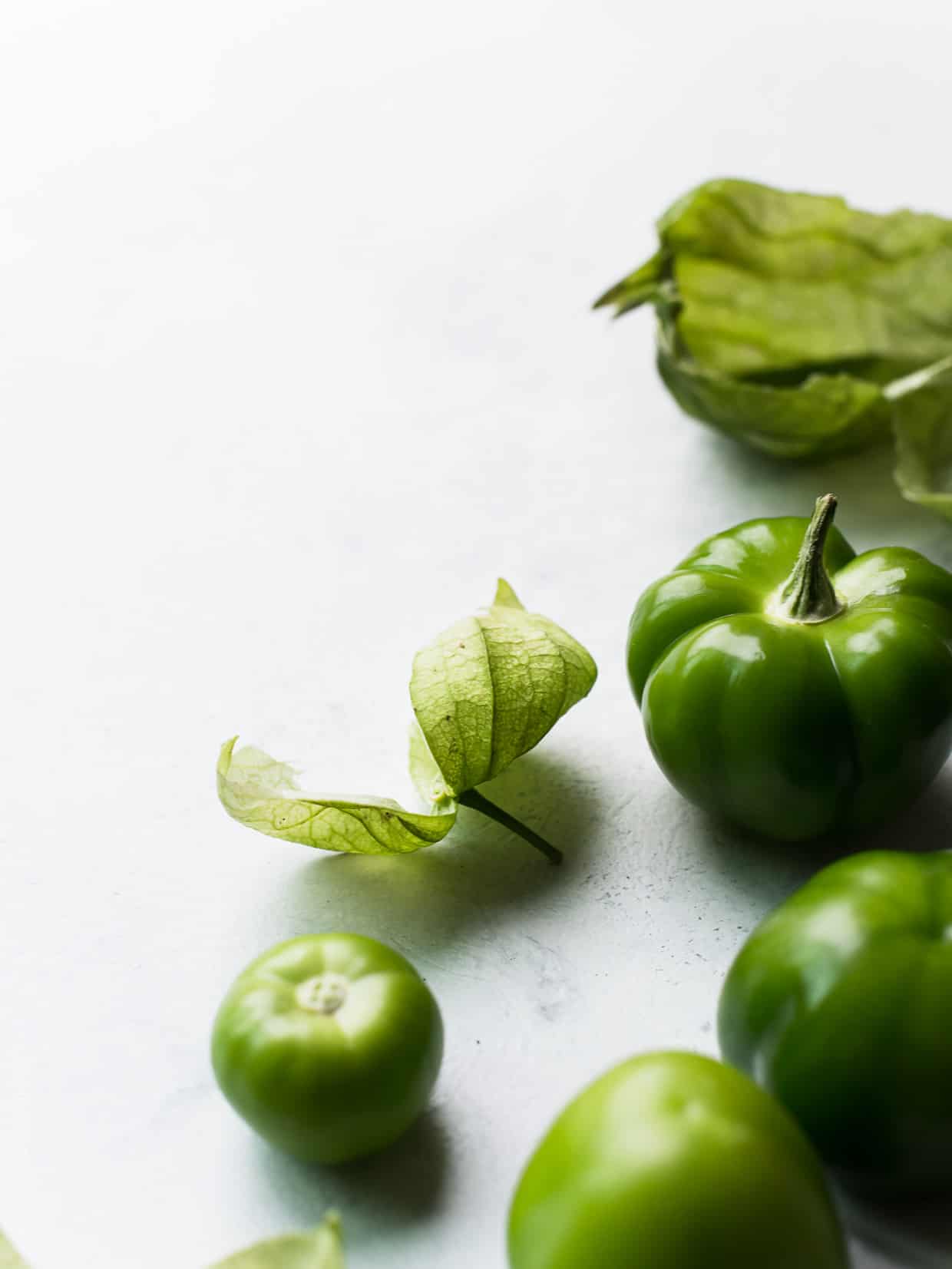 Well, this will warm you right up. Fire up that belly. And set your little tastebuds' fire alarms ringing.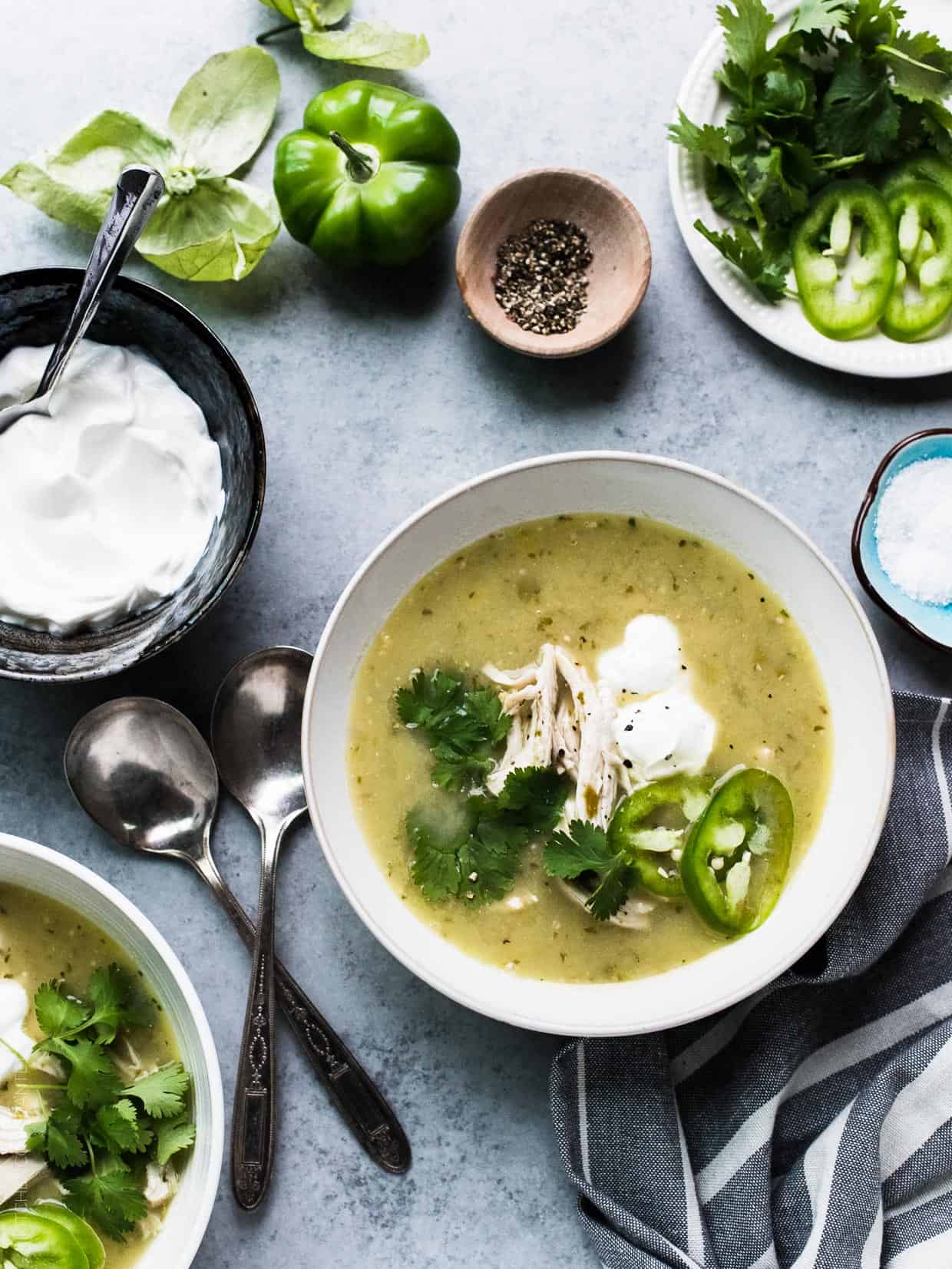 I may have it easy when it comes to winter, but we finally got our share of freezing temperatures this week. When I let the dog out this morning and was greeted by a blast of frigid air, I was craving soup well before breakfast time. As soon as I could, into the oven these tomatillos went, to roast and soften into a smokey, spicy pulp. They were going to be perfect in a Roasted Tomatillo Chicken Soup.
I may have gotten a little overzealous, because I roasted a whole jalapeno, too, and threw it into the soup pot. Let's just say, I was shivering one minute, and sweating the next.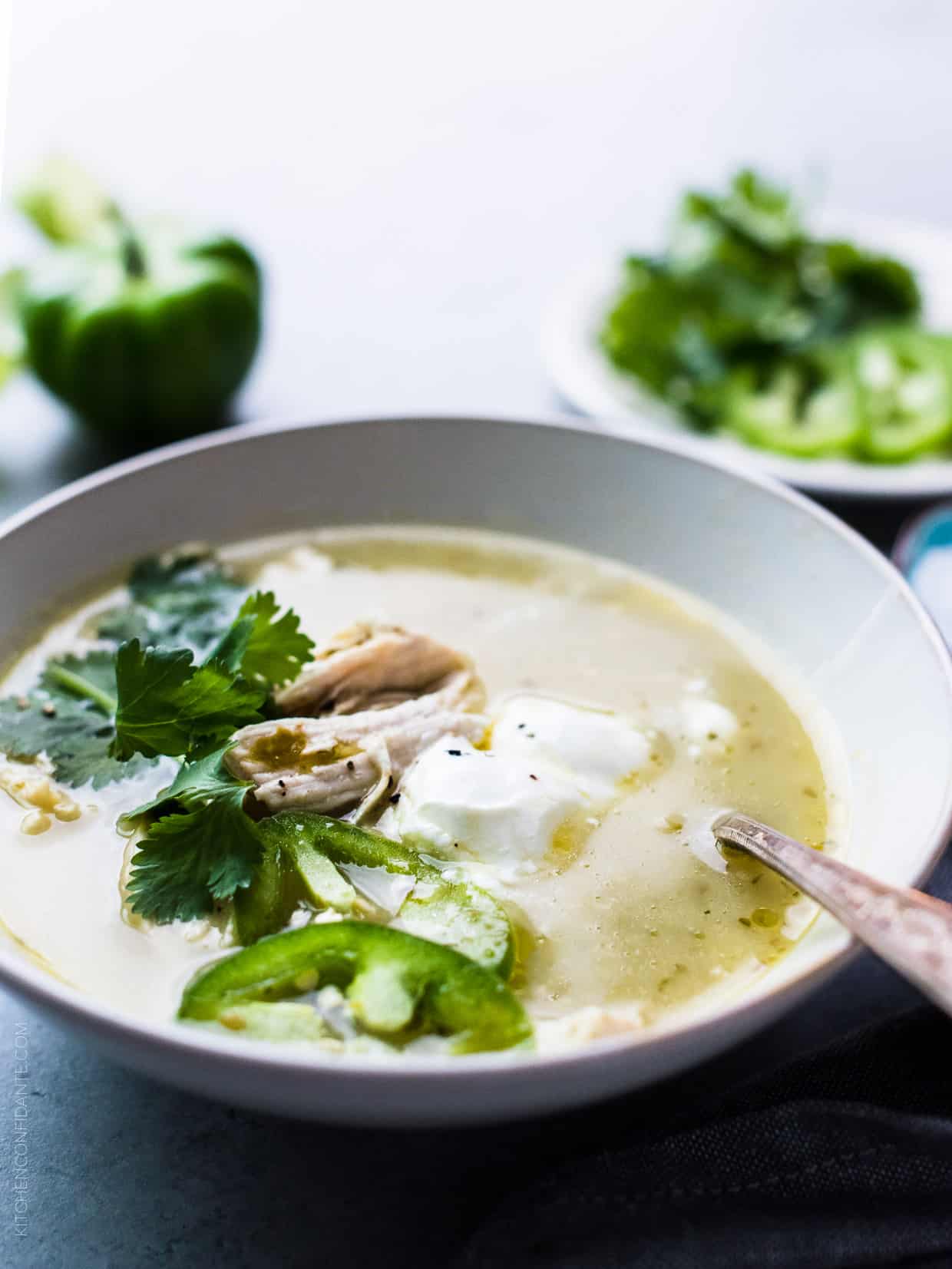 The good thing is, you don't have to add that jalapeno. The tomatillos do enough magic on their own. But if it's cold and snowy where you are, and the windows are frosted over and you are craving some heat, you may have to just call in the big guns. I assure you, the peppers will do the trick.
Note: This post first appeared January 18, 2012; the recipe has been updated from the archives with improved kitchen notes and recipe annotation, and updated photographs. I hope you enjoy this favorite from my kitchen.
More soup recipes to warm you from the inside:
Habanero Spiced Pumpkin Soup
Instant Pot Beef Nilaga
Roasted Tomato, Garlic, and Herb Soup
Pressure Cooker Creamy Rotisserie Chicken and Wild Rice Soup
Filipino Chicken and Asparagus Sotanghon (Glass Noodle) Soup
Simple, Classic Chili
Roasted Tomatillo Chicken Soup
The tomatillos, when roasted, round out their flavor into a wonderful, mellow heat. If you desire more, then add a jalapeno. If not, certainly leave it out. The dollop of creme fraiche will also help to tone down any fiery flavors. This soup is very flexible — feel like making it vegetarian? Leave out the chicken. Beans and corn kernels would work nicely as well.
Ingredients
4

medium tomatillos

peeled and clean

1

jalapeno

optional

1/2

cup

cilantro

plus extra for garnish

1

tablespoon

olive oil

1

leek

white parts only, halved lengthwise and sliced

1

clove

garlic

minced

1/4

teaspoon

kosher salt

to taste

4

cups

chicken stock

1

teaspoon

cumin

1

skinless boneless chicken breast

creme fraiche

for serving
Instructions
Preheat the oven to 375°F. Roast the tomatillos (and jalapeno if desired) for about 30 minutes, flipping halfway. The peppers will be done when browned and soft to the touch. Let it cool for a few minutes, then place in a food processor with the cilantro and puree. If using the jalapeno, remove and discard seeds before pureeing. Set aside.

Meanwhile, in a medium saucepan over medium heat, heat the olive oil and cook the leeks, until softened. Add the garlic and season lightly with salt. Add the chicken stock, cumin and chicken, and bring to a boil. Let it cook until the chicken is cooked through, about 15 minutes. Remove the chicken and shred. Set aside.

Working in batches, put tomatillo puree and soup into a blender or food processor and blend until smooth. Return to the soup pot, bring to a boil and simmer. Adjust seasoning as necessary and put the chicken back into the pot and heat through.

Serve hot with a dollop of creme fraiche, additional cilantro garnish, and some crusty warm bread or tortilla strips.
Nutrition
Calories:
178
kcal
|
Carbohydrates:
14
g
|
Protein:
12
g
|
Fat:
7
g
|
Saturated Fat:
1
g
|
Cholesterol:
25
mg
|
Sodium:
528
mg
|
Potassium:
507
mg
|
Fiber:
1
g
|
Sugar:
6
g
|
Vitamin A:
580
IU
|
Vitamin C:
12.4
mg
|
Calcium:
25
mg
|
Iron:
1.6
mg