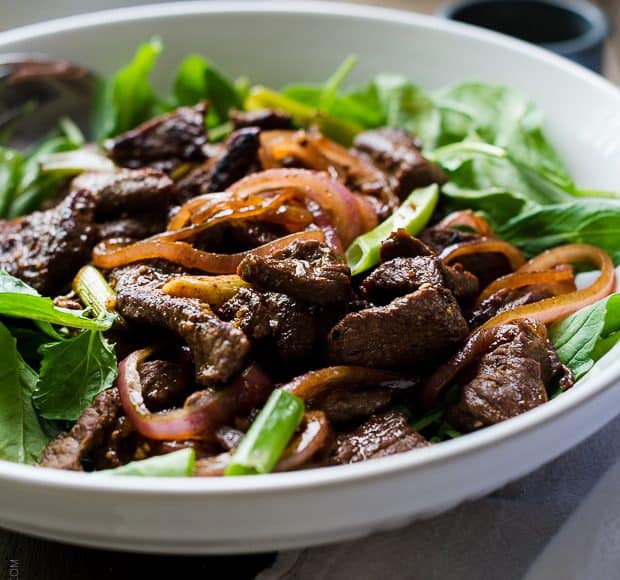 Simple Sundays | Shaking Beef Vietnamese Stir Fry
Tender strips of sirloin with caramelized red onion are served over greens in this delicious Shaking Beef Vietnamese Stir Fry – it's a simple dish that will wow your family. Have you noticed the days are getting shorter? Evening has been creeping ever so slowly,…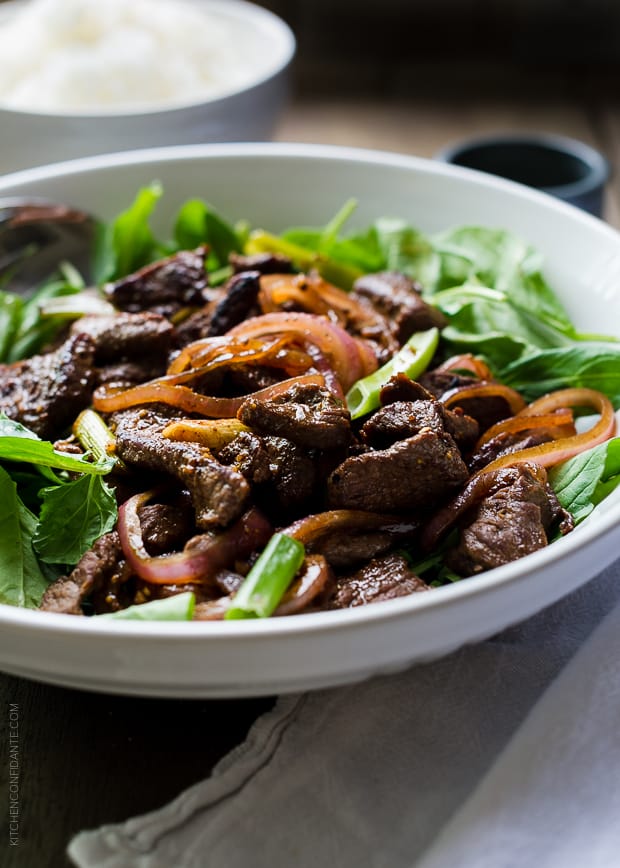 Simple Sundays | Shaking Beef Vietnamese Stir Fry
Tender strips of sirloin with caramelized red onion are served over greens in this delicious Shaking Beef Vietnamese Stir Fry – it's a simple dish that will wow your family.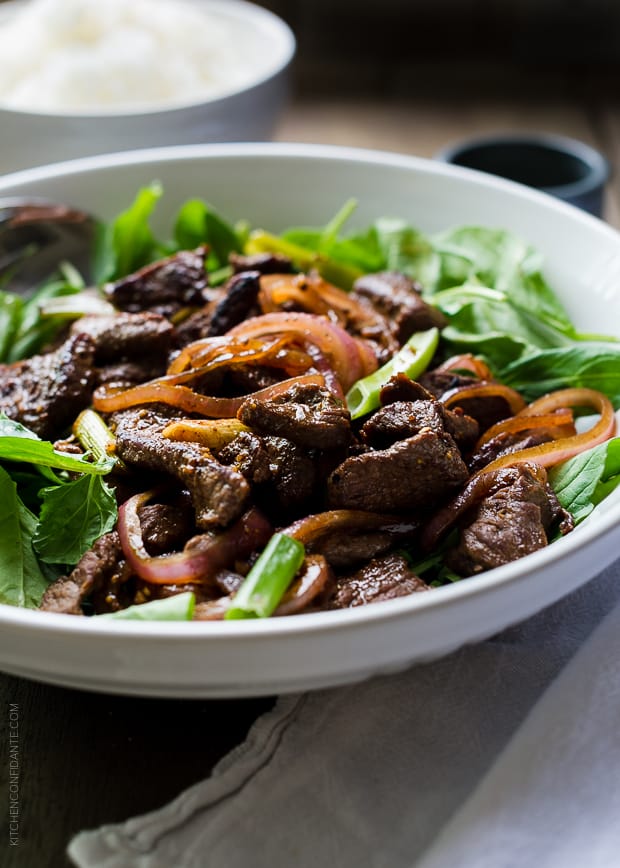 Have you noticed the days are getting shorter? Evening has been creeping ever so slowly, earlier by the day, and I notice when I walk the dog after dinner, when I look out my window as I wash the dishes, when I glance at the clock and wonder at how it is already so dark by 8pm. As much as I am ready to embrace autumn and the season of nesting, the one thing I can never be ready for is how mother nature reclaims her hold on daylight.
When the days feel shorter, everything feels more condensed, dinnertime especially.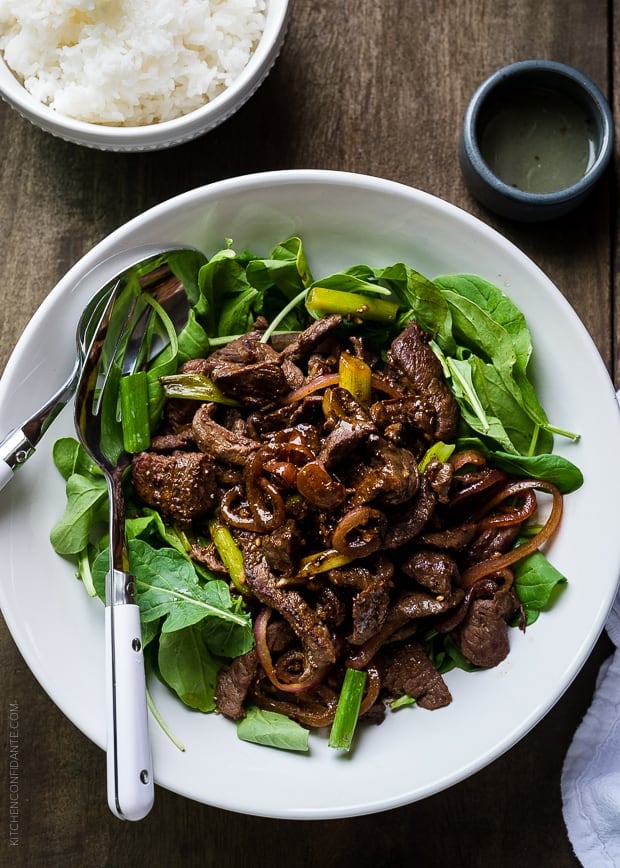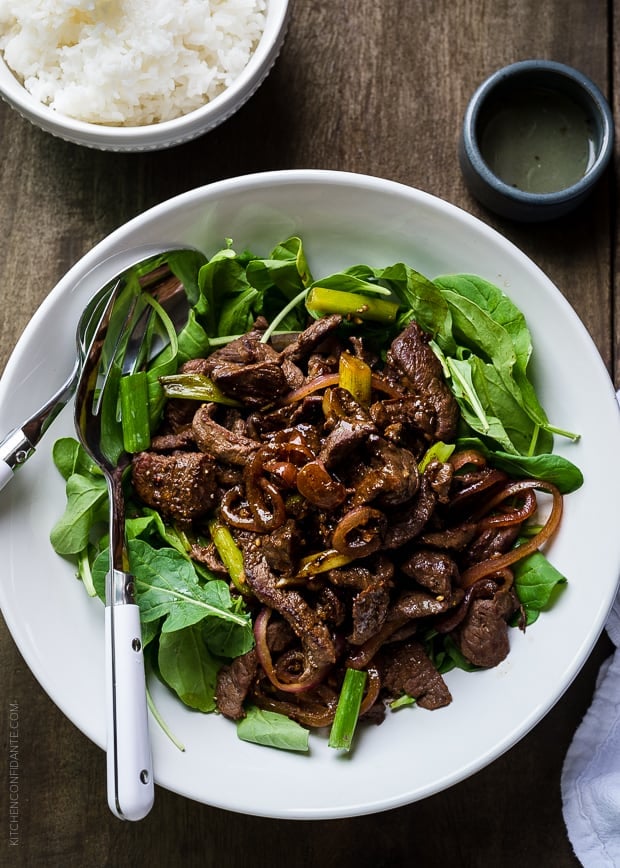 There's always a feeling of pressure to get dinner prepped, cooked, served and cleaned up before the evening takes us into all the nighttime rituals with the kids, so a stir-fry is nearly a weekly go-to. Several versions make the rotation, but this week, I was, yet again, staring at a nearly empty refrigerator (How does this happen!? I swear, I'm at the grocery store at least 4 times a week!), and I was left with some red onions, scallions, sirloin, and arugula. Shaking Beef was calling my name.
With its varying layers of flavors and textures, this Vietnamese style stir fry has everything I love: tender pieces of beef, caramelized onions, a salty-sweet sauce, the peppery bite of fresh greens, and a tangy lime sauce to add just the right amount of acidity to the mix. "Not bad for throw together, right?" I asked my family as my daughter helped herself to seconds. "This was throw together?" she asked, surprised.
I probably shouldn't have said a thing. They would have never known.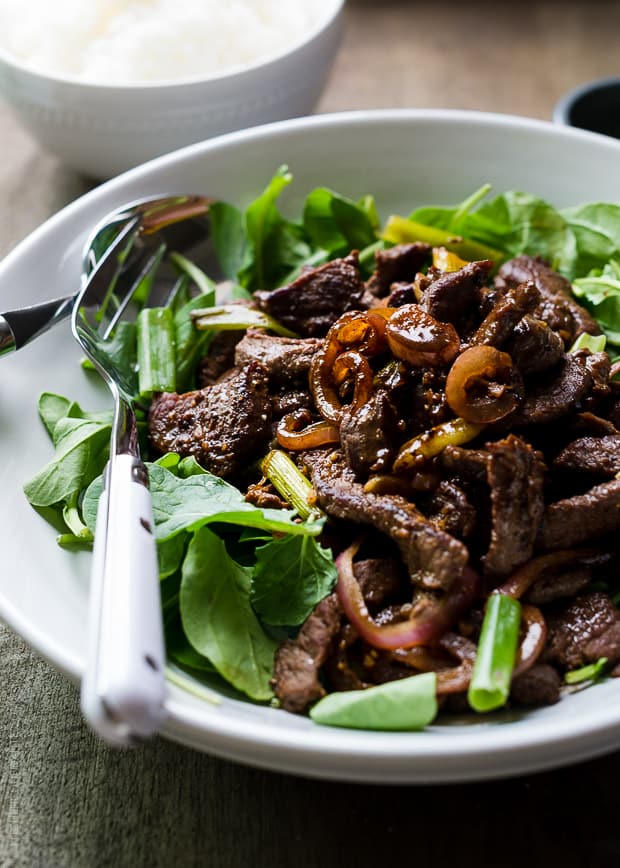 Shaking Beef - Vietnamese Stir Fry
Tender strips of sirloin with caramelized red onion are served over greens in this delicious Shaking Beef Vietnamese Stir Fry - it's a simple dish that will wow your family.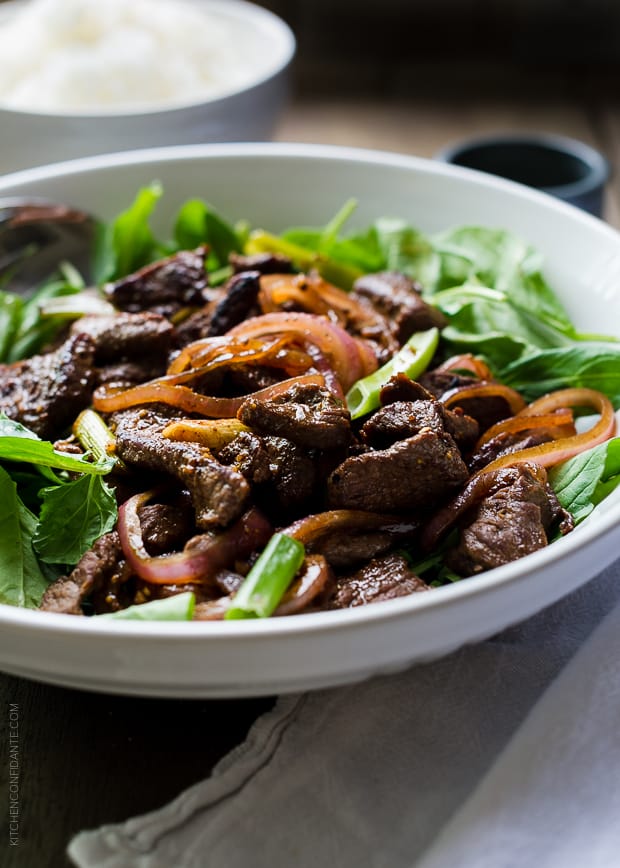 Print Recipe
Ingredients
2 lbs beef for stir fry - ask for prime top sirloin for the most tender cut
5 cloves garlic, peeled and minced
2 tablespoons sugar, divided
1 1/4 teaspoons kosher salt, divided
1 teaspoon + 1 tablespoon fish sauce, divided
1 1/4 teaspoons freshly ground black pepper, divided
5 tablespoons canola oil, divided
1/4 cup rice wine vinegar
1/4 cup dessert wine or white wine
3 tablespoons good quality soy sauce (I like Silver Swan Soy Sauce, found in Asian markets)
2 tablespoons lime juice (about 1 lime)
1 red onion, thinly sliced into rounds
3 stalks scallions, trimmed and cut into 1 inch pieces
2 tablespoons unsalted butter, divided
2 large handfuls arugula or watercress
Instructions
In a large bowl, mix together the beef, garlic, 1 tablespoon sugar, 1 teaspoon salt, 1 teaspoon fish sauce and 1 tablespoon sugar. Let it sit for about 20 minutes at room temperature.
In a small bowl, whisk the rice wine vinegar, wine, soy sauce, remaining tablespoon fish sauce, and remaining tablespoon sugar until combined. Set aside.
In another small bowl, stir together the lime juice, 1/4 teaspoon salt and 1/4 teaspoon pepper. Set aside.
Heat 2 tablespoons of oil in the wok over high heat. Divide the beef, red onions and scallions into two portions. You will be cooking in batches.
When the oil is glistening and hot, cood the first batch of beef in a single layer, leaving it untouched for about 3 minutes so that it becomes seared on one side. Turn the meat and sear for another 3 minutes. Add the red onions and scallions, stirring it. Add half of the vinegar-soy sauce mixture, and shake the pan or stir. Add 1 tablespoon of butter and shake the pan again. Set the beef in a dish to the side, and repeat with the second batch of beef.
To serve, place the beef on a bed of arugula or your choice of greens, with the lime dressing on the side.
Lightly adapted from Shaking Beef by Charles Phan of Slanted Door Restaurant, via Epicurious.