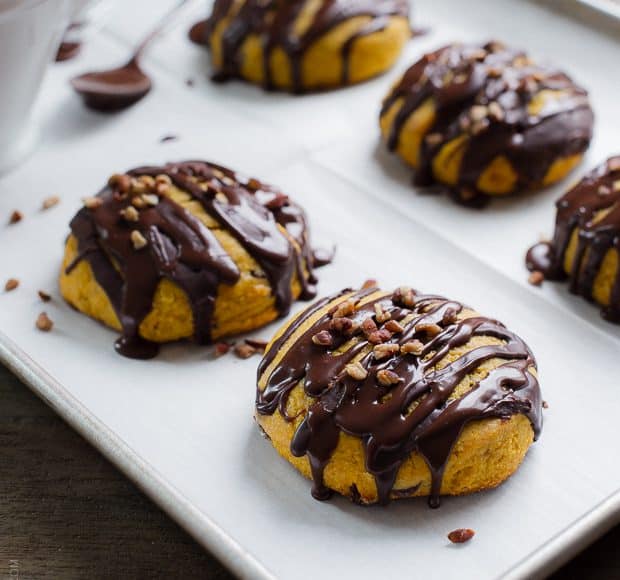 Pumpkin Cornmeal Scones
Pumpkin Cornmeal Scones are drizzled with dark chocolate and studded with pecans and chocolate chips. A decadent scone recipe for autumn!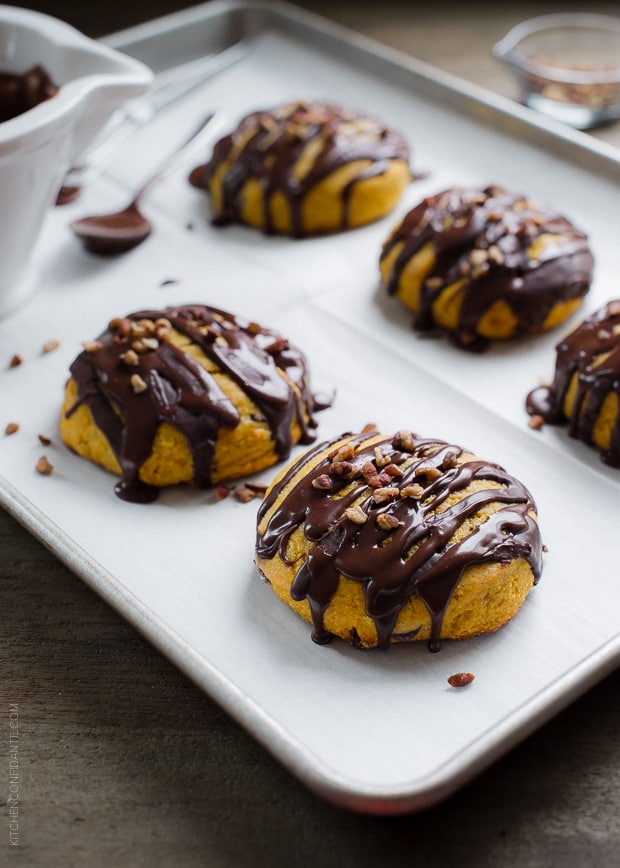 Pumpkin Cornmeal Scones
Autumn-spiced Pumpkin Cornmeal Scones are studded with pecans and chocolate chips, and drizzled with a dark chocolate glaze. All you need now is a cup of tea.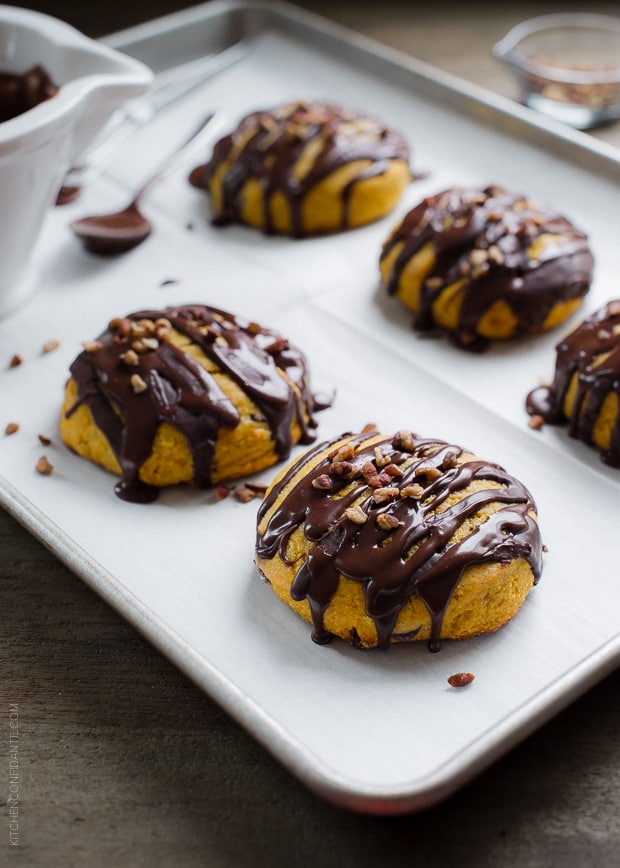 In order to get away these days, a lot of orchestrating must happen. It doesn't matter if it's an overnight trip or a week long vacation — once children and pets enter the picture, it becomes very, very complicated. And it also doesn't matter if they stay or if they go. The planning, the packing, the organizing, all the arrangement-making – well, it exhausts me so much that I always consider: is it all worth it?
The answer of course, almost always, is YES. If anything, by the time you get to your destination, you are so ready – SO READY – for some fun and relaxation.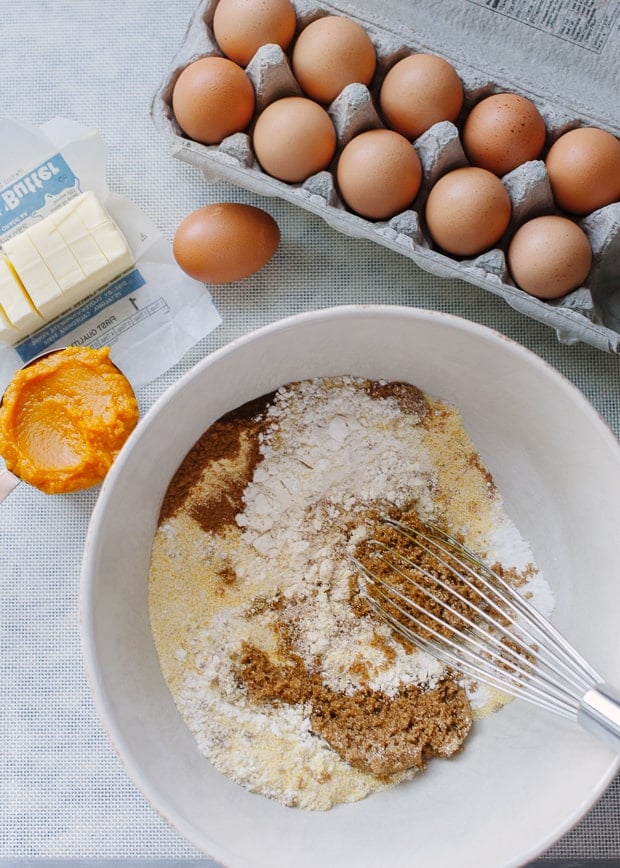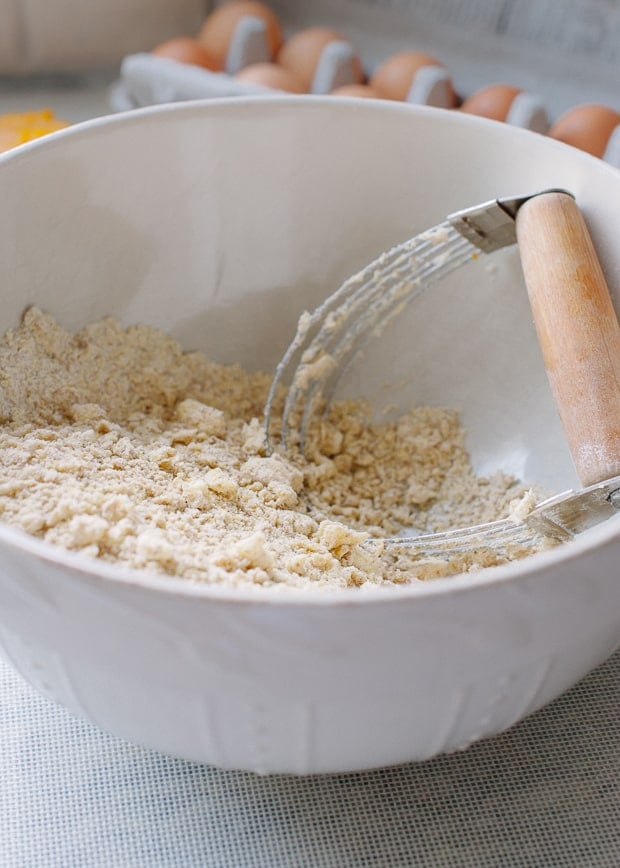 I was in Honolulu last week. And yet again, the prep work leading up to my little getaway amazed me. There were lists upon lists, the goodness of saintly friends, and all the last minute work to be done before I could even think about packing my suitcase. But once I was in island mode, my skin absorbing the humidity that is such a foreign thing to California, I was rewarded. There were yummy bites, my beloved papaya, and beautiful sunsets. Most of all, there were long conversations with my husband. Uninterrupted.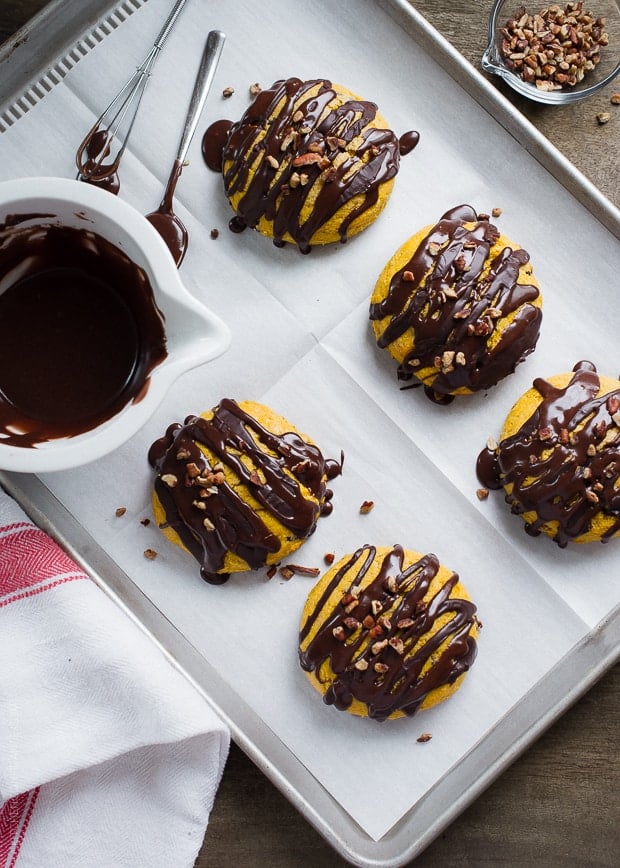 I left refreshed, and wondering what I would tackle once I returned to my kitchen. It didn't take long for a request to come in.
"Mom, can you make scones? I'm really craving scones."
Didn't I just make some?
Apparently, it wasn't enough.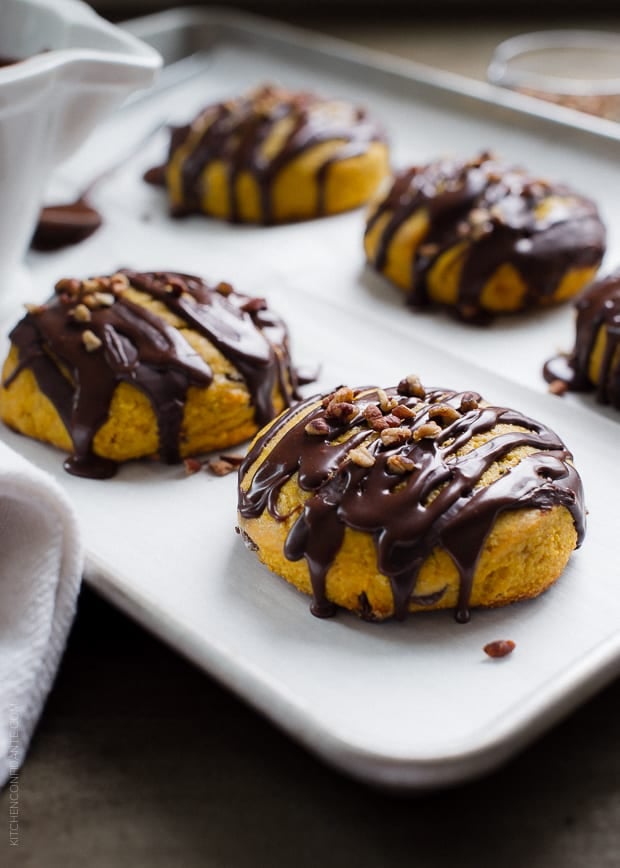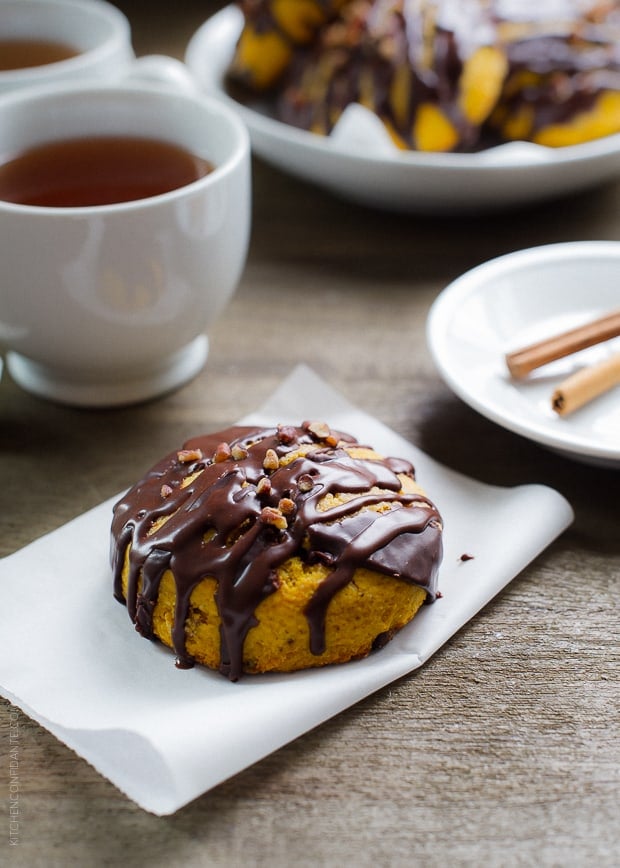 From the moment I woke up on Sunday morning, I made scones. Over and over again. I went through several iterations before I was pleased enough with these Pumpkin Cornmeal Scones. The kitchen smelled of pumpkin and all the fall spices — cinnamon, nutmeg, ginger and cloves, and there were drizzles of chocolate everywhere. The cornmeal gives it a little more heartiness, not unlike a delicious corn muffin, and despite my family's protests, the pecans add some crunch that I always love.
It was a long road to travel, but these scones were a worthy destination. Now, where to next?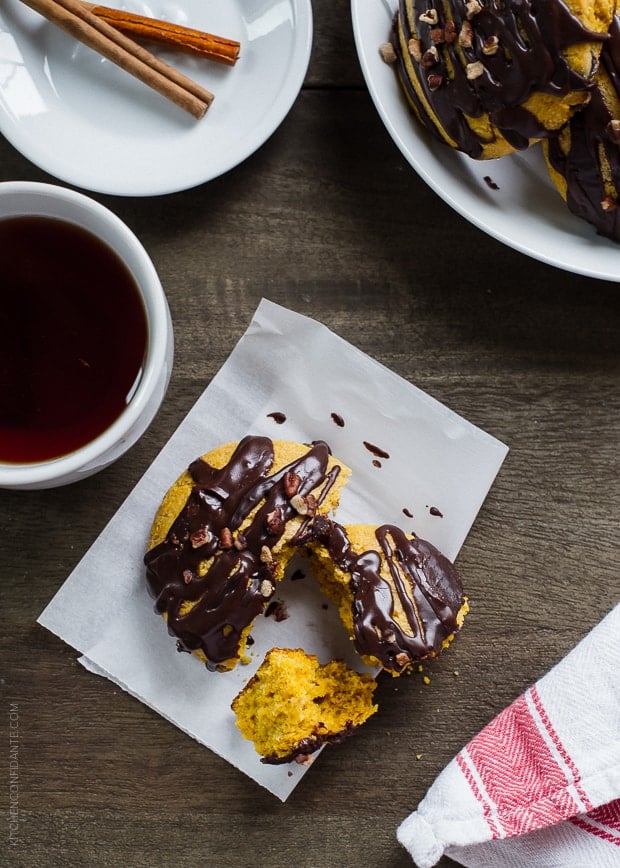 MORE SCONE RECIPES
Make-ahead Cranberry Scones
Savory Olive Cheese Scones
Savory Scones with Zucchini, Feta and Thyme
Sun-dried Tomato and Thyme Vegan Scones
Cherry Nutella Scones
MORE PUMPKIN RECIPES
Pumpkin Spice Buttermilk Bundt Cake
Pumpkin Sage Polenta
Pumpkin Cheddar Biscuits
Chocolate Marble Pumpkin Bread
Habanero Spiced Pumpkin Soup
Pumpkin Cornmeal Scones
Autumn-spiced Pumpkin Cornmeal Scones are studded with pecans and chocolate chips and drizzled with a dark chocolate glaze. All you need now is a cup of tea.
Ingredients
For the scones:
2 1/4

cups

all-purpose flour

plus more for dusting

1/2

cup

corn meal

1/2

cup

brown sugar

1

tablespoon

baking powder

1/4

teaspoon

kosher salt

1

teaspoon

cinnamon

1/2

teaspoon

nutmeg

1/4

teaspoon

ginger

1/8

teaspoon

ground cloves

1/2

cup

cold butter

1 stick, cut into small pieces

2

large eggs

1/2

cup

pumpkin

1/4

cup

buttermilk

1/4

cup

pecans

plus more for sprinkling

1/4

cup

chocolate chips

2

tablespoons

cream or half and half

2

teaspoons

sugar

1/2

teaspoon

ground cinnamon
For the glaze:
1 1/4 to 1 1/2

cups

powdered sugar

2

tablespoons

unsweetened dutch process cocoa powder

I use Guittard Cocoa Rouge Cocoa Powder

2

tablespoons

milk

1/2

teaspoon

vanilla extract
Instructions
For the scones:
In a large bowl, whisk together the flour, cornmeal, brown sugar, baking powder, salt, cinnamon, nutmeg, ginger and ground cloves. Using a pastry cutter, cut the butter into the flour mixture, until you have coarse crumbs. This can also be done with two knives or a food processor.

Whisk the eggs lightly and combine with the pumpkin and buttermilk. Add to the flour mixture and stir until just moist.

Add the pecans and chocolate chips to the dough, then mix lightly. The dough will be sticky.

On a lightly floured surface, turn the sticky dough out and knead lightly until the nuts and chocolate chips are incorporated into the dough and the dough is shaped into a disk. If you find that your dough is too sticky, add more flour until the dough is malleable. Roll the dough 3/4 inch thick. Using a biscuit cutter or cookie cutter, cut out 3 inch rounds. You should have about 8 scones. Place the scones on a baking sheet lined with parchment or a silicone mat, and lightly brush with half and half. Stir together the sugar and cinnamon and sprinkle over the scones.

Place the scones in the freezer for 30 minutes. Meanwhile, preheat the oven to 400 degrees F.

Once the scones are chilled, bake for 20 minutes, or until golden. Let it cool slightly, while you make the glaze.
For the glaze:
In a small bowl, whisk together 1/2 cup of the powdered sugar with the cocoa powder. Whisk in the milk, then slowly add the remaining powdered sugar until the consistency of the glaze is thick but still able to drizzle. Stir in the vanilla extract and stir again.

Drizzle the glaze generously over the scones and sprinkle with more pecans, if you wish.
Nutrition
Calories:
520
kcal
|
Carbohydrates:
82
g
|
Protein:
7
g
|
Fat:
19
g
|
Saturated Fat:
10
g
|
Cholesterol:
79
mg
|
Sodium:
212
mg
|
Potassium:
326
mg
|
Fiber:
3
g
|
Sugar:
45
g
|
Vitamin A:
1111
IU
|
Vitamin C:
1
mg
|
Calcium:
121
mg
|
Iron:
3
mg