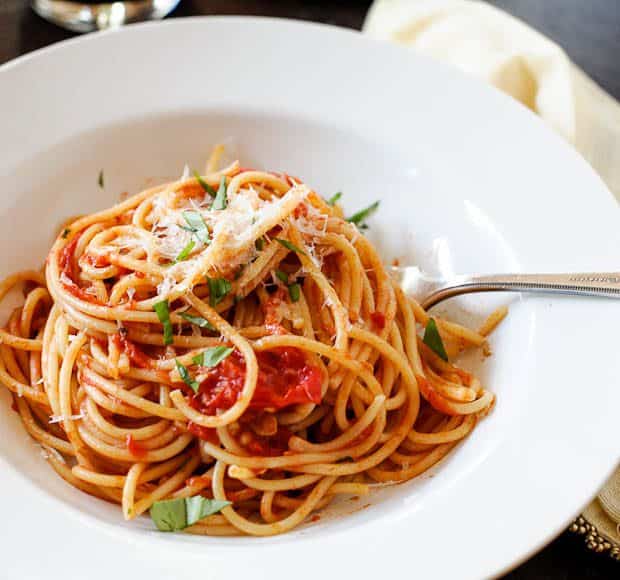 Spaghetti with Fresh Tomato Basil Sauce + All-Clad Sauté Pan Giveaway
There was a time when cooking looked like this: Grab jar of marinara sauce. Grab box of pasta. Get really fancy and cook ground beef in onions and garlic, then add marinara sauce. Boil water, salt, and drop in pasta. Drain pasta and serve with…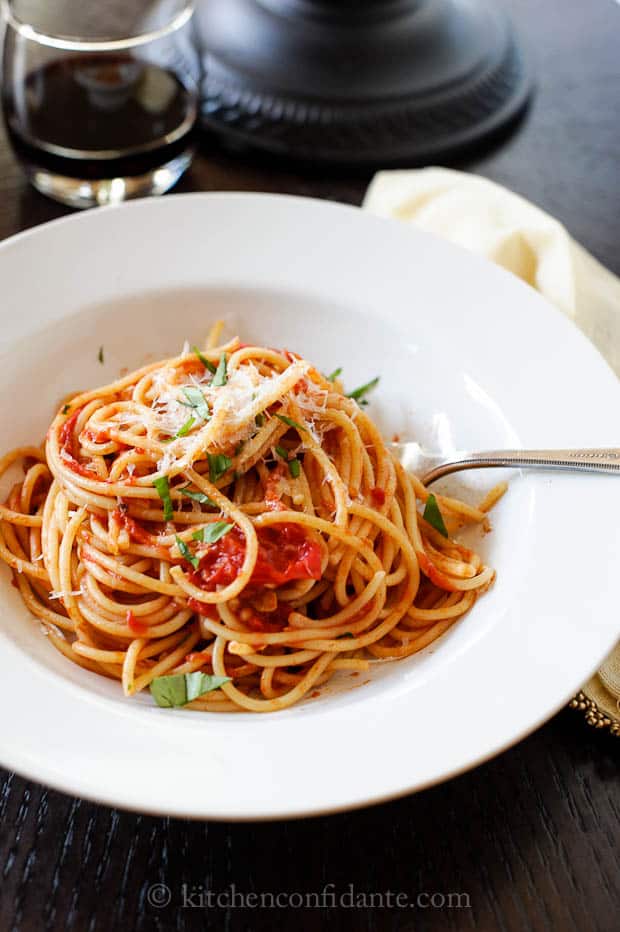 Spaghetti with Fresh Tomato Basil Sauce + All-Clad Sauté Pan Giveaway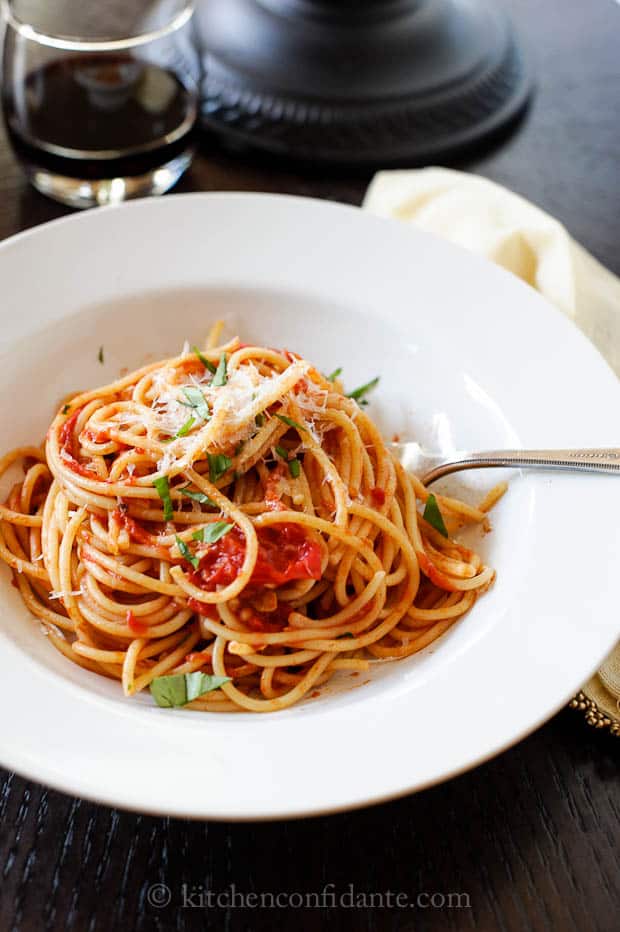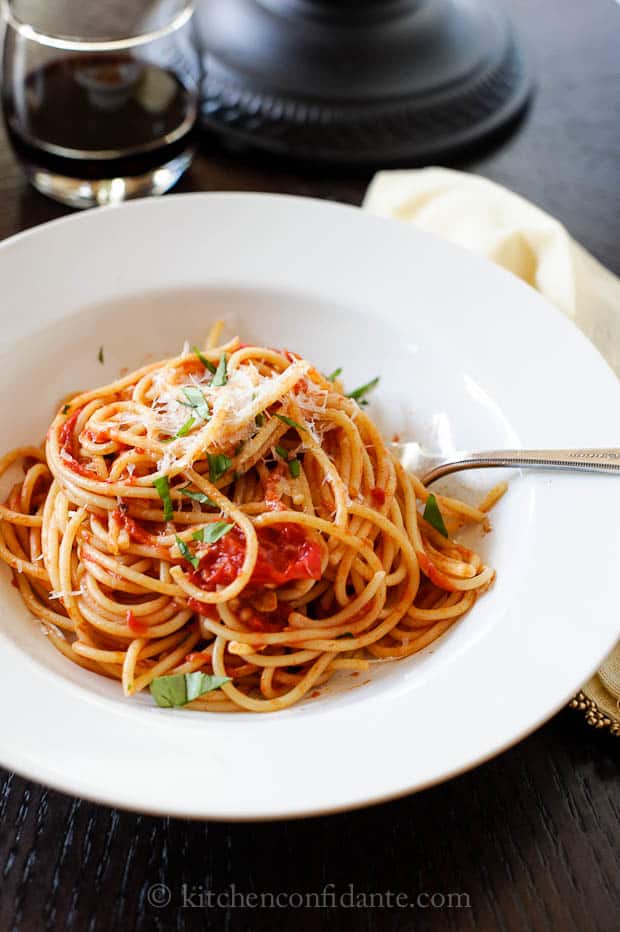 There was a time when cooking looked like this: Grab jar of marinara sauce. Grab box of pasta. Get really fancy and cook ground beef in onions and garlic, then add marinara sauce. Boil water, salt, and drop in pasta. Drain pasta and serve with sauce. Yes, that was then. And I will admit, that is also sometimes now. But the difference is that back then, that jar of sauce was as mysterious as the Shroud of Turin.
I used to think that the a good sauce could only be achieved after hours and hours of mentoring from an Italian nonna. Preferably, an adorable, huggable nonna. The truth is, the mystery in a jar of sauce is really not that mysterious after all. It's really all about simple ingredients.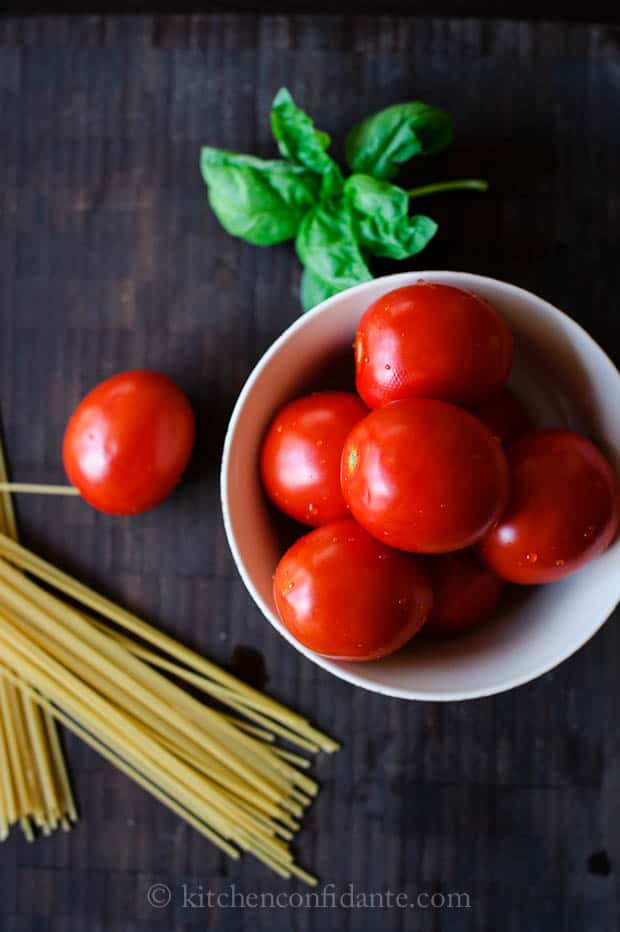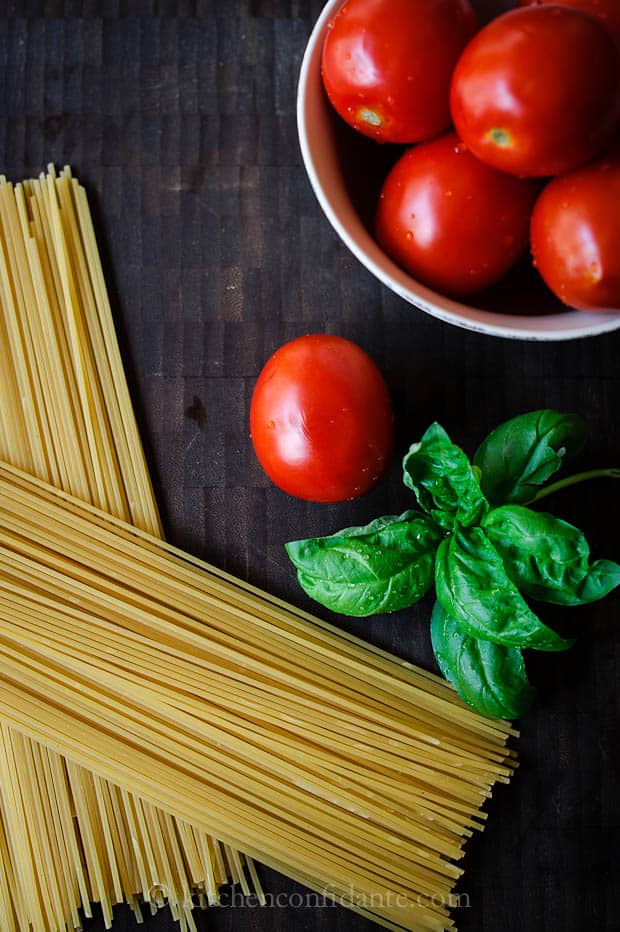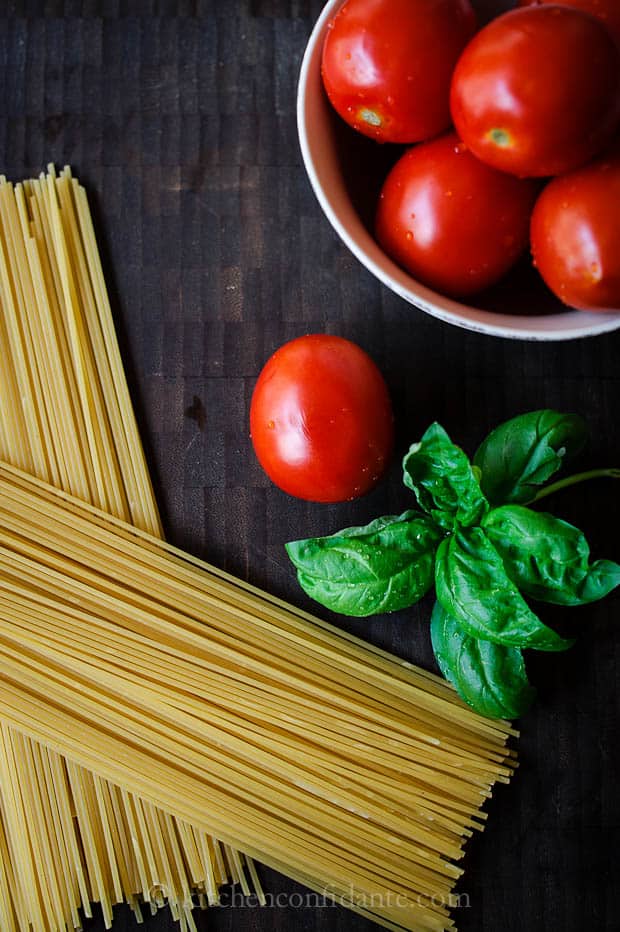 So now, cooking looks more like this: Grab the ripest tomatoes. Snip the basil. Crush the garlic. And before you know it, a simple sauce is bubbling on the stove.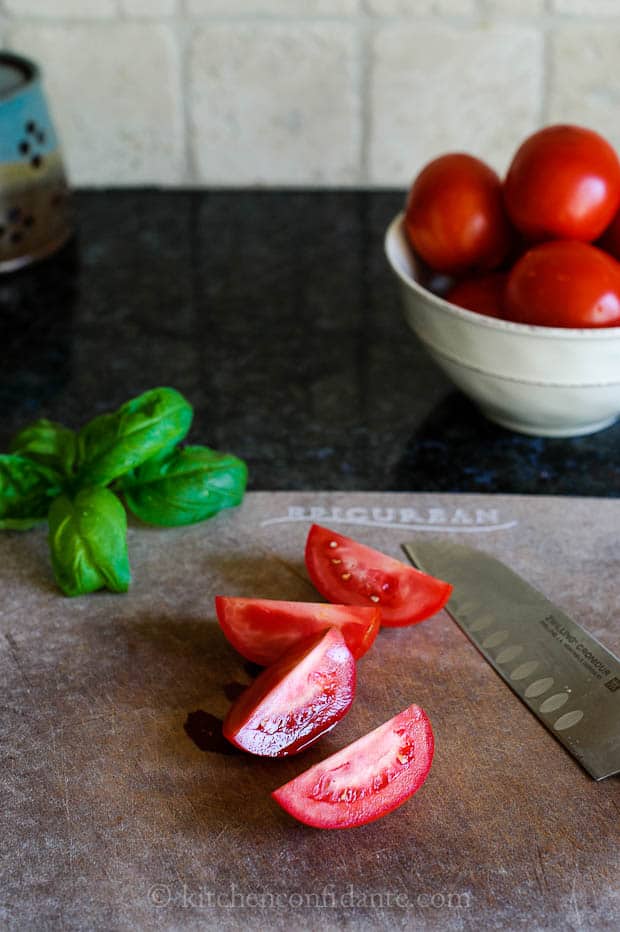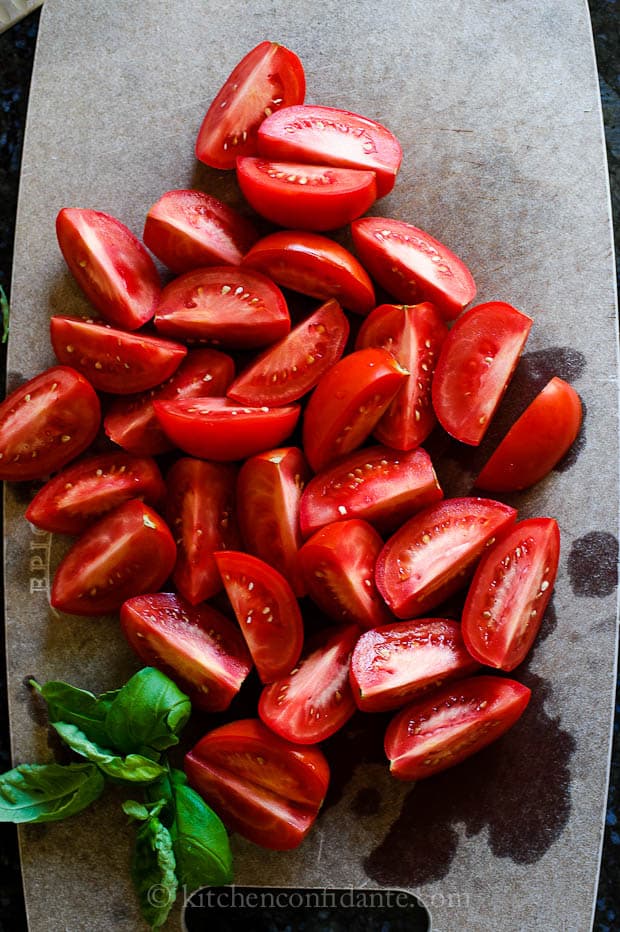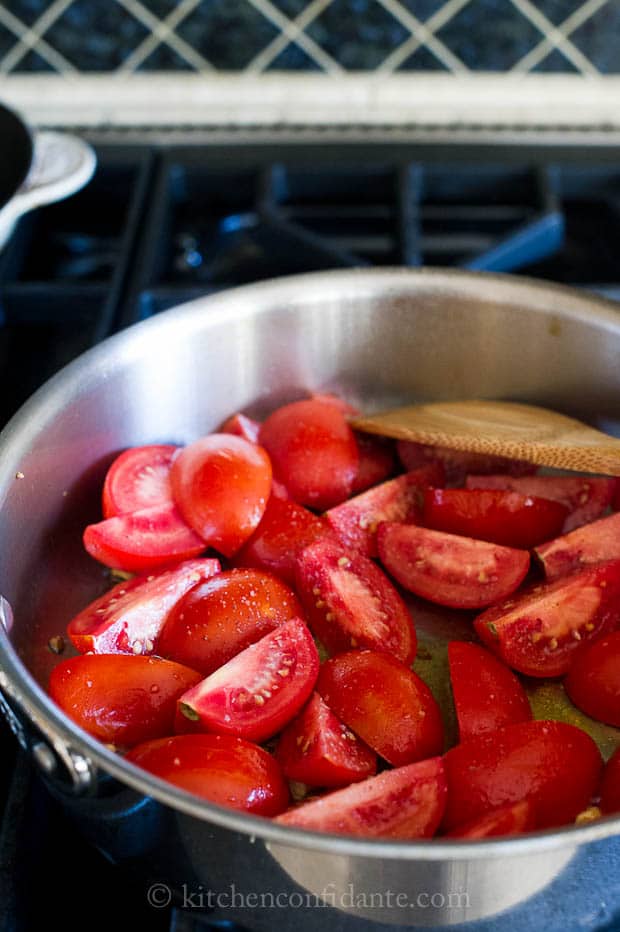 A simple sauce of crushed tomatoes makes for a rustic and easy weeknight meal, and one I wish I had learned long before I grew reliant on jars of sauce. Perhaps if I grew up in an Italian family, right? As I toss spaghetti into the sauté pan, I like to imagine that this is one of the first things a child learns in the kitchen. In my case, I didn't learn this until after I was first married, but you can be sure that it is an easy meal I like to enjoy often.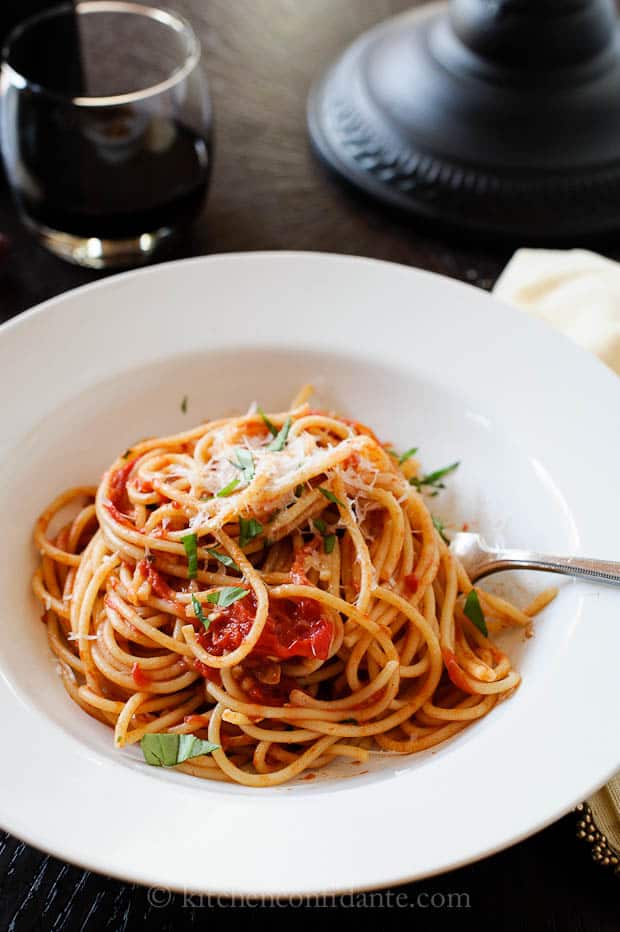 Speaking of which, it's time for my Wedding Registry Kitchen Must-Have Giveaway! This recipe works perfectly in my favorite pan in the world, the one pan I reach for time and time again: The All-Clad 3 Qt Saute Pan. I've already mentioned how awesome it is – and I'm so excited to be able to share one with one of you!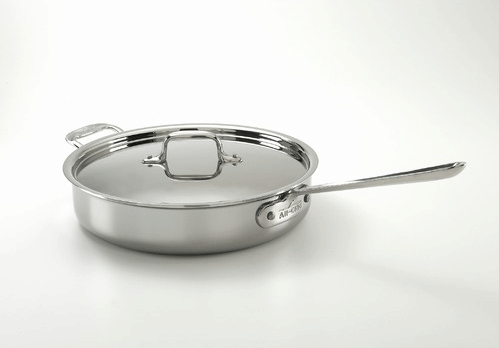 Wedding Registry Kitchen Must-Have Giveaway :: All-Clad 3 Qt Sauté Pan
This giveaway is now closed. Congratulations to Becca H on winning a gorgeous All-Clad Stainless Saute Pan!
Ready to enter? Here's how:
Please leave a comment below and feel free to share: What would you cook in this sauté pan?
Bonus entry: Share this page on Facebook and leave another comment saying so.
Entries/Comments accepted until 10 pm Pacific, Sunday, 5 August, 2012.
One winner will be randomly selected and notified by email.
This contest is open to US residents only, my apologies to my international friends!
Disclosure: In celebration of their newly launched Wedding Registry, Wayfair is generously sponsoring this giveaway by giving one winner an All-Clad Stainless 3-Qt Sauté Pan. I am grateful to their support and for making this giveaway possible. The author was not compensated for this post/giveaway. All opinions are strictly my own.
Please check out my Top Ten Wedding Registry Must Haves for my personal picks when starting out in the kitchen! Two more items from my list will be featured in giveaways next week! Be sure to check back next week for the next giveaway!
Spaghetti with Fresh Tomato Basil Sauce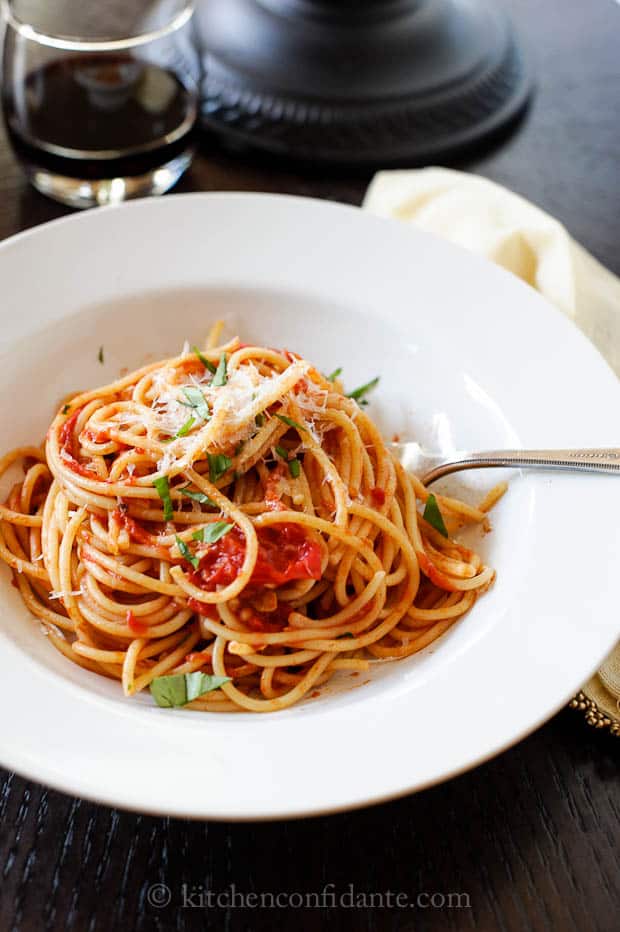 Print Recipe
Ingredients
8 Roma tomatoes, quartered
1/4 cup extra virgin olive oil
5-6 cloves garlic, minced
1/4 teaspoon red pepper flakes
1/2 cup fresh basil, coarsely chopped
1 cup Parmigiano Reggiano cheese, plus more for garnish
1 lb spaghetti
Kosher salt
Freshly ground black pepper
Instructions
In a large pot, boil water to cook your spaghetti.
Heat the olive oil in a large sauté pan over medium heat. Add garlic and red pepper flakes, and cook for 1-2 minutes, stirring frequently. When the garlic is a light golden color, add the sliced tomatoes and season lightly with salt and pepper. The tomatoes will begin to cook down; lower the heat to a simmer and let it cook until it is a chunky sauce, about 15 minutes.
Meanwhile, cook the pasta according to package directions. Drain, reserving the liquid, and place into the sauté pan, allowing it to finish cooking in the sauce. Toss in the basil and cheese. Add reserved pasta liquid, if the sauce appears too dry. Season to taste with salt and pepper. Serve with additional Parmigiano Reggiano grated on top.