Simple Sundays | Spaghetti with Mascarpone Alfredo Sauce and Sugar Snap Peas
I had an unwelcome visitor in my kitchen the other day. I noticed him as I stood by my stove, melting butter in a pan. He came uncomfortably close, a dark speck, fast and dangerously near. My spatula became my weapon, and I brandished it…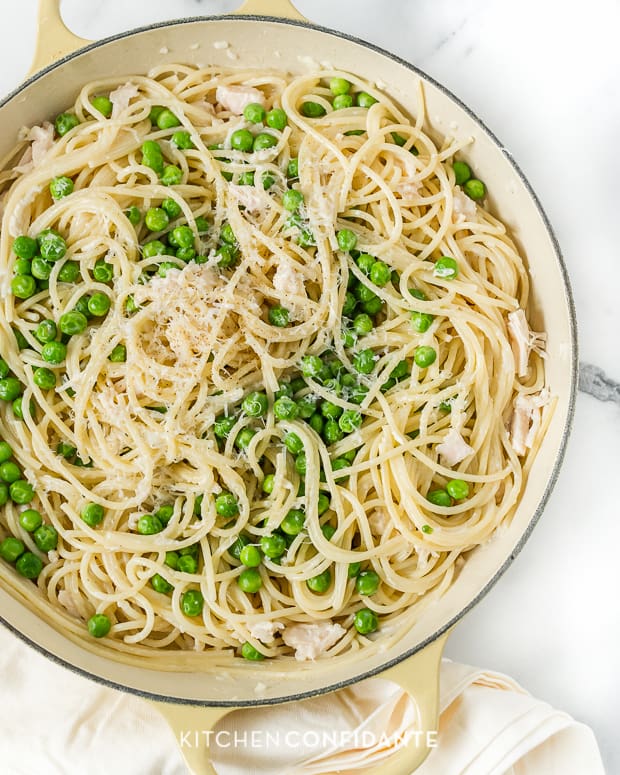 Simple Sundays | Spaghetti with Mascarpone Alfredo Sauce and Sugar Snap Peas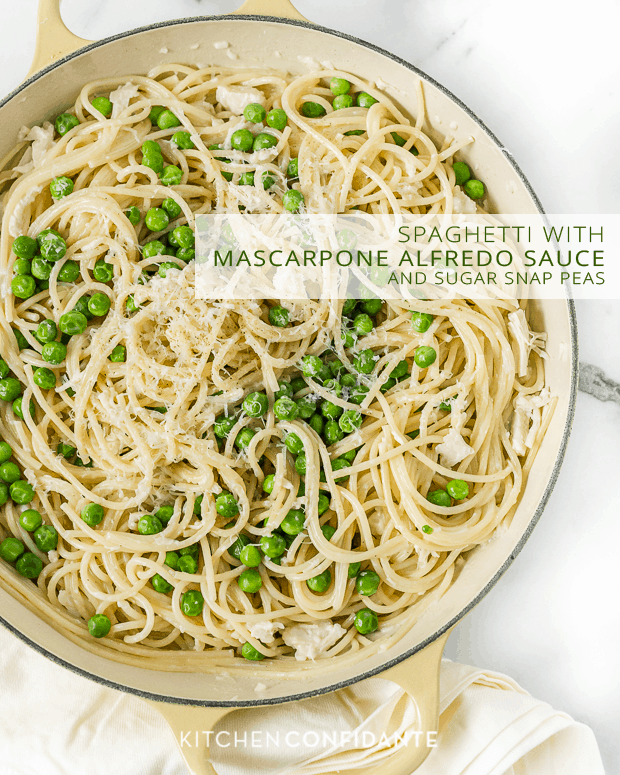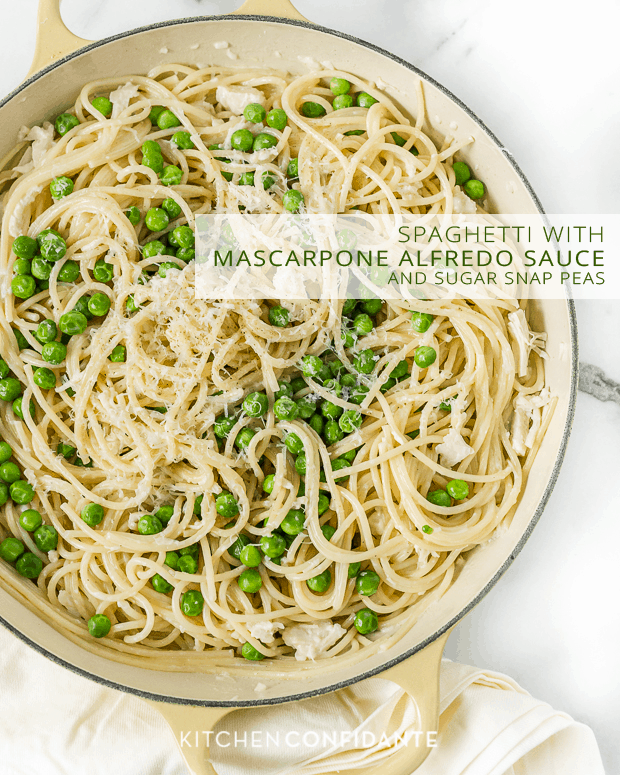 I had an unwelcome visitor in my kitchen the other day. I noticed him as I stood by my stove, melting butter in a pan. He came uncomfortably close, a dark speck, fast and dangerously near. My spatula became my weapon, and I brandished it high, transforming into stealth ninja mode. How dare a fly enter my domain!
He landed, near one of the stove's knobs, and I knew this was my moment.
SMACK!
One stroke and he was gone.
My inner Mr. Miyagi had emerged, and I was feeling oddly proud of my victory. No, there were no chopsticks, but I was happy to focus on my dinner again. A quick sanitation detail and I turned my attention to the butter that was fully melted on the stove.
It was dinner time and my cupboards were dreadfully bare. All that was left was a package of pasta, some leftover chicken and a gorgeous mess of fresh peas from the farmer's market. The refrigerator offered a tub of mascarpone cheese and a wedge of Parmigiano-Reggiano. So I got to work on an alfredo sauce.
Spaghetti with Mascarpone Alfredo Sauce and Sugar Snap Peas was born out of necessity but a reminder of how some of the simplest things can be decadent and satisfying. I don't indulge in creamy sauces that often, but this sauce, without the traditional heavy cream, was buttery and delicious, and perfect for a weeknight supper. As for any flies…well, they'll have to find their own dinner.
Spaghetti with Mascarpone Alfredo Sauce and Sugar Snap Peas
Alfredo sauces are decadent treats for every once in a while. Instead of traditional heavy cream, this sauce features mascarpone and crème fraîche.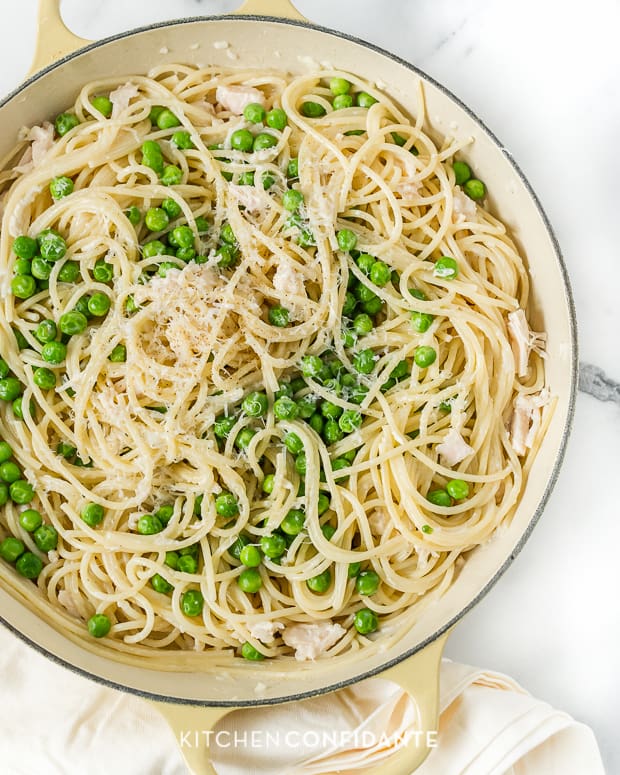 Print Recipe
Ingredients
12 oz spaghetti
1 1/2 cups peas
4 tablespoons butter
3/4 cup mascarpone
1/4 crème fraîche
1 cup grated Parmigiano-Reggiano
shredded cooked chicken, optional
Kosher salt, to taste
Freshly ground black pepper, to taste
Instructions
Bring a large pot of water to a rolling boil. Salt generously and cook the spaghetti according to the package directions until al dente. Retrieve the pasta and drain in a colander, reserving the salted water in the pot. Drop the peas into the pasta water and cook just a few moments until it is bright green and still with some bite. Reserve 1 1/2 cups of the pasta water and drain the peas.
As the pasta is finishing its cooking, melt the butter in a deep sided sauté pan over medium low heat. Stir in the mascarpone and crème fraîche and season to taste with salt and pepper. Once the sauce is creamy, add the spaghetti and peas and toss to coat. If adding shredded chicken, add it as well. Add the pasta water, 1/2 cup at a time, adding in increments until the desired consistency is reached. Stir in the Parmesan cheese.
Serve immediately.