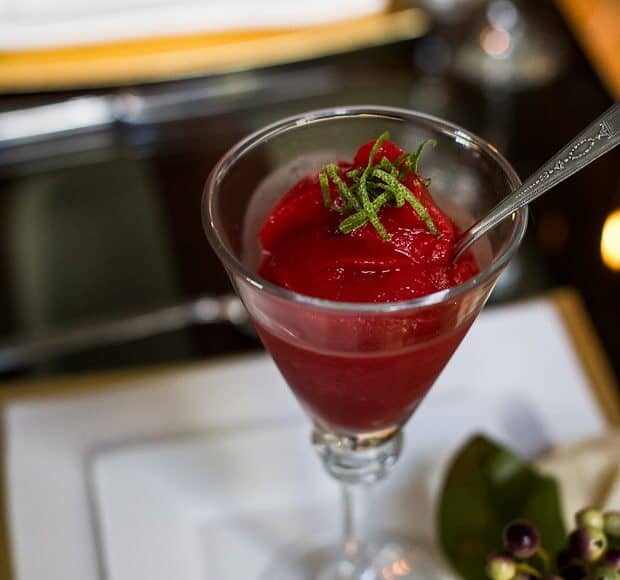 Strawberry Cointreau Sorbet + Last Minute Entertaining
The doorbell rings and you exchange glances. Are we expecting anyone? you ask one another with the panicked widening of eyes. Do we pretend we're not home? You seriously consider hiding for a split second. But no, you open the door. I know you've been…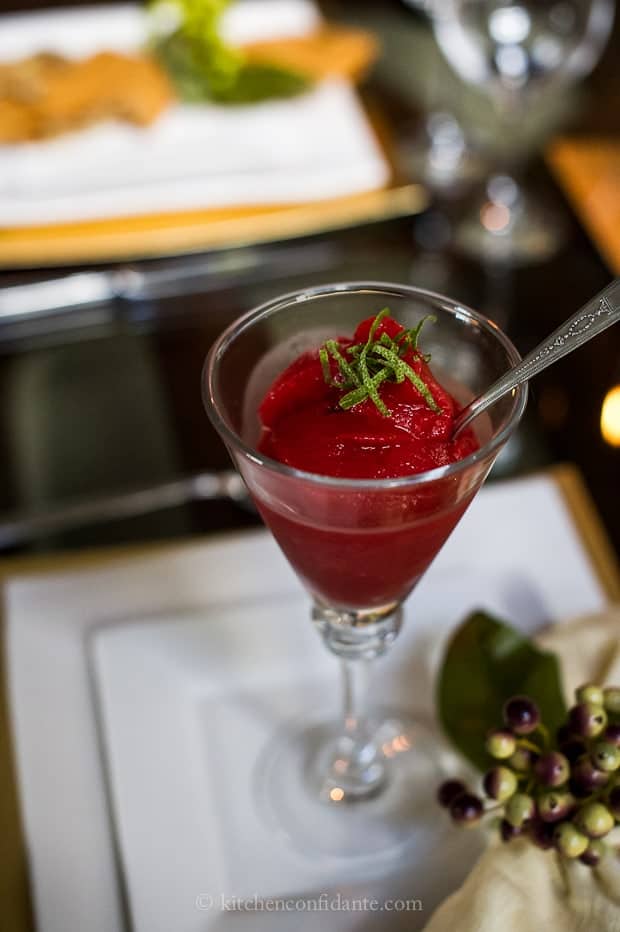 Strawberry Cointreau Sorbet + Last Minute Entertaining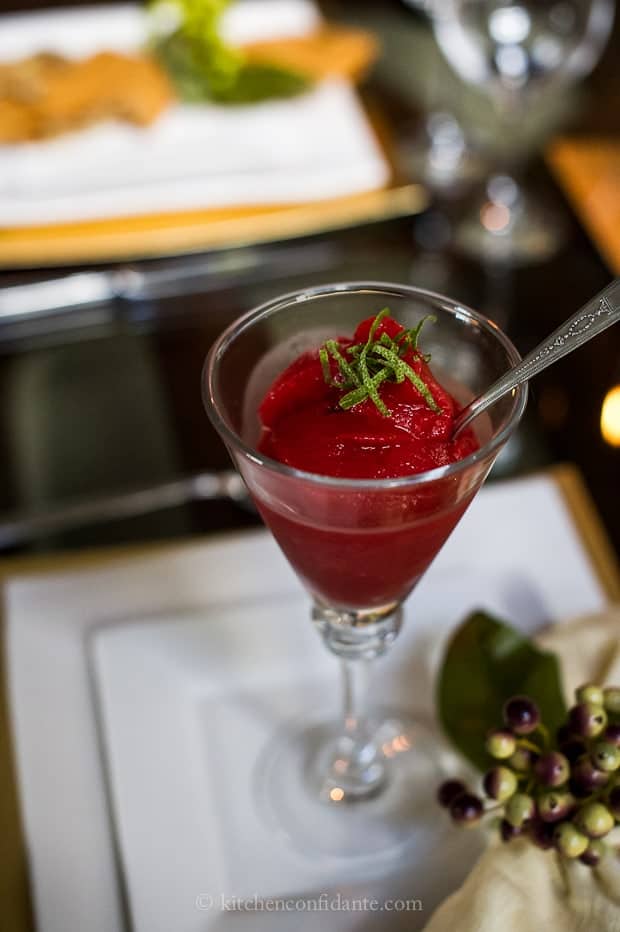 <!—LG Logo Tag for: Kitchen Confidante - Affiliate ID - 1636897929 -->
The doorbell rings and you exchange glances. Are we expecting anyone? you ask one another with the panicked widening of eyes. Do we pretend we're not home? You seriously consider hiding for a split second.
But no, you open the door.
I know you've been in that situation. We all have! And during the holiday season especially, you're bound to have unexpected guests. This Thanksgiving, I know to expect my brother and sister with their significant others, but I laugh at the last several times they were each at my house – both quite unexpected surprises.
There was the time my brother the daredevil and his buddy decided to cycle down the coast from Seattle to Southern California. Little did I expect him to crash at my place, quite literally. A spill on a windy decline ended that escapade prematurely, and I found myself nursing an almost mummified, bandaged brother. Oh brothers!
And I can't forget the most recent surprise – my sister's post wedding visit – the one that was brought so much joy after an emotional week.
What to do when you must entertain spur of the moment? I always keep certain basics on hand: frozen fruit, cheeses, nuts, wine, and liquor. You can always scrape together something delicious! With the frozen fruit and a splash of chilled liqueur, you can easily whip up a boozy sorbet that is sure to please your visitors, like this Strawberry Cointreau Sorbet.
Chilling the liqueur makes it handy for this and other frozen delights, so the folks at LG have designed a feature ready for tackling just that, making last minute entertaining a breeze. The LG Blast Chiller, available in the 3-Door Super Capacity French-Door refrigerator (LFX31935), can chill a room temperature, 12oz beverage in five minutes or a bottle of wine in just eight minutes. By comparison, a typical refrigerator takes about 40 minutes to accomplish this task – even in the freezer. This refrigerator is also among the largest capacity 36-inch refrigerators currently on the market, offering almost 20 percent more space and the ability to store over 50 gallons of milk.
Visit the LG USA Facebook page or website to view entertaining blast or chill content and share your own blast or chill moments!
Disclosure: Compensation was provided by LG via Glam Media. The opinions expressed herein are those of the author and are not indicative of the opinions or positions of LG.
Strawberry Cointreau Sorbet
If you have a blender, then you can enjoy this sorbet in mere seconds! This is a quick and easy frozen dessert that does not require fussy ice cream machines (or oodles of time).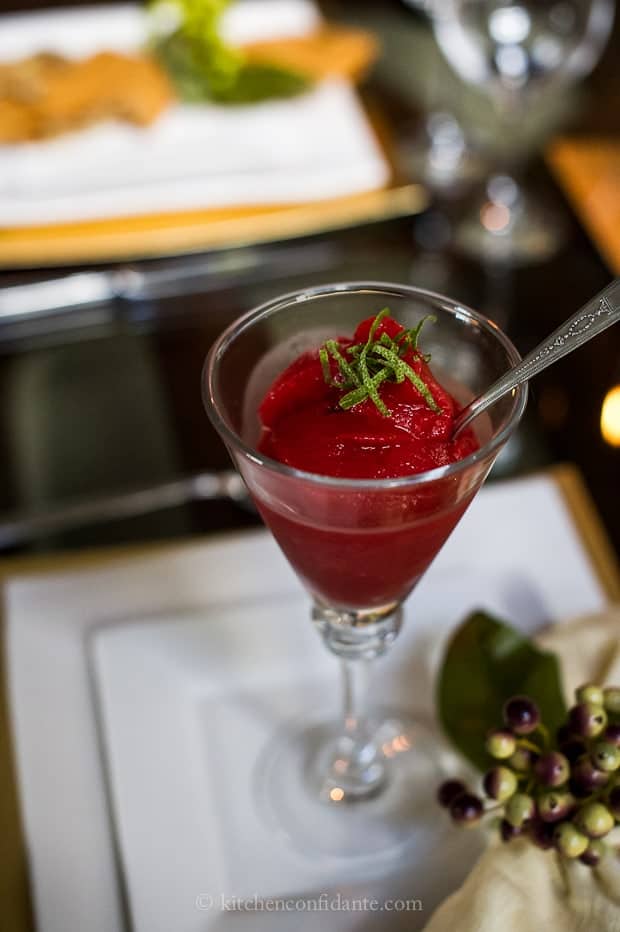 Print Recipe
Ingredients
1/2 cup water
1/2 cup Cointreau
1/4 cup agave nectar or sugar (to taste, depending on your strawberries)
juice of 1 lime
2 cups frozen strawberries
Instructions
Place ingredients in a blender in the order listed. Blend on high speed, tamping down if necessary, until the berries are transformed into a frosty sorbet. Serve immediately or store in a sealed container in the freezer.