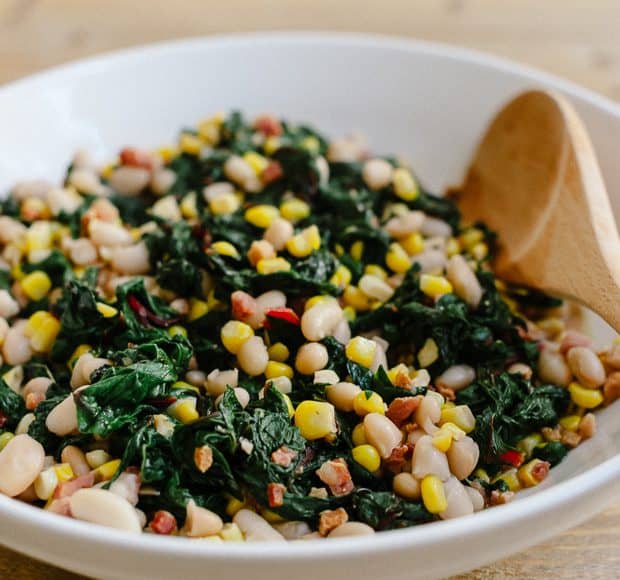 Simple Sundays | Swiss Chard with Pancetta, Corn and Cannelini Beans
I walked under a ladder last Wednesday. When it comes to superstitions, I tend to scoff at them. After all, we have a lovable black cat, and umbrellas in the house make for awesome kid forts. I've broken a few mirrors in my day, and…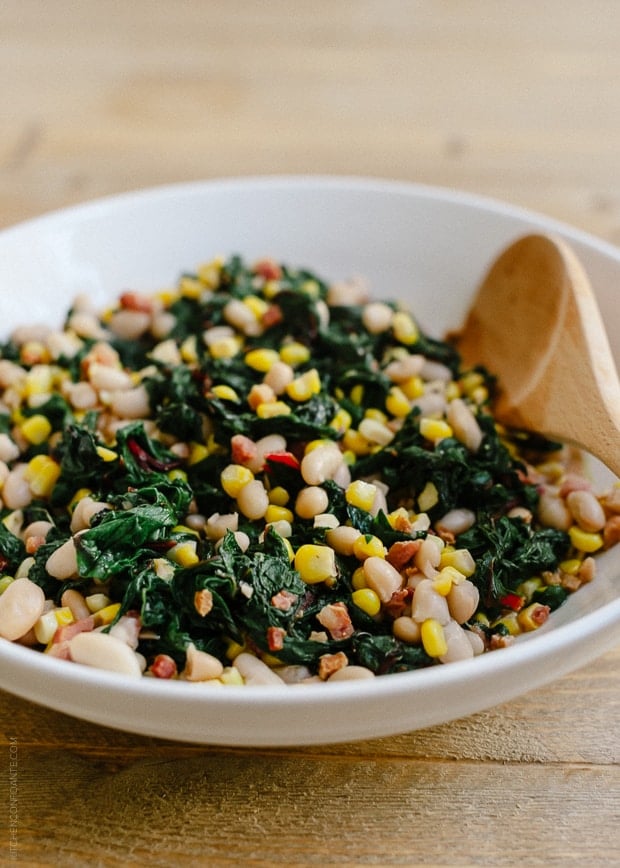 Simple Sundays | Swiss Chard with Pancetta, Corn and Cannelini Beans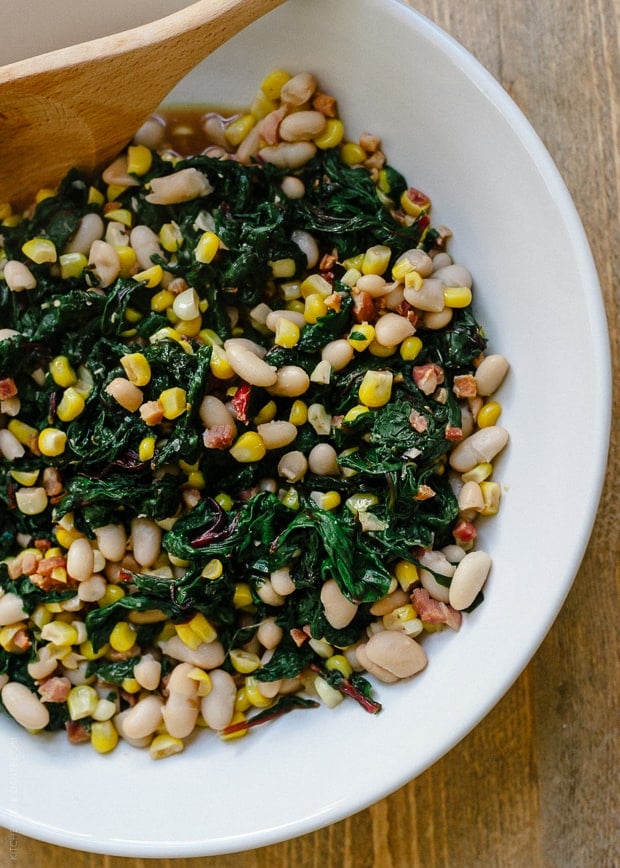 I walked under a ladder last Wednesday.
When it comes to superstitions, I tend to scoff at them. After all, we have a lovable black cat, and umbrellas in the house make for awesome kid forts. I've broken a few mirrors in my day, and stepped on many cracks in the sidewalk, for that matter.
But I paused, for perhaps a millisecond, before plowing forward and under that ladder. My heart sank to my stomach as soon as I emerged on the other side.
"What if?" I wondered.
And then I shook it off.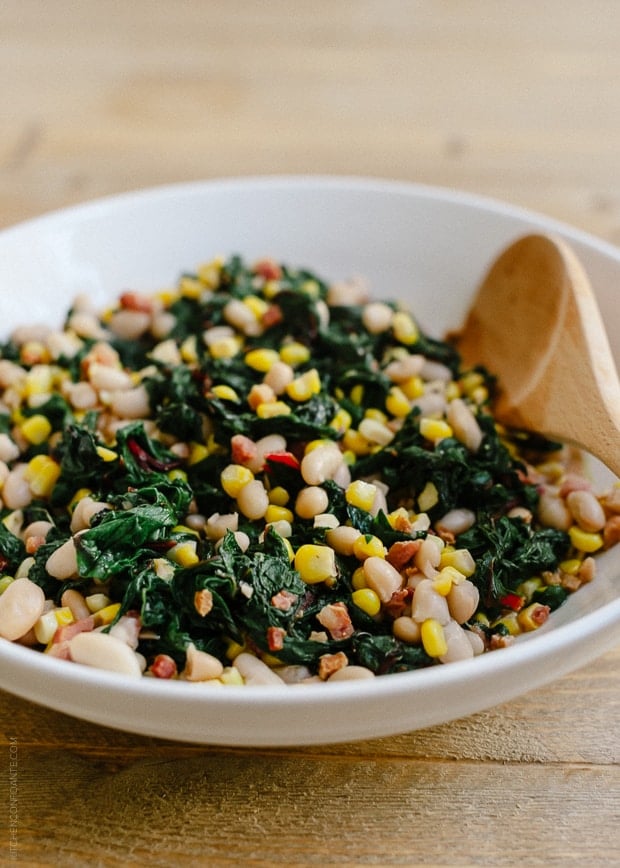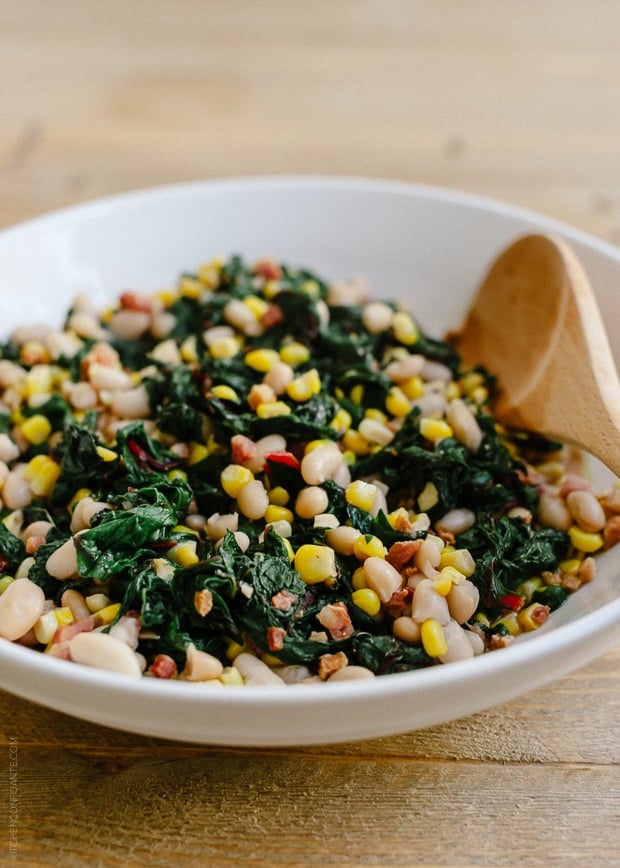 So far so good. I did have a bit of good luck last week, at least in the kitchen. I took two huge bunches of Swiss chard and sautéed them in garlic and pancetta. I swirled them in the pan with sweet corn and creamy beans. It came together beautifully – the perfect side dish…for everything. Swiss Chard with Pancetta, Corn and Cannelini Beans went so well with some roasted fish we had that night, and with some seared chicken the next. It was even lovely all on its own, for a light lunch.
I think I can stop worrying about that ladder now.
What about you? Are you superstitious?
Swiss Chard with Pancetta, Corn and Cannelini Beans
I can't think of anything doesn't pair well with this hearty side dish - a hearty pork chop, a light pan roasted fish fillet, a roast chicken - this vegetable dish would suit them all.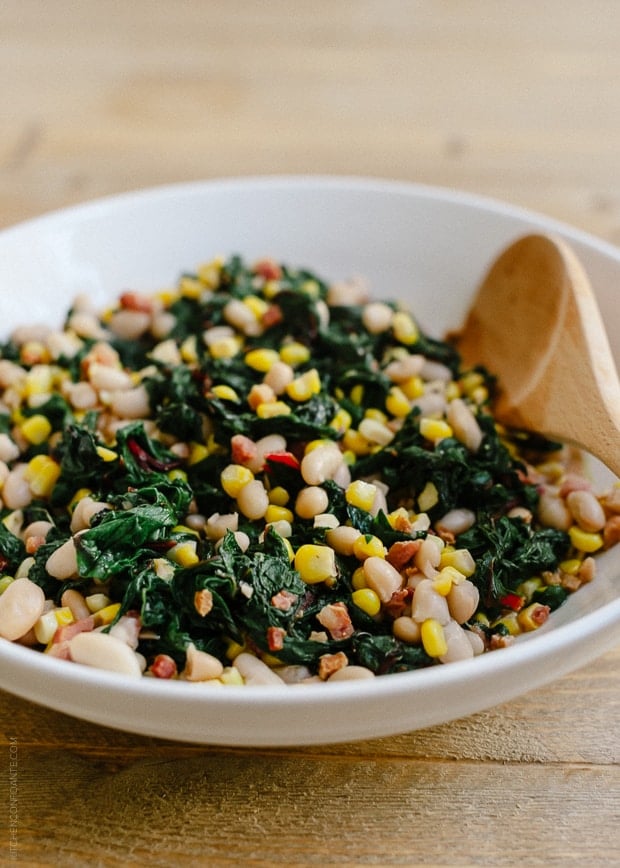 Print Recipe
Ingredients
1 tablespoon olive oil
6 oz diced pancetta
2 large bunches Swiss chard, leaves removed from stems and roughly chopped
kosher salt
freshly ground black pepper
1 cup corn kernels
15 oz can cannelini beans
1/4 cup chicken broth
Instructions
In a deep sided saute pan, heat the olive oil over medium-high heat. When the oil is shimmering, add the pancetta and cook until crispy. Add the garlic and cook for about 1 minute. Add the Swiss chard, and season with salt and pepper. Cook the Swiss chard, stirring periodically, until it begins to wilt. Add the corn, cannelini beans, and chicken broth, and adjust the seasoning with salt and pepper. Transfer to a serving bowl and serve immediately.