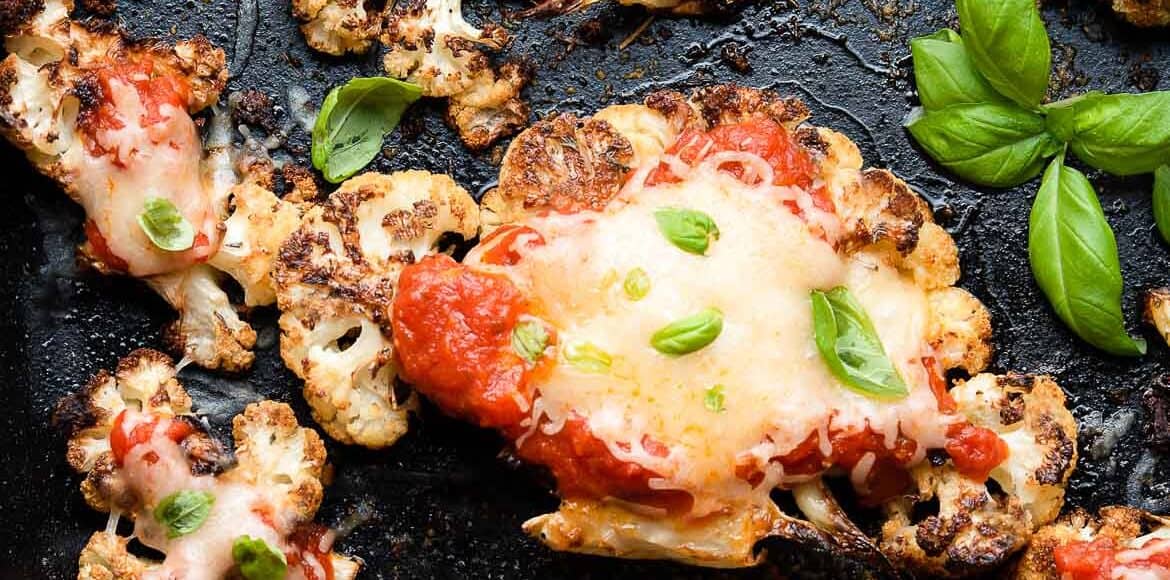 Baked Cauliflower Parmesan
Baked Cauliflower Parmesan is comfort food, lightened up! Move over eggplant and chicken parmesan, there's a new parm to love!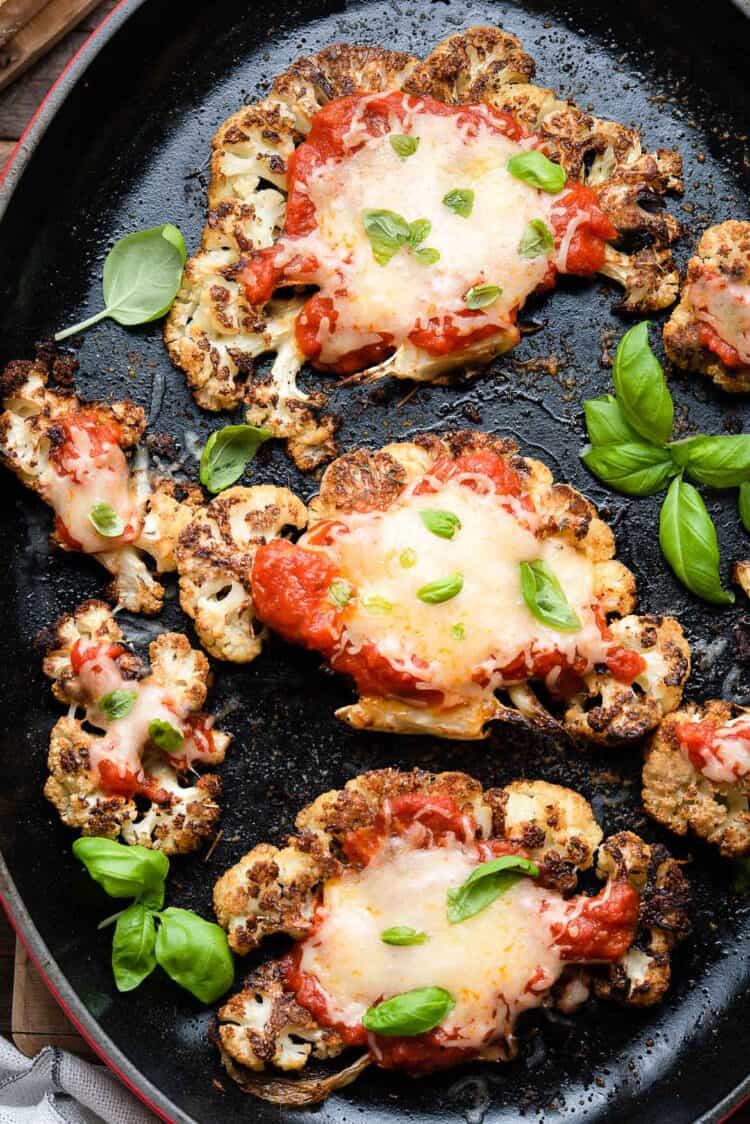 Baked Cauliflower Parmesan
If you love eggplant or chicken parmesan, this Baked Cauliflower Parmesan is a must try! Oven-roasted cauliflower is smothered with marinara sauce and mozzarella cheese for a lightened up version of a classic from The Well Plated Cookbook.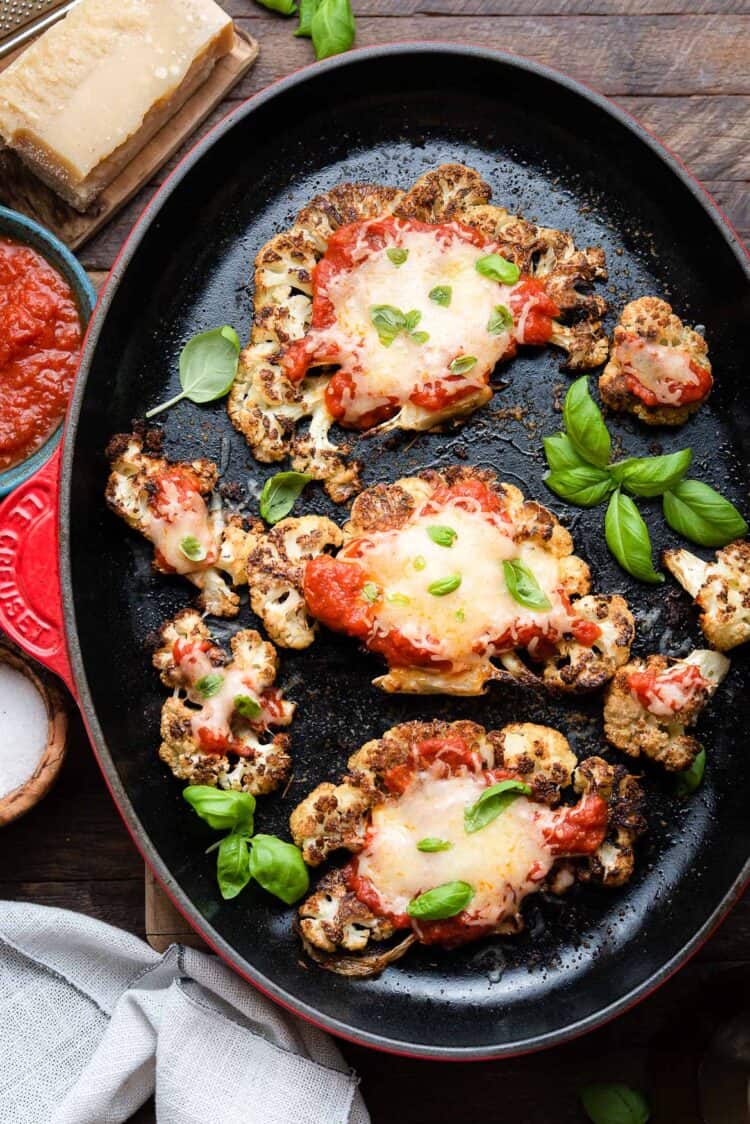 When your husband spends his formative years growing up in New Jersey, you learn pretty early on that having a solid chicken parmesan recipe in your repertoire is vital. I have made countless parm recipes for birthdays and even anniversaries — it's a sure bet for happy weeknight dinners, as well.
But when the eaters in your family evolve into a more flexitarian way of life, then the chicken gets replaced by more vegetable-based dishes. Until now my go-to has been my Quinoa Crusted Eggplant Parmigiana for that crispy comfort food smothered in marinara sauce and cheese, but when I received my friend Erin's newly released The Well Plated Cookbook, my eyes were immediately smitten with her recipe for Baked Cauliflower Parmesan!
I met Erin years ago, long before Well Plated was even called Well Plated, and remember well when she undertook the big step in rebranding her website. Now, I'm so thrilled to celebrate the release of her beautiful new cookbook, and it's full of delicious recipes such as the one I'm about to share with you today!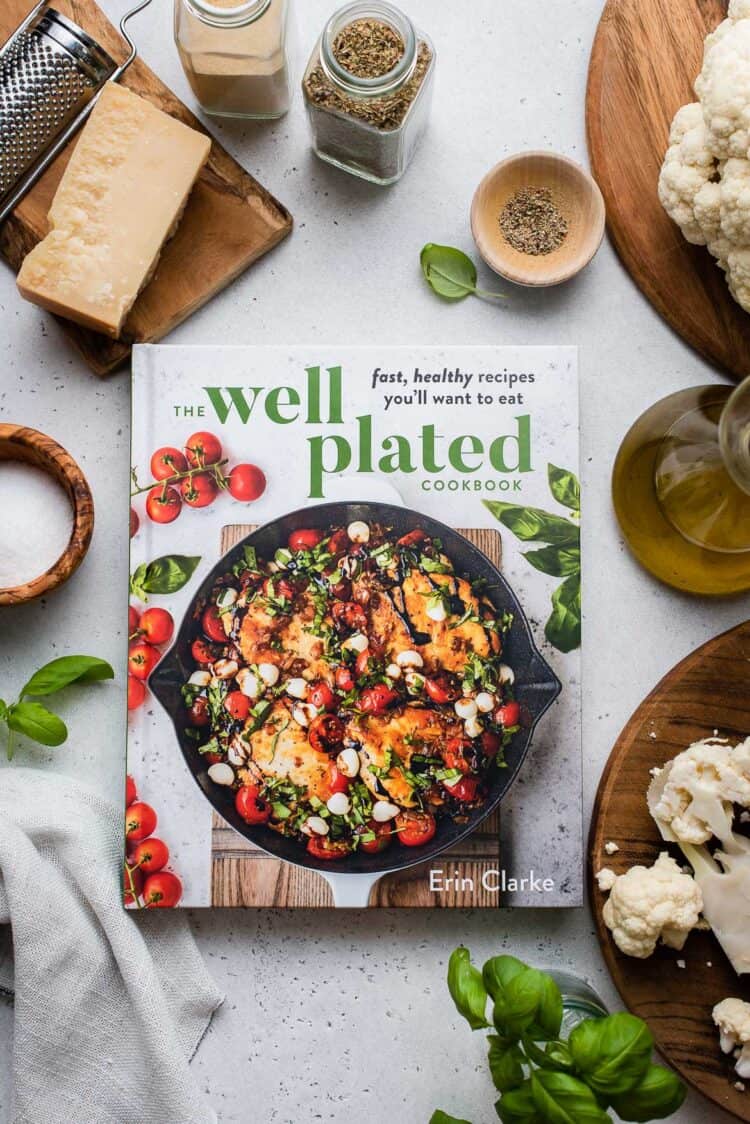 One of the things I love most about Erin's book is how she takes certain dishes and teaches you multiple options for reimagining them — but for now, let's focus on this cauliflower dish, shall we? After all, my anniversary is coming up, and a cheesy parm is a fast way to anyone's heart!
How to Make Cauliflower Parmesan
Erin calls this Better-Than-a-Restaurant Baked Cauliflower Parmesan, and I get what she means when she compares it to disappointing, drippy chicken parmesan at restaurants. This recipe is lightly coated, keeping the cauliflower crisp on the outside and tender on the inside, and doesn't leave you with that familiar heavy feeling at the end of the meal.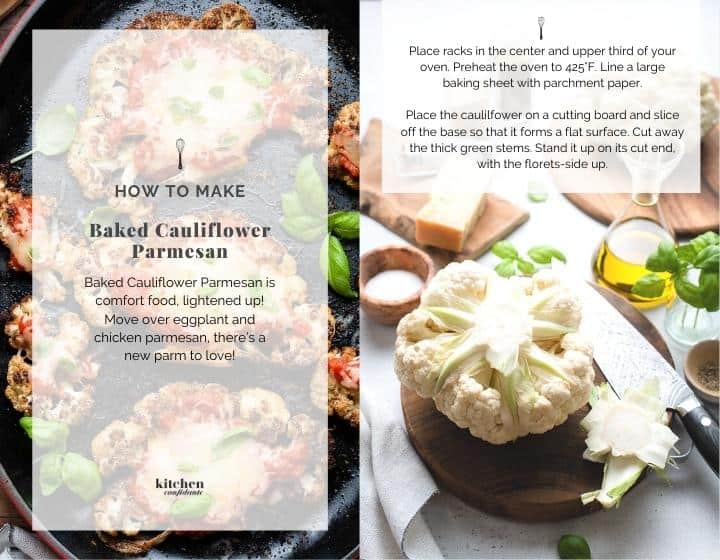 If you've never made cauliflower steaks before, there are a few tips to make it easier.
First, trim the tough outer leaves and cut off any excess stem so that it creates a flat surface. From there, turn the cauliflower, florets side up, and start slicing at the center. You will probably get 2 to 3 1-inch steaks. For any remaining cauliflower, don't worry, just toss that onto the baking tray, too.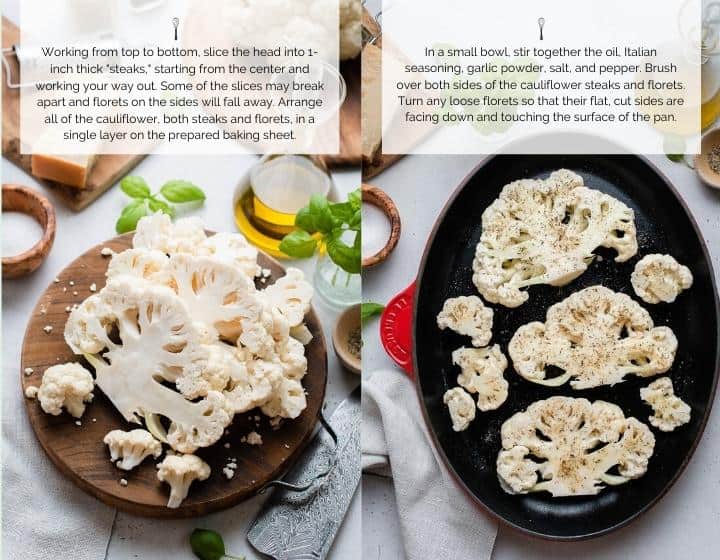 The seasoning is quite simple: olive oil, Italian seasoning, garlic powder, salt and pepper. Then it's time for the oven to work its magic! Simply let it roast, flip, give it a shower of Parmesan cheese, and let it continue roasting on the other side.
Use the best quality marinara sauce you can find, sprinkle with mozzarella cheese, then broil for just a few minutes, until the cheese is melted and gooey, and it's ready to serve! This recipe serves 2 as a main course (and is delicious with your favorite pasta or zucchini noodles), or 4 as an appetizer.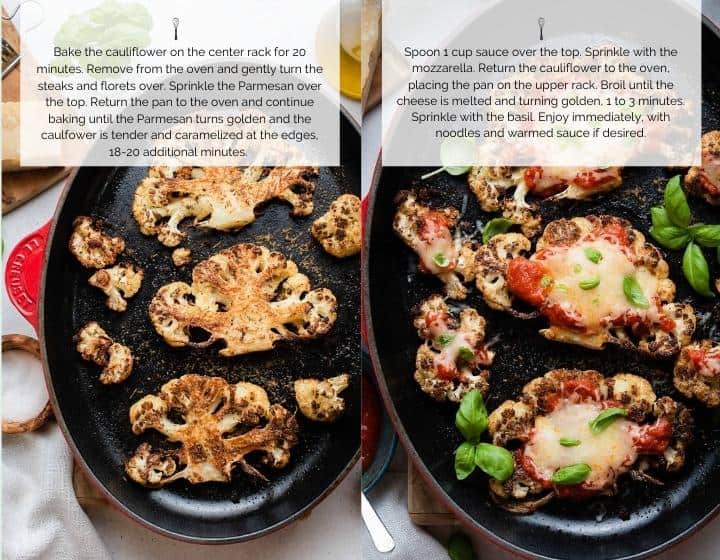 More Cauliflower Recipes to Try
Tri Color Cauliflower Salad
Creamy Cauliflower and Potato Soup
Pappadew Pepper Cauliflower Hummus
Hummus Battered Buffalo Cauliflower "Wings"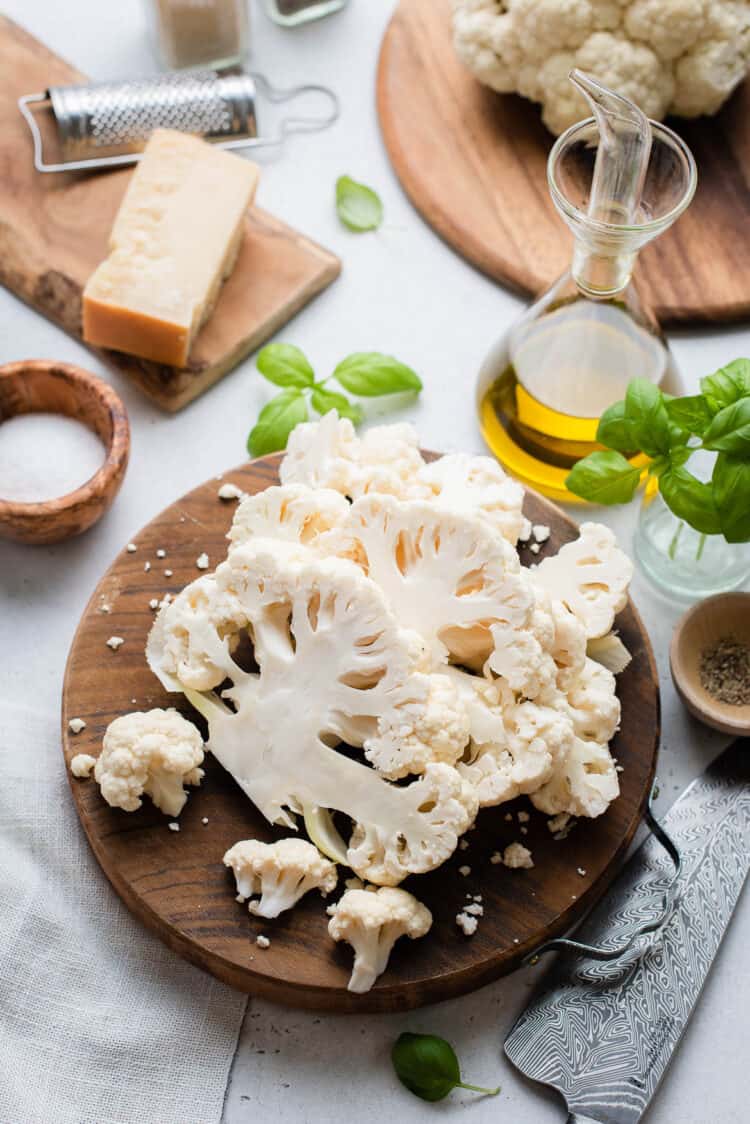 Baked Cauliflower Parmesan
Baked Cauliflower Parmesan is comfort food, lightened up! Move over eggplant and chicken parmesan, there's a new parm to love!
Ingredients
1

large head

cauliflower

about 3 lbs

3

tablespoons

extra-virgin olive oil

1

teaspoon

Italian seasoning

1

teaspoon

garlic powder

1/2

teaspoon

kosher salt

1/4

teaspoon

ground black pepper

1/2

cup

finely grated Parmesan cheese

about 2 1/2 ounces

1

cup

good-quality prepared tomato-based pastsa sauce

plus additional or serving, if desired

3/4

cup

shredded part-skim mozzarella cheese

about 3 ounces

1/4

cup

thinly sliced fresh basil

pasta or zucchini noodles

optional, for serving
Instructions
Place racks in the center and upper third of your oven. Preheat the oven to 425°F. Line a large baking sheet with parchment paper.

Place the caulilfower on a cutting board and sliced off the base so that it forms a flat surface. Cut away the thick green stems. Stand it up on its cut end, with the florets-side up. Working from top to bottom, slice the head into 1-inch thick "steaks," starting from the center and working your way out. Some of the slices may break apart and florets on the sides will fall away. Arrange all of the cauliflower, both steaks and florets, in a single layer on the prepared baking sheet.

In a small bowl, stir together the oil, Italian seasoning, garlic powder, salt, and pepper. Brush over both sides of the cauliflower steaks and florets. Turn any loose florets so that their flat, cut sides are facing down and touching the surface of the pan.

Bake the cauliflower of the center rack for 20 minutes. Remove from the oven and with a think, flexible spatula, gently turn the steaks and florets over. Sprinkle the Parmesan over the top. Return the pan to the oven and continue baking until the Parmesan turns golden and the caulfower is tender and caramelized at the edges, 18-20 additional minutes. Remove the pan from the oven and turn the oven to broil.

While the caulfower bakes, prepare any noodles you'd like to serve with the cauliflower. If youd like additional sauce to serve on the side with the noodles, warm it in a small saucepan over medium heat (reserve 1 cup sauce for baking the cauliflower).

Once the cauliflower has baked, spoon 1 cup sauce over the top. Sprinkle with the mozzarella. Return the cauliflower to the oven, placing the pan on the upper rack. Broil until the cheese is melted and turning golden, 1 to 3 minutes. Do not walk away from the oven, to ensure the cauliflower does not burn. Sprinkle with the basil. Enjoy immediately, with noodles and warmed sauce if desired.
Notes
Reprinted with permission from Better-Than-a-Restaurant Baked Cauliflower Parmesan, The Well Plated Cookbook: Fast, Healthy Recipes You'll Want to Eat, by Erin Clark (Avery, 2020).
Baked Cauliflower Parmesan Tips
Make-Ahead: The cauliflower steaks and florets can be cut and stored in the refrigerator up to 1 day in advance.
Storage: Refrigerate leftovers in an airtight container for up to 3 days. If serving with pasta or vegetable noodles, store the noodles in a separate container. Rewarm the cauliflower in a 400°F oven for 8-10 minutes, until heated through.
Nutrition
Calories:
534
kcal
|
Carbohydrates:
31
g
|
Protein:
29
g
|
Fat:
36
g
|
Saturated Fat:
12
g
|
Cholesterol:
44
mg
|
Sodium:
2011
mg
|
Potassium:
1737
mg
|
Fiber:
11
g
|
Sugar:
14
g
|
Vitamin A:
1086
IU
|
Vitamin C:
212
mg
|
Calcium:
754
mg
|
Iron:
4
mg