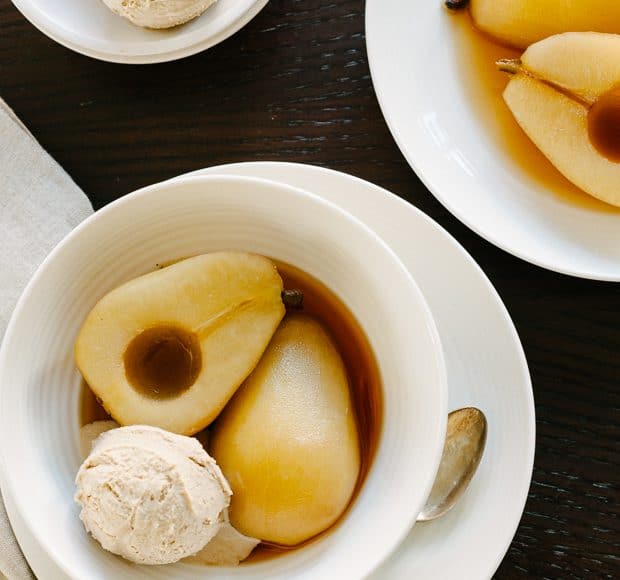 Tea Poached Pears with Earl Grey Ice Cream + A KitchenAid Electric Kettle Giveaway
Creature comforts are well and good, but none so much as the little rituals that accompany them. It's the time we carve our for ourselves throughout the day, that permission we give ourselves to enjoy what makes us feel cozy and safe, and even pampered.…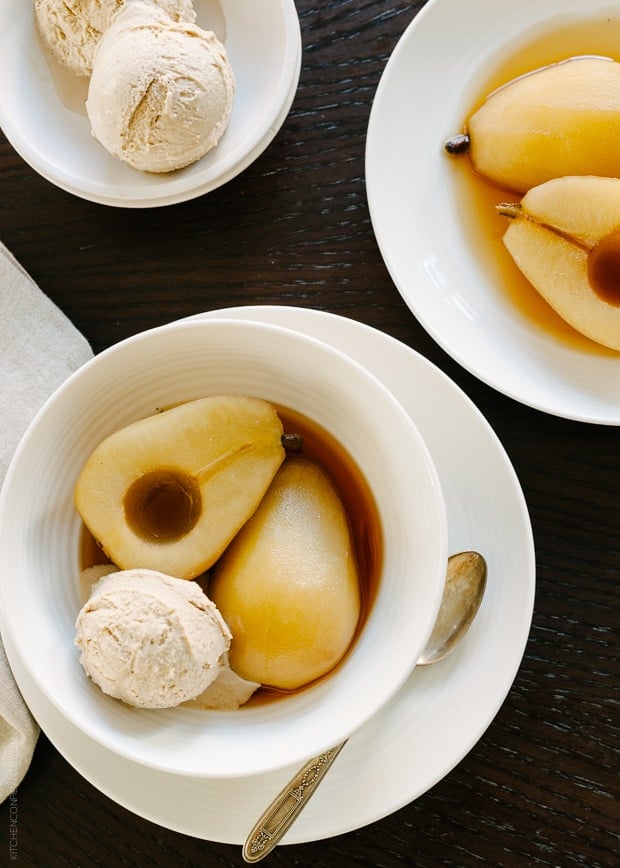 Tea Poached Pears with Earl Grey Ice Cream + A KitchenAid Electric Kettle Giveaway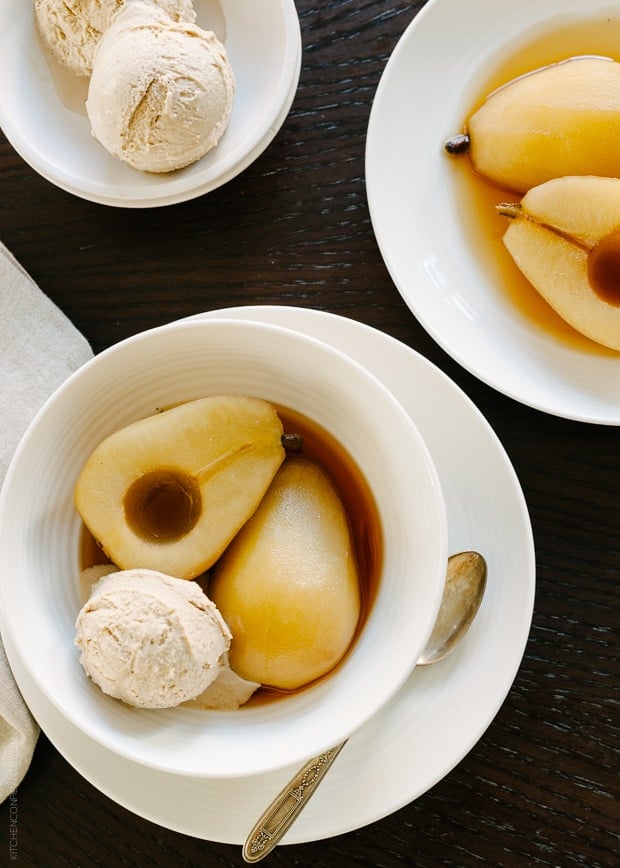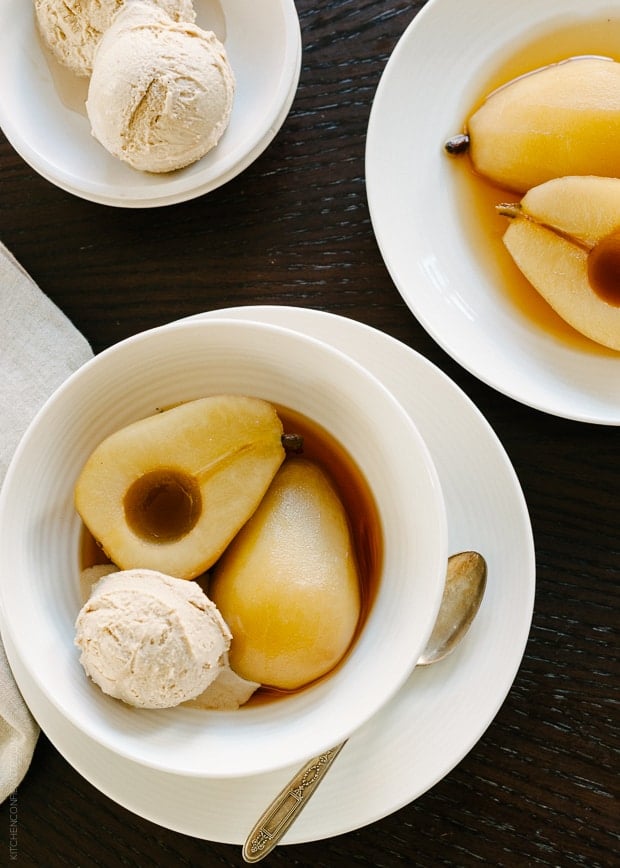 Creature comforts are well and good, but none so much as the little rituals that accompany them. It's the time we carve our for ourselves throughout the day, that permission we give ourselves to enjoy what makes us feel cozy and safe, and even pampered. That matters just as much.
The books on my bedside table beckon, but the joy of reading them only exists if I make the time to read before bed. That may not seem complicated, but trust me, it can be.
For years, I found myself working late into the night, ignoring my love of books, to deal with deadlines, projects, or worse, those mundane household chores that never seem to be done. 2014 was the year that I learned how to turn things off, to actually adhere to my own bedtime, and to reconnect with reading for pleasure. This small change brought me happiness. It may not have given me more sleep, but it has given me the comfort that only comes when you can snuggle under a blanket and lose yourself in a world within pages.
This year, I have added a new ritual to my mornings. Like many of you, I am tempted to pick up my phone and immediately start sifting through Twitter and Facebook, and emails. But now, I pick up another book, not a novel, but one that guides me through daily meditation and introspection. It brings me peace and sets the tone for my day, and I find myself circling back to this morning reflection as I travel through the hours.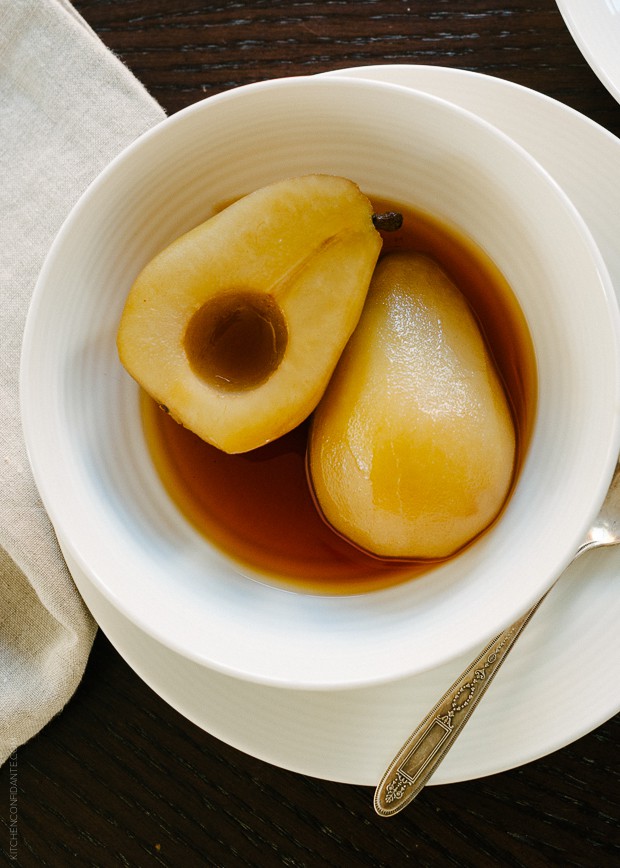 That cup of tea I pour every afternoon and every evening. It's much, much more than a hot drink. It's that pause button in the middle of the day, it's the beginning of the unwinding for the evening. It's the ritual of setting the kettle to boil, of steeping the tea. And when my husband is here, it's sharing that time together. Of making sure we take that break. I never anticipated that there would be so much importance in a single cup of tea, but there truly is.
I like to joke that my tea is a spa in a cup, but even more fun is cooking with tea. Do you remember the time I made Chai Tea Ice Cream? Well, I had a chance to revisit tea infused ice cream and desserts when I made Tea Poached Pears with Earl Grey Ice Cream for KitchenAid. Beautiful pears poached in a tea infused syrup with dried cherries paired with ice cream perfumed with earl grey tea are the epitome of elegance and calm, and of comfort. I find the process of making ice cream very calming as it is, the coaxing of the custard with a wooden spoon is oddly therapeutic to me.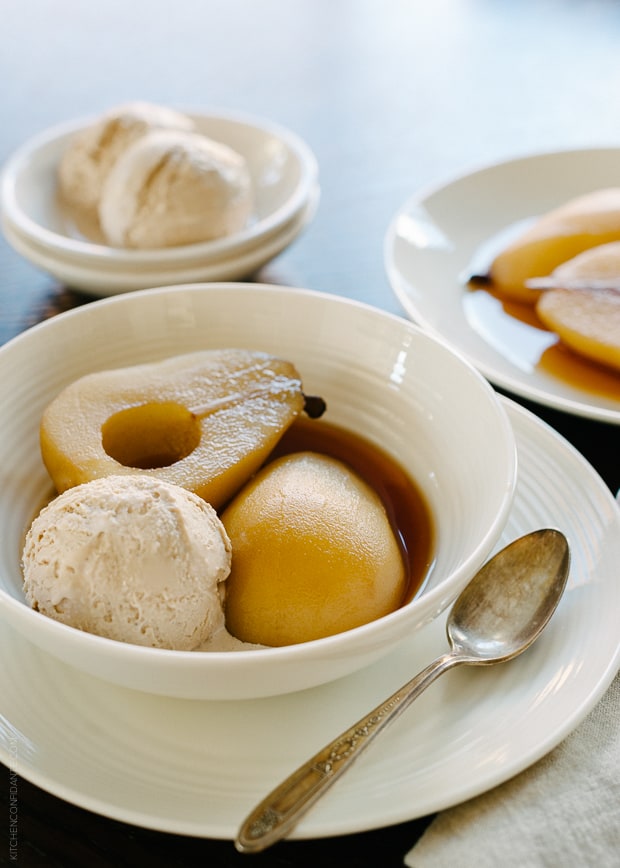 I hope you visit the Kitchenthusiast Blog by KitchenAid for the recipe. And to help you find your own tea ritual, I am excited to share my absolute favorite KitchenAid Electric Kettle with you. I used this kettle in making this dessert, and I use it every single day. It's the first thing I turn on when I walk into the kitchen in the morning, and in minutes, my French press is filled with piping hot water, just the perfect temperature to brew my morning coffee. I use it when I want to warm up the kids' thermoses for their school lunch. And of course, I use it for my afternoon and evening cups of tea. I am happy that one of you can enjoy it, too.
Giveaway
I am excited for one of you to try this recipe with a KitchenAid Electric Kettle! One winner will be selected. Here's how to enter:
Please leave a comment letting me know: What creature comforts or rituals do you cherish in your daily life? and click on the widget below.
Entries/Comments accepted until 12 a.m. Pacific, Tuesday, January 20, 2015.
One winner will be randomly selected and notified by email. The winner will have 48 hours to respond to email notification, otherwise an alternate winner will be selected.
Disclosure: This post and giveaway was made possible by KitchenAid. Sponsored posts such as these help support the work behind the scenes on Kitchen Confidante. Thank you so much for supporting brands that matter to me and making my blog part of your day!