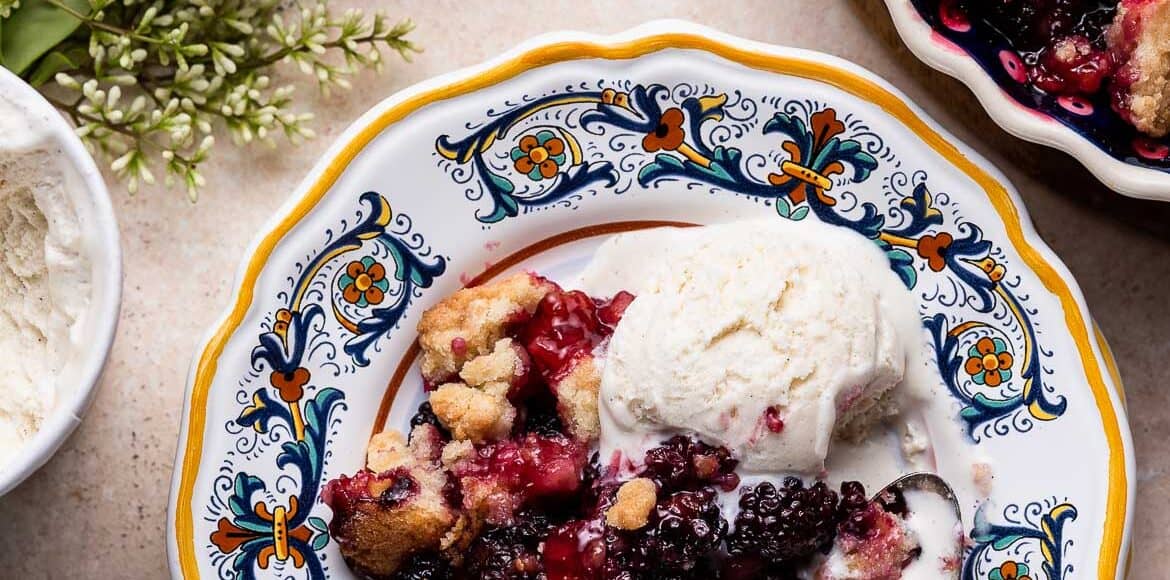 Blackberry Crumble
What to do with lots of blackberries? Make Blackberry Crumble! Sweet blackberries nestled in a cake-like crumble topping is perfect with ice cream!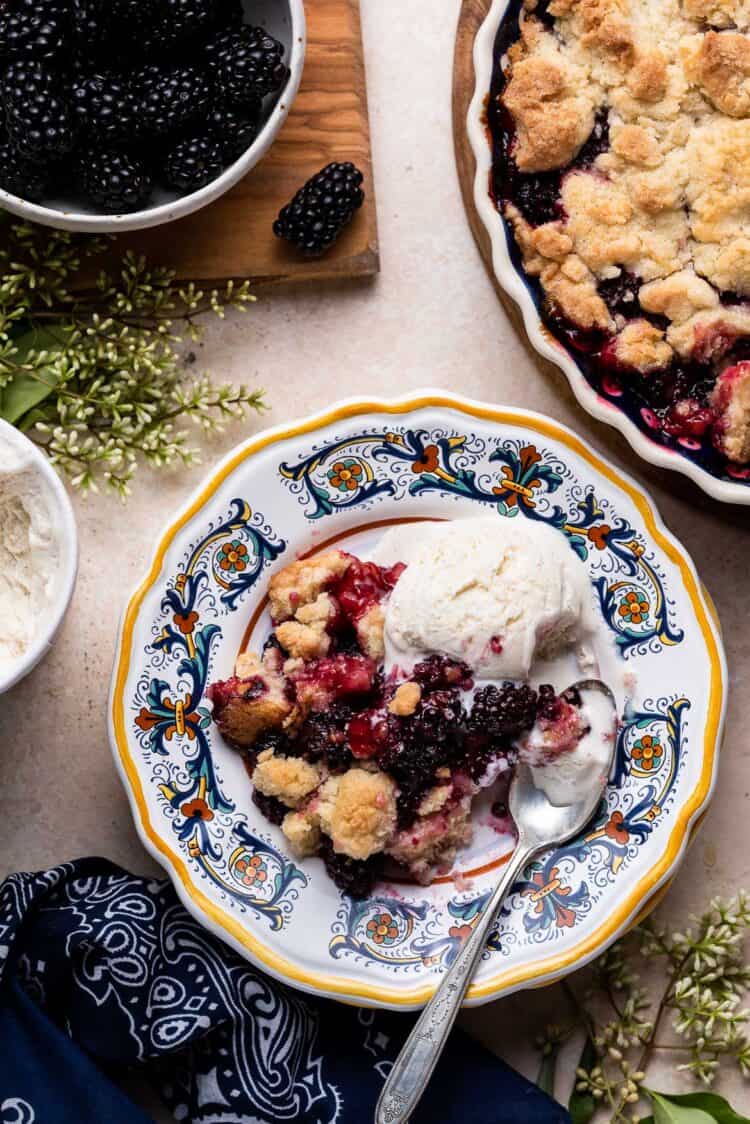 Blackberry Crumble
Got blackberries? Make Blackberry Crumble! Sweet and juicy blackberries nestled in a cake-like crumble topping is the ultimate summer dessert with ice cream! If you love blackberry cobbler, you'll love this blackberry recipe!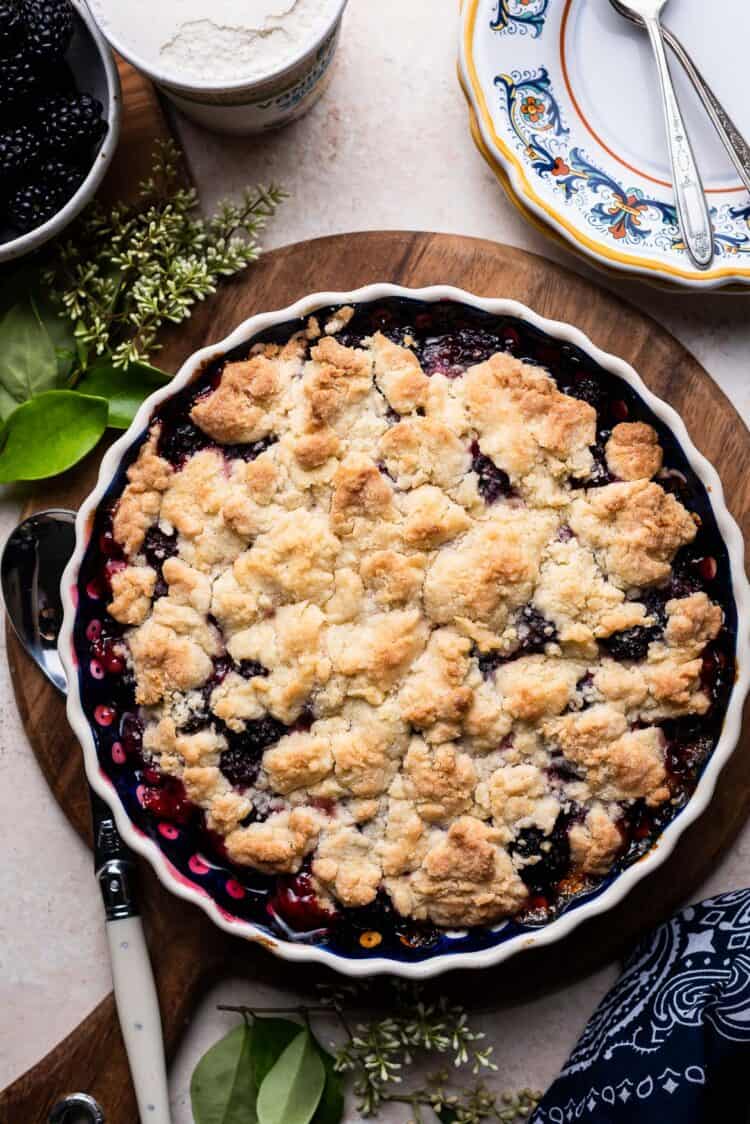 Blackberries don't get enough attention, it seems. They're like the red-headed stepchild of the berry world, and I do feel guilty for using that expression, but it seems to be true when you think about how strawberries and blueberries seem to get all the love when berries come into season.
The thing is, when you bite into a perfect blackberry, it can be the most exquisite thing in the world. But if you bite into one that's just a wee too tart, what to do? Bake, of course! Transform those berries into something irresistible.
If you find yourself with a lot of blackberries — sweet, tart, fresh, or frozen — set some aside to make Blackberry Crumble! It's one of summer's great pleasures, and so simple to make!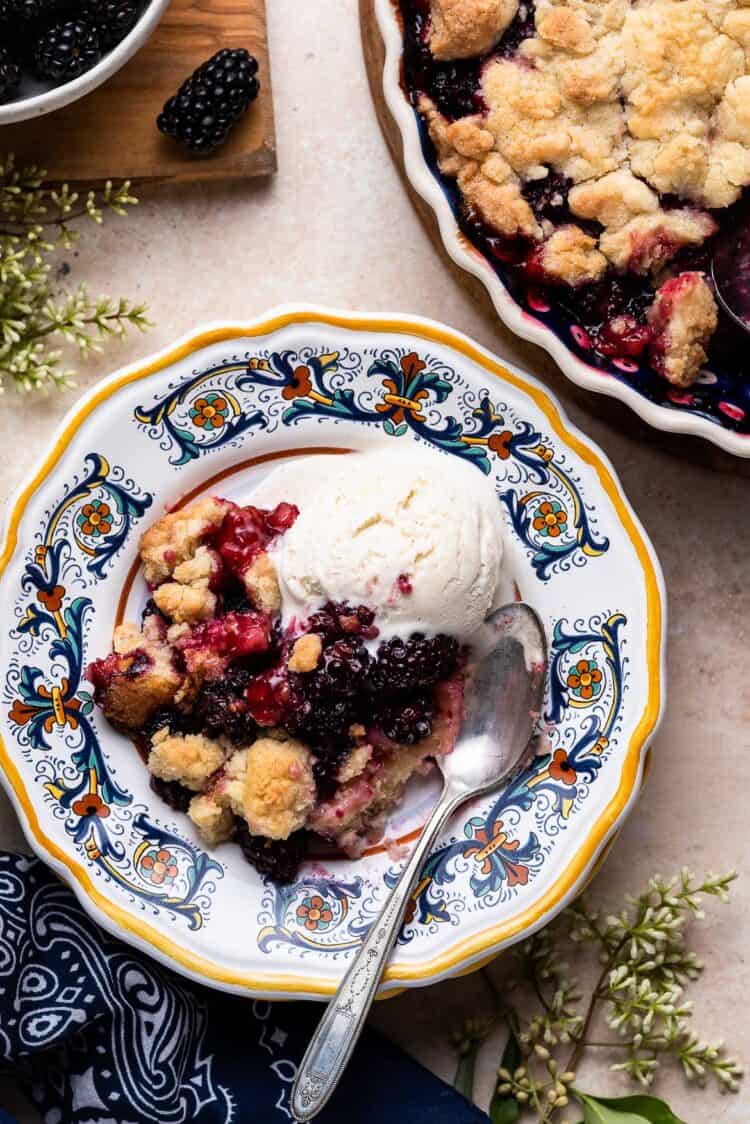 How to Make Blackberry Crumble
Crumbles, crisps, and cobblers, oh my! Nothing screams summer like one of these classic fruit desserts. Sometimes it seems as if the lines blur when it comes to telling them apart, but in general, a crisp usually has oats (see how to make my Blueberry Crisp for a classic example), a cobbler has a biscuit-like topping (such as my Blueberry Rhubarb Cobbler, and a crumble is sort of in-between. It has a streusel-like topping without the oat, and somewhat similar to cobbler, with chunks of dough on top.
This particular crumble is very cake-like in texture and rather than just topping the fruit with the dough, it is rather sandwiched between the doughy goodness. Between you and me, I think I prefer a crumble to a cobbler! (But if you wanted to transform this into a blackberry cobbler, then you absolutely could by simply halving the dough recipe and for the topping.) There's something utterly magical with the juicy berries baking in between layers of sweet crumble topping!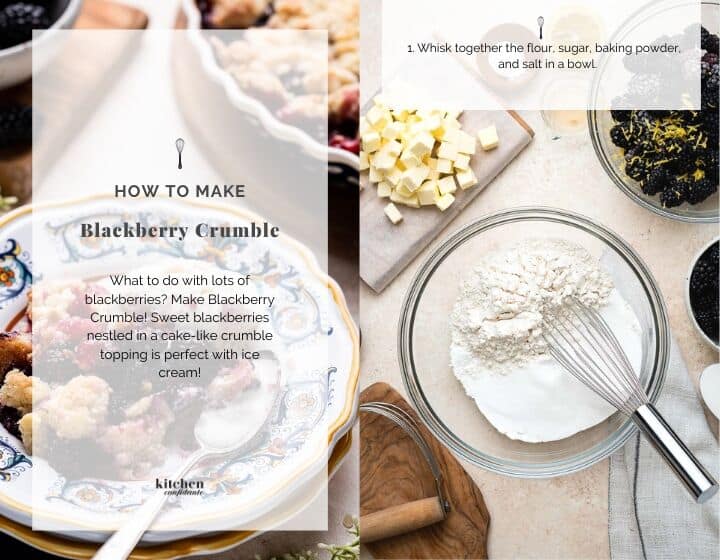 The dough is very simple to make by hand, but if you have a food processor, you could definitely use it. I prefer making it by hand (less dishes to wash!), plus cutting in the butter is very cathartic.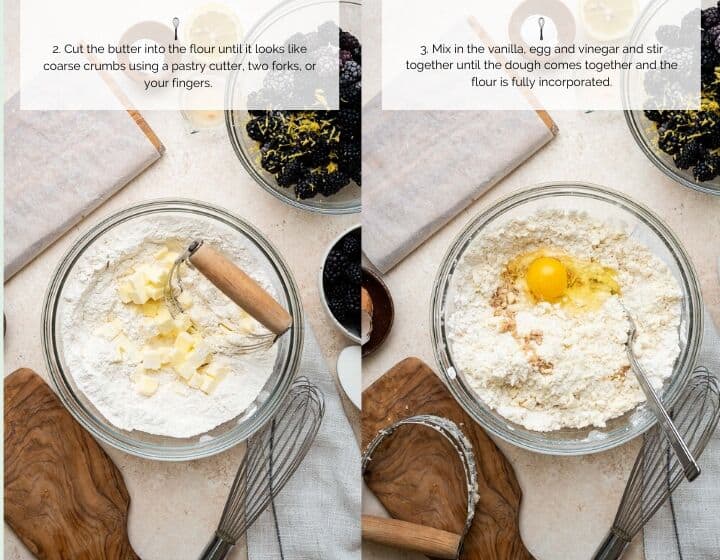 This crumble topping is especially tender from the egg and a splash of vinegar; it reminds me of my mother in law's pie dough — a little apple cider vinegar goes a long way to make for a tender crust!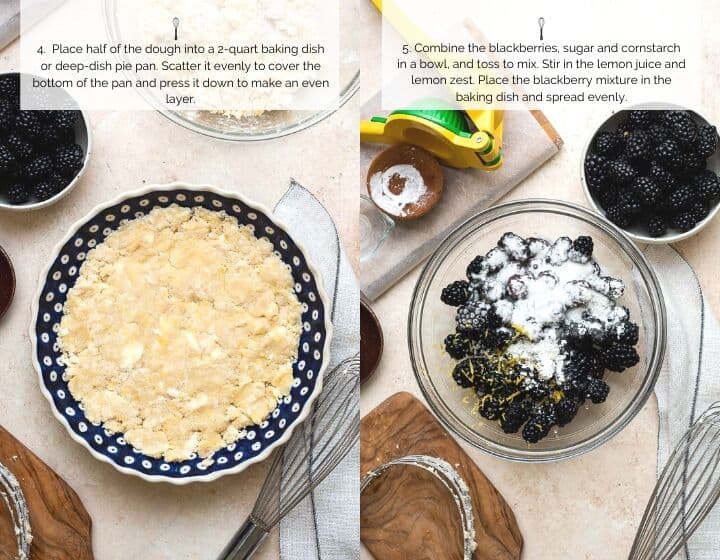 Once the crumble mixture is ready, all you need to do is press half of the mixture into the baking dish into an even layer, much like a shortbread crust. Drop in your berries, top with more crumble, and pop it into the oven!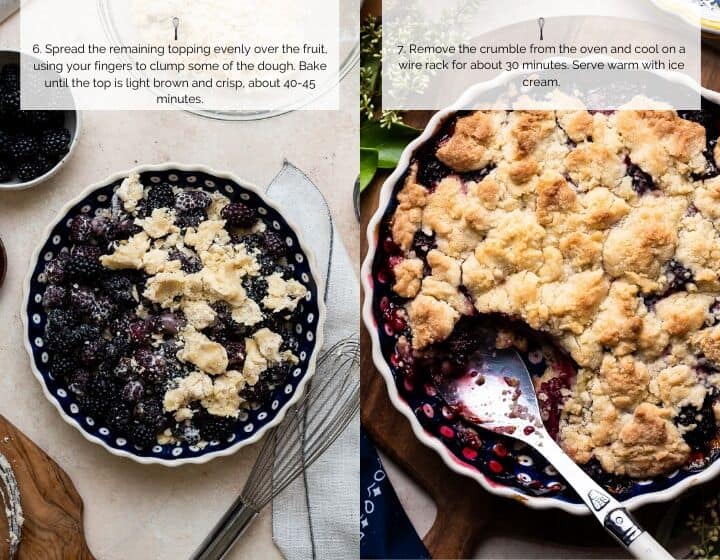 The hardest part will be waiting for it to cool a bit, but do not worry, I won't blame you if you dig in sooner. Just don't forget the ice cream!
More Blackberry Recipes
Blackberry Yogurt Muffins
Blackberry and Blueberry Kale Salad with Aged Havarti
Blackberry Beet Salad with Blackberry Balsamic Dressing
Blackberry Green Smoothie
Sticky Blackberry Barbecued Pork Ribs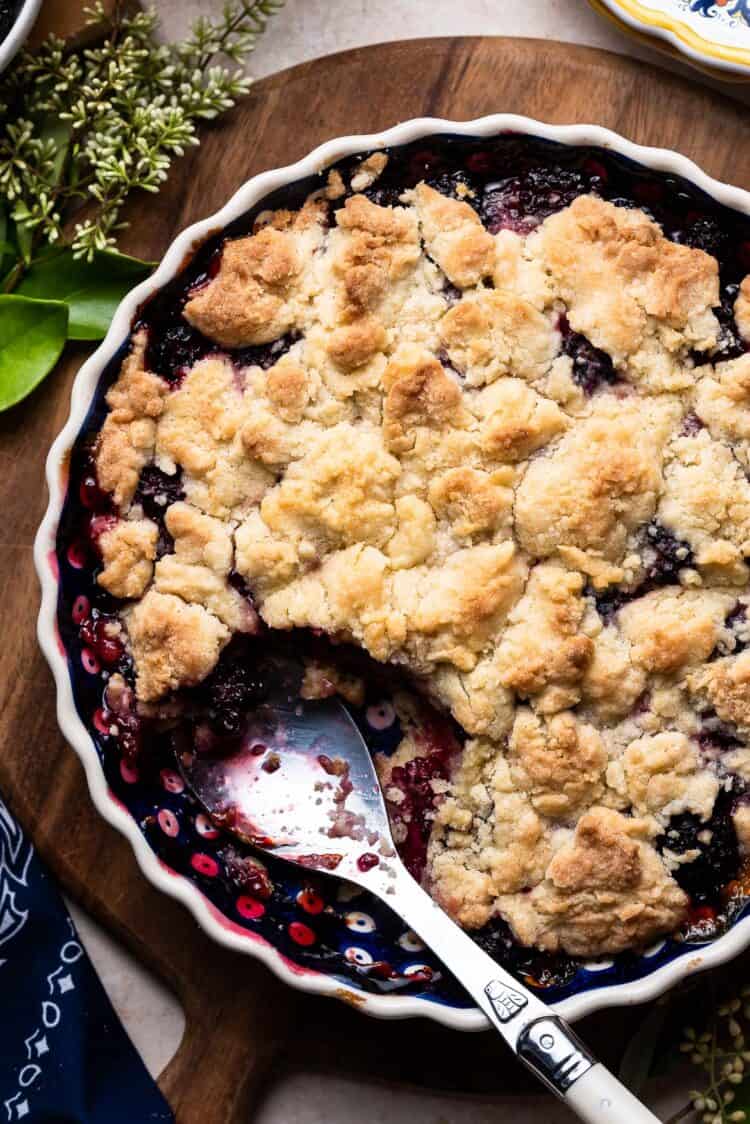 Blackberry Crumble
What to do with lots of blackberries? Make Blackberry Crumble! Sweet blackberries nestled in a cake-like crumble topping is perfect with ice cream! You can use fresh or frozen blackberries.
Ingredients
Crumble
2

cups

all-purpose flour

2/3

cup

granulated sugar

3/4

teaspoon

baking powder

1/4

teaspoon

kosher salt

3/4

cup

unsalted butter

cut in small cubes

1 1/2

teaspoons

vanilla

1

large

egg

1

teaspoon

apple cider vinegar
Filling
4

cups

blackberries

fresh or frozen

1/3

cup

granulated sugar

1

teaspoon

cornstarch

2

tablespoons

lemon juice

(about half a medium lemon)

1

teaspoon

lemon zest
Instructions
Preheat oven to 375°F with a rack placed in the center of the oven.

Whisk together the flour, sugar, baking powder, and salt in a bowl. Cut the butter into the flour until it looks like coarse crumbs using a pastry cutter, two forks, or your fingers. Mix in the vanilla, egg, and vinegar and stir together until the dough comes together and the flour is fully incorporated.

Place half of the dough into a 2-quart baking dish or deep-dish pie pan. Scatter it evenly to cover the bottom of the pan and press it down to make an even layer.

Combine the blackberries, sugar and cornstarch in a bowl, and toss to mix. Stir in the lemon juice and lemon zest. Place the blackberry mixture in the baking dish and spread evenly.

Spread the remaining topping evenly over the fruit, using your fingers to clump some of the dough. Bake until the top is light brown and crisp, about 40-45 minutes.

Remove the crumble from the oven and cool on a wire rack for about 30 minutes. Serve warm with ice cream.
Notes
Adapted from Ultimate Berry Crumble, AllRecipes.
Make ahead:
You can easily assemble the topping or the whole crisp in advance. Cover tightly and place in the freezer until you are ready to bake. That makes one less thing to worry about when you're entertaining!
Make it vegan:
Fruit crumble is easy to make vegan. Simply substitute the butter for your favorite vegan butter (I especially love using Miyoko's vegan butter, which is available at most major grocery stores). Serve with non-dairy ice cream.
Can I use frozen blackberries?
Yes, absolutely. This can come in handy when blackberries are not in season.
Nutrition
Calories:
408
kcal
|
Carbohydrates:
57
g
|
Protein:
5
g
|
Fat:
19
g
|
Saturated Fat:
11
g
|
Cholesterol:
69
mg
|
Sodium:
86
mg
|
Potassium:
202
mg
|
Fiber:
5
g
|
Sugar:
29
g
|
Vitamin A:
720
IU
|
Vitamin C:
17
mg
|
Calcium:
50
mg
|
Iron:
2
mg