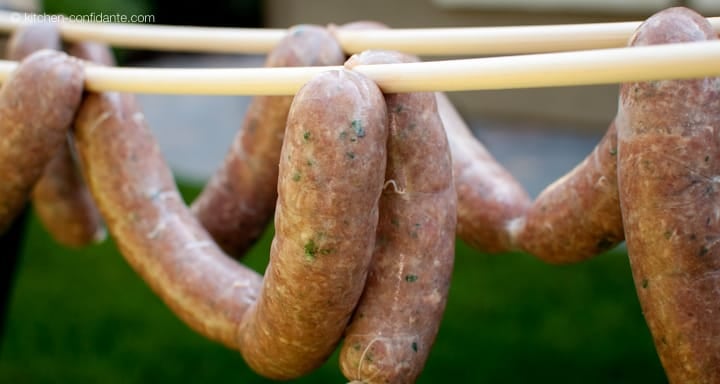 The Case for Sausages
It used to be that autumnal preparations for the home cook involved more than jamming, canning and drying the summer garden's bounty. One of the lost rituals of preparing for the long winter ahead is the butchering of pork, beef, or game, and preserving the…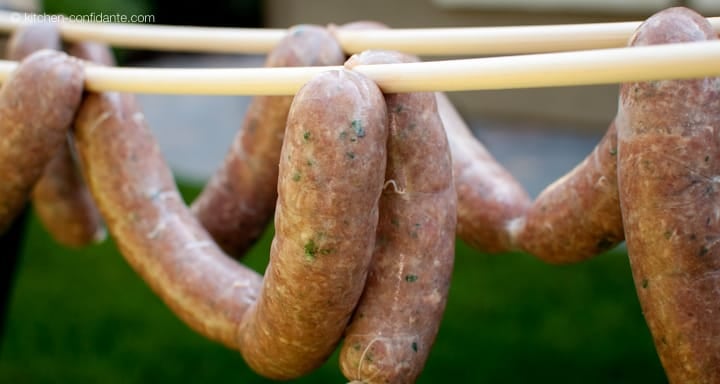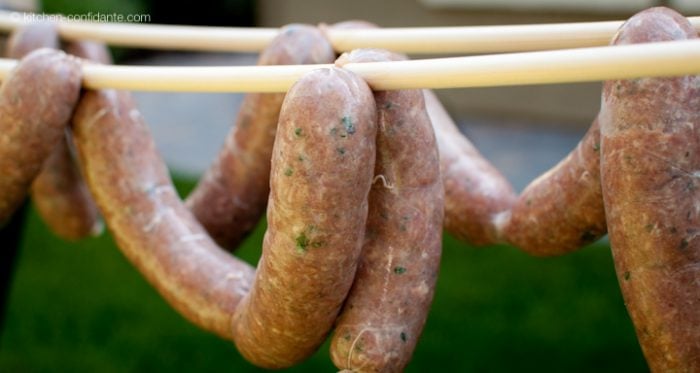 The Case for Sausages
It used to be that autumnal preparations for the home cook involved more than jamming, canning and drying the summer garden's bounty. One of the lost rituals of preparing for the long winter ahead is the butchering of pork, beef, or game, and preserving the meat. While many home cooks still enjoy putting up for the winter, the convenience of supermarkets and the modern butcher make access to fresh meat simple.
But if you think back to a time when groceries and even refrigerators did not exist, families relied on preparing their meats to last through the winter, using methods such as salting, smoking, or if possible, freezing. Not a bit of the animal was wasted.
I recently re-read my battered copy of Little House in the Big Woods with my seven year old daughter, and to this day, one of my favorite chapters in this childhood classic is the one where they butcher the hog. To have a pig was considered a blessing, and I was always so intrigued by the incredible amount of work that needed to be done at butchering time. The idea of making sausage was exceptionally fascinating.
Making sausage at home is as archaic today as churning your own butter, but I learned that it is not as intimidating as it sounds. Not only is it fairly easy, it is very gratifying to know and be able to control the freshness of the ingredients, and enjoy eating sausage that is better for you, without any preservatives.
So for Challenge 4 of Project Food Blog, I present to you a step-by-step photo tutorial of how to make your own Beer Bratwurst. It is, after all, Oktoberfest season! Since I focused on my Filipina heritage for last challenge's Luxury Dinner Party, I thought it might be nice to honor my husband's German heritage this time around.
Oktoberfest is traditionally celebrated in Germany from late September to the first weekend in October, however, in the U.S., many celebrations can be found through the month of October. So if you missed Oktoberfest in Munich this year, fear not. Pull on those lederhosen, pour yourself some beer, and try making your own Bratwurst. It will have you singing and swaying to your favorite Oktoberfest tunes in no time!
Are you ready? Let's get started:
How to Make Beer Bratwurst
The first thing you'll need to do is see this guy.
Meet Dan. He's one of the excellent butchers at my favorite market. I encourage you to get to know your butcher — they are an endless source of information, most important of which is what is most fresh. When selecting your meat, don't hesitate to tell them what you are making; a good butcher is always happy to guide you with recommendations on cuts, sources, and alternatives. It turns out that Dan is an experienced sausage maker, so I was excited to pick his brain on this project.
We're going for a fairly traditional German Bratwurst, so you are going to need a blend of pork and veal, as well as some casings. It's always a good idea to check with the butcher in advance of your sausage making to make sure they have everything you need.
See the beautiful marbling of fat in the pork shoulder/butt? Having some fat is critical to a moist sausage, but as long as you have a very good cut of pork shoulder, there is no need to add fat as some sausage makers do. The leaner veal will balance it out. Throughout the sausage making process, it is imperative to work with cold meat. I can not stress this enough. Freeze the meat for about an hour prior to working with it, and always keep it well chilled throughout the process. There are two reasons: (1) Like butter, it is easier to cut through any fats when it is chilled and it will incorporate better during the grinding, (2) Since the meat is is being handled outside of a chilled environment, we need to keep it cold for food safety reasons. For the latter reason, it makes sense that this is an autumn activity, when temperatures are cooler.
Slice the meat into smaller portions so that it can fit in your grinder. Always return to the refrigerator or freezer until you are ready to grind.
Your food or meat grinder most likely came with two grinding plates. You will grind the meat twice, the first time with the course grind. Keep an eye out for any clogging from fat. Again, using well chilled meat will help avoid this. Return the meat to the freezer for another 30 minutes.
It's time to season the meat. According to my butcher, dry ingredients are preferable because there is less chance of tearing the casing from chunks of fresh garlic, etc. However, with herbs, you can certainly opt for fresh. With this sausage, I used fresh Italian flat leaf parsley, taking care to remove all stems. Use a mixer or your hands to incorporate the seasoning into the meat.
Pass the meat through the grinder once more, this time using the fine grinding plate.
Before you move on, take a moment to check your seasoning. Take a small piece of the meat mixture, form it into a patty and fry it. Keep in mind that flavors will develop over time, but this will give you a good idea of how your final sausage will taste. Now is the time to adjust the seasoning if necessary.
It's time give the meat a little drink. Use an excellent quality wheat beer; I deferred the selection to my husband, who is certainly more of the beer aficionado in the household. He chose the Portland-brewed Widmer Hefeweizen, a gorgeously amber, unfiltered wheat beer. This award winning beer adds a fabulous flavor to the sausage and calls to mind the famous beer brats of the Midwest. Cover the meat tightly and allow the flavors to marinate overnight in the refrigerator. Then go ahead and sip the rest of that beer – you deserve it after a good day's work of sausage making.
Okay, now it's Day Two. I recommend getting an extra pair of hands to help you, especially if this is the first time you are making sausage. A sausage stuffer kit makes the work easier, though it isn't necessary. If you have a pastry bag with a very wide tip, that would work just as well. Prepare the casing by soaking it in cold water for about 30 minutes. In choosing your casing, hog or sheep casing is readily available, but most recommend hog casing because it is more durable and you are less likely to experience ruptures or tearing. Lubricate the tip of the sausage stuffer with a little olive oil and guide the rinsed casing, gathering it at the base of the attachment. And don't forget to tie a knot at the end so you don't lose any of your precious filling!
Start stuffing the meat mixture into the casing by guiding it through the attachment. Take your time to make sure the mixture is packed consistently. Knot the other end. Use a sterilized needle to release any air bubbles in the casing.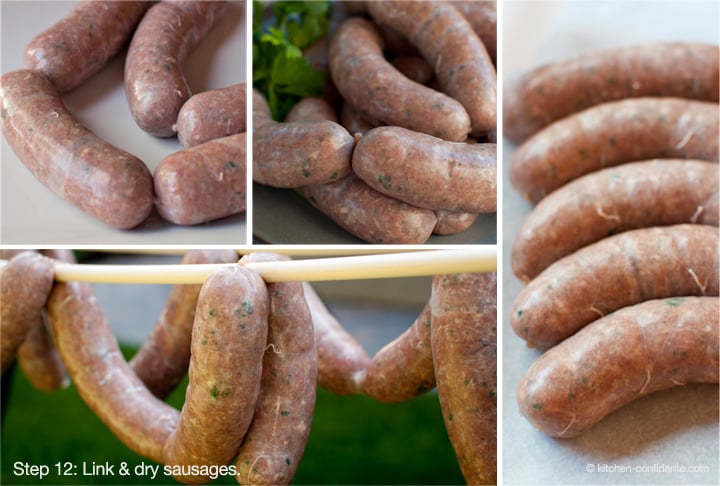 Creating sausage links is very easy. Gather about 6-8 inches of sausage and twist at least three times to form a tight seal. Remember that the bratwurst may shrink during cooking, so check the buns you plan on using and size accordingly. Dry the sausages on wooden dowels for about 30 minutes in a cool environment or until the casing is dry to the touch. Refrigerate or freeze immediately until you are ready to use the sausages. The sausages may be kept for 1-2 days in the refrigerator.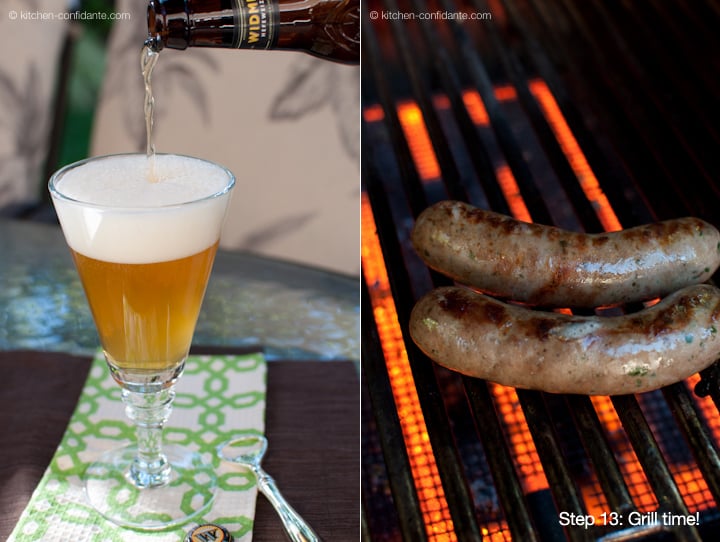 Time to grill! Pour yourself some Hefeweizen and get ready to watch your lovingly made creations sizzle on the hot grill. Remember to cook the meat thoroughly; it takes at least 20-30 minutes to cook the bratwurst all the way through.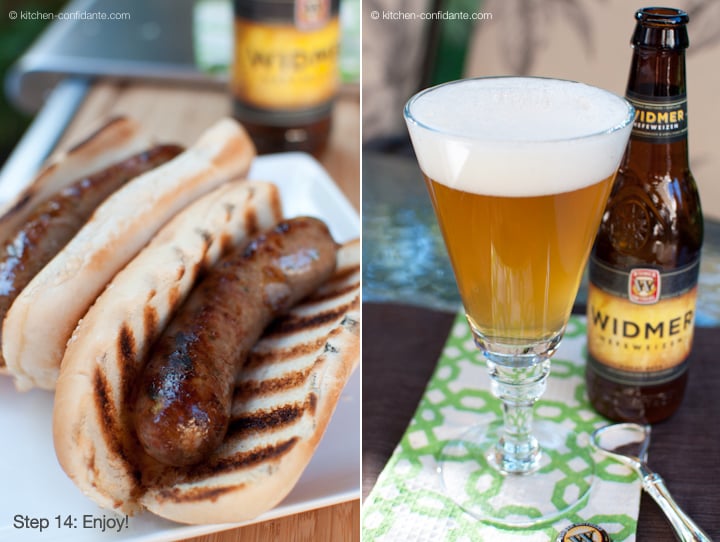 Go ahead and take a bite! You will be amazed with the authenticity of the delicious Bavarian flavors in this juicy bratwurst! It will be hard to return to store-bought sausages again.
I was completely overwhelmed with all of the wonderful comments on my third entry to Project Food Blog and thank each and every one of you who took the time to vote. My sincerest thanks again to my fellow food bloggers who joined me for my Filipiniana Dinner Party, I could not have done it without you! This post is my submission for Challenge 4: Picture Perfect. Contestants were asked to use photography to create a step-by-step, instructional photo tutorial. Voting for this challenge takes place from 6AM Pacific Time (9AM Eastern) October 11th through 6PM Pacific Time (9PM Eastern) October 14th. Thank you for considering this post – please click here to vote!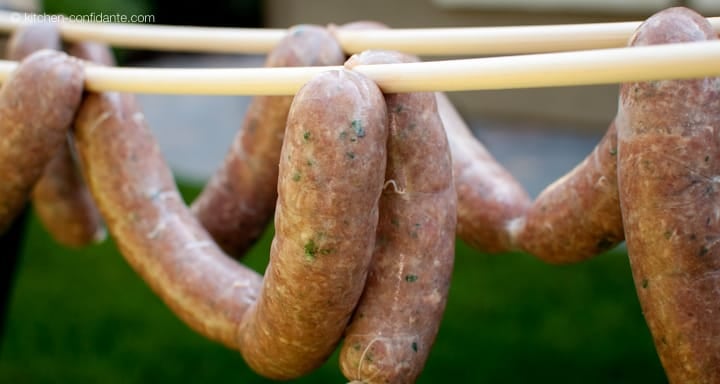 Print Recipe
Ingredients
1.5 lbs pork shoulder/butt
1.5 lbs veal leg
3 teaspoons Kosher salt
1 1/2 teaspoons onion powder
1 1/2 teaspoons ground white pepper
1 1/2 teaspoons marjoram
1 1/2 teaspoons garlic powder
1 teaspoon celery salt
1/4 teaspoon ground ginger
1 teaspoon allspice
1/4 teaspoon caraway seeds
3 tablespoons Italian flat leaf parsley, leaves only, finely chopped
4 oz excellent quality wheat beer (such as Widmer Hefeweizen)
about 1 yard of hog casing, soaked and rinsed
Instructions
Freeze meats. Slice meat and grind with the course grinding plate. Return to freezer.
Combine seasonings, with exception of the beer. Incorporate into the ground meat using a mixer or your hands.
Grind the meat a second time, using the fine grinding plate.
Check seasonings by frying a tiny portion in a pan. Adjust seasoning if necessary.
Drizzle beer on the sausage mixture, tossing with hands. Cover tightly and refrigerate overnight.
Soak the casing in cold water for 30 minutes and rinse. Stuff the casing with the sausage mixture, create links, and allow to dry on a rack for about 30 minutes or until casings are dry to the touch. Refrigerate or freeze until ready to use.