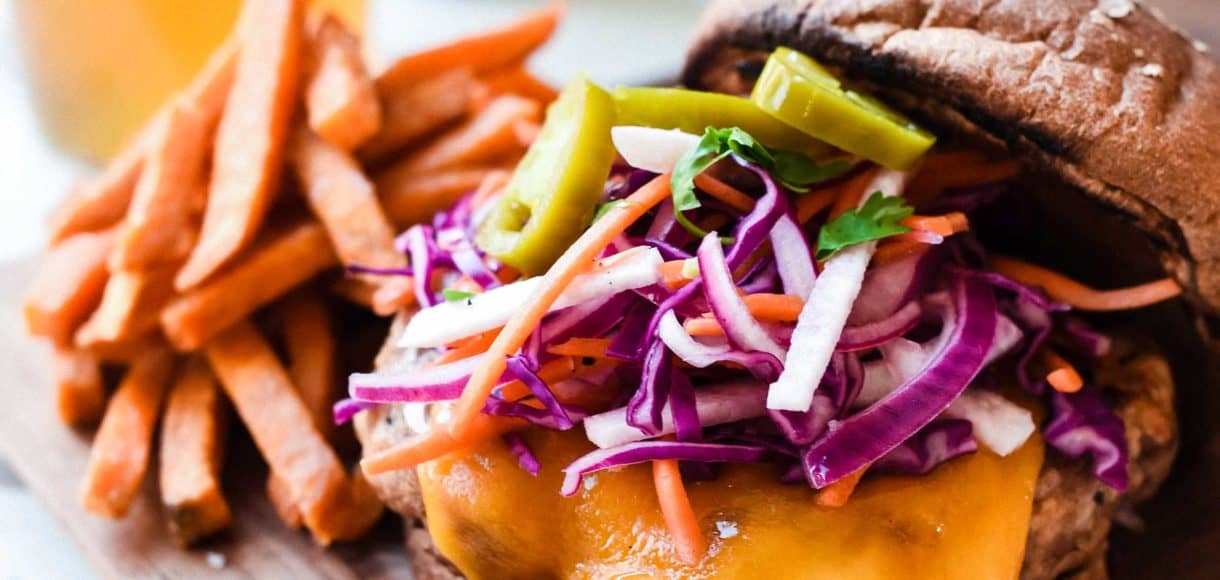 Filipino-style Adobo Burgers
Filipino-style Adobo Burgers – classic Filipino adobo flavors are grilled into a flavorful pork and turkey burger and topped with a crunchy red cabbage and jicama slaw. When you spend a whole weekend eating food that in 97% of most cases, you will likely never…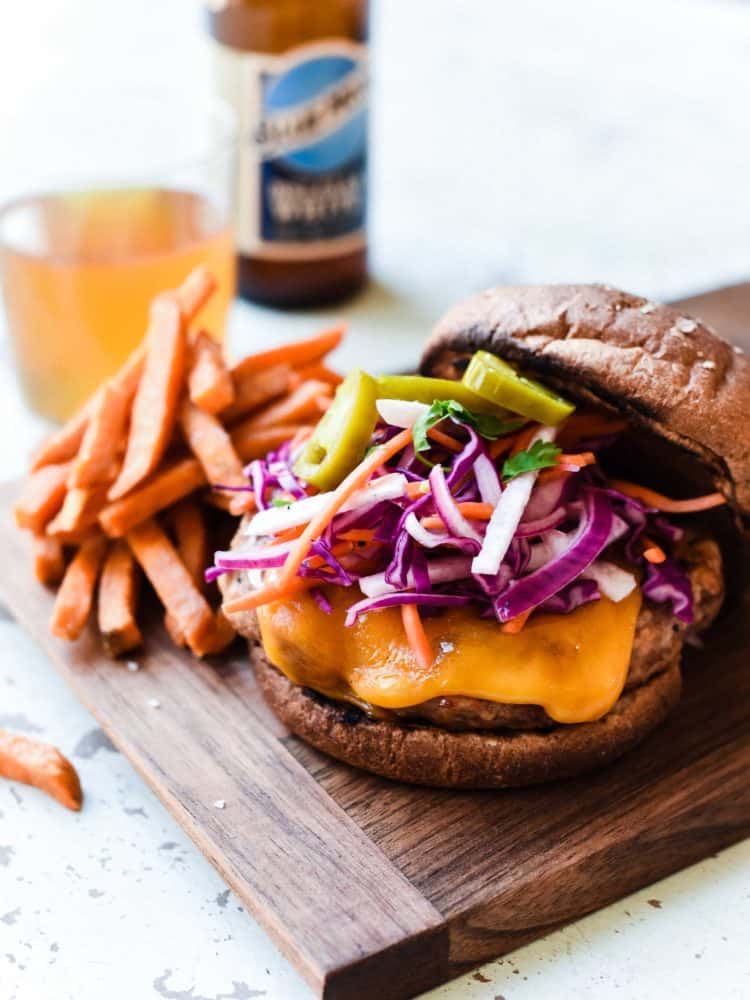 Filipino-style Adobo Burgers
Filipino-style Adobo Burgers – classic Filipino adobo flavors are grilled into a flavorful pork and turkey burger and topped with a crunchy red cabbage and jicama slaw.
When you spend a whole weekend eating food that in 97% of most cases, you will likely never be able to recreate in your own kitchen, i.e. at an event like Pebble Beach Food & Wine, what happens when you get back home?
You turn to comfort food and old favorites.
I craved my favorite noodles and revisited some new go-to dishes. And for some reason, I had an incredible craving for adobo.
So when I decided to join my friend Kita from Girl Carnivore in her epic Annual Burger Month Challenge, I knew that I had to take those Filipino-style adobo flavors and inject them into a juicy, irresistible burger!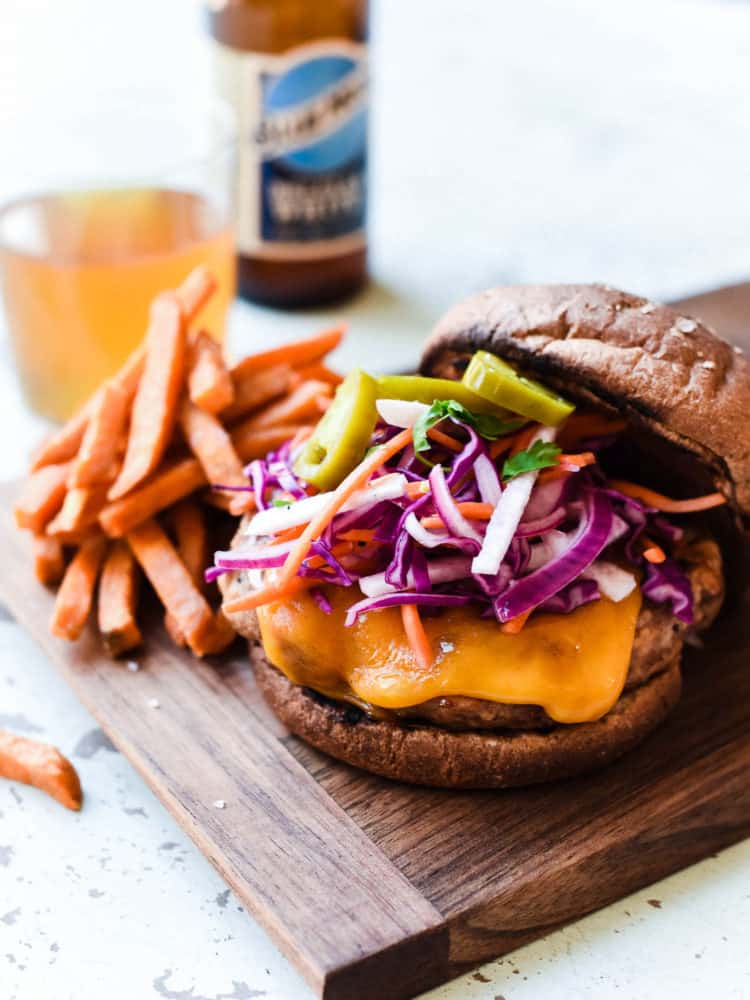 Filipino-style Adobo Burgers are my answer to combining my adobo and burger cravings — but I didn't want a burger that was too hefty, especially since I'm still recovering from that weekend of gluttony. I decided to combine ground pork with ground turkey breast, but if I was feeling especially indulgent, I would have gone all pork, all the way. I will leave that up to you. Giving the patties time to marinate in classic adobo flavors of soy sauce, vinegar and garlic resulted in a burger that was mouth watering and packed with flavor.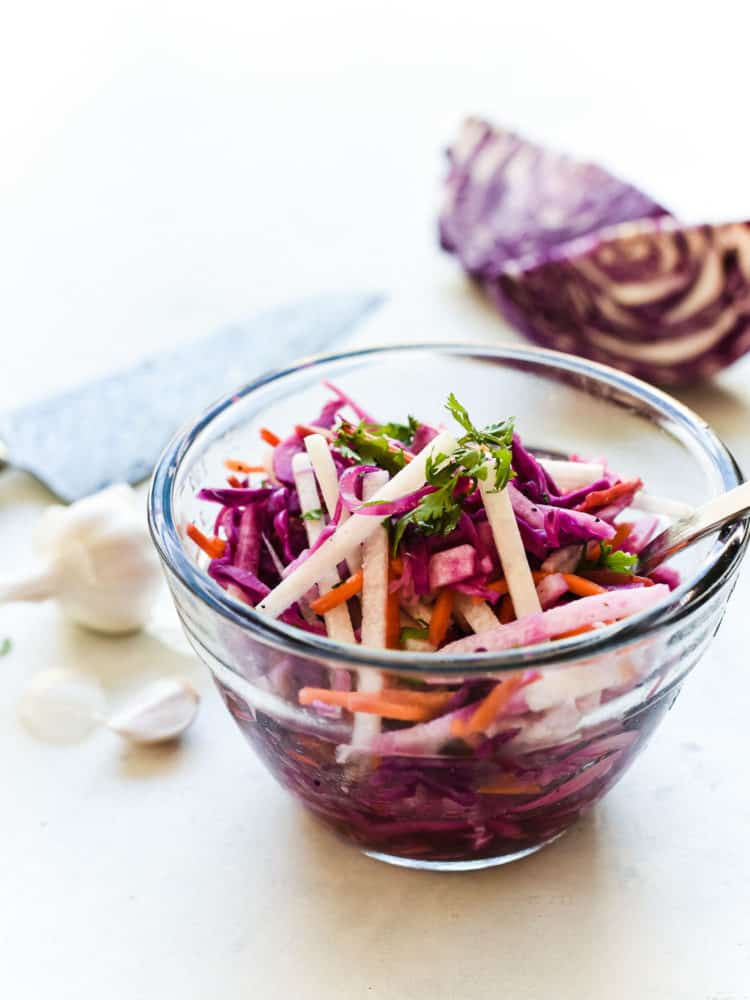 While choice of meat is up to discussion, the one thing I urge you to not omit is the red cabbage and jicama slaw. Crunchy, tangy, and reminiscent of achara, a Filipino green papaya relish, it takes the adobo burger to the next level – vibrant, tangy and crunchy, it really does complete each bite!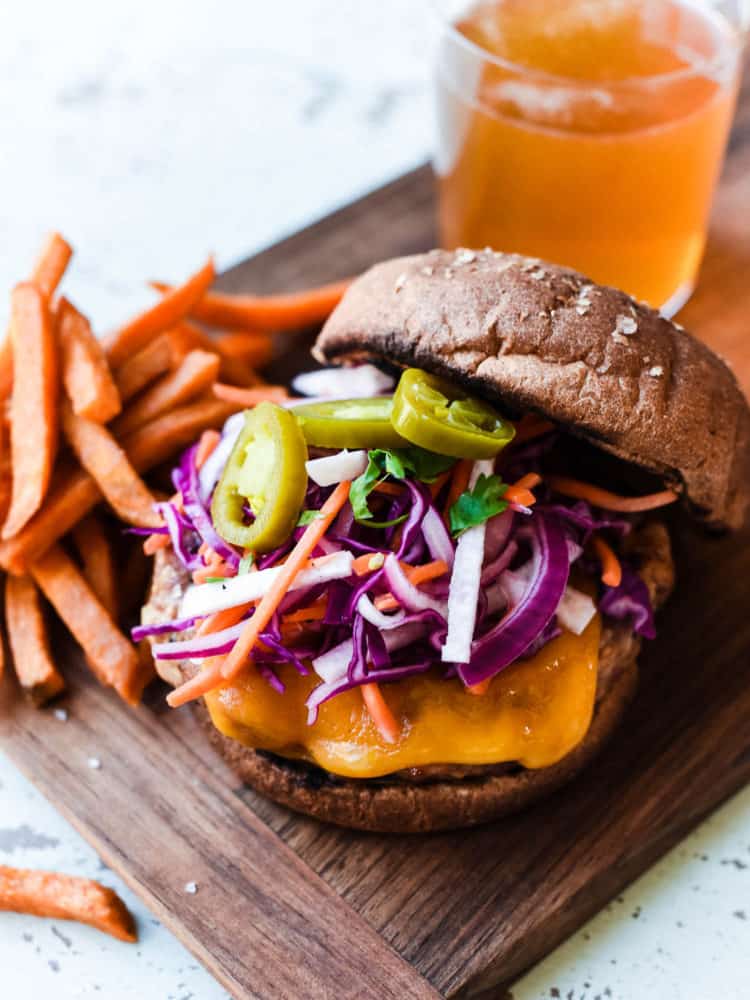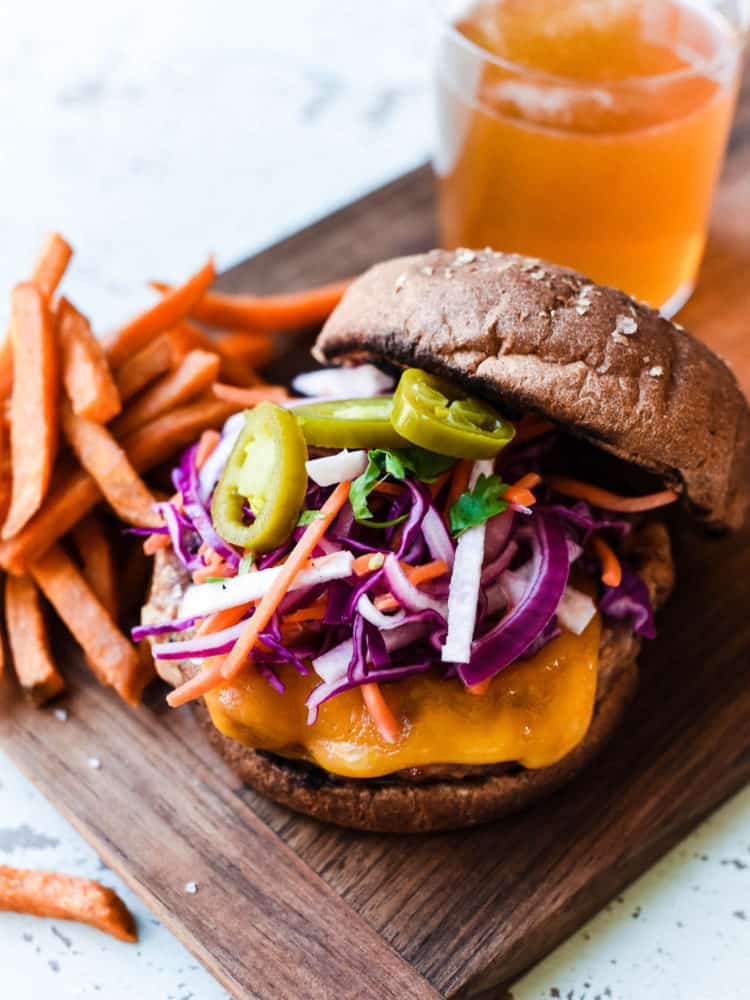 Burger Month 2017
This mouth-watering Filipino-style Adobo Burger is my creation for #BURGERMONTH 2017, which is amazingly made possible by Kita at GirlCarnivore. I am so grateful to American Lamb Board, Anolon, Beef, It's What's For Dinner, Char-Broil, Curly's BBQ, Cuttingboard.com, Melissa's Produce, Primal Stone, Spiceologist, Thermoworks, & Veal Made Easy for the AMAZING grill prize packages!
Click HERE to enter the giveaway!


Prizes
American Lamb Board – (ALB prize boxes 5 lbs of ground lamb, an apron and a meat thermometer
Anolon – 10″x 18″ Double Burner Griddle and Grill Pan
Beef, It's What's For Dinner – prize packs of beefy grilling-themed goodies
Char-Broil – Char-Broil Kettleman Grill
Curly's BBQ – Curly's BBQ Pork Pack
Cuttingboard.com – Olive Wood Carver Bo
Melissa's Produce – Baby vegetable box
Primal Stone – XL Primal Stone
Spiceologist – 4 Rub Grilling Spice Set
Thermoworks – Thermapen Mk4
Veal Made Easy – 5 lbs Veal and grilling gear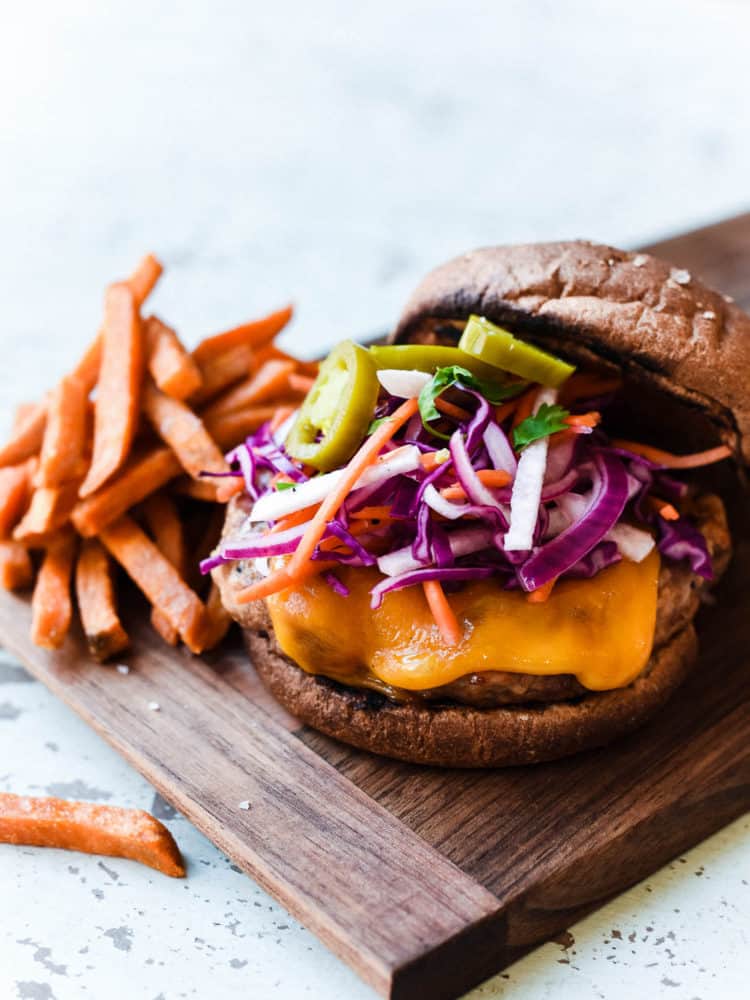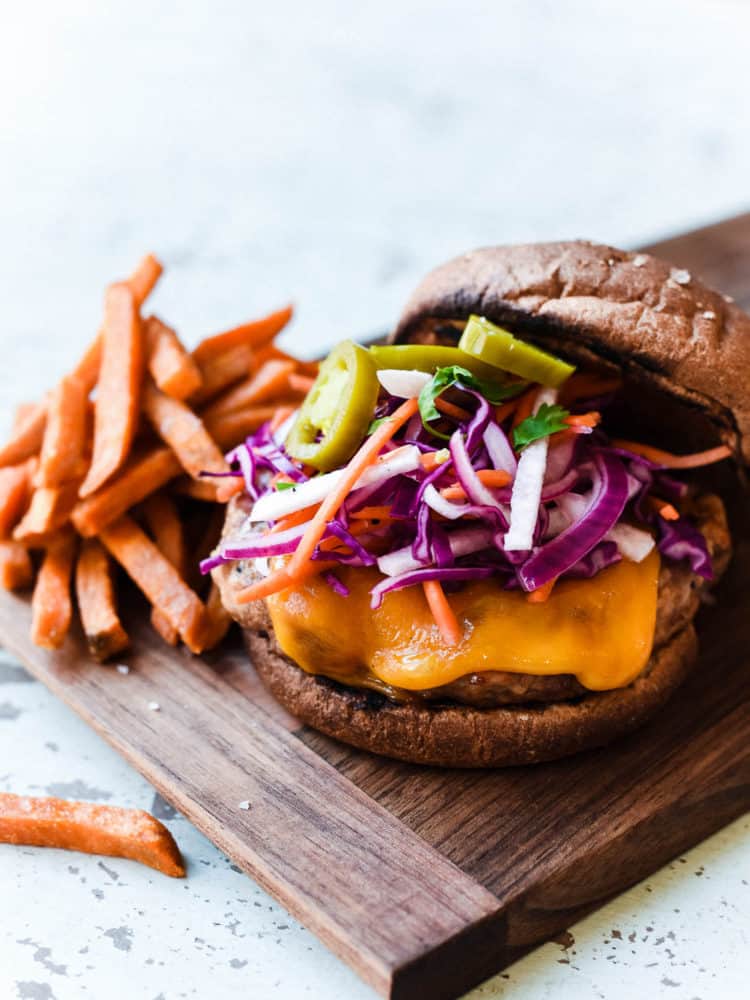 This post is part of the #BURGERMONTH celebration happening all month long at GirlCarnivore and across the internet with 100 other talented foodies. Be sure to follow #BURGERMONTH to check them all out!
Filipino-style Adobo Burgers
Classic Filipino adobo flavors are grilled into a flavorful pork and turkey burger and topped with a crunchy slaw.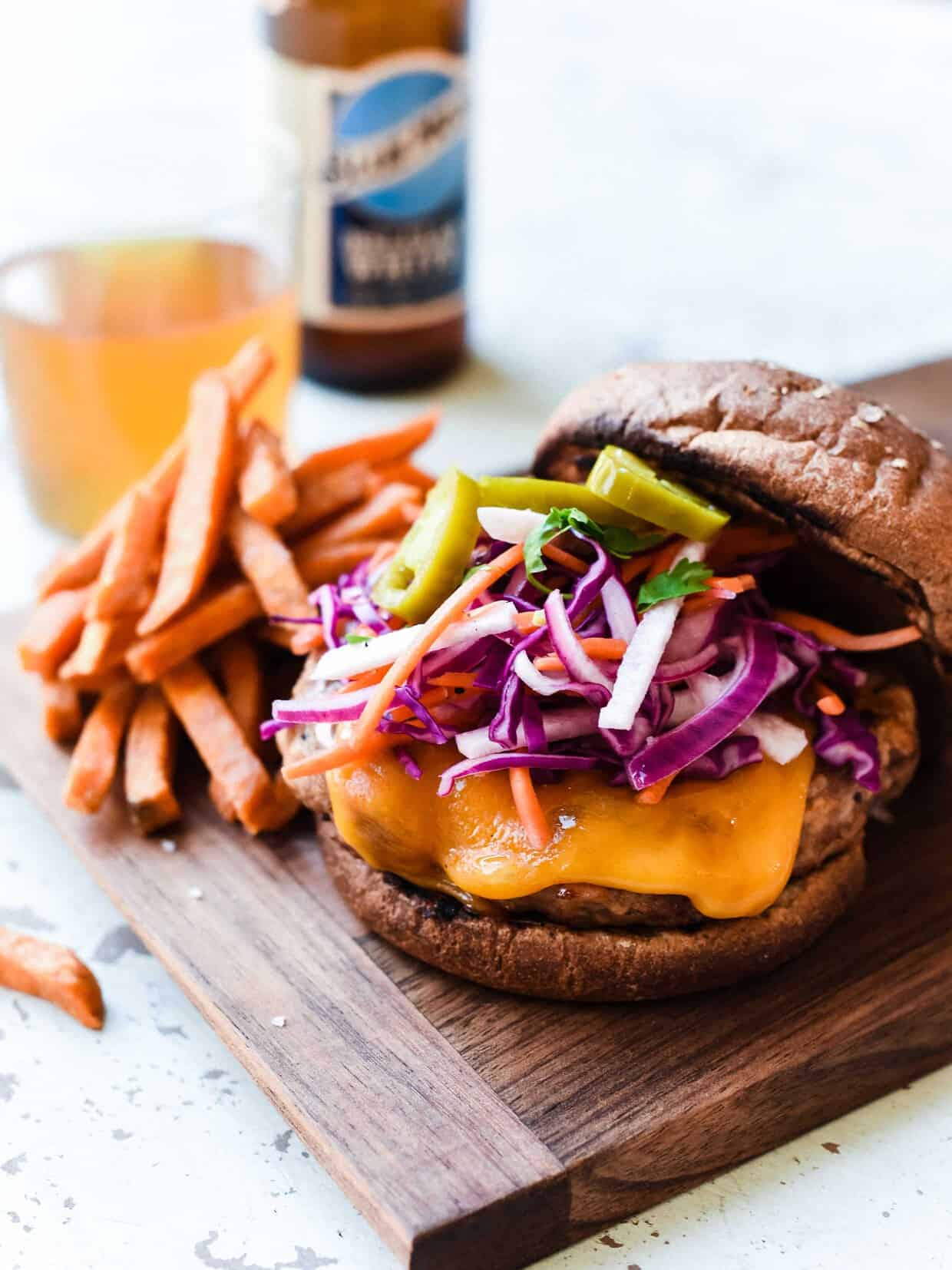 Print Recipe
Ingredients
For the Adobo Burgers:
1 pound ground pork
1 pound ground turkey breast
3 tablespoons soy sauce (I like Silver Swan Soy Sauce)
3 tablespoons apple cider vinegar
3 cloves garlic, finely minced
1/3 cup finely diced red onion
1/2 cup panko breadcrumbs
1/2 teaspoon freshly ground black pepper
4 slices of cheese (cheddar, provolone, muenster, etc.)
4 hamburger buns, split
For the Red Cabbage and Jicama Slaw:
1 1/2 cups finely sliced red cabbage
1 cup julienned or shredded jicama
1 cup finely sliced red onion
1/2 cup shredded carrots
1/2 teaspoon sugar
2 tablespoons rice vinegar
1/4 teaspoon salt
pickled jalapeños, for serving
Instructions
In a large bowl, mix together the ground pork, ground turkey, soy sauce, vinegar, garlic, onion, break crumbs and pepper until well combined – try not to overwork the meat.. Divide the meat into 4 equal portions, about 8.75 oz each. Form into patties slightly larger than your buns. Refrigerate for about 30 minutes to an hour.
In a medium, non-reactive bowl (glass works well), add the red cabbage, jicama, red onion and carrots and toss to combine. Add the vinegar, sugar and salt, and toss until the vegetables are well coated. Cover and refrigerate while you grill the burgers.
Prepare a medium-hot fire in a charcoal grill with a cover, or preheat a gas grill to medium-high.
Cook the burgers directly over the heat, with the lid closed, for about 10-14 minutes, flipping once, until the internal temperature is 160°F. Top with a slice of cheese. Serve on a toasted bun topped with the red cabbage and jicama slaw and pickled jalapenos.
Notes
Craving an all pork burger? Go for it! It will be even more juicy and delicious! But if you want to lighten it up, try combining it with turkey, as I have here.