Whole-Hog Barbeque with Ed Mitchell and Ryan Mitchell
In Episode 71 of the Kitchen Confidante Podcast, Liren talks to Ed and Ryan Mitchell about their cookbook, Ed Mitchell's Barbeque and the history and tradition of whole-hog barbeque.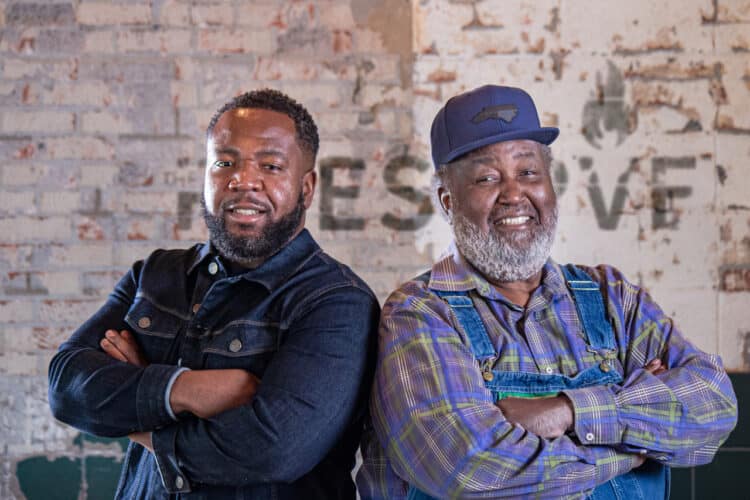 Whole-Hog Barbeque with Ed Mitchell and Ryan Mitchell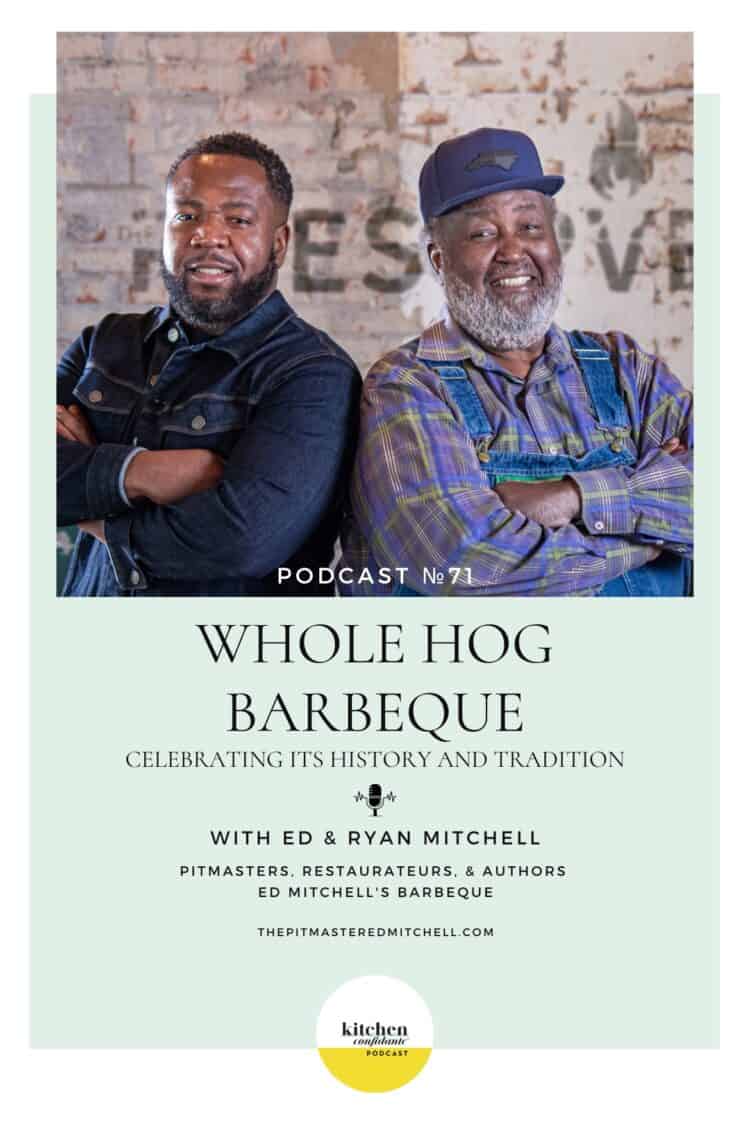 Whole-Hog Barbeque – Celebrating its History and Tradition with Ed Mitchell and Ryan Mitchell
On the podcast, I recently spoke with Ed and Ryan Mitchell. Ed and Ryan are the pitmasters of the famed Mitchell's Ribs, Chicken, and Bar-B-Q in North Carolina. Ed has been cooking whole hog barbecue since he was a teenager, but it wasn't until his mid-40s that life steered him to devote his life to the tradition. His son Ryan has brought his background in finance to the family business; after eight years working in commercial and investment banking, he returned to his roots in BBQ to work with his father.
As the family business has grown, so has their reputation. Ed has cooked all over the world, including at the James Beard House in New York. Ed has also been featured on television series, including Michael Pollan's "Cooked" on Netflix, Anthony Bourdain's "A Cooks Tour," and "Beat Bobby Flay."
The family restaurant has transitioned to The Preserve, which opens this summer in Raleigh. Furthermore, Ed's sauces and rubs, True Made Foods, are available in stores nationwide. They recently published a cookbook, Ed Mitchell's Barbeque, which celebrates the history and tradition of whole-hog barbecue.
This episode discusses the history, tradition, culture, and family surrounding Southern barbeque. Listen to the full episode here, or keep reading for some of my favorite moments with Ed and Ryan.
How did you get started cooking barbeque professionally?
When Ed's father became ill, he moved back home to North Carolina to help his mother. He helped her run their family-owned Mom and Pop grocery store and started cooking her traditional family meals — barbeque! As they enjoyed their late afternoon meals together at the business, the aromas spread into the community, and people came looking to eat barbeque. They even came knocking after the store closed! So, the family started selling it, and quickly, the barbeque sales surpassed grocery sales.
They transitioned the canned goods out of the store and added tables so people could have a place to eat. So, the barbeque business started by accident. What started as cooking out of necessity and grief became a successful business built on love and connection.
Tell us more about your book, Ed Mitchell's Barbeque
The book honors the history, culture, and people of traditional Southern barbeque in North Carolina. It strives to preserve each generation and its contributions. For example, it includes recipes from Mama Mitchell, Ed's mother, and the family's matriarch. She was the youngest of 35 children and a time capsule from another time. She continuously poured her entire soul into hospitality and cooking for other people.
The book also speaks to the history of the region. For example, the Mitchells choose to deliberately spell their cooking as "barbeque" rather than "barbecue" because early settlers in Wilmington, NC historically used the word "que" to describe roasting a whole animal over flames. The Mitchells are passionate about using the whole hog and staying true to the craft and language used throughout history in their area.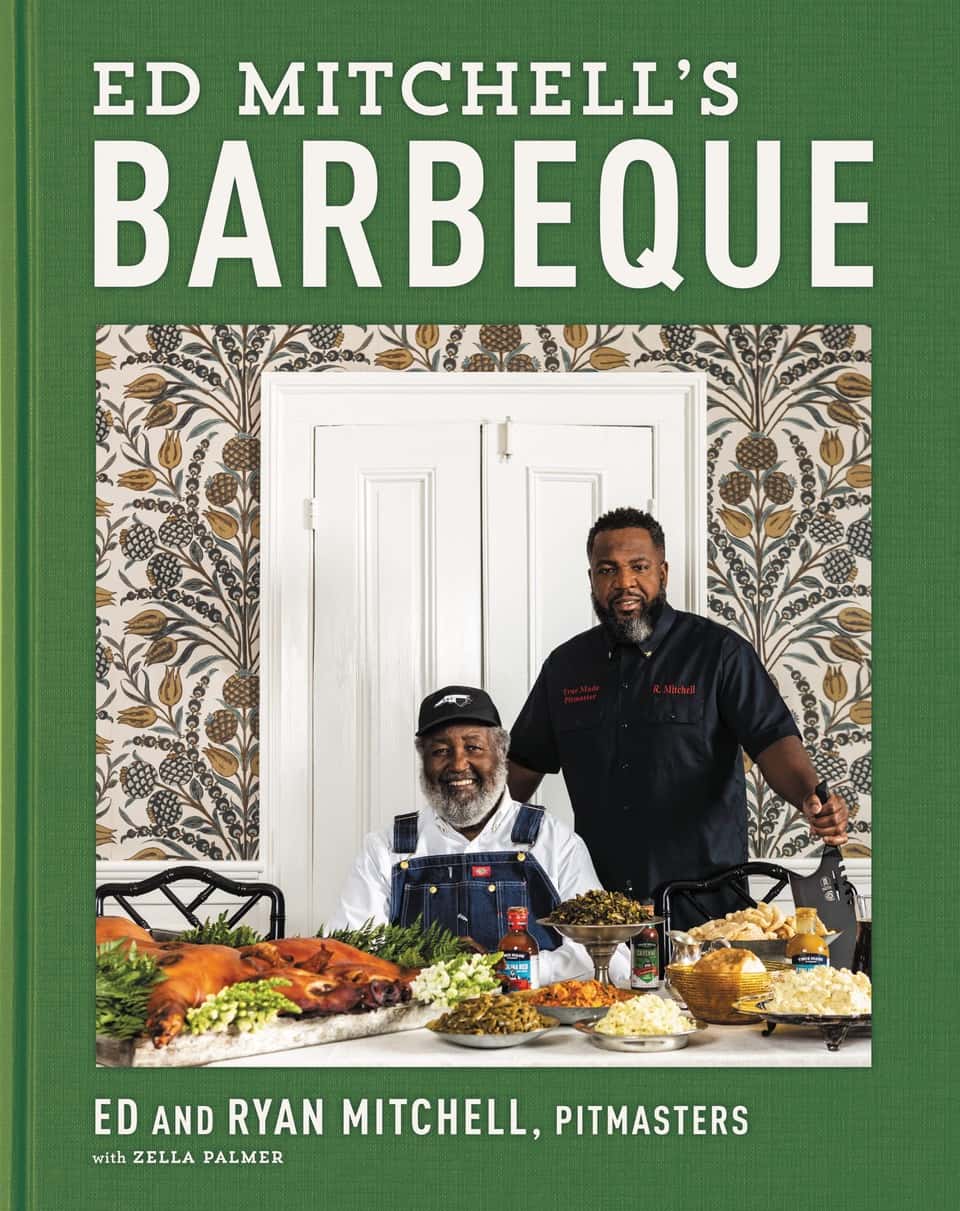 Ed Mitchell's Barbeque, by Ed and Ryan Mitchell, Pitmasters (Ecco, 2023).
Learn more
Listen to the full podcast episode with Ed and Ryan, learn more at thepitmasteredmitchell.com, and follow them on Instagram at @bbqprince1031.
Related Recipes
Ed Mitchell's Watermelon Sweet Tea
Baby Back Ribs with Blueberry Balsamic Barbecue Sauce
Rhubarb-Wine BBQ Sauce