Carrot Mango and Kiwi Smoothie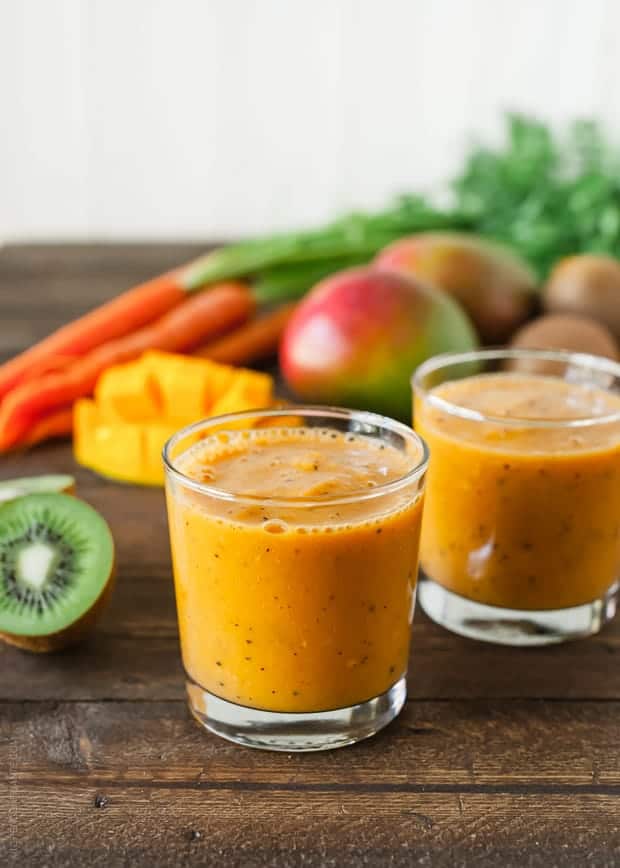 Carrot Mango and Kiwi Smoothie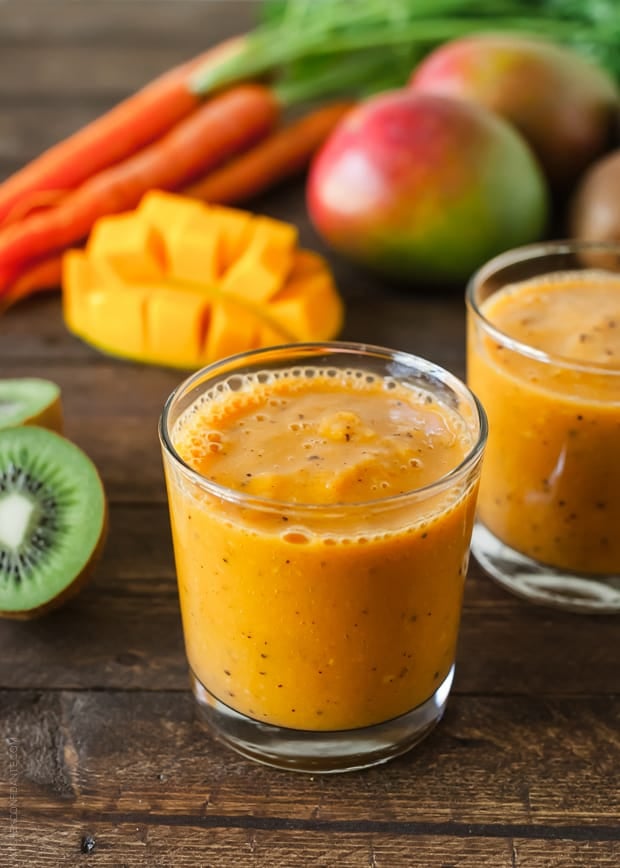 "Mom, you're my BMF," my son confided as he slid his hand into mine.
"BMF?" I asked, my mind going through the possible abbreviations.
"Best Mom Forever!" he smiled. "Daddy's my BFF – Best Father Forever," he continued.
"It's from a book," my daughter explained.
My heart got that warm and fuzzy feeling, and as I walked with my best little guy and best big girl to the sandwich shop, the sun warmed our backs. They've had the luxury of half days this week; it's conference week. So, we started off the week enjoying the gorgeous early spring weather by eating lunch out, in the sun, a rarity on a Monday.
Dare I say it? Spring is here! And it feels SO good. The hills are green, the days are warm, and I actually broke out shorts and flip flops the other day.
But speaking of BFF's, did you know that I discovered a set of BFFs that I never knew existed? Carrots and kiwis, and mangoes, too. They get along really well, actually.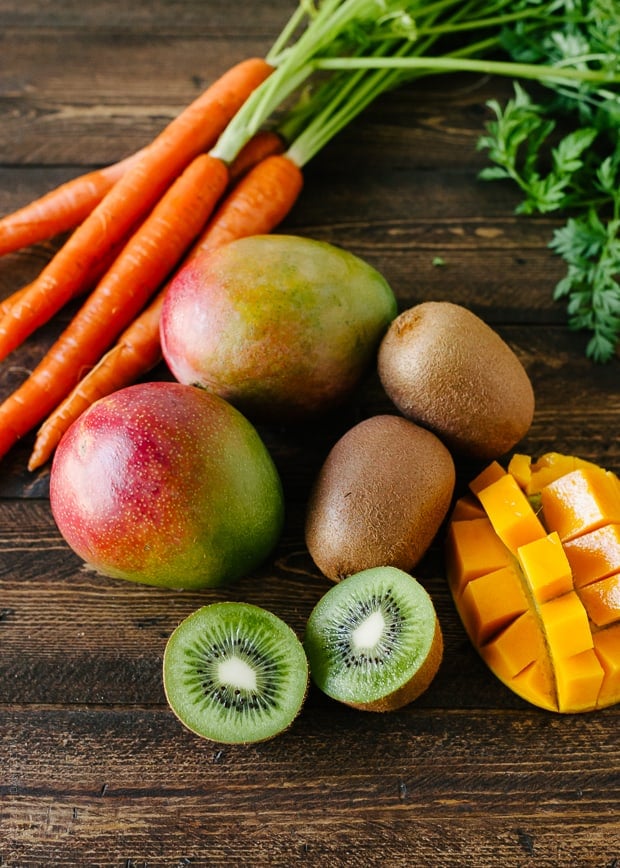 This Carrot Mango and Kiwi Smoothie is my current favorite. I've been adding it to my rotation of daily smoothies, and when I sip the vibrant orange smoothie, it is cool, refreshing, and quite tropical. The trio is like the three musketeers, heralding the warm weather ahead of us.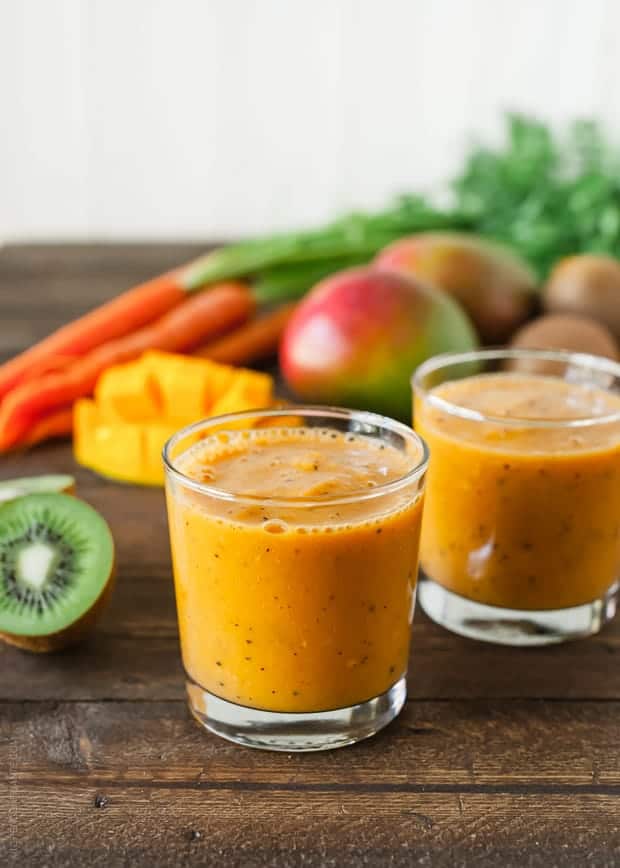 If carrots were to hang out in the tropics, I think I know where to find them. They'd be hanging with the mangoes and the kiwis. Take a sip, I think you'll like how well they play together!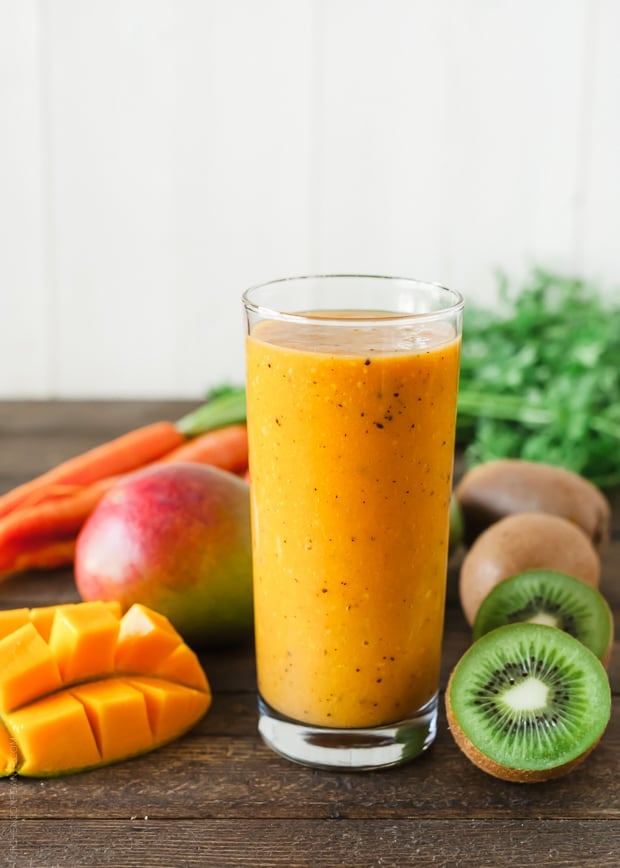 Carrot Mango and Kiwi Smoothie
This smoothie is like a cool mist on a hot summer day. Carrot juice is incredibly good for you, and so refreshing with this tropical twist.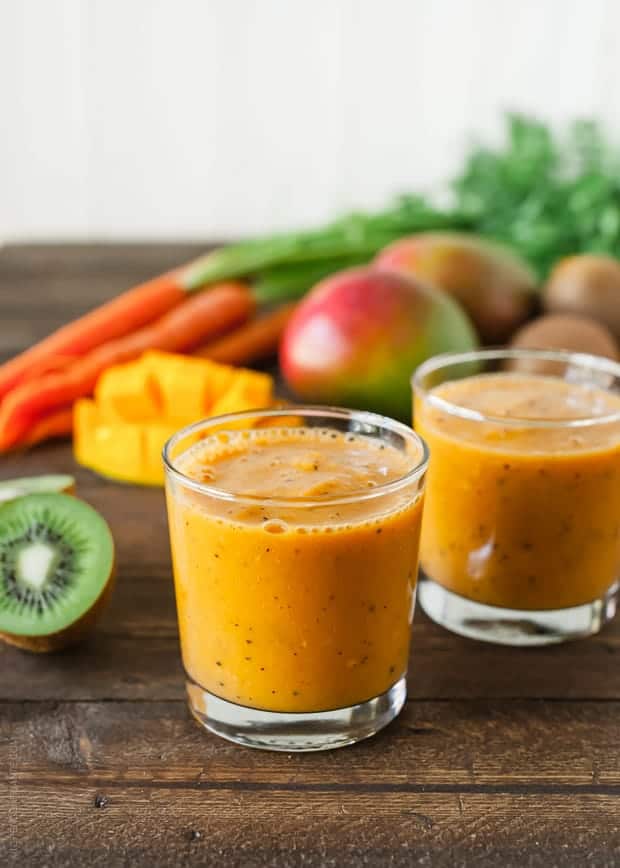 Print Recipe
Ingredients
1 cup carrot juice
1 cup frozen mango chunks, slightly thawed
2 kiwis peeled and quartered
Instructions
Place the carrot juice, frozen mango and kiwis in a blender. Blend until smooth and serve immediately.