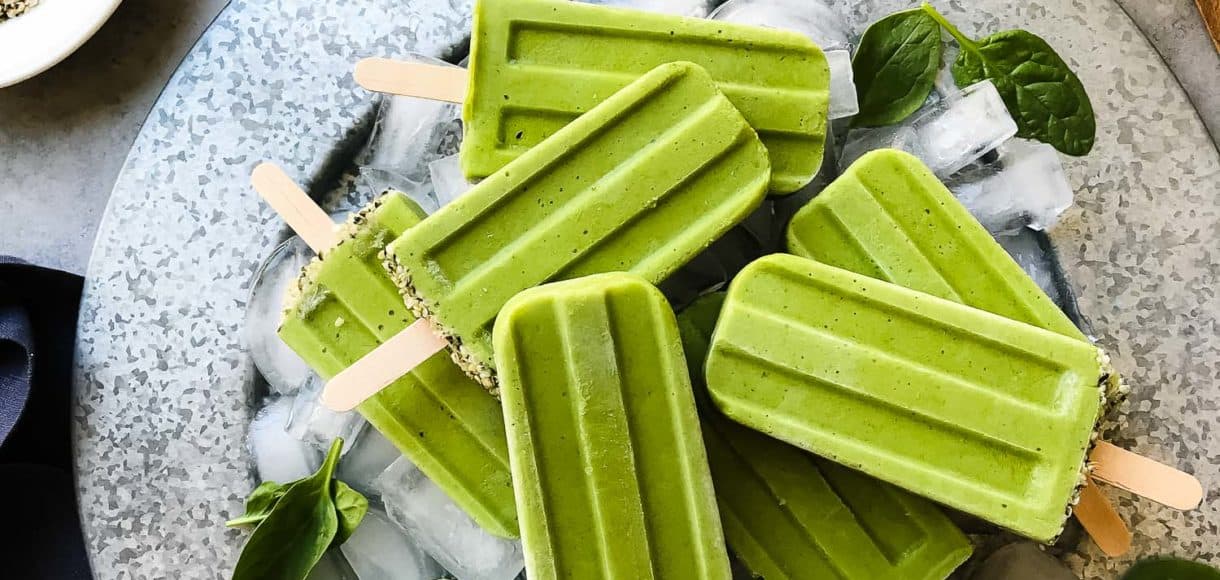 Green Smoothie Popsicles
Popsicles for breakfast? Yes, you can with healthy Green Smoothie Popsicles! Turn your favorite green smoothie into an icy treat perfect for any time of day, even after a workout! According to my daughter, we are halfway through summer vacation. I felt that slight feeling…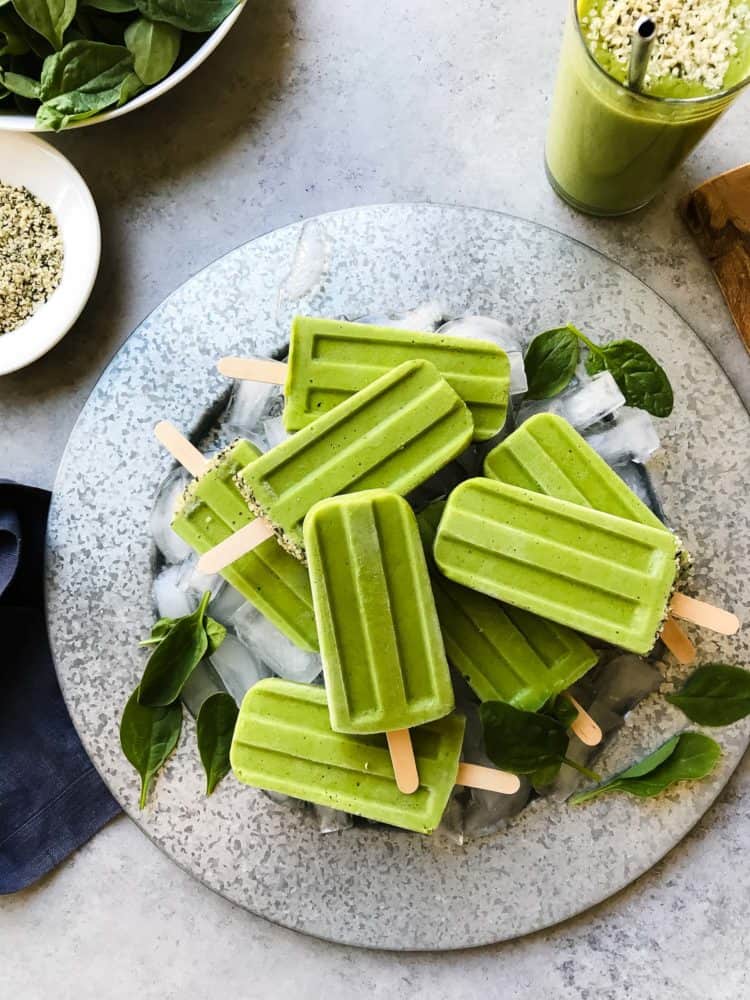 Green Smoothie Popsicles
Popsicles for breakfast? Yes, you can with healthy Green Smoothie Popsicles! Turn your favorite green smoothie into an icy treat perfect for any time of day, even after a workout!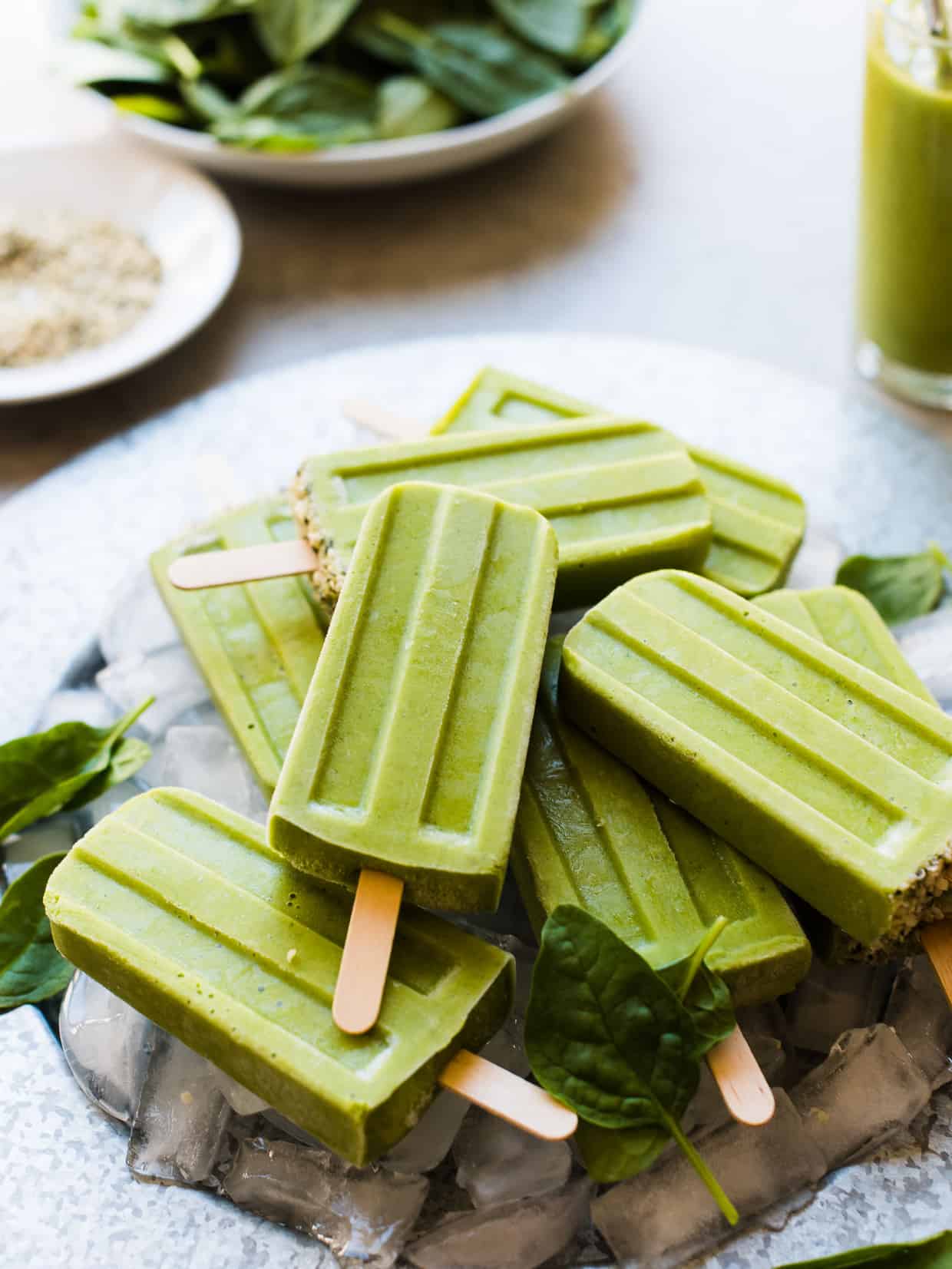 According to my daughter, we are halfway through summer vacation. I felt that slight feeling of panic that I haven't felt since I was closer to her age, knowing that in just a few weeks, flip flops will be traded for closed toe shoes, backpacks unearthed from the closet, and lazy summer mornings will become a little more hectic.
Now that we're in the depths of summer, we've fallen into a new routine, one that revolves, funny enough, around having no routine. The kids wake up when they want to wake up, and while they're not the type of kids to sleep in until noon, the mornings are definitely quieter for a touch longer.
For me, that means that I can squeeze in a workout while they dream their last dreams, and by the time I'm ready for my post workout smoothie, they are wandering into the kitchen at the same time, ready for their breakfast smoothie.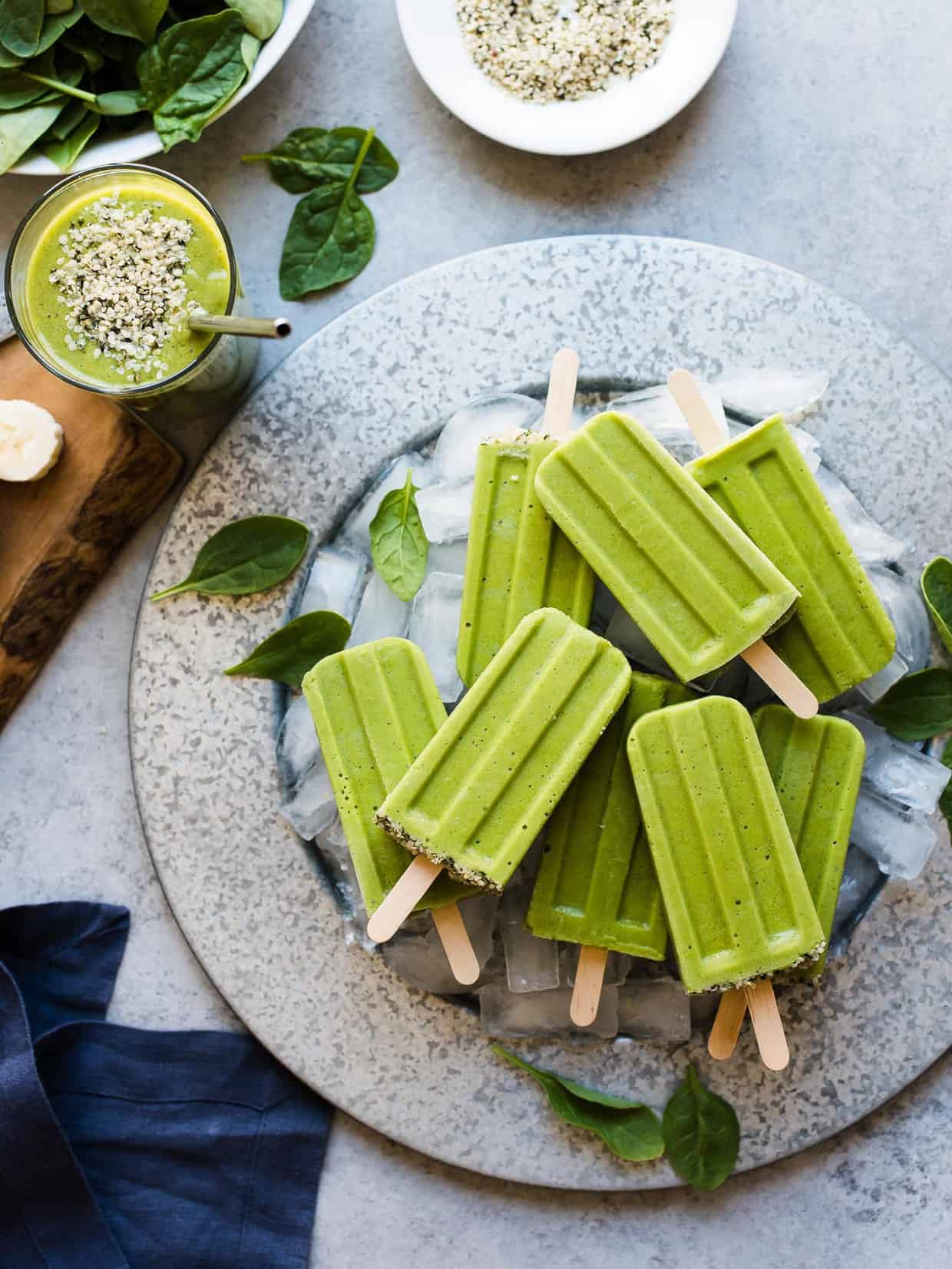 My daughter and I are partial to our mango spinach green smoothies, while my son stays loyal to his strawberry banana smoothie. But I've been making extra to freeze into popsicles for those it's-so-hot-what-can-I-have-for-a-snack moments.
And since we've been flirting with 100 degree days here and there, sometimes, I just want a popsicle for breakfast!
These Green Smoothie Popsicles are creamy and sweet, and a delicious and wholesome treat for any time of day. Almond milk and Greek yogurt is a great source of protein and gives it extra creaminess, and the sweetness of the ripe bananas, mangoes and healthy green spinach, with a touch of honey makes it a tropical treat. I add hemp seeds for a superfood punch and that nutty taste I love.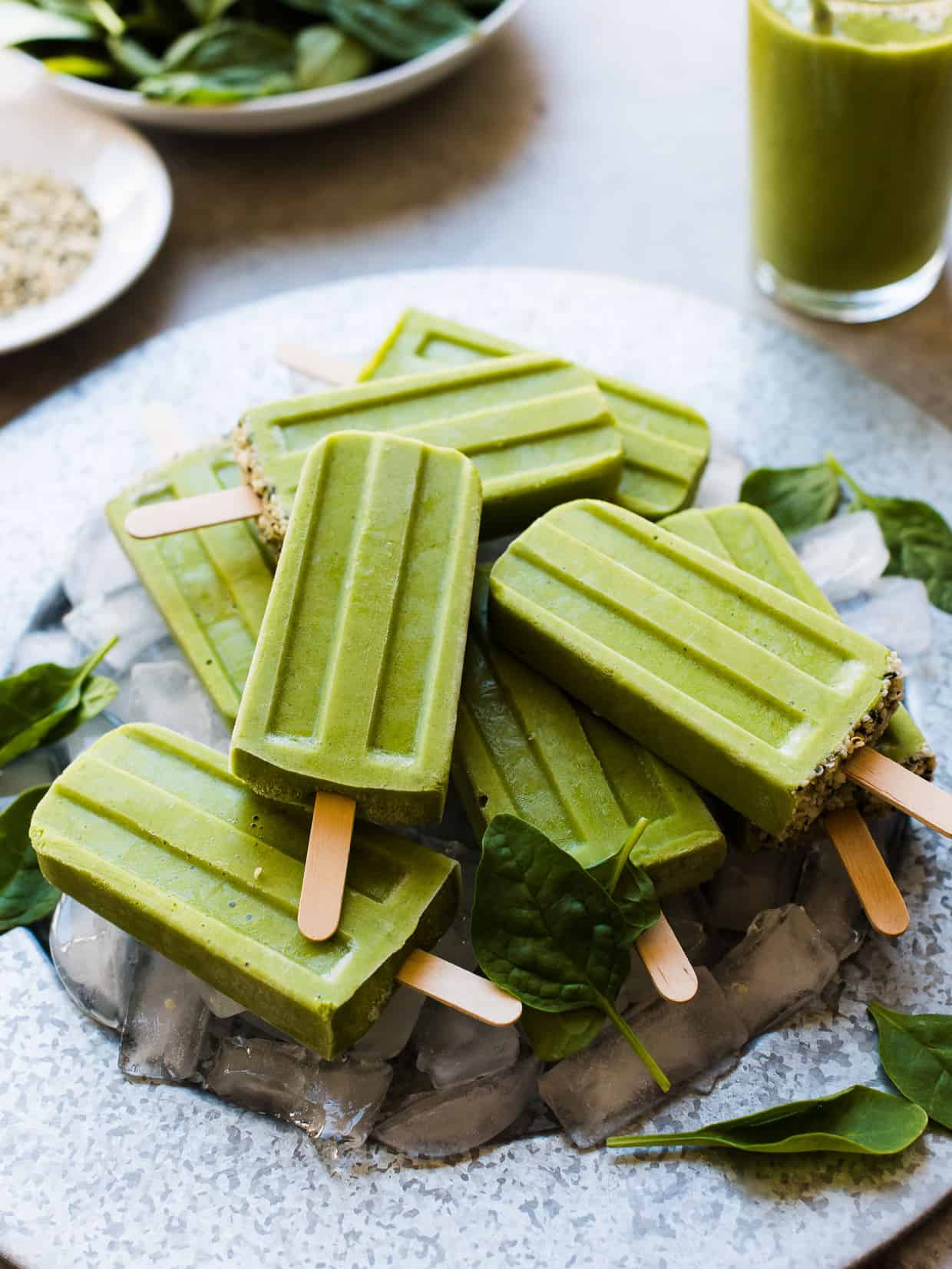 With a freezer full of smoothie popsicles, I can rest easy. We still have 33 more days before the kids head off to school. 33 more days of summer. And 33 more days of popsicles.
Green Smoothie Popsicles takes my favorite smoothie and transforms it into frozen treat that is so wholesome, you can have it for breakfast, after a workout, or for that afternoon pick me up!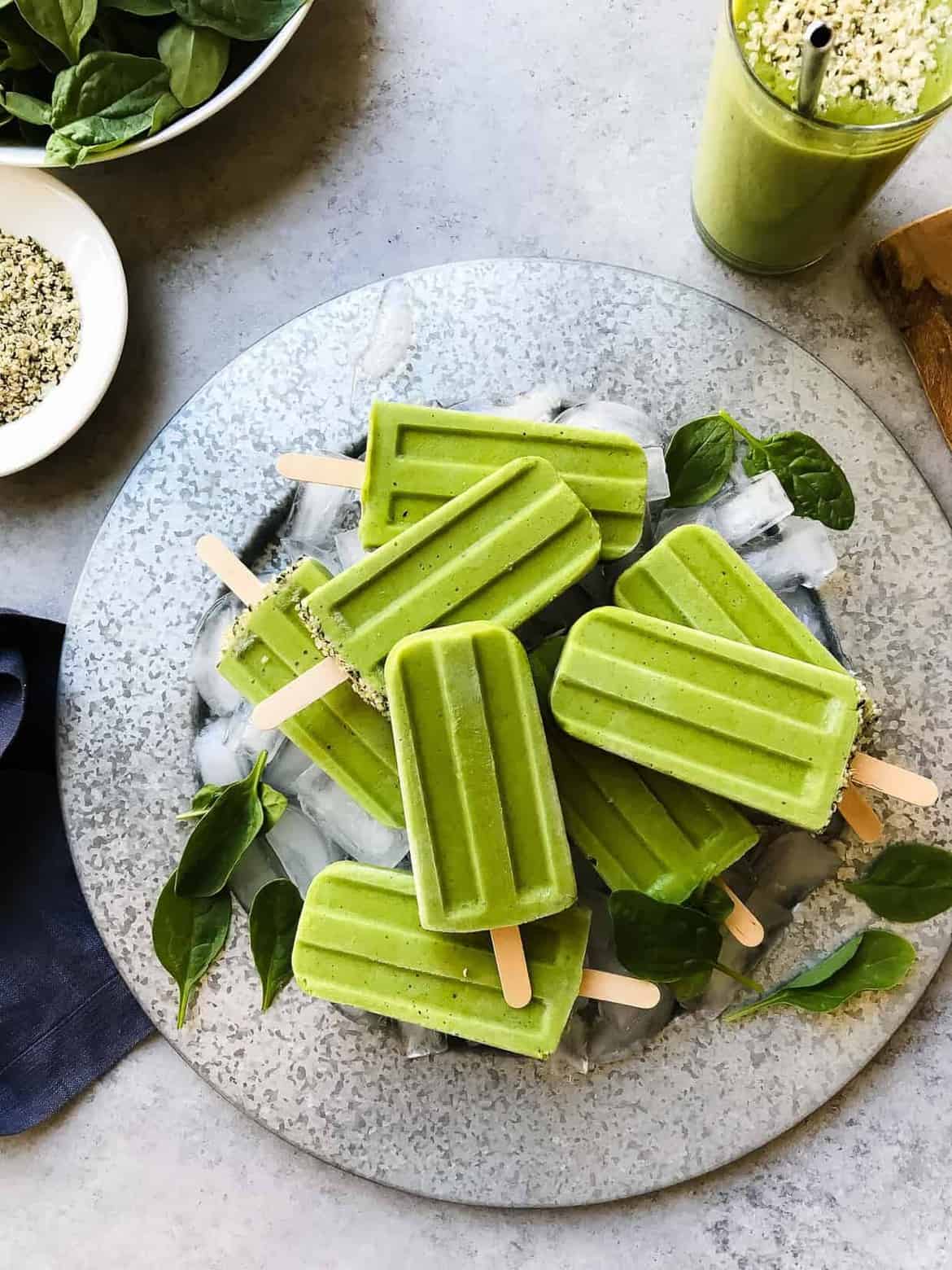 Print Recipe
Ingredients
1/2 cup unsweetened almond milk
1/2 cup plain lowfat Greek Yogurt
2 very ripe bananas
2 cups frozen mango chunks
3 cups spinach
2 tablespoons honey, to taste
3 tablespoons hemp seeds, to taste
Instructions
In the jar of a blender, place the almond milk, yogurt, bananas, mango, spinach and honey in that order.
Blend until smooth, and adjust the sweetness to your liking with more honey, if necessary. Remember that when frozen, the sweet flavor diminishes a little, so definitely err on the side of sweet.
Pour the mixture into your popsicle molds.
If using hemp seeds, add to your popsicles.
Insert popsicle sticks.
Place in freezer to chill for at least 5 hours, or overnight.
Enjoy!