Pumpkin Leche Flan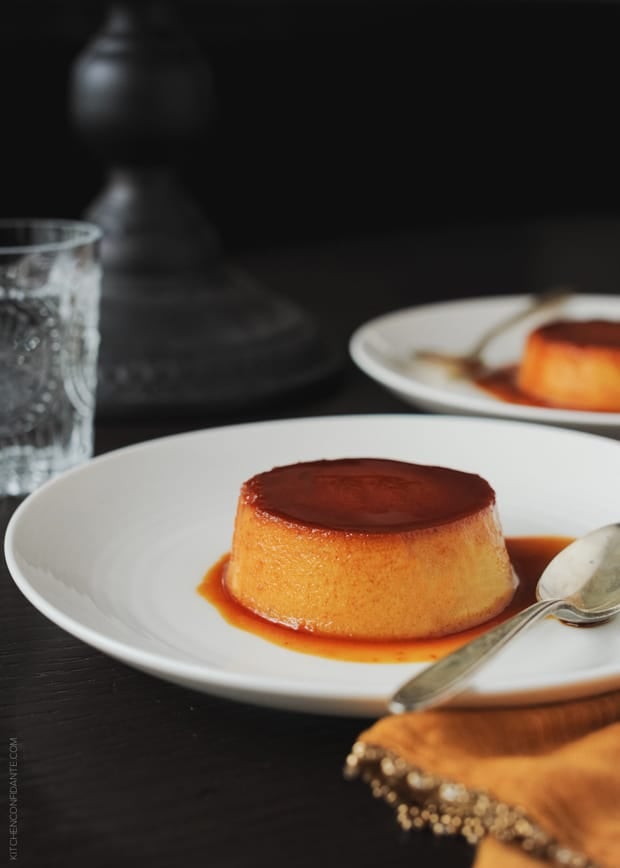 Pumpkin Leche Flan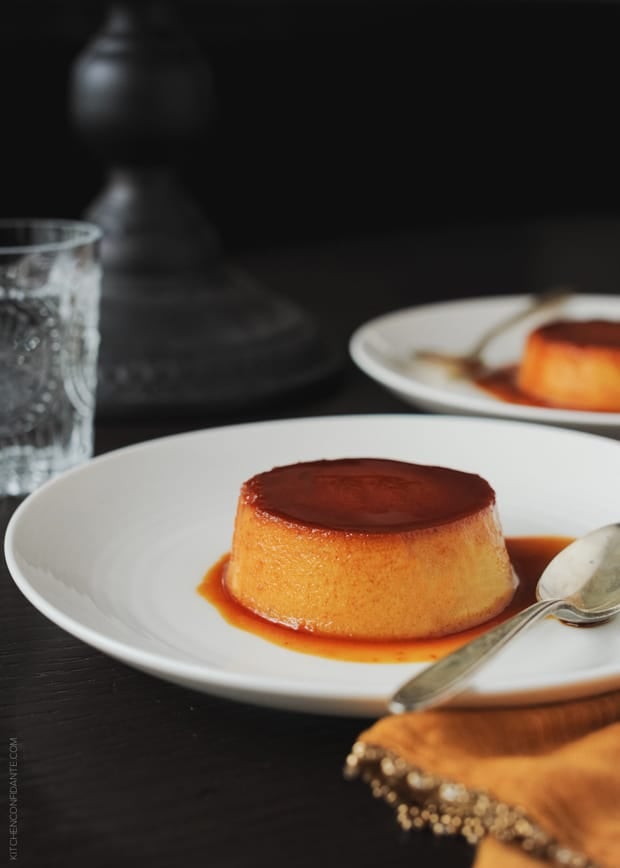 When my sister is in town, I find that my appetite for nostalgic flavors runs stronger than usual. The sweet, sentimental flavors of traditional Filipino desserts that my mother and her sisters would serve at our family holiday gatherings start to surface from the depths of my memories, and knowing that my sister appreciates a spoonful of memories just as much as I do makes me want to spend all day in the kitchen, tackling dish after dish, or at least as many as I can fit in.


This Thanksgiving, we will have our traditional fare; for my husband and I, that means a brined and bronzed turkey, oyster stuffing, giblet gravy, cranberry sauce and mashed potatoes. Those are the cornerstones of our Thanksgiving table. There may be other side dishes that come to the table, but not without those main dishes. The only other essential is pumpkin pie. I think we all agree that the pumpkin pie is just as important as the turkey.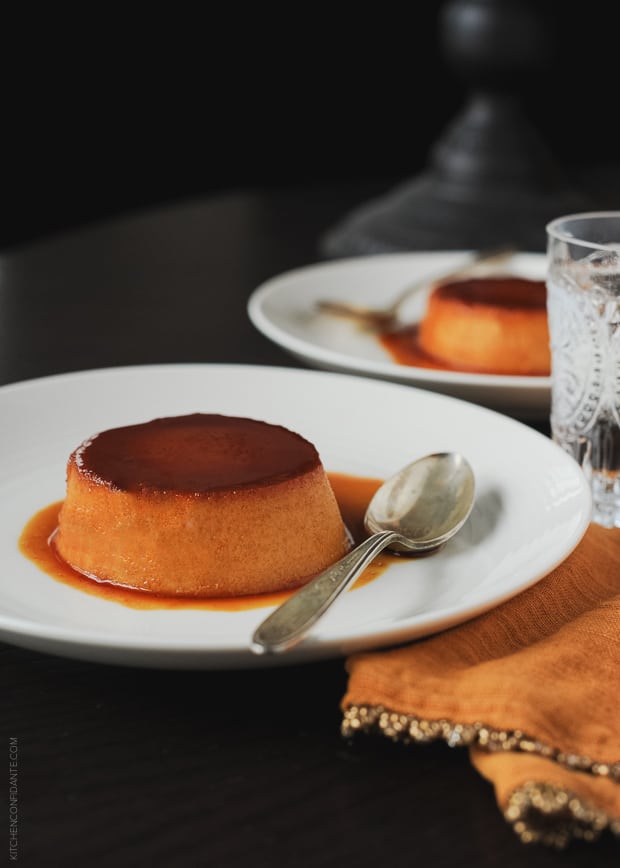 Pumpkin pie is crucial, but while my family is in town, this year, there will also be Pumpkin Leche Flan.
This twist on the traditional Filipino creme caramel is decadent and reminiscent of the compulsory pumpkin pie, but with the creamy texture of a sinful flan. This custard drips with caramel, and each spoonful reminds you that you are celebrating. It may even convince you to nix the pie. Maybe.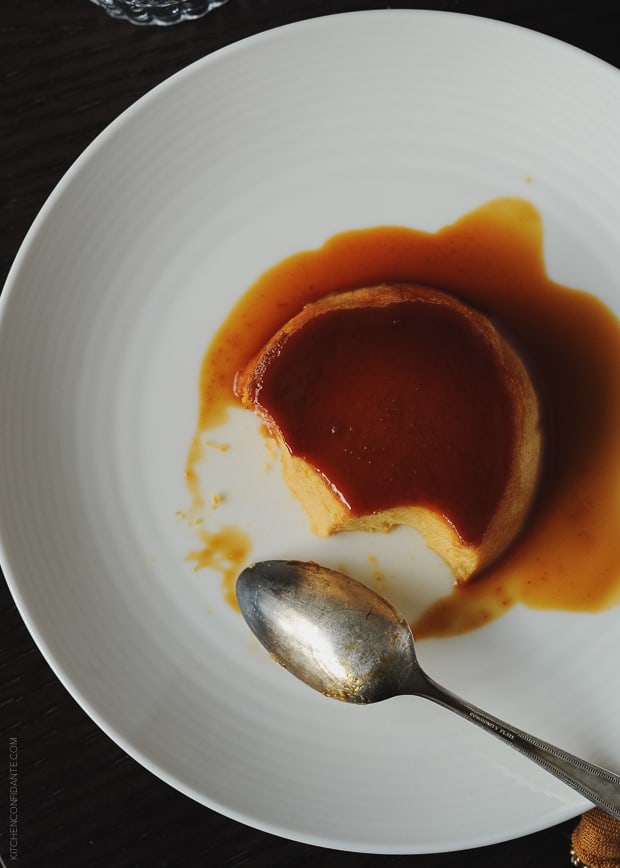 Decadent and creamy, leche flan is what I consider a once-a-year kind of dessert, so this pumpkin flan is just right for Thanksgiving. It can be made up to two days in advance, making it perfect for busy celebrations.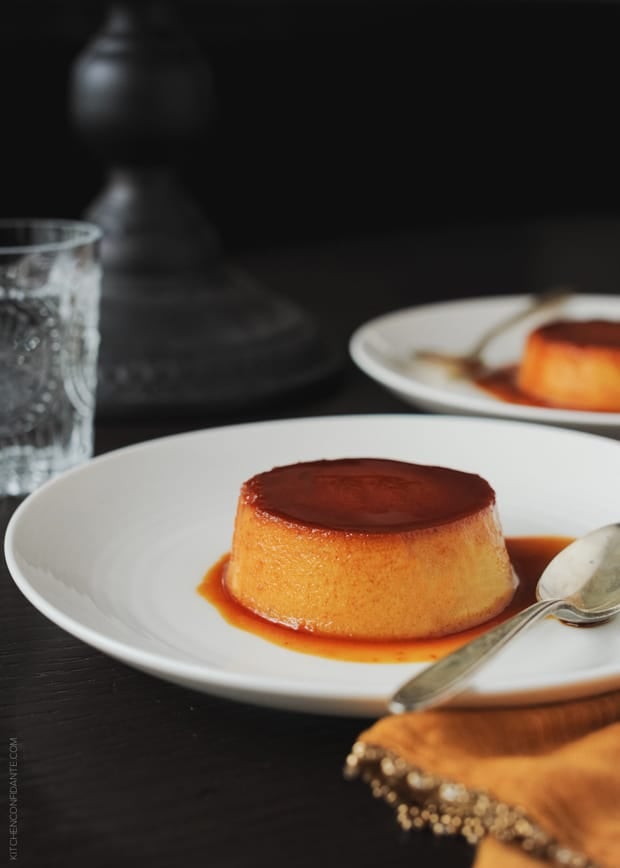 Print Recipe
Ingredients
Caramel:
1 cup sugar
Custard:
8 egg yolks
2 egg whites
1 can condensed milk
1 cup evaporated milk (or heavy cream)
1 cup pumpkin
3 tablespoons sugar
1/2 teaspoon grated lime rind
1/2 teaspoon cinnamon
1/4 teaspoon ginger
1/4 teaspoon nutmeg
1/4 teaspoon vanilla
Instructions
Preheat the oven to 350° F.
Have ready six ramekins and a deep sided baking pan with handles, and a kettle with boiling water.
For the caramel:
Pour sugar into a clean, heavy duty, small sauce pan. Heat over medium-high heat until sugar begins to melt. Do not stir -- rather, gently swirl the pan to help the sugar dissolve and continue melting. Lower heat slightly and continue to let the sugar simmer until it is all melted and amber in color. Pour into mold(s), tilting so all sides get coated.
For the custard:
Beat egg yolks and egg whites at high speed for about 1 minute. Add condensed milk, evaporated milk, pumpkin, sugar, lime rind, cinnamon, ginger, nutmeg, and vanilla. Beat for another 2 minutes. Strain, using a cheesecloth if necessary, and pour into mold(s). Lightly cover with foil.
Place mold in a large baking pan. Add hot water to come up to half way up the mold. Bake for about 1 hour, or until the flan is set in the center.
Alternative method: In a large pot, boil about 1 inch of water. Place mold in pot. Simmer for 40 minutes or until firm.
Let flans cool, then place in refrigerator. When completely chilled, remove leche flan from mold.
Release from mold:
Run a sharp knife along the perimeter of the mold. Dip mold in a bowl of hot water to help loosen. Place a serving platter over the mold and flip. Remove mold.