Simple Sundays | Cranberry Walnut Kale Salad with Fresh Cranberry Vinaigrette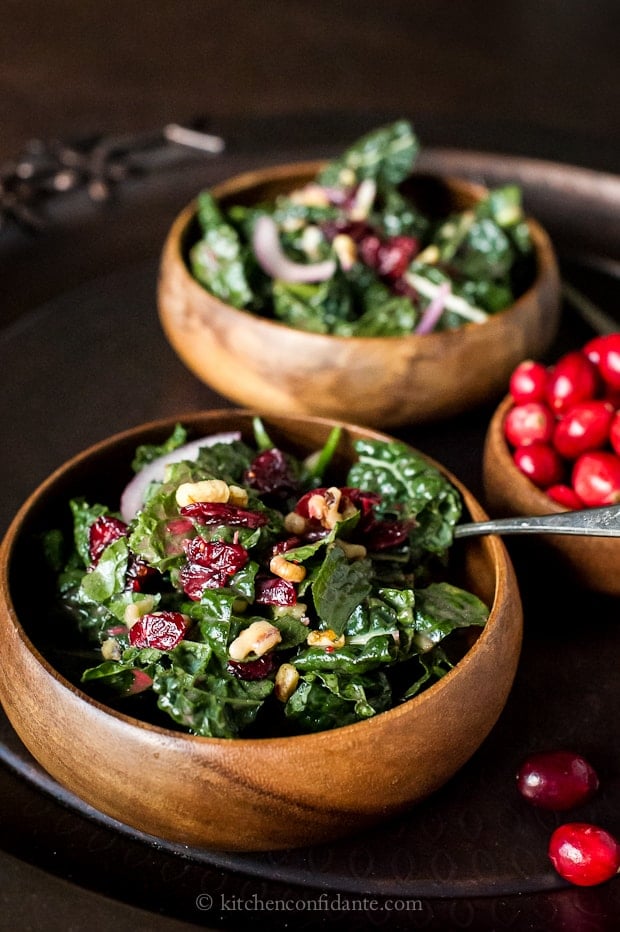 Simple Sundays | Cranberry Walnut Kale Salad with Fresh Cranberry Vinaigrette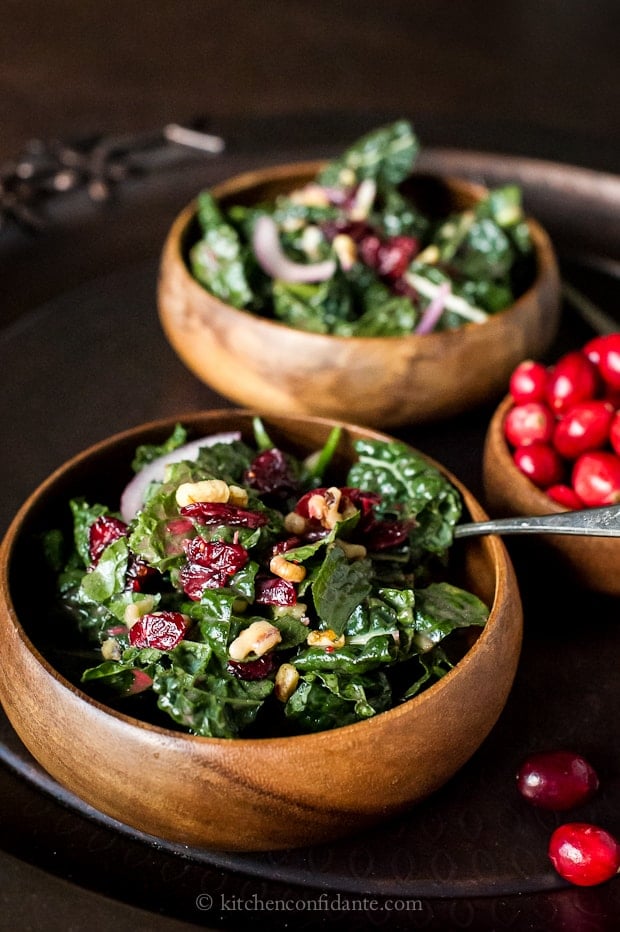 24 hours ago, my plane was making its approach to the coast of Northern California, and a peek outside its windows revealed a freshly washed San Francisco. Heavy rains had rinsed it clean and its slick roads sparkled as we descended. After nearly a week of warm winds, mild tropical mists and ocean views, it was time to return to reality.
I went to the market to restock our bare cupboards. And to prepare for the big Thanksgiving week ahead. My family will be arriving, starting with my brother on Monday night, and it's time to set those menu plans in action. One of the first I can cross of my list: Fresh Cranberry Vinaigrette.
I want to serve a salad dressed with dried cranberries, hearty walnuts and sweet red onions. Drizzled on top, the vibrant cranberry dressing, tangy and sweet, with enough bite to complement heart-healthy kale.
Yes, kale. I know, sometimes it can be bitter, eaten raw. But while I was away, I had the most lovely kale, tender and young, and so pleasant raw. If you can find excellent kale, you will love this Cranberry Walnut Kale Salad at your holiday table. And perhaps the best part — you can make it in advance, leaving you more time for other dishes, and of course, your guests.
Cranberry Walnut Kale Salad with Cranberry Vinaigrette
Many people, myself included, sometimes shy away from kale if you have experienced a bitter bite of its leaves. But if you find young, tender kale, it can be mild and pleasant and not too tough on the bite. However, if you really are anti kale, do try this salad with the greens of your choice. Just dress it right before serving.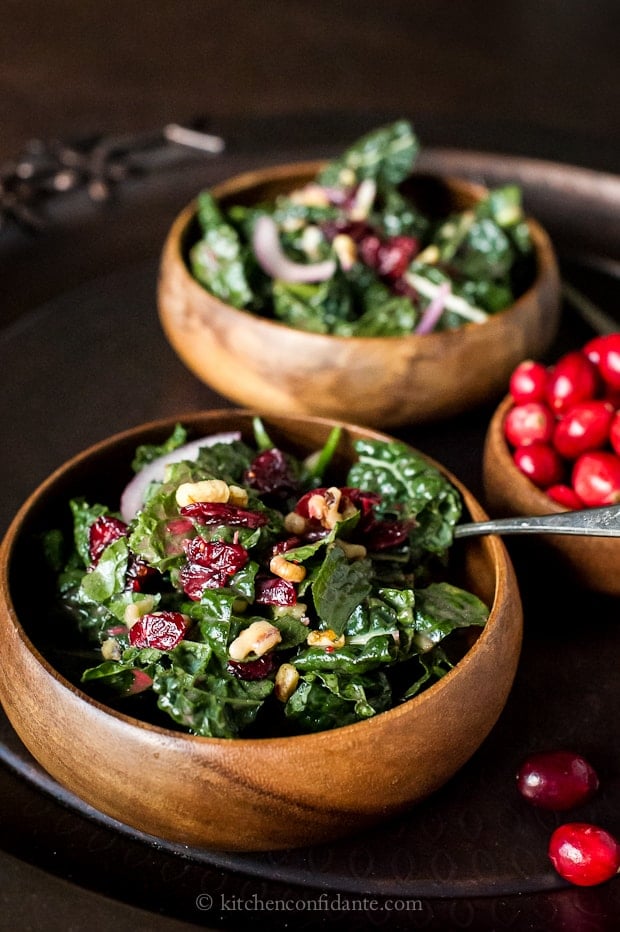 Print Recipe
Ingredients
4 oz fresh cranberries
1/3 cup water
2 tablespoons sugar
2 tablespoons sherry vinegar or red wine vinegar
1 teaspoon Dijon mustard
1/2 teaspoon lemon juice
1/2 teaspoon salt
1/8 teaspoon freshly ground black pepper
1/4-1/2 cup olive oil
8 oz fresh kale (preferably Tuscan, and young leaves)
1 cup dried cranberries
1 cup walnuts
1/4 cup thinly sliced red onion
additional salt & pepper to taste
Instructions
In a small sauce pan, place fresh cranberries, water and sugar over medium heat. Let it come to a boil and once the first cranberry pops, simmer for about 5 minutes until all the cranberries pop open. Place in a blender and puree till smooth. Add the vinegar, mustard, lemon juice, salt and pepper and blend. Add the olive oil and blend again. Adjust seasoning if necessary.
Trim kale by removing stems/stalks and tearing the leaves into bit sized pieces. Toss in a bowl with dried cranberries, walnuts, red onion and just enough dressing to lightly coat the kale. Reserve remaining dressing until ready to serve. Cover and refrigerate the salad for at least half an hour, or overnight.
Serve with a light drizzle of additional dressing if desired.