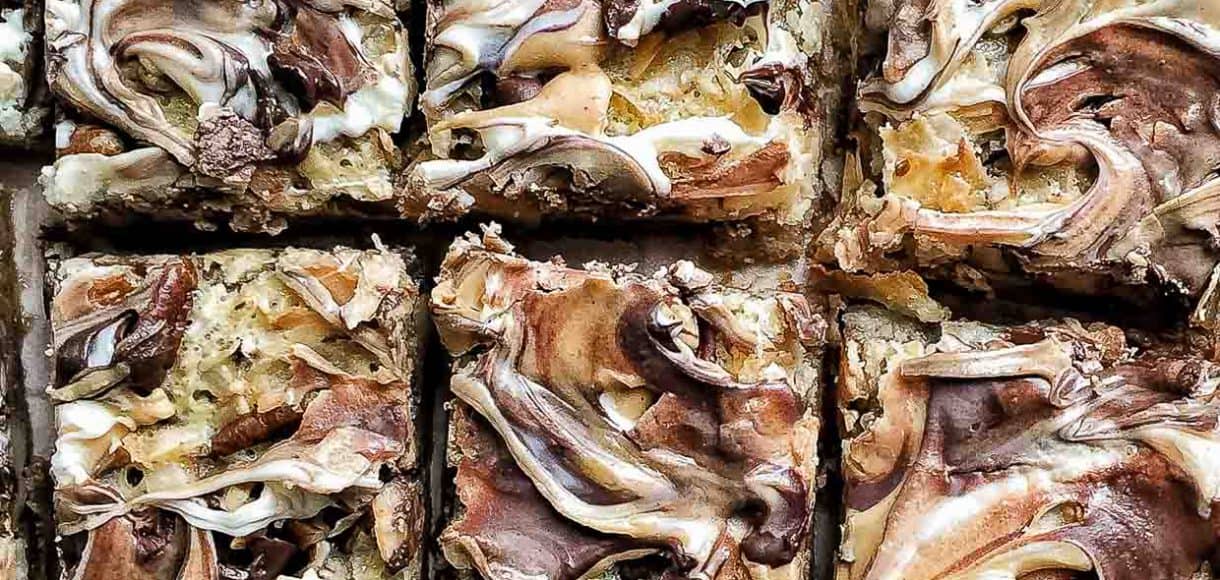 7 Layer Bars
There's a reason why 7 Layer Bars are also called Magic Bars. Give this recipe a try and you'll discover that they're the simplest treat you can make (and they'll disappear in seconds)!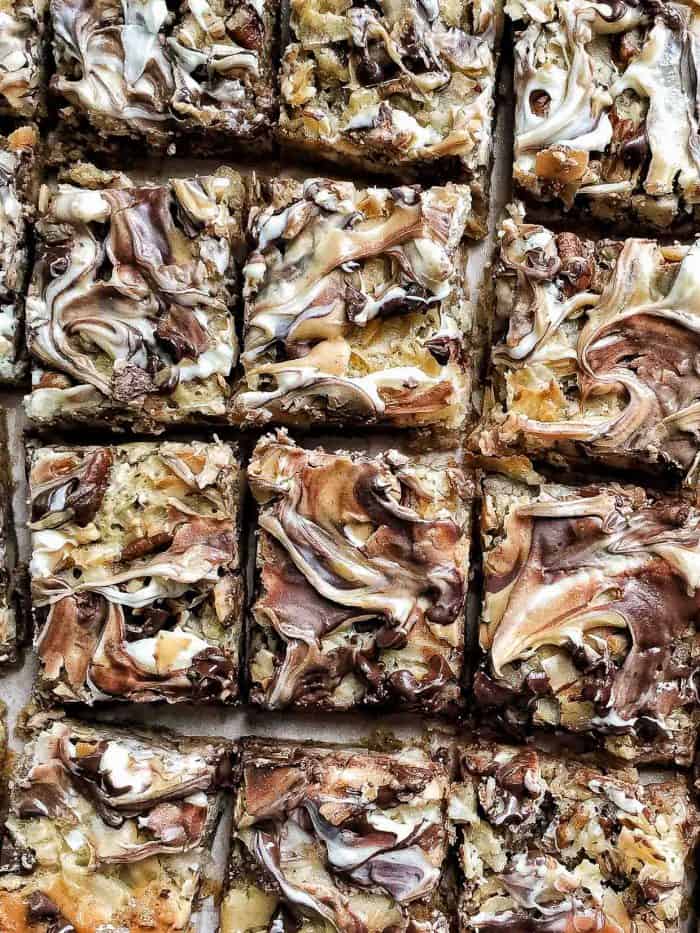 7 Layer Bars
There's a reason why 7 Layer Bars are also called Magic Bars. They're the simplest treat you can make, and they'll disappear in seconds!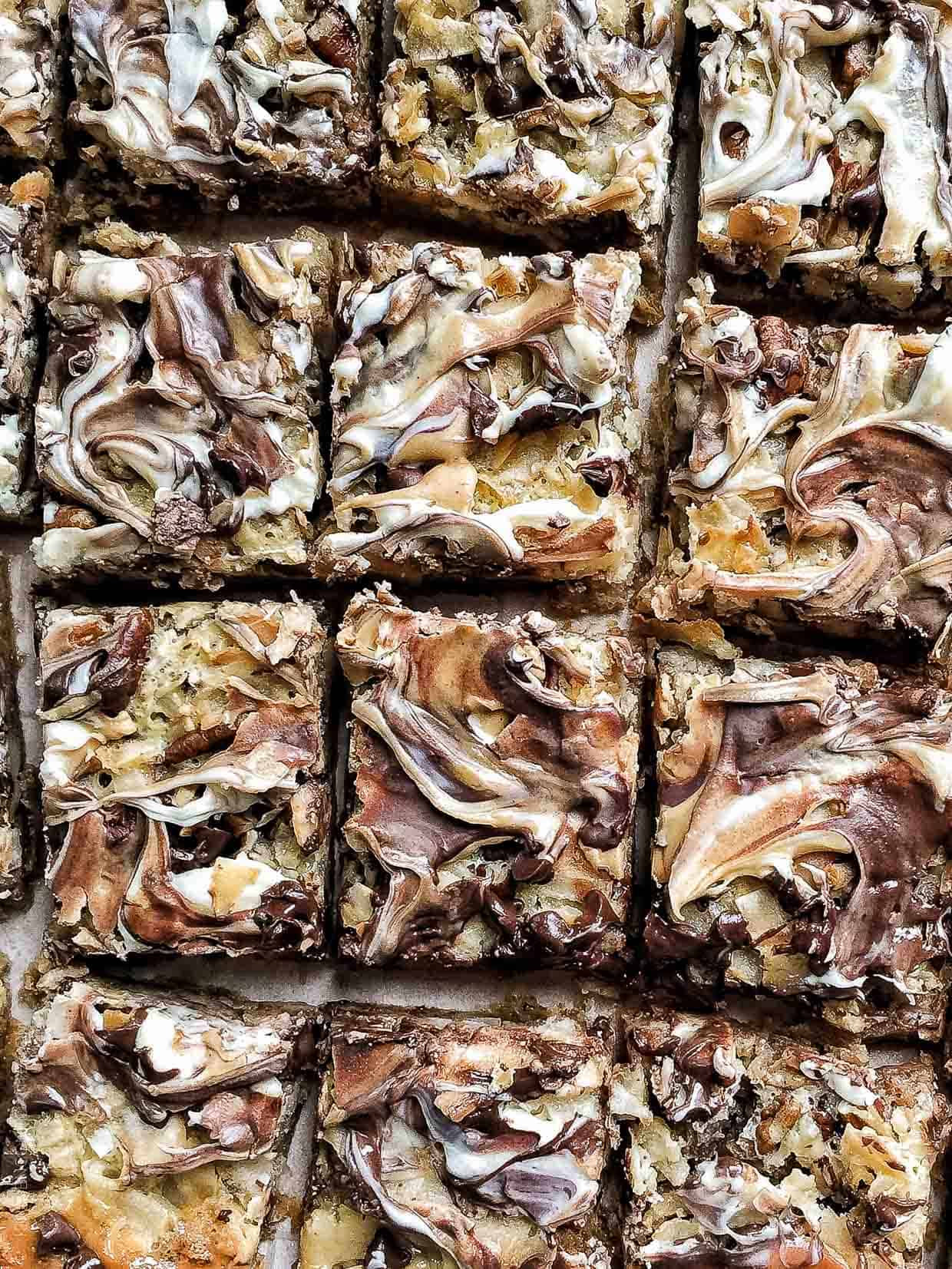 I suspect there was a lot of baking going on this weekend. Everywhere I turned, I saw images of white blankets of snow, hiding homes and burying cars, and leaving the streets empty to frolic for those who dared. I imagined all of you inside in your cozy kitchens, comfort food bubbling on the stove, and perhaps something sweet in the oven.
Am I right?
Out west, we may not have had snowmageddon, but rainmageddon has continued to pour, and with the fireplace on and umbrellas stowed, we have been keeping cozy in the kitchen, too. My oven – my whole kitchen, in fact – has been blasting at full speed, since I have been cooking like a madwoman for many days, preparing for a Big Game pre-party that I hosted yesterday (I'll be sharing that with you next!). Kitchen prep checklists have been invading my dreams, and my husband was even sensitive to my timeline as we counted down to our party. "Are you on schedule?" he would ask every couple of hours.
Part of my party prep involved something sweet, of course, so I turned to an old favorite, a recipe that has been sitting in my binder, idle, for at least 10 years. 7 Layer Bars is an oldie-but-goodie, and just in case you haven't made these treats, you'll soon understand why they also have the appropriately named moniker "Magic Bars."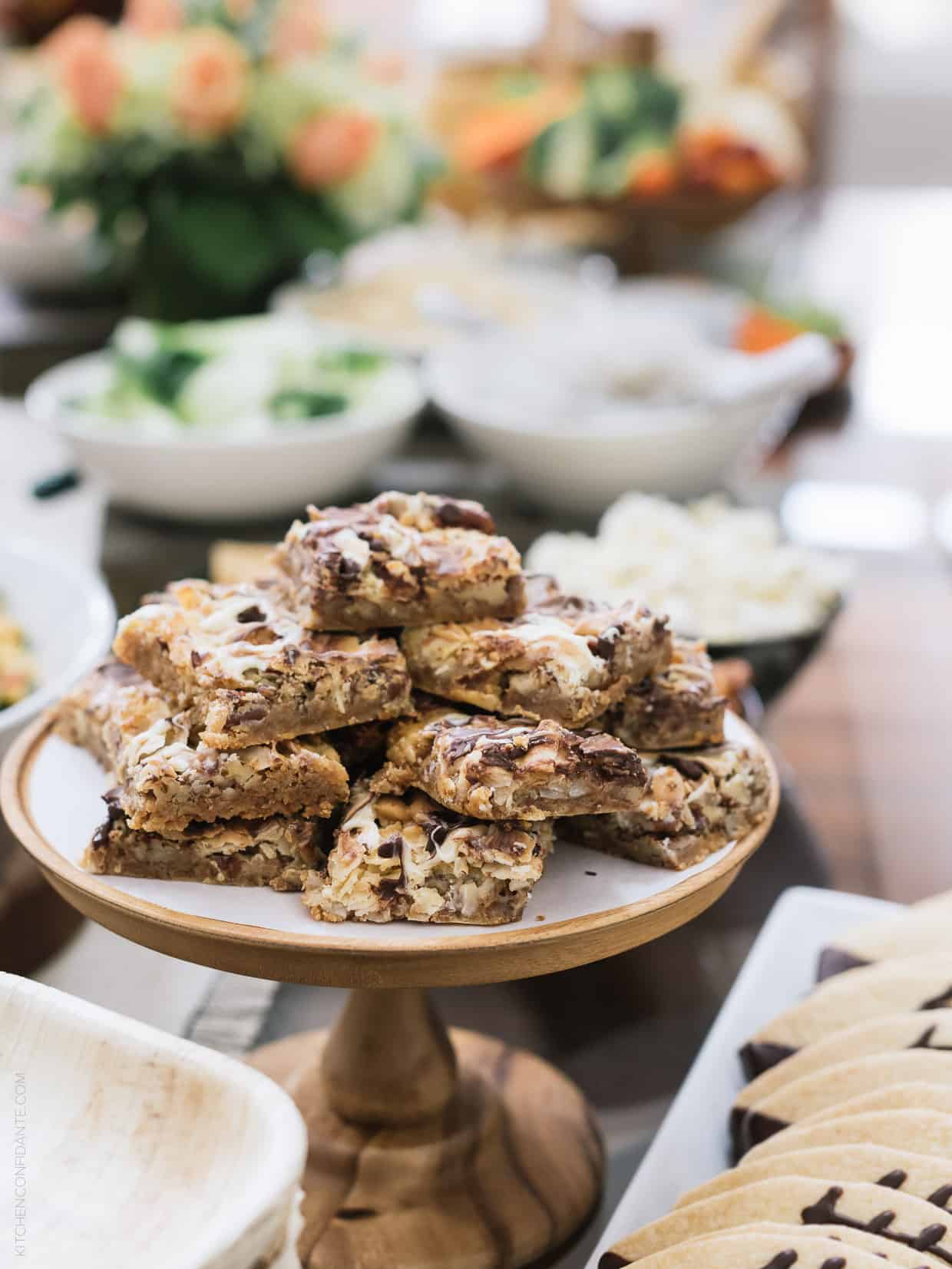 Seven layers. One small bowl. You don't even need a mixer.It doesn't get any simpler — chances are you have everything in your pantry! So whether you're still shoveling out of your igloo or looking for a game day treat that will win even if your team doesn't, turn to these sweet treats. They work every time.
More delicious treats to bake:
Alfajores
Dorie Greenspan's World Peace Cookies
Chocolate Butterscotch Cookie Brittle
Red Velvet Pizzelle
Cream Cheese Chocolate Chip Cookies
7 Layer Bars
Also known as Magic Bars, 7 Layer Bars are simple, sweet, and always a winner. I first made these bars thanks to my friend Robin from graduate school, and I tweak it based on whatever is in my pantry. Change up the nuts, use butterscotch chips, of whatever you wish!
Ingredients
1 1/2

cups

graham cracker crumbs

from about 1 package of graham crackers, plus a couple more

1/2

cup

(1 stick) unsalted butter

melted

1 14

oz

can sweetened condensed milk

1

cup

flaked coconut

1

cup

chopped nuts

I used pecans but walnuts work, too

1/4

cup

semi sweet chocolate chips

1/4

cup

white chocolate chips

1/4

cup

peanut butter chips
Instructions
Preheat the oven to 350°F with a rack in the center of the oven. If you wish, line a 9×13 inch pan with parchment paper.

In a small bowl, mix the graham crackers with the melted butter. Pat it into the prepared pan, covering the bottom in an even layer. Bake for 10 minutes.

Remove the pan from the oven, and spread the condensed milk over the graham cracker crust. Sprinkle evenly with coconut and walnut, then return to the oven to bake for another 20 minutes.

Remove the pan from the oven and sprinkle with your assorted chocolate chips and peanut butter chips. Wait about two minutes, or until the chips are gooey, then spread and swirl with a small spatula. Let the bars cool completely and come to room temperature to set and firm before slicing.
Nutrition
Calories:
198
kcal
|
Carbohydrates:
18
g
|
Protein:
3
g
|
Fat:
13
g
|
Saturated Fat:
7
g
|
Cholesterol:
17
mg
|
Sodium:
64
mg
|
Potassium:
131
mg
|
Fiber:
1
g
|
Sugar:
13
g
|
Vitamin A:
165
IU
|
Vitamin C:
0.6
mg
|
Calcium:
66
mg
|
Iron:
0.7
mg