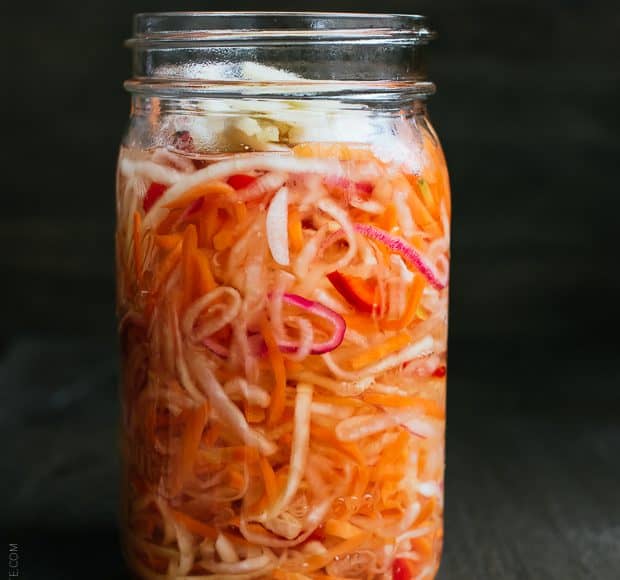 Achara: Filipino Green Papaya Relish
It's no secret that I have a sweet tooth, but the truth is, as much as I will never say no to a fudgey brownie barely out of the oven or a decadent ice cream cake, the same can be said for my sour tooth.…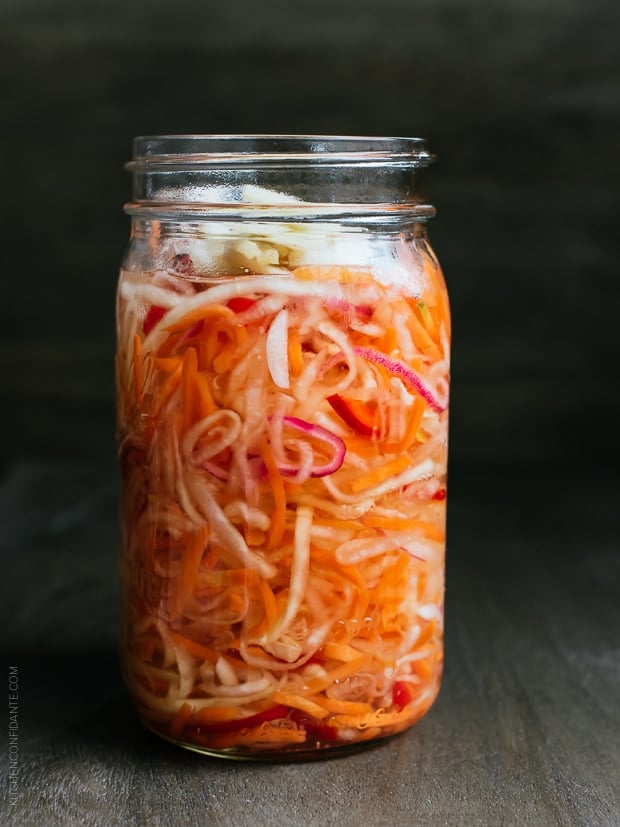 Achara: Filipino Green Papaya Relish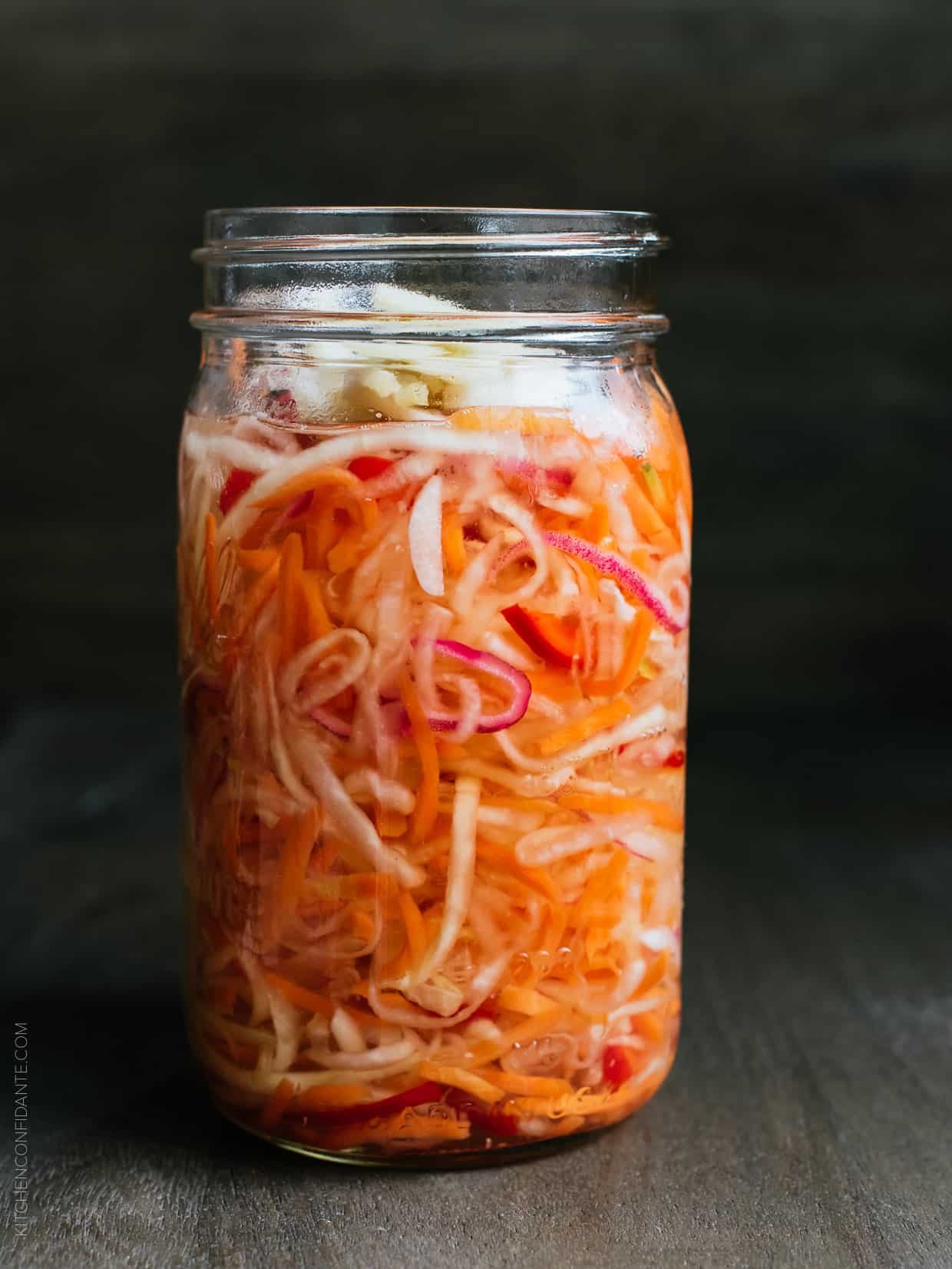 It's no secret that I have a sweet tooth, but the truth is, as much as I will never say no to a fudgey brownie barely out of the oven or a decadent ice cream cake, the same can be said for my sour tooth. When it comes to candy, I was the kid who sucked on Warheads like they were peppermints, and Sour Patch Kids was child's play. We have currently in our refrigerator at least 7 jars of pickles and relishes, and you should have seen my eyes bulge when my husband brought home a jar of pickled okra the other day.
So, I have a question for you.
Have you ever tried green papaya? If not, may I introduce you to Achara: Filipino Green Papaya Relish. You'll want to put it on just about everything.
Achara is the condiment that I always found on the table when we used to travel back to the Philippines to visit my father's side of the family. It was like the ketchup or mustard, and it went with just about anything. Grilled fish, barbecued pork, grilled chicken – achara has that sweet and sour flavor that I just love. Try it with a burger or a hot dog, and you'll soon find that you'll want to put it on just about everything, too!
Achara: Filipino Green Papaya Relish
Achara - also known as atchara or atsara - is a traditional condiment of pickled green papaya, carrots and peppers in Filipino cuisine. Crunchy green papaya, combined with the sweet-sour tang of the gingered pickle juice, makes for an incredibly refreshing accent to so many dishes. Achara is often served with barbecued meats, or with fish. I find it works so well as a relish on sandwiches, burgers and hot dogs, too.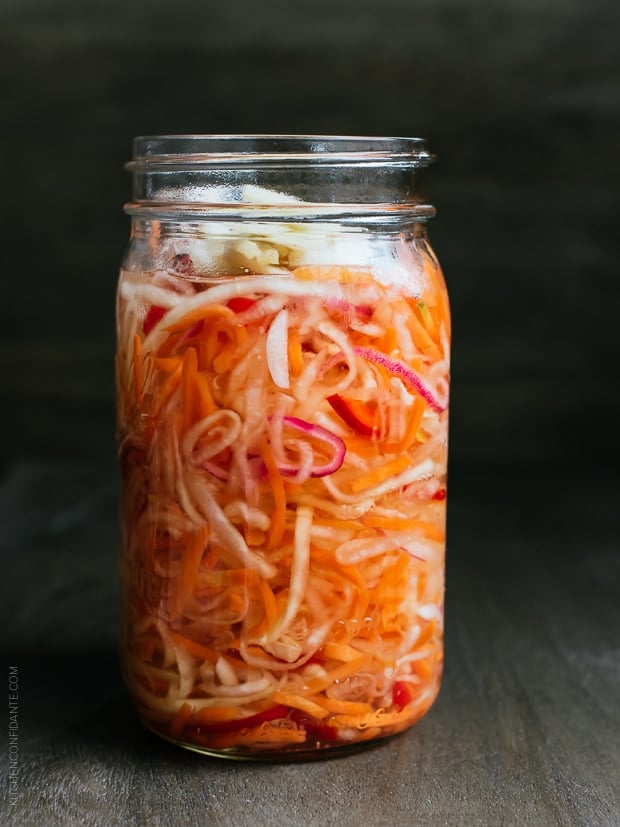 Print Recipe
Ingredients
3 cups rice vinegar
1 1/8 cups sugar
2 3/4 tablespoons salt
3 garlic cloves, thinly sliced
1-inch piece of fresh ginger, peeled & julienned
freshly ground black pepper, to taste
1 green papaya (firm), seeds removed, grated (I like to use a melon scraper I used in this post)
2 carrots, peeled and grated
1 jicama or daikon radish, grated or julienned
1 red pepper, julienned
1/2 red onion, thinly sliced
1 fresno chili, thinly sliced (optional, for heat)
Instructions
In a non reactive saucepan, combine vinegar, sugar, 3/4 tablespoon salt, garlic and ginger over high heat, and bring to a boil, stirring to dissolve the sugar and the salt. Reduce heat to medium low and allow to simmer for about 15 minutes. Add the pepper. Cool, cover and refrigerate overnight.
Toss the vegetables with the remaining 2 tablespoons of salt. Cover and refrigerate overnight.
Place papaya mixture in a cheesecloth-lined colander and rinse well under water. Bring up ends of cheesecloth and squeeze excess liquid. Place papaya mixture into a bowl and pour just enough pickling mixture to cover. Keep in an airtight container in the refrigerator for up to six months.