Applesauce Chia Muffins
Applesauce Chia Muffins – a better way to start your day! Packed with protein from Greek yogurt and chia seeds, and deliciously apple spiced. I still remember the first time my daughter tried solid food. Rice cereal. The timing coincided with my husband's family's visit,…
Applesauce Chia Muffins
Applesauce Chia Muffins – a better way to start your day! Packed with protein from Greek yogurt and chia seeds, and deliciously apple spiced.
I still remember the first time my daughter tried solid food. Rice cereal. The timing coincided with my husband's family's visit, and we had just returned from a road trip to Yosemite. My father-in-law held my daughter as I spooned little bits of rice cereal into her teeny mouth, her little tongue pushing most of it out. But with each offering, she caught a taste, and even a little swallow, and we couldn't give her the food fast enough. My father-in-law was tickled pink and chuckled with delight, and we captured this moment on tape. We rewatched her baby video not too long ago, and to hear his voice and laugh was so comforting — I'm so glad he was there for that first in her life!
From that moment on, there were more foods to explore. Mashed avocado was next, which she loved. And applesauce. But it's so interesting how their taste can change over time. Avocados and applesauce, which she once devoured with gusto are now not in favor. My son, on the other hand, still adores mashed avocado, especially in avocado milk. But for both of them, applesauce gets the thumbs down, so when I have some in the house, it's strictly for baking.
They do agree on some things, after all!
There's one more thing the kids agree on: muffins. And I have to admit, I'm with them on this one. Come weekend time, if I'm not making buttermilk pancakes, chances are I'm making some muffins.
These Applesauce Chia Muffins, however, are what I call a weekday muffin. Why? Well, weekend muffins tend to be a little indulgent, a little heavier, and even a little sweeter. But on weekdays, my kids can't tolerate anything too sweet in the morning – their stomachs will actually protest, not a good thing when you're headed for school.
So I made these muffins with Mondays in mind. They are packed with protein from greek yogurt and chia seeds, and the apple sauce lends its natural sweetness — I purposely cut down on the sugar but of course, you can change it to suit your tastes, if you wish!
As for the applesauce, well, yes, I did hear some moans and groans when they discovered it was in the muffins. "But I hate applesauce!" they whined. Until they took a bite. And then another. And asked for more.
Disclosure: This post may include affiliate links.
Applesauce Chia Muffins – a better way to start your day! Packed with protein from Greek yogurt and chia seeds, and deliciously apple spiced. These muffins are not too sweet, but can be adapted to your sweet tooth as necessary.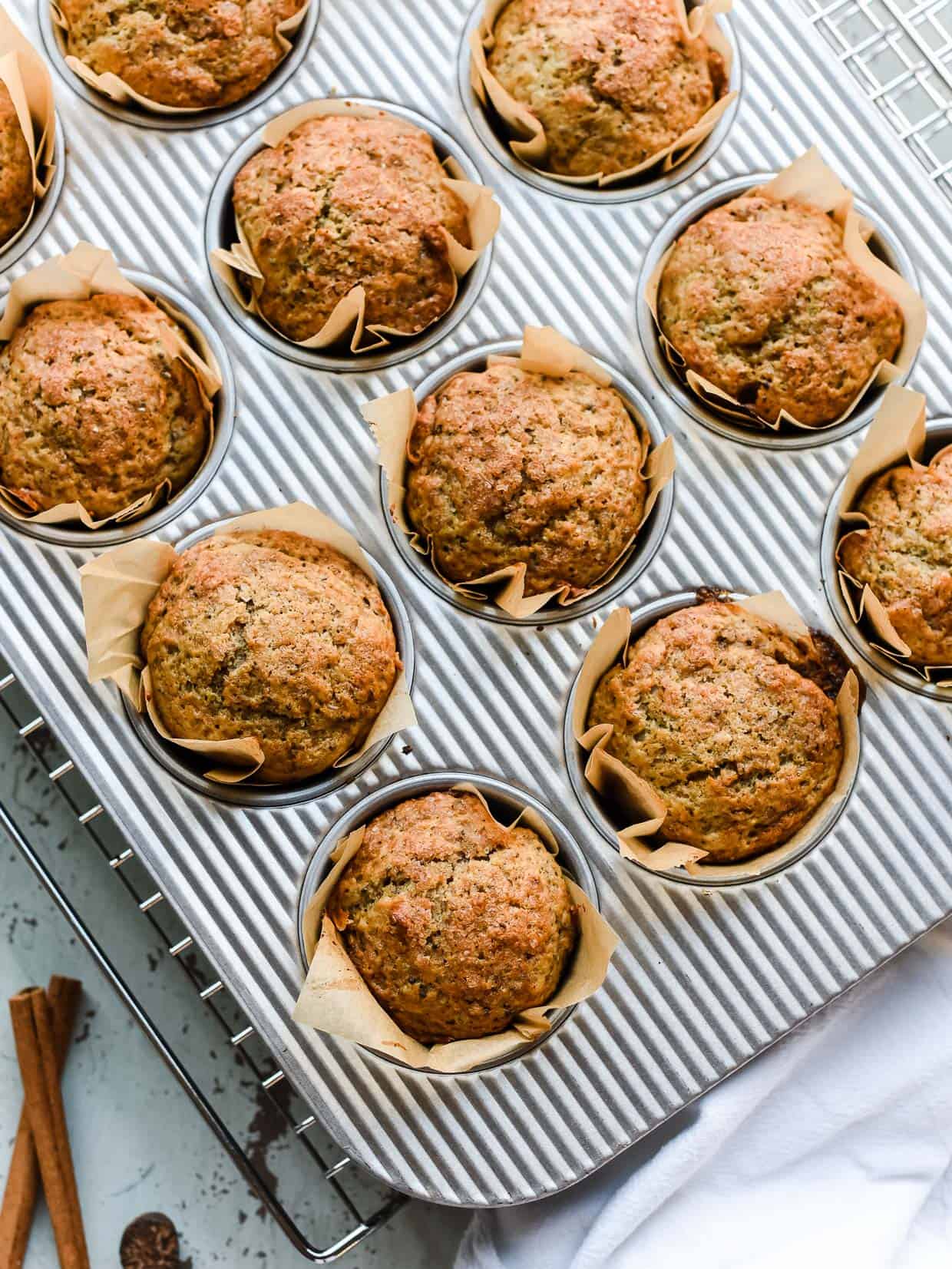 Print Recipe
Ingredients
1 1/2 cups all-purpose flour
1 1/2 teaspoons baking powder
1 teaspoon cinnamon
1/2 teaspoon baking soda
1/4 teaspoon kosher salt
1/4 teaspoon nutmeg
pinch of ground cloves
2 large eggs
1/2 cup brown sugar, to taste (see notes)
1/2 cup melted coconut oil, olive oil or unsalted butter
1 cup applesauce (see notes)
1 teaspoon vanilla
1/2 cup Greek yogurt
2 tablespoons chia seeds
2 tablespoons demerara sugar
1 teaspoon ground cinnamon
Instructions
Preheat the oven to 400°F. Line a muffin pan with liners, parchment paper, or lightly grease with coconut oil, olive oil or flour.
In a large bowl, whisk together the flour, baking powder, cinnamon, baking soda, salt, nutmeg and cloves.
In another small bowl, whisk together the eggs, brown sugar, melted coconut oil, applesauce, and vanilla until smooth. Mix in the Greek yogurt and chia seeds until blended. Stir in the egg mixture into the flour mixture and whisk until just combined. Do not overmix the batter, you want it to be lumpy.
Distribute the batter into the prepared muffin pan and sprinkle with the demerara sugar and cinnamon. Place in the oven and bake for about 18-20 minutes, or until a toothpick inserted into the center comes out clean. Remove from oven and place the muffins on a wire rack to cool before enjoying.
Notes
I used sweetened applesauce in this recipe and used less brown sugar than I normally would use in a muffin, but found the muffins sweet enough for our liking. If you use unsweetened applesauce, be sure to adjust your sugar accordingly. And if you prefer a sweeter muffin overall, then you may want to add an extra 1/4 cup of brown sugar to what I list here.