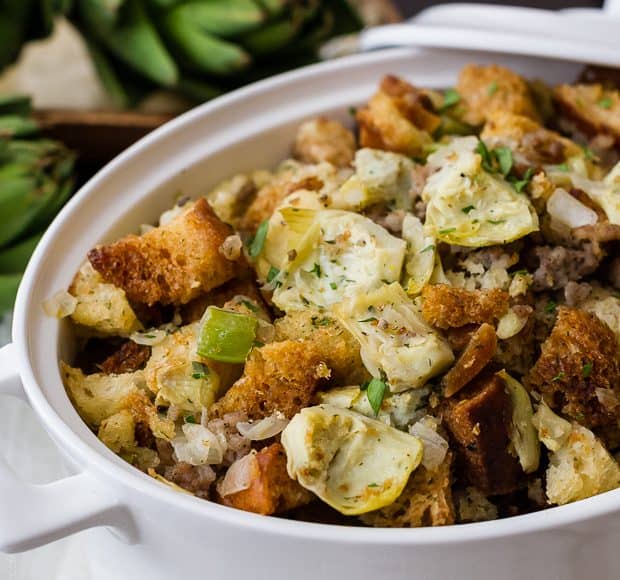 Artichoke Sourdough Stuffing with Jones Sausage
When all the dishes come to the table at Thanksgiving, the turkey may take center stage – in its roasted glory, it's hard not to put the spotlight on the bird, with its supporting cast gathered around it. But to tell you the truth, of…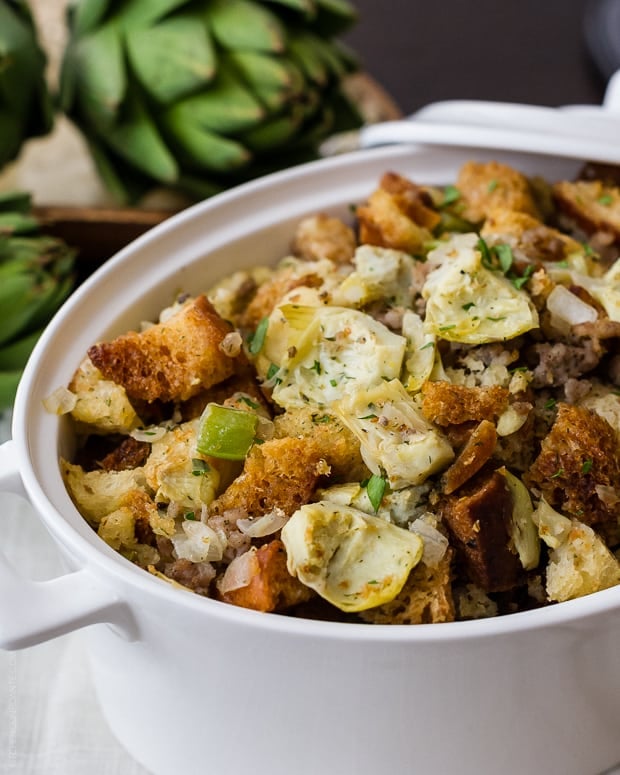 Artichoke Sourdough Stuffing with Jones Sausage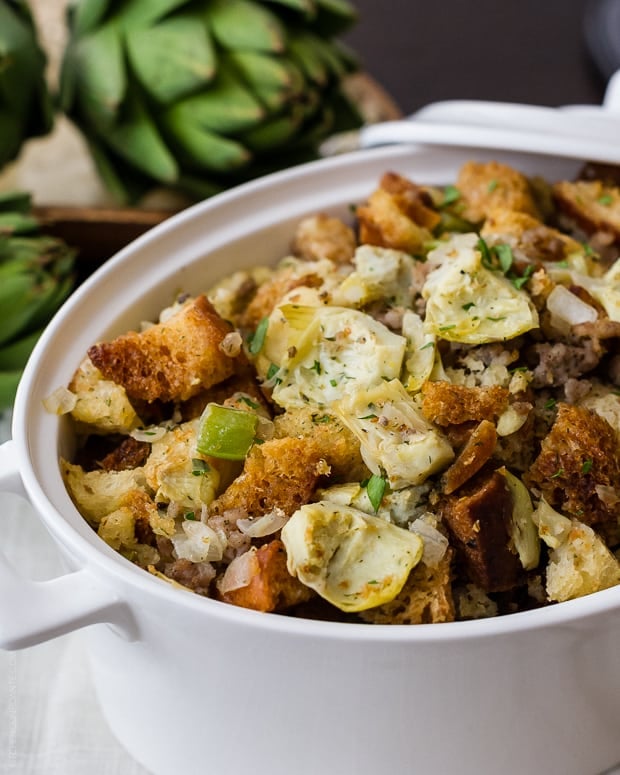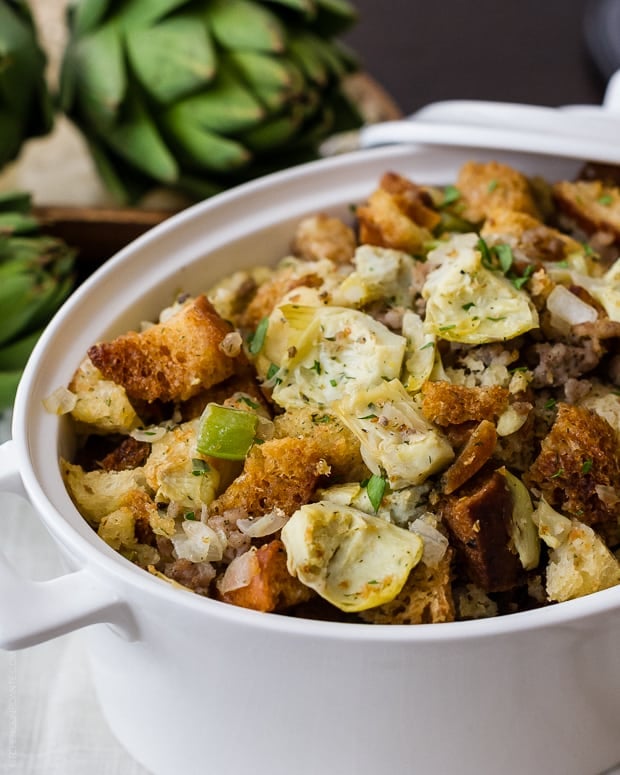 When all the dishes come to the table at Thanksgiving, the turkey may take center stage – in its roasted glory, it's hard not to put the spotlight on the bird, with its supporting cast gathered around it. But to tell you the truth, of all the dishes that are passed around the table, it's not the turkey that I look forward to the most. It's not the mashed potatoes, it's not the cranberry compote, and it's not even the gravy (as essential as gravy may be). It's the stuffing.
Thanksgiving would not be Thanksgiving without the stuffing, for me. I could substitute a chicken and be perfectly content, as long as there was stuffing on my plate. It's that doughy mash of goodness that I love, smothered in gravy. Which makes me wonder, why don't I make stuffing more often? If I love it so much, why do I only make stuffing once a year?
Perhaps it's time to change that.
What's in your favorite stuffing? I wanted to share this Sausage and Artichoke Sourdough Stuffing that I made with Jones Dairy Farm sausage. Combined with tender artichokes and parmesan garlic toasted sourdough, it is savory and full of the flavors I love.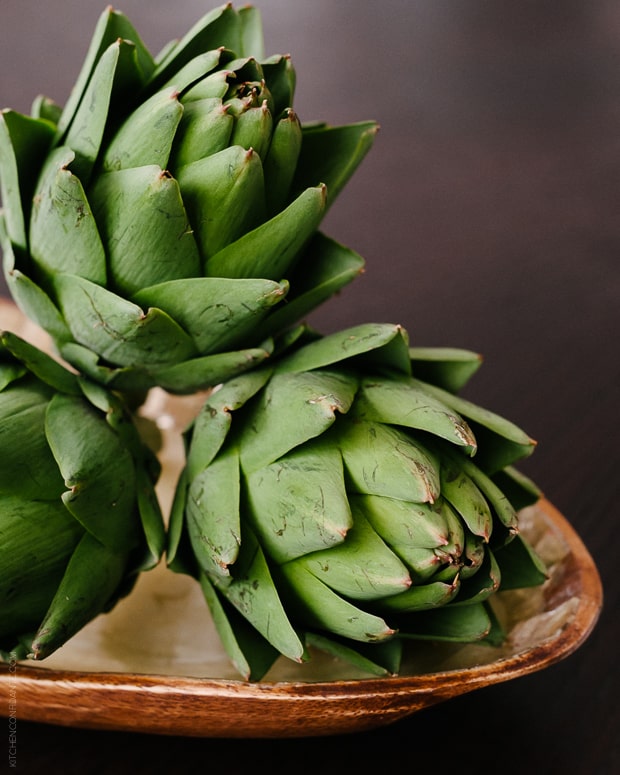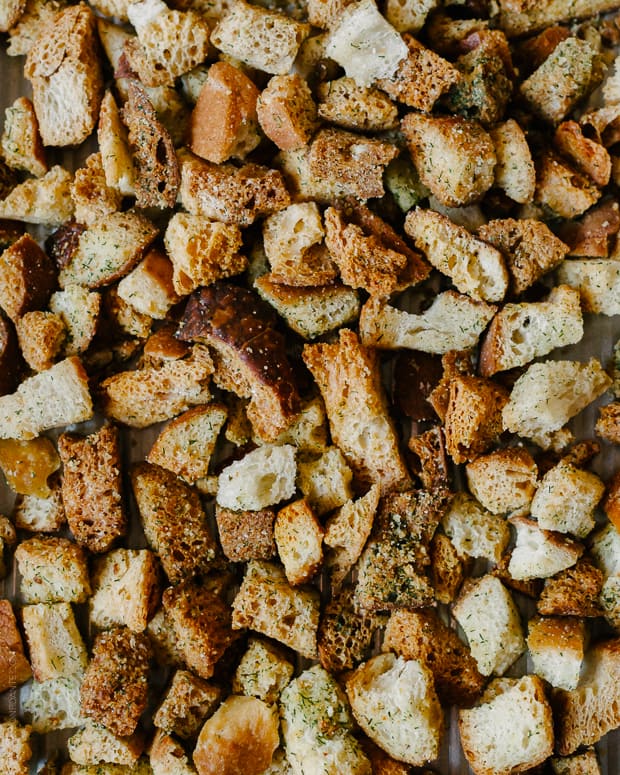 You know how much I love artichokes and sourdough – to me they are pretty iconic Northern California foods that I have grown to adore. But let's chat a bit about Jones Dairy Farm and their natural sausage. I am always drawn to companies that are rich in personal history, and Jones Dairy Farm is no different. Started in 1889 by Milo Jones, his story is like many others – paving a new way for a family business by embracing the old. Milo Jones hailed from a family of dairy farmers, but challenged by rheumatoid arthritis, he was no longer able to work the farm. He turned to his mother's recipe for homemade sausage and found a way to share it with others. Decades after they began producing sausages as a family business, they were the first to quick-freeze their sausages, and not much has changed since. The recipe is the same, with no artificial preservatives, 125 years later. It's still very much a family business. And you know how important that is to me.
So this year, I like to think that the Jones family will be at our Thanksgiving table, along with all the local artisans and farmers that we have grown attached to over the years. They are as much a part of our Thanksgiving meal as my family gathered at the table. I'll be thinking of them as I raise my glass and give thanks.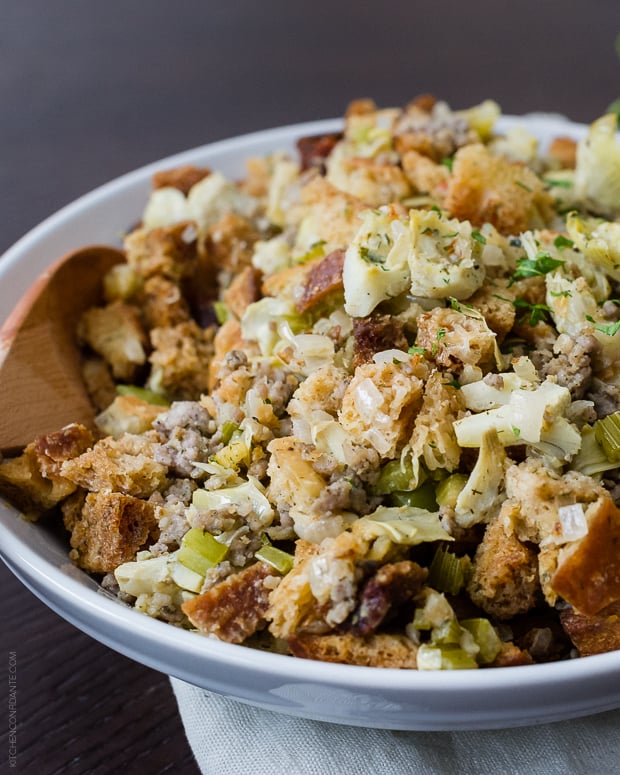 Join me and get the recipe for Artichoke Sourdough Stuffing with Jones Sausage on Stuffing And More!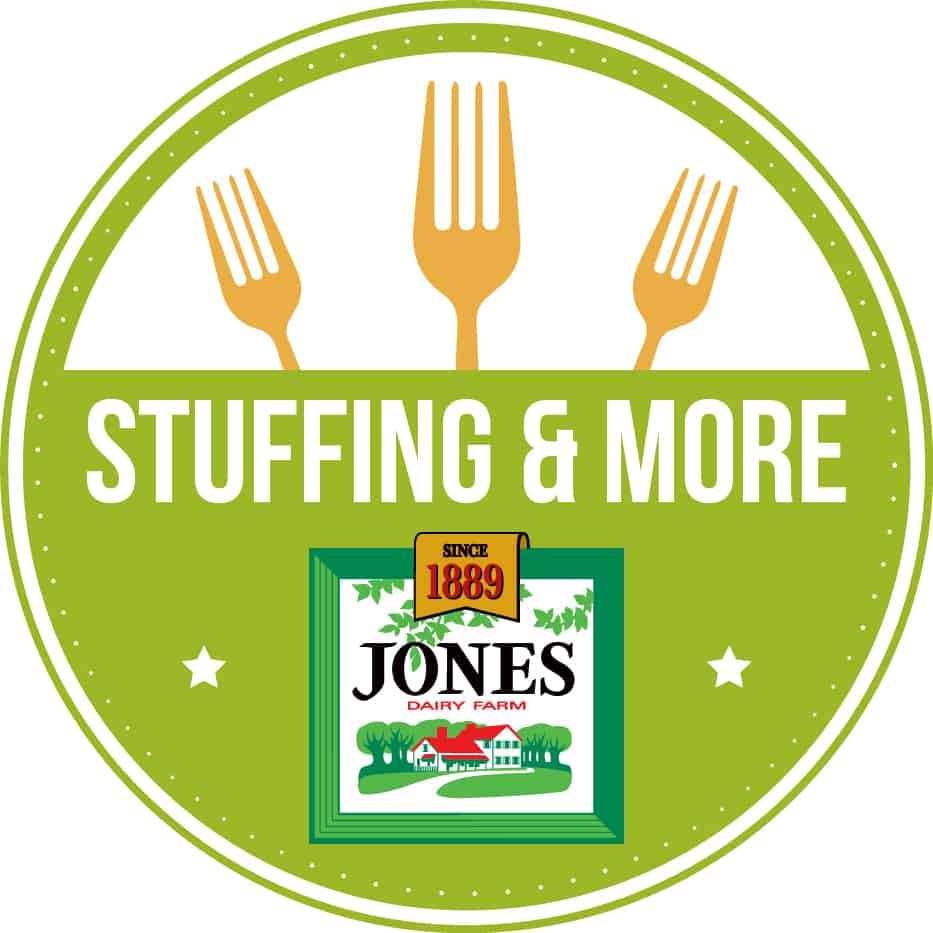 Be sure to check out Jones Dairy Farm and their family of products – they have recently launched www.stuffingandmore.com where you can find this recipe for Artichoke Sourdough Stuffing with Jones Sausage, and more stuffing creations! And click here for your coupon to enjoy Jones Dairy Farm All Natural Sausage Roll.
For more sausage and stuffing inspiration visit Jones Dairy Farm on Pinterest, Facebook and Twitter.
Disclosure: This post is brought to you by Jones Dairy Farm. Blog posts such as these help support the work behind the scenes at Kitchen Confidante. All opinions are my own. Thank you for your visits and making my blog a part of your day!
Artichoke Sourdough Stuffing with Jones Sausage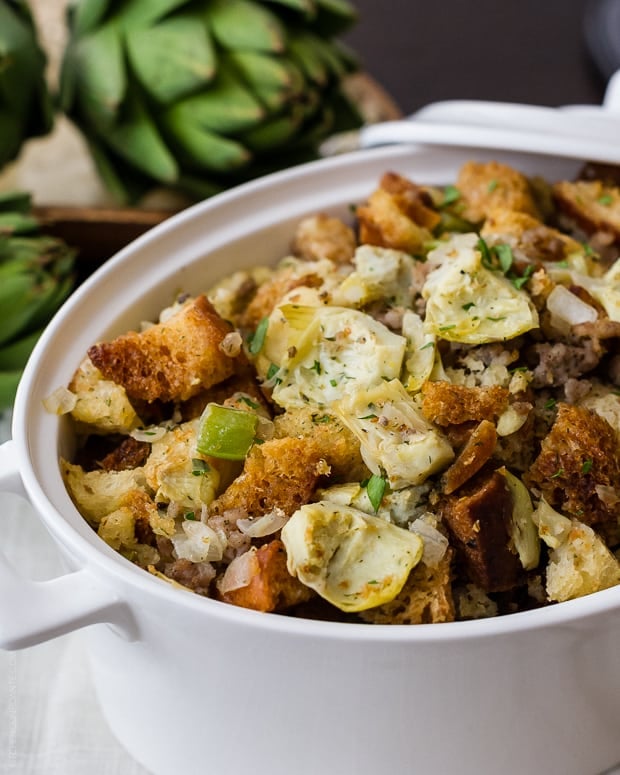 Print Recipe
Ingredients
For the Parmesan Garlic Sourdough Croutons:
1 loaf sourdough bread, about 1 1/2 pounds, cut into 1/2 inch pieces
1/3 cup olive oil
1/3 cup finely grated Parmesan cheese
1 teaspoon garlic powder
1 teaspoon kosher salt
1 teaspoon dried oregano
1 teaspoon dried thyme
1/2 teaspoon freshly ground black pepper
For the Stuffing:
8 tablespoons unsalted butter
2 yellow onions, finely diced
2 cups finely diced celery (about 4 stalks)
2 14-oz cans quartered artichoke hearts, drained
2 tablespoons chopped parsley
2 teaspoons kosher salt
1 teaspoon freshly ground black pepper
12 cups Parmesan garlic sourdough croutons (or use your preferred seasoned croutons)
2-3 cups chicken stock
12 oz Jones Dairy Farm Original Pork Sausage
Instructions
Preheat the oven to 350° F.
If you are making the croutons, toss the bread cubes in a large bowl with the olive oil, Parmesan cheese, garlic powder, salt, oregano, thyme and pepper, tossing to evenly coat. Place on a baking sheet and bake, stirring occasionally, for about 15 minutes, or until the croutons are lightly browned. Set aside in a large bowl.
In a large deep sided skillet, melt the butter over medium heat. Add the onions, celery and artichoke hearts, and cook, stirring occasionally, for about 8 minutes, or until the onions are transparent, and the vegetables are tender. Season with parsley, salt and pepper. Transfer the vegetables into the bowl with the croutons, along with 2 cups of the chicken stock, stirring well to combine.
In the same skillet, brown the Jones Dairy Farm Original Pork Sausage, breaking the sausage apart with a fork as it cooks into small pieces. Cook for about 8 minutes, or until lightly browned. Stir the cooked sausage into the stuffing mixture, adding additional chicken stock if the stuffing still feels dry. Adjust seasoning with salt and pepper if necessary.
Place the stuffing into a 9x13 baking dish and bake for about 30 minutes. Serve immediately.