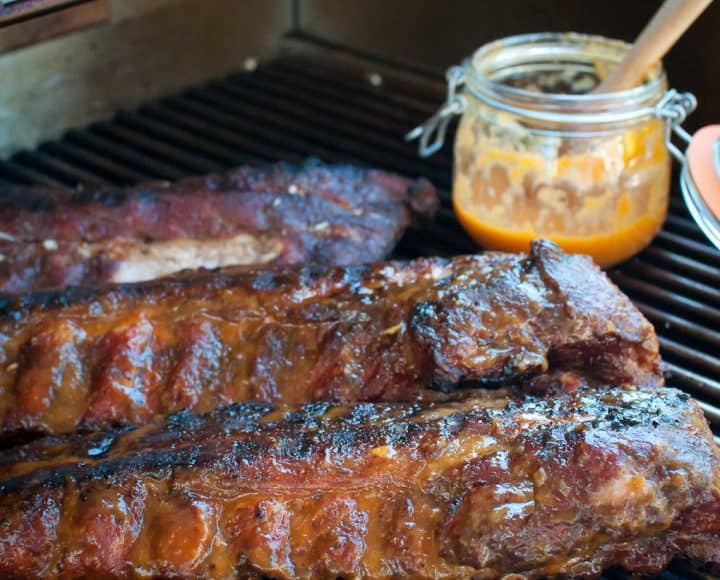 Baby Back Ribs with Fiery Peach BBQ Sauce
For weeks, my little girl has been begging me to do ribs. If she happens to be with me at the market, I can count on her to tug on my elbows at the butcher counter: Mama, can we grill some ribs? Well, with a…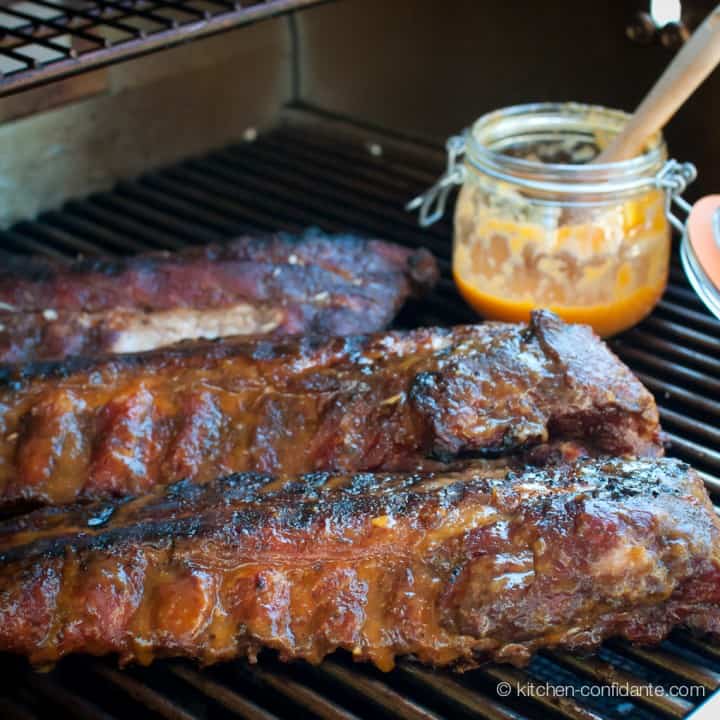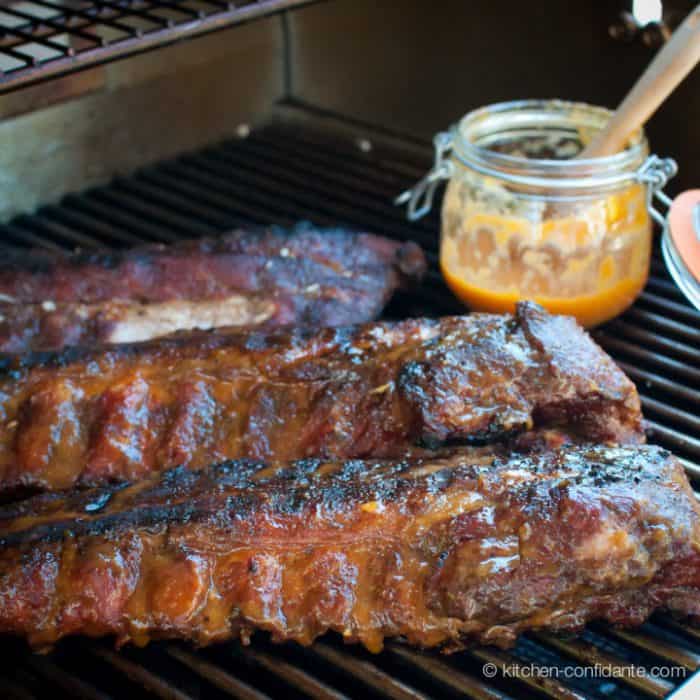 Baby Back Ribs with Fiery Peach BBQ Sauce
For weeks, my little girl has been begging me to do ribs. If she happens to be with me at the market, I can count on her to tug on my elbows at the butcher counter: Mama, can we grill some ribs? Well, with a weekend with no plans but to relax at home (at last!), we finally had the time to coax several racks of baby back ribs into slabs of finger licking goodness.
The timing couldn't be more perfect. With Father's Day, the start of summer, and Fourth of the July cookouts on the horizon, I wanted to tackle a new barbecue sauce that would get everyone's taste buds salivating.
How does this look to you?
Don't be confused. I know when my husband first glanced at my busy work in the kitchen, the sight of peach slices and the pungent smell of barbecue sauce bubbling on the stove resulted in some head-scratching. But I was happily tasting away, chirping, You're gonna LOVE this! It's sweet, it's spicy, it's going to be amazing on those ribs! For brewing in my saucepan was a Fiery Peach BBQ Sauce that would perfectly set off the brown sugar rubbed ribs he was mopping on the grill.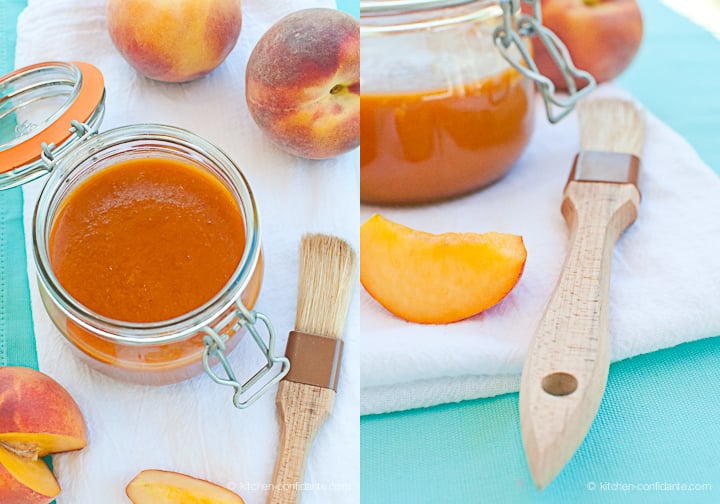 There's something about making barbeque sauce that makes you feel like a witch tending a cauldron. A pinch of this, a dash of that, a hint of sweet, a wollop of spice – there are countless ways to persuade a sauce into tasting magical. I took copious notes this time with my ingredients, so that I could be sure to recreate the magic. How the peaches entered into the spell was serendipitous; I was looking for a way to add more sweetness and thickness to the sauce when a glance at the ripening peaches on my counter made me realize – aha! It would perfectly balance the fiery heat.
When the ribs were ready to be coated in the Fiery Peach BBQ Sauce, the sight of them caramelizing on the grill was almost too much to bear. Let's just say it was hard to resist the temptation – we succumbed to an early dinner that afternoon.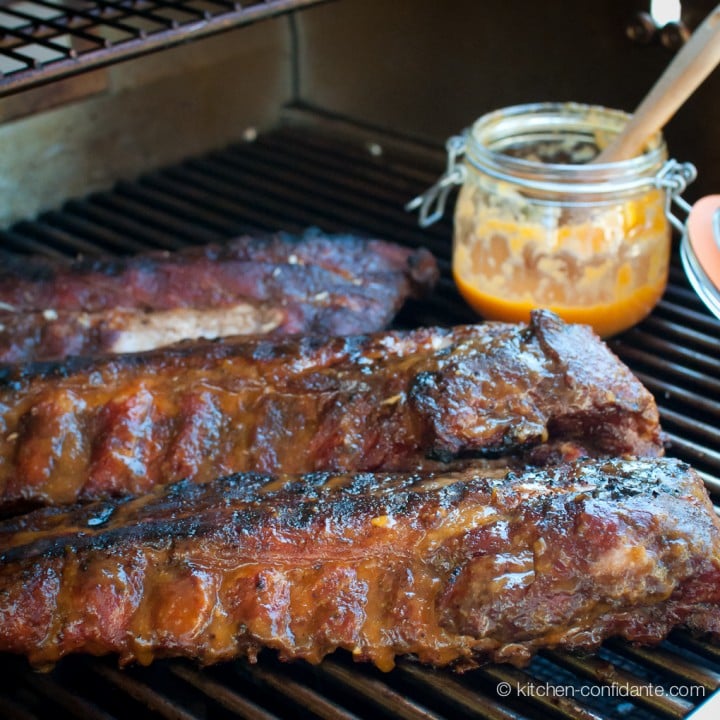 The ribs were perfect – tender, slipping off the bone, with the sticky glaze of zesty sauce oozing in every bite. There was only one problem: we ran out of sauce. I guess next time, I'll have to pull out a bigger cauldron.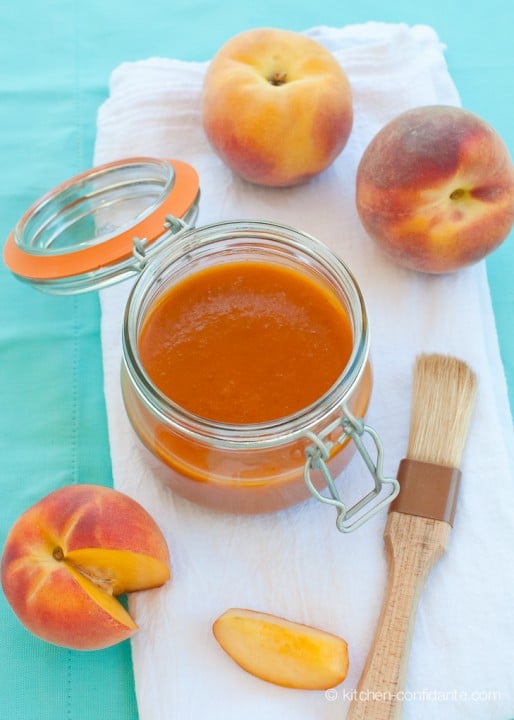 Baby Back Ribs with Fiery Peach BBQ Sauce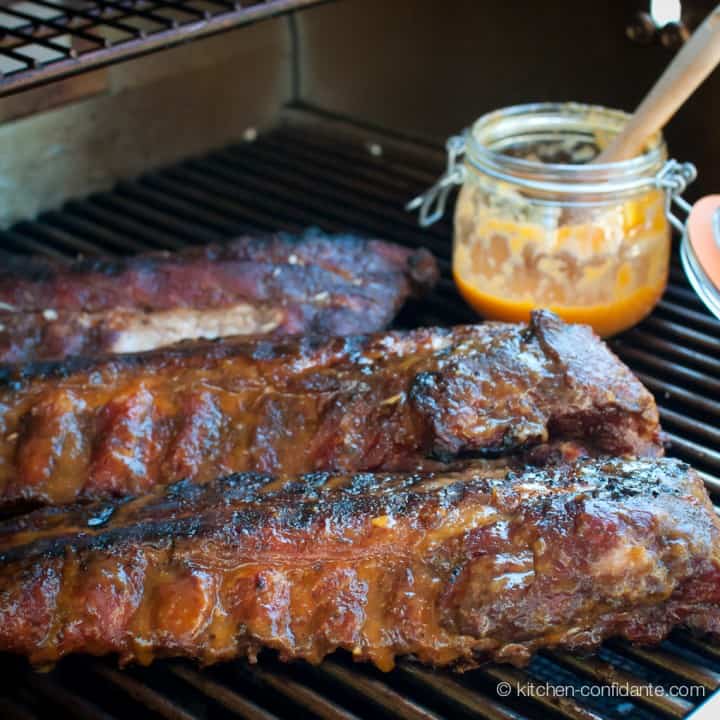 Print Recipe
Ingredients
3 racks of baby back ribs
For the Sauce:
3 tablespoons olive oil
1 cup finely diced red onion
6 cloves garlic, minced
1 cup water
1/2 cup apple cider vinegar
2 tablespoons Worcestershire sauce
1 cup orange juice, with pulp
4 tablespoons brown sugar
4 tablespoons Sriracha sauce
1 teaspoon salt
4 cups peaches, peeled and sliced (frozen peach slices work well, too)
For the Mop
1 cup rice wine vinegar
1/2 cup water
1/8 cup Worcestershire Sauce
6 cloves garlic, crushed
1/4 cup oil
Instructions
Make the Sauce:
In a saucepan, heat olive oil over medium low heat. Add red onion and cook until translucent, stirring periodically. Stir in the garlic and cook for about 1 to 2 minutes more.
Add water, vinegar, Worcestershire sauce, orange juice, sugar, Sriracha sauce and salt, and stir well. Bring to a boil over medium heat, then lower to a simmer. Let it simmer for about 20 minutes.
Add peaches to the sauce and let it cook down until soft. Transfer sauce to a blender and blend until smooth. Pass the sauce through a sieve and return to the stove to simmer for about 5-10 minutes more, or until nicely thickened.
Make the Mop:
Combine ingredients and use to baste ribs periodically.
Make the Ribs:
The methods for grilling pork ribs vary, and we've tried almost all of them. This includes:
Parboiling the ribs prior to grilling
Grilling the ribs with sauce in a packet of aluminum foil, then allowing the ribs to caramelize on the grill towards the end.
Using a dry rub
Smoking the ribs low and slow for 5-6 hours
Grilling the ribs on low heat for about 1 1/2 hours
Basting the ribs grills periodically with a mop
In this case, we decided to use a dry rub. I actually like Tyler Florence's brown sugar rub, and it worked very well with this Fiery Peach BBQ Sauce. You can find the packaged rub, at your local grocer. We grilled the ribs coated with olive oil and the brown sugar rub on very low heat for about 1 1/2 to 2 hours, rotating and mopping it every half hour (see Mop Recipe below). When the rib meat was very tender and the rack slack to the touch, the sauce was brushed on. Be very careful with flareups from the sugar content in the barbecue sauce, move the ribs to the outskirts of the grill if necessary. Serve the ribs with a generous drizzle of sauce.
Fiery Peach BBQ Sauce adapted from Barbecue Sauces, Joy of Cooking by Irma S. Rombauer & Marion Rombauer Becker, 1975 Ed.