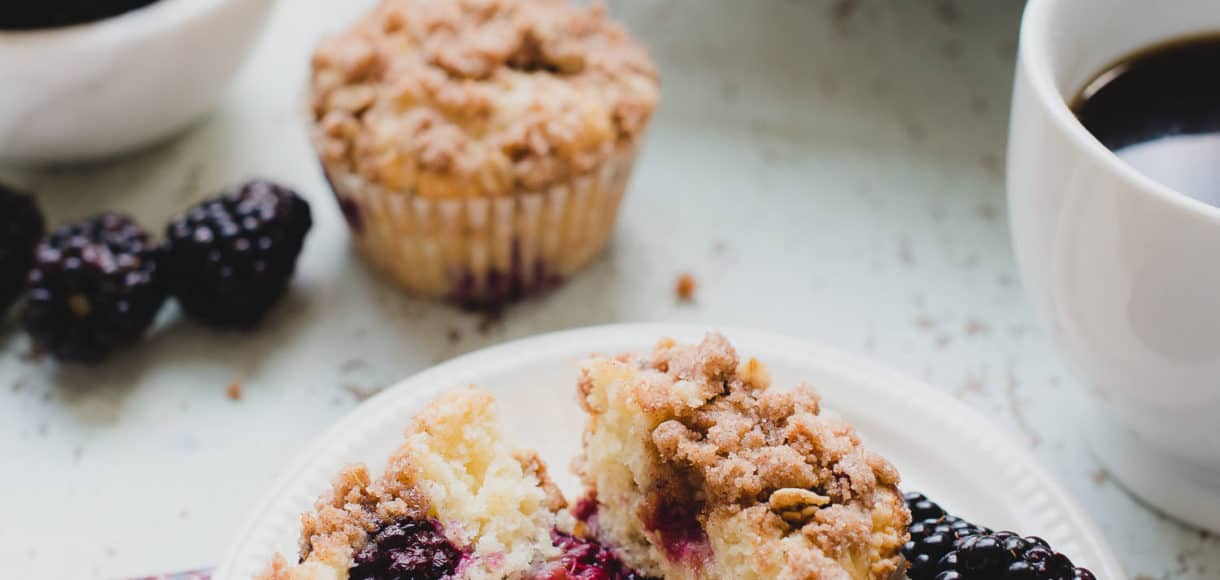 Blackberry Yogurt Muffins
Blackberry Yogurt Muffins are bursting with sweet blackberries and made a little more wholesome baked with Greek yogurt. I broke up with my gym. It took me a long time to finally do it — maybe you've been through this before. But I was pretty…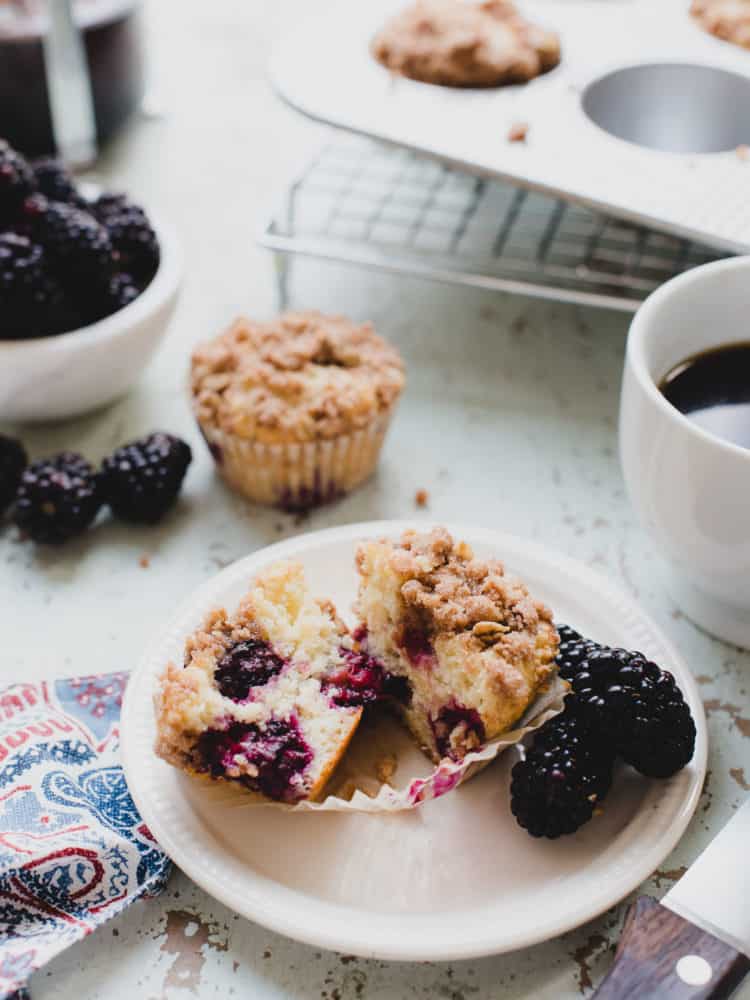 Blackberry Yogurt Muffins
Blackberry Yogurt Muffins are bursting with sweet blackberries and made a little more wholesome baked with Greek yogurt.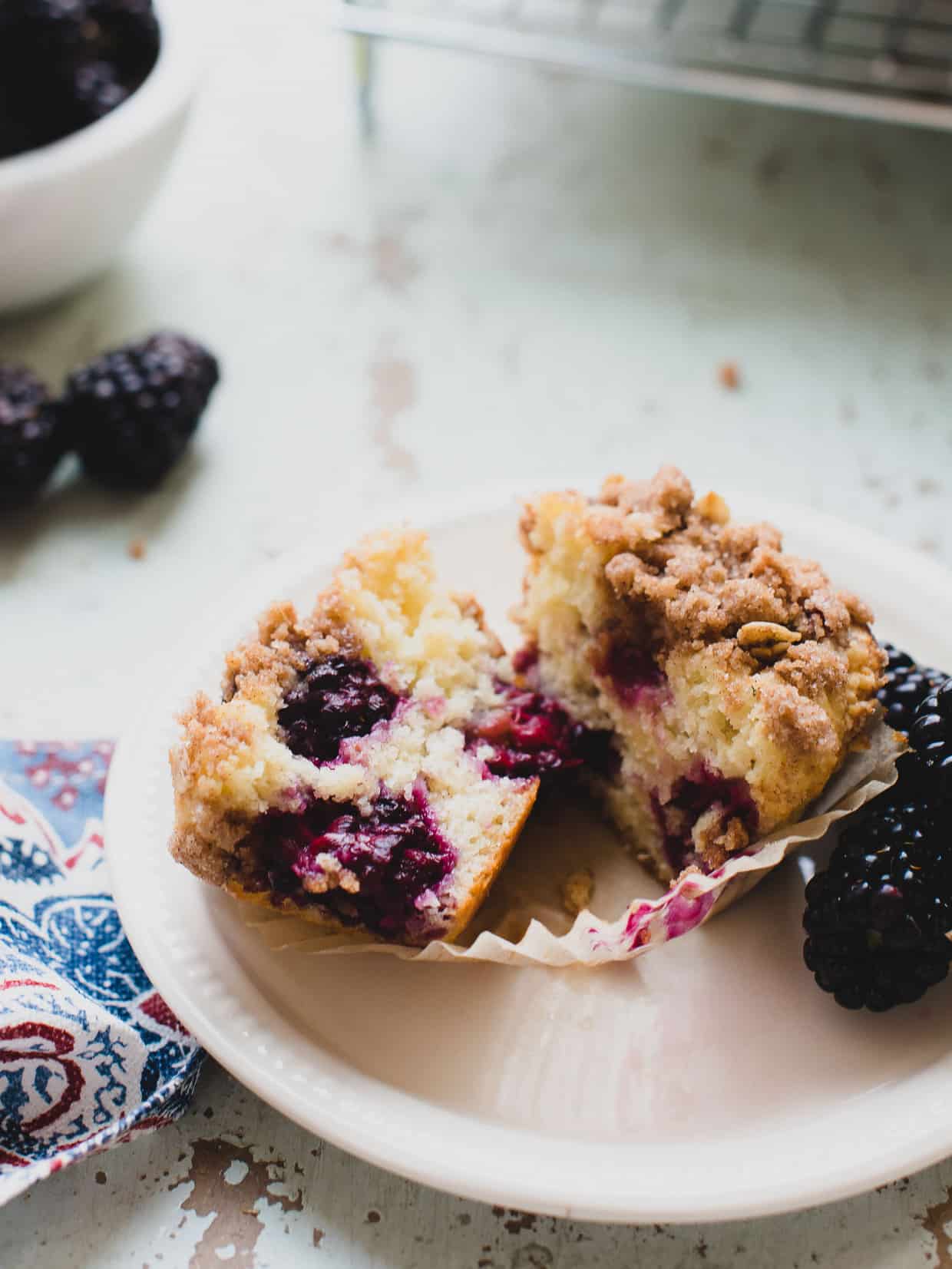 I broke up with my gym.
It took me a long time to finally do it — maybe you've been through this before. But I was pretty loyal for such a long time — years, actually — faithfully going to classes, and loving it all the while. I mean, as far as gyms go, I was happy, and I really didn't have any major complaints.
It's just that I started drifting. It started when we got the indoor bike, and how easy it was to just hop on for a hard ride without having to leave my house. Then I started running. And then came outdoor bootcamp with friends in the neighborhood.
I realized I didn't need the gym anymore.
Like any breakup, it took a while for me to face the music. But now that we've parted ways, I couldn't be happier.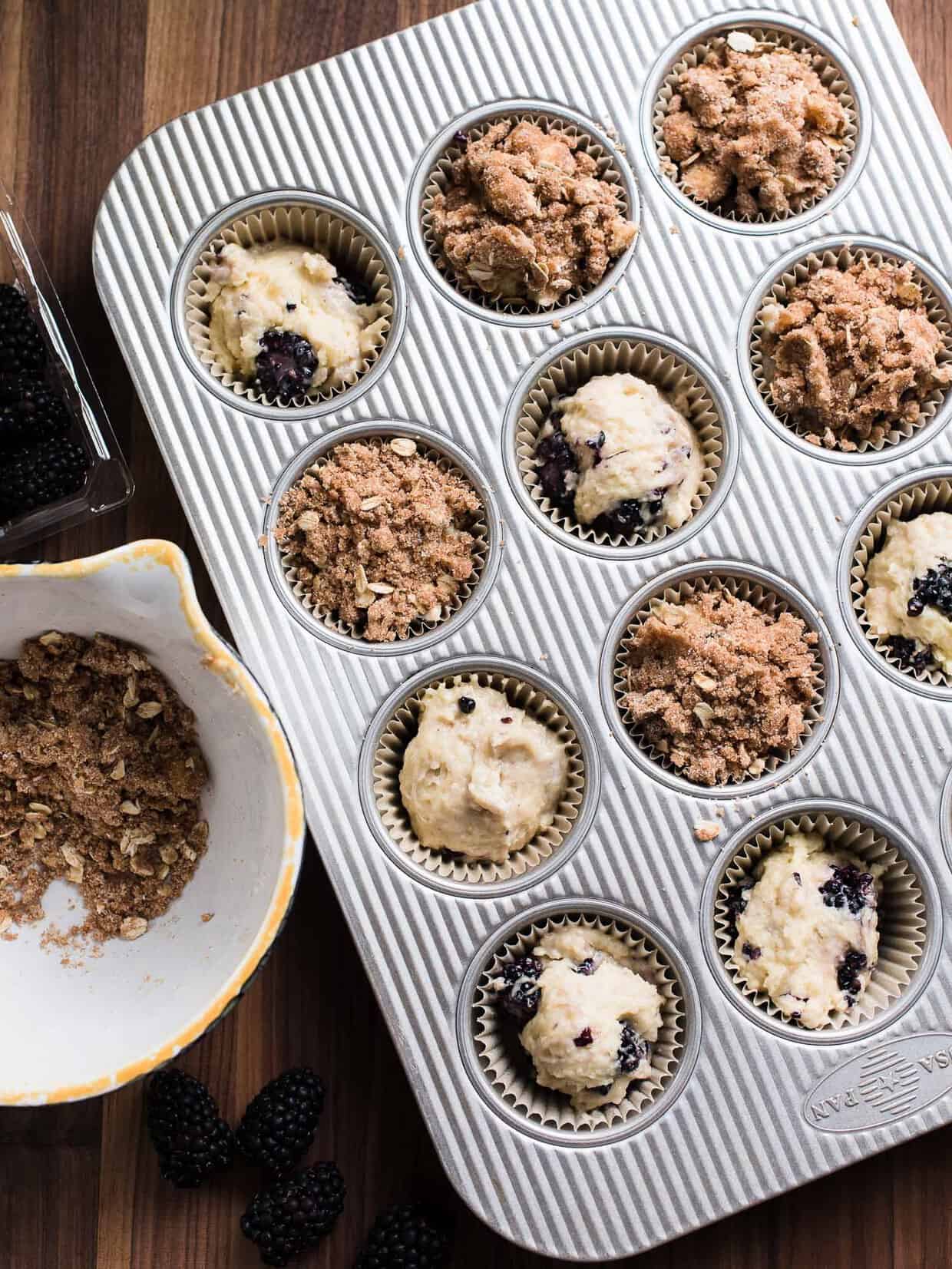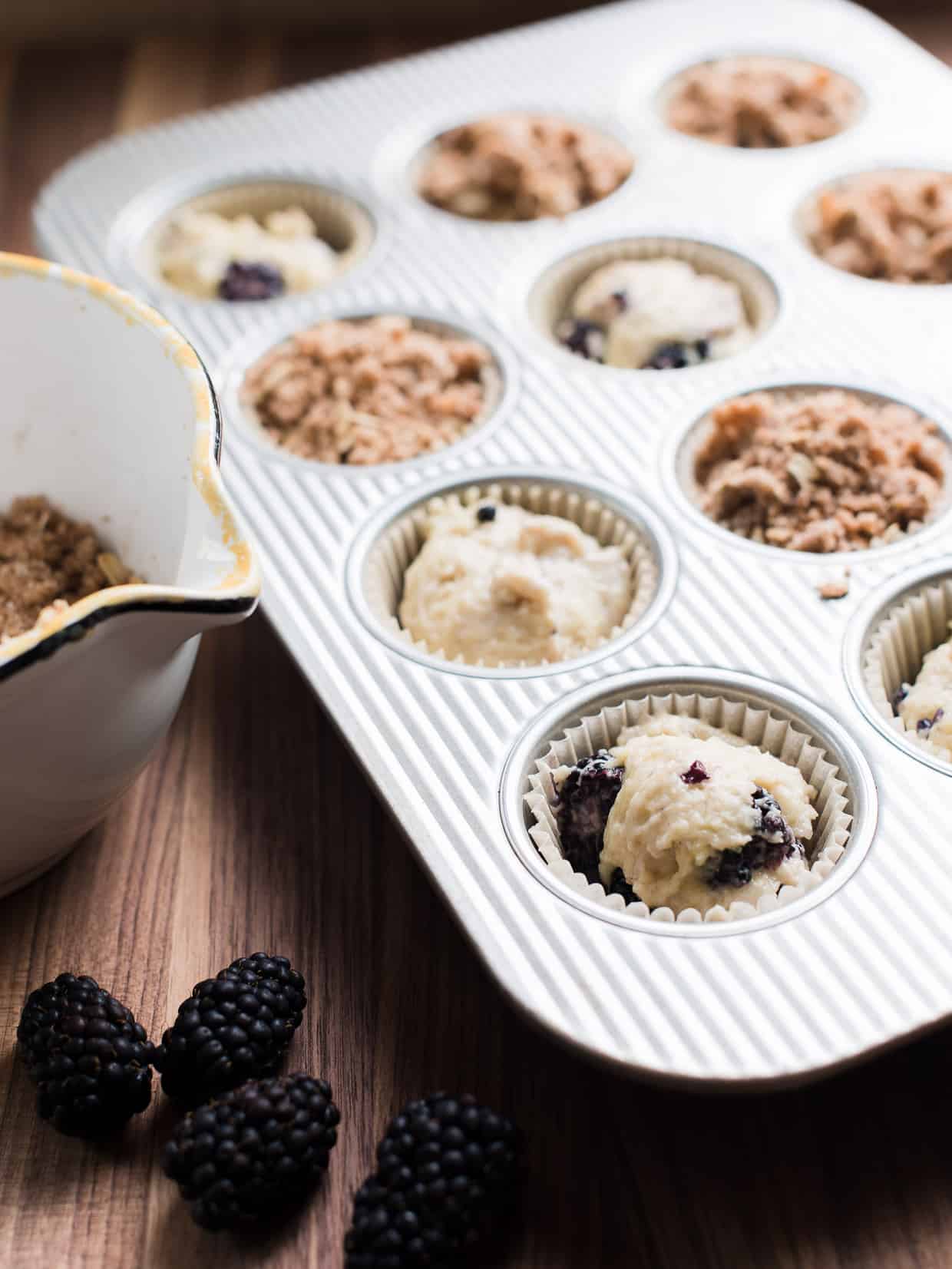 I was on one of my runs the other morning when all I could think of were muffins. You may think that's counterproductive, but it's my motivation, especially when I imagine big, sweet blackberries bursting in a tender muffin made slightly healthier with Greek yogurt.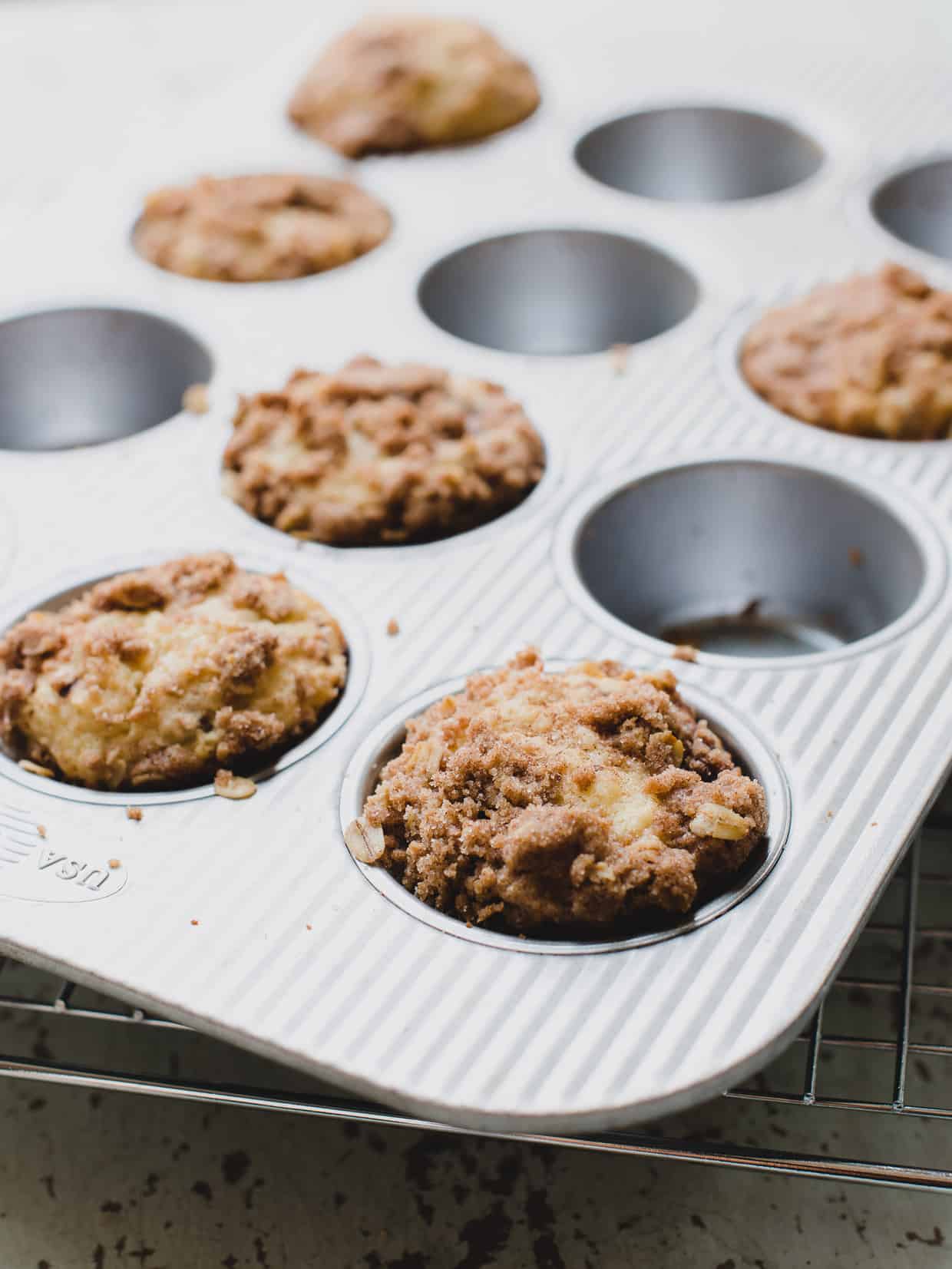 Ok, who am I kidding, using Greek yogurt alone doesn't make this healthier, but I did use less sugar than usual, and added some oats to the streusel, so if I want to justify a muffin after a workout, I say I deserve it.
And you deserve one, too.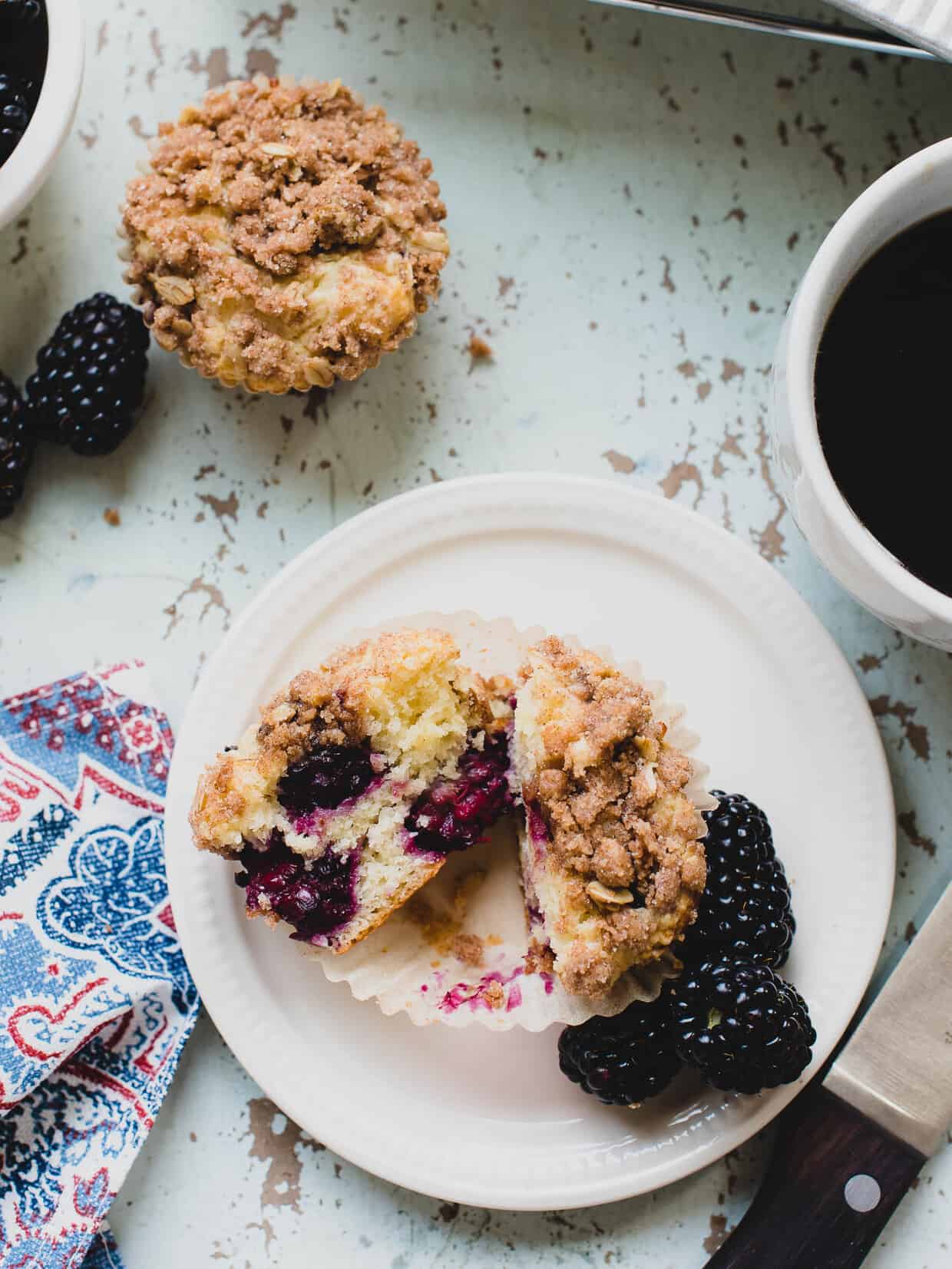 Blackberry Yogurt Muffins
This easy recipe for Blackberry Yogurt Muffins are bursting with sweet blackberries and made a little more wholesome baked with Greek yogurt.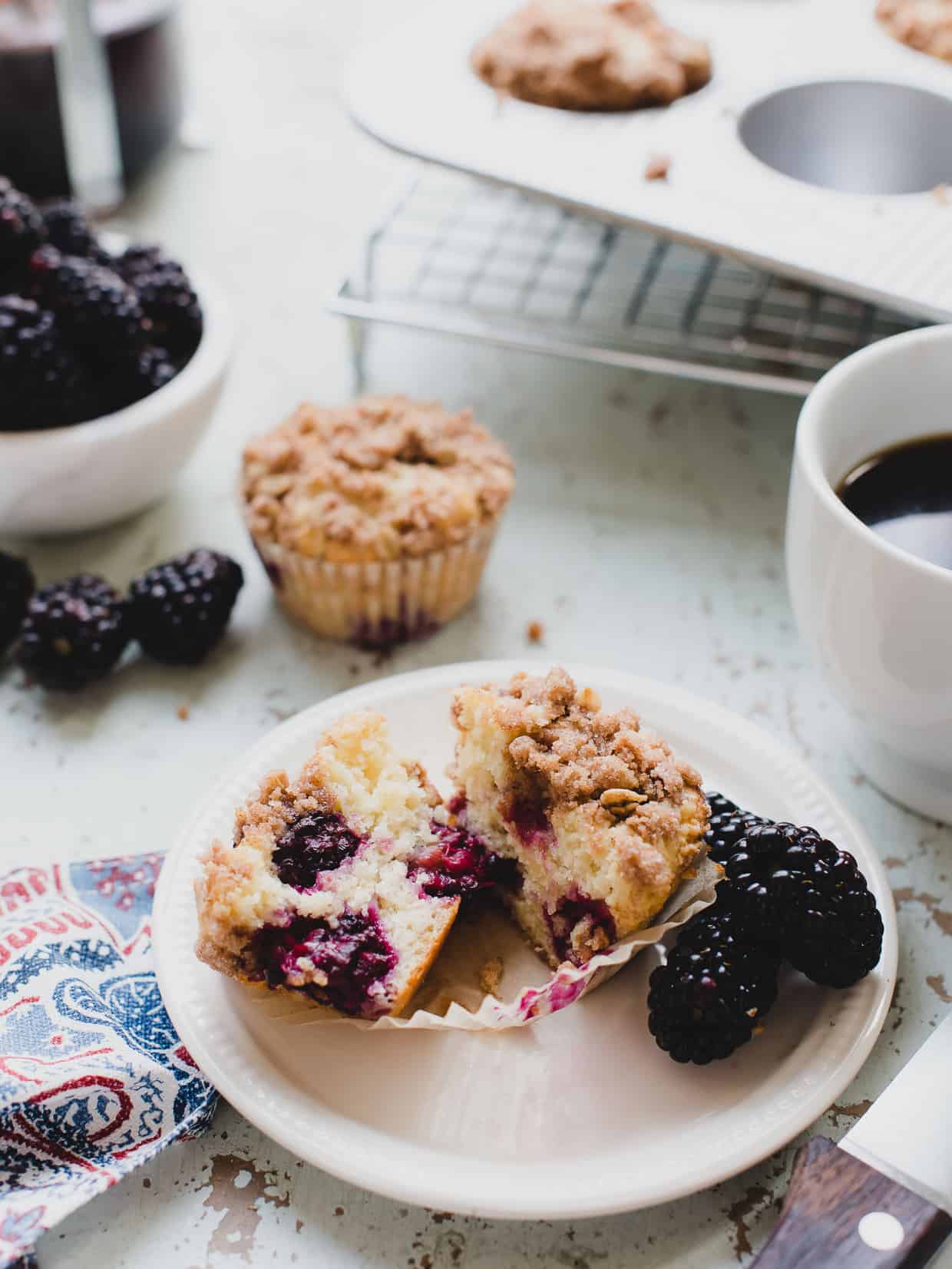 Print Recipe
Ingredients
For the Streusel:
1/4 cup rolled oats
1/3 cup granulated sugar (if you want a deeper color, use a combination of granulated and light brown sugar)
1/3 cup all-purpose flour
1 1/4 teaspoons ground cinnamon
1/4 cup (4 tablespoons) cold unsalted butter, grated or cut into small cubes
For the Muffins:
1 1/2 cups all-purpose flour
1/2 cup granulated sugar
2 teaspoons baking powder
1/2 teaspoon kosher salt
1/4 cup olive oil
1 large egg
1/2 cup plain, unsweetened Greek yogurt
1 teaspoon vanilla
1 cup fresh blackberries (halve the berries if they are big)
Instructions
Preheat the oven to 375°F with the rack placed in the center of the oven. Line a muffin pan with cupcake liners and set aside.
In a small bowl, stir together the oats, sugar, flour and cinnamon with a fork. Drop in the butter, and using your fingers, a pastry cutter or two forks, cut the butter into the mixture until you have crumbs. Set the streusel aside.
In a medium bowl, whisk together the flour, sugar, baking powder and salt until combined.
In a small bowl, whisk together the oil, egg, Greek yogurt and vanilla.
Add the yogurt mixture into the flour and use a spatula to mix until just about halfway incorporated.
Drop in the blackberries and mix a little bit more, just until the flour is incorporated – do not over-mix the batter; you want it to be lumpy.
Distribute the batter into the prepared muffin pan and sprinkle with the streusel.
Place in the oven and bake for about 18-20 minutes, or until a toothpick inserted into the center comes out clean.
Remove from oven and place the muffins on a wire rack to cool before enjoying.