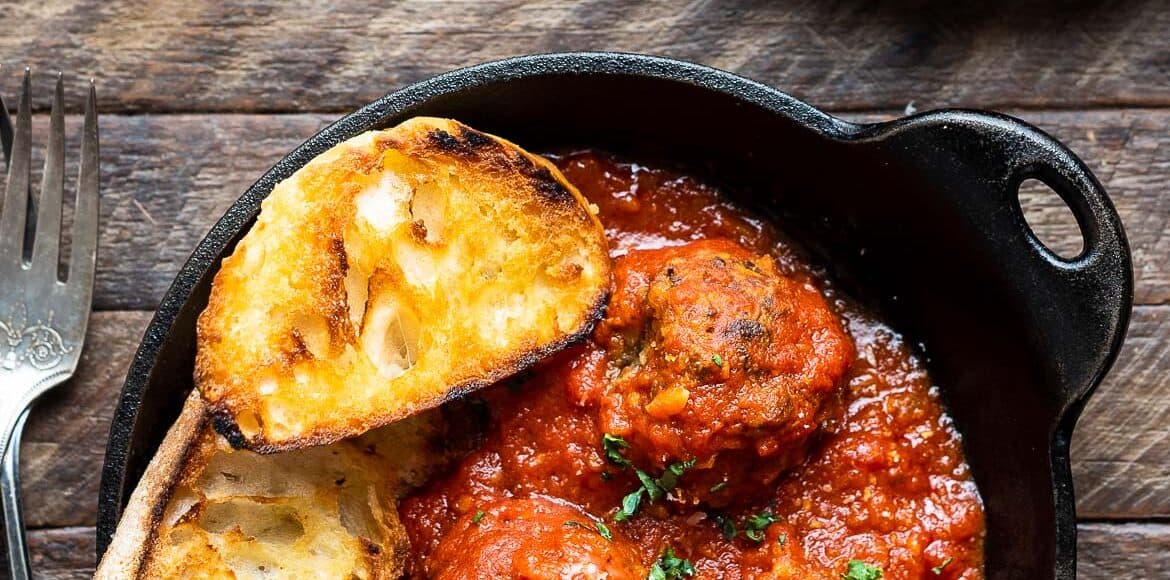 Mushroom Meatballs
Looking for vegetarian meatballs? Try mushroom meatballs! These meatless meatballs are made with mushrooms and bulgur for a hearty appetizer or main meal!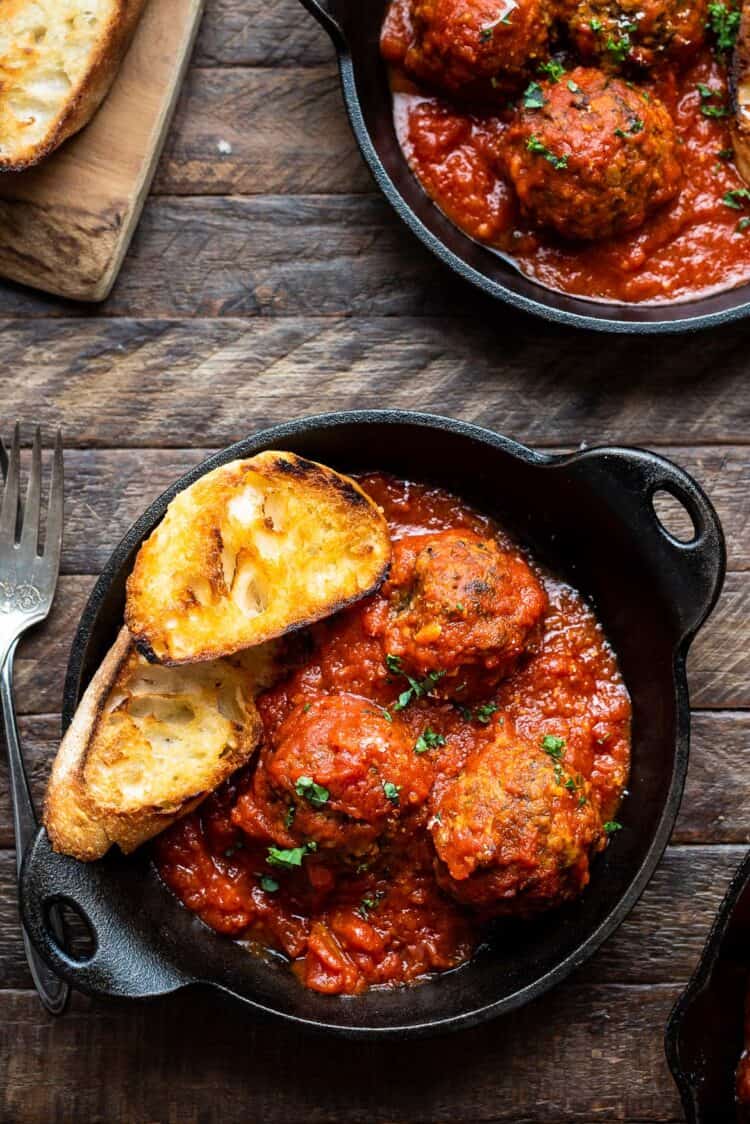 Mushroom Meatballs
Mushroom meatballs are perfect if you're looking for vegetarian meatballs that will make everyone happy. These meatless meatballs are made with mushrooms and bulgur, making them hearty as a heavy appetizer or for a main meal! This recipe comes from my cookbook, Meat to the Side.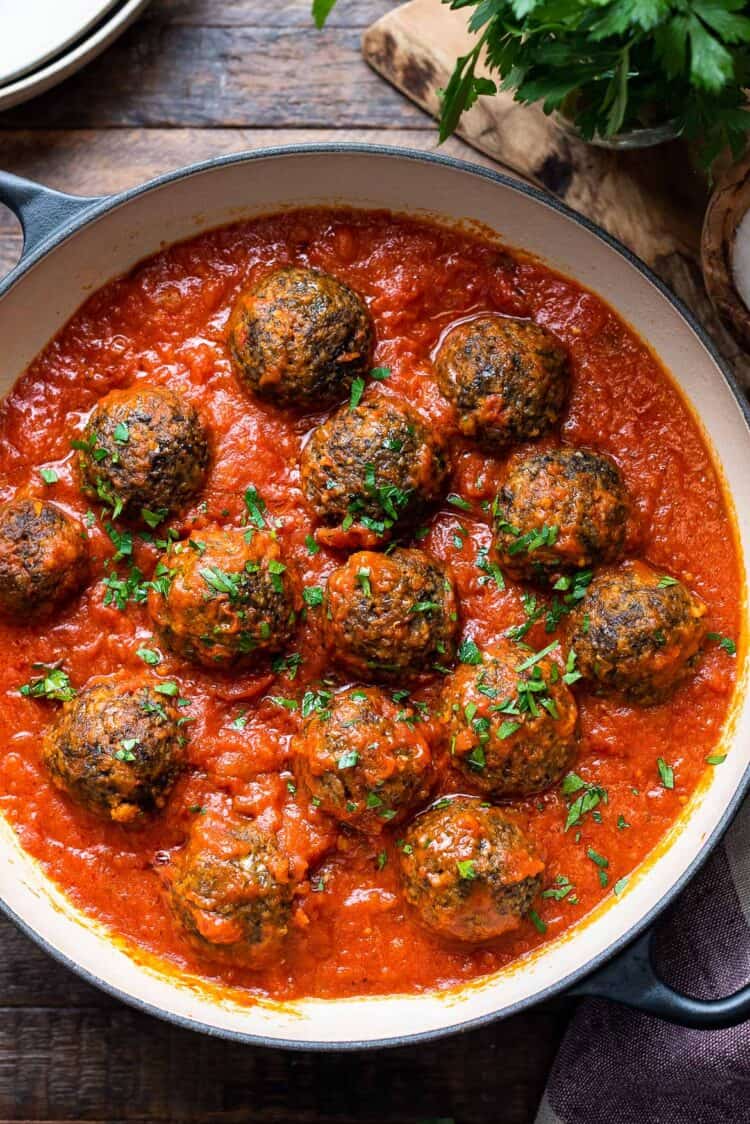 Today is the day! My cookbook, Meat to the Side: A Plant-Forward Guide to Bringing Balance to Your Plate is officially released into the world!
To celebrate, I am sharing one of my personal favorite recipes from the book. Picking favorites is never easy, but when I started working on Meat to the Side, I knew early on that I wanted to have a meatless meatball recipe that would make even the most enthusiastic carnivore happy.
As I developed it, I had my friend Rochelle's meatballs in mind – she makes the best meatballs with a mixture of ground meats that is somehow hearty, satisfying, and light as air, all at the same time. This gold standard was what I hoped to achieve with these vegetarian meatballs.
Bulgur is the secret to these meatballs. They add texture and body to the mushroom meatballs, without weighing it down. And when they simmer in marinara sauce, the flavors come together for the comfort food you crave, without the meat!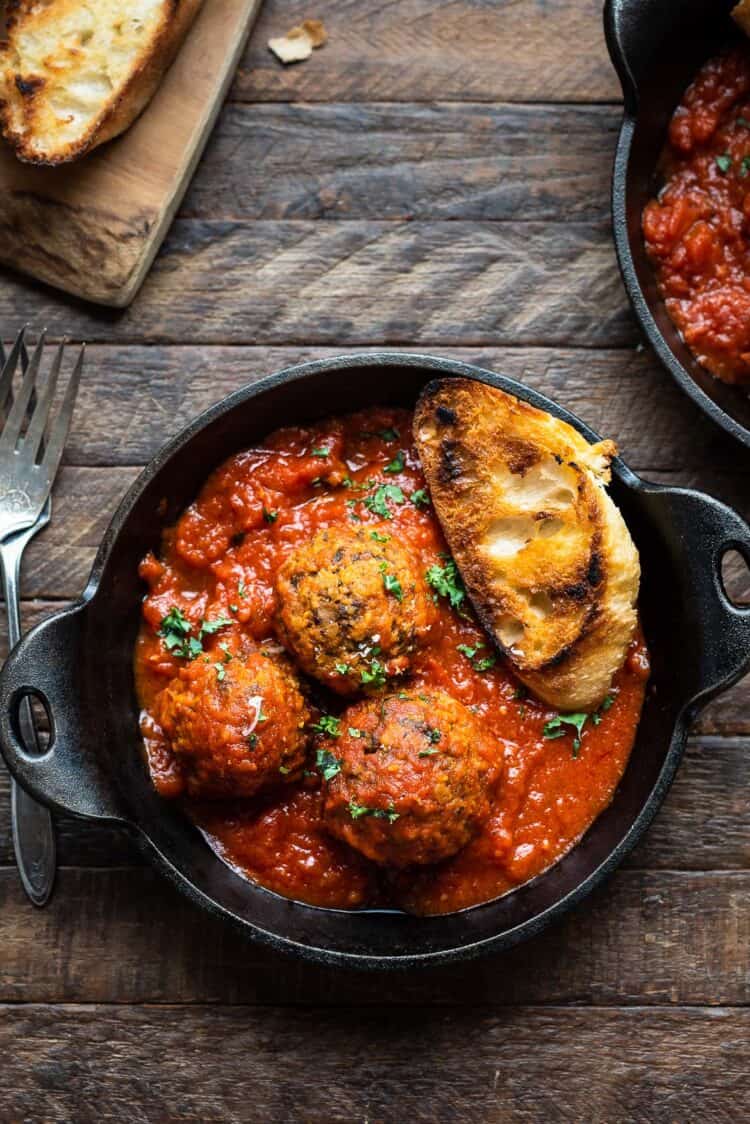 Meatless Meatballs
If you are suspicious when you eye a meatless meatball recipe, I'm here to assure you that you have nothing to fear. There are a few secrets to making these meatballs, well, more "meaty."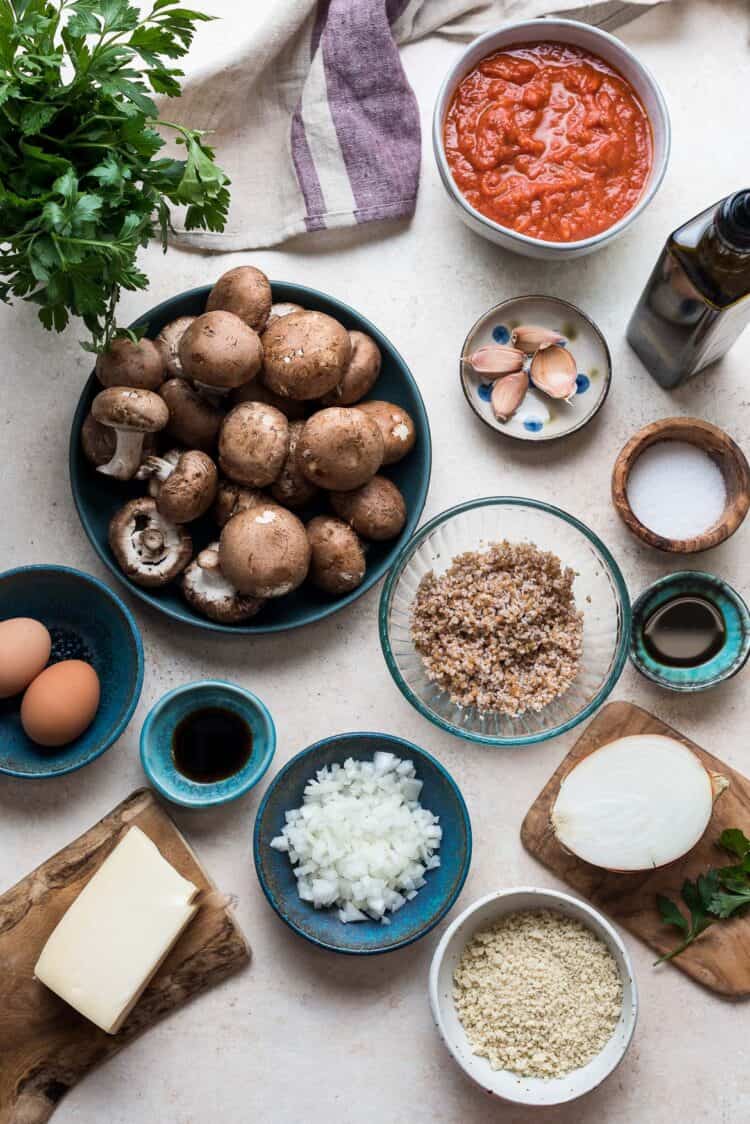 Let's start with the mushrooms. Finely chopping them gives you some of the texture we need, but the secret is seasoning them with a touch of soy sauce and Worcestershire sauce to bring out that savory umami that makes them instantly more meaty.
And while I do use some panko breadcrumbs, the other big secret, as I mentioned, is bulgur. I use a medium bulgur wheat, similar to the type of bulgur you use in tabbouleh. This enhances the texture of the meatball without weighing it down.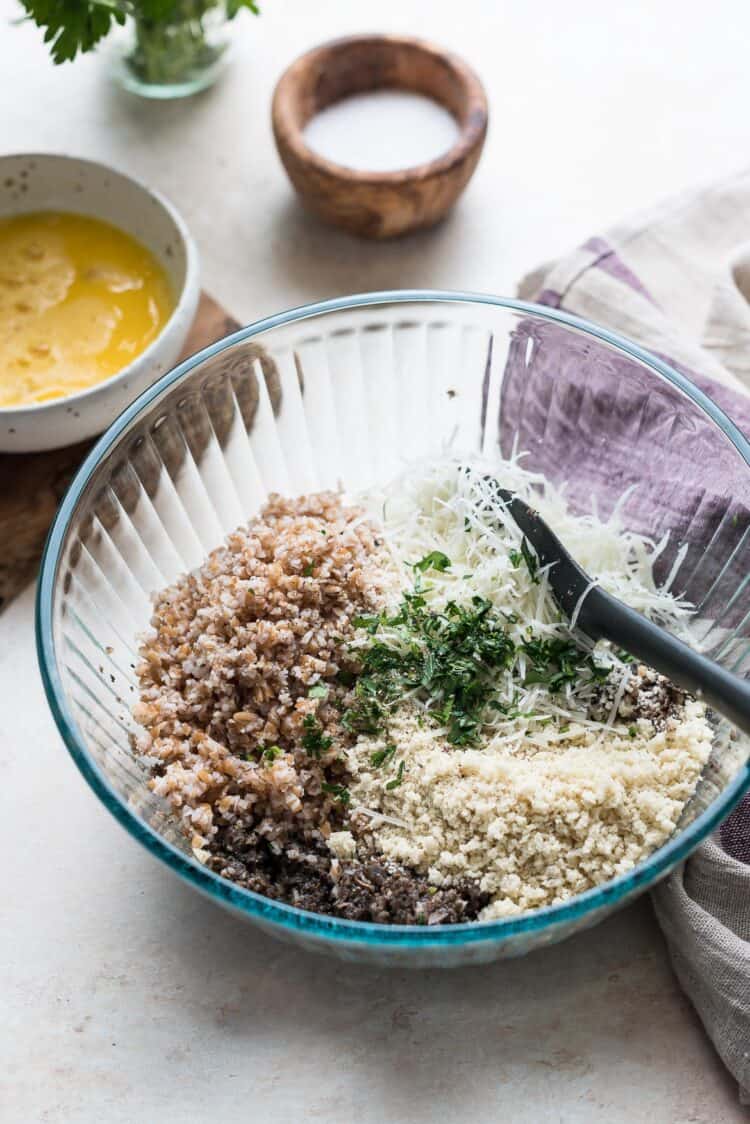 The final key is giving the meatballs time to rest in the refrigerator before cooking. I find that this helps them to hold their shape better, as well as further development in the flavor. Four hours is ideal, and you can certainly make this in advance and let it sit overnight.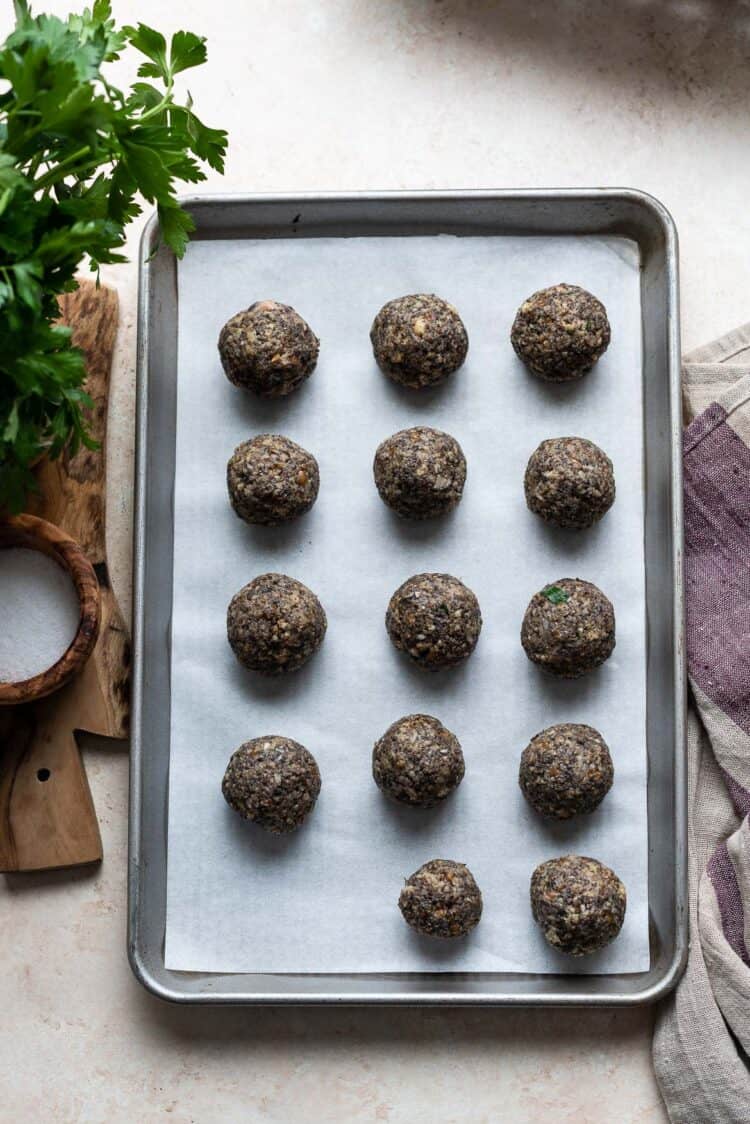 As for cooking the meatballs, well, it's no different than your standard meatball. I like to bake them in the oven to firm them up, then simmer in a good quality marinara sauce. It's utterly delicious with crusty garlic bread or with pasta!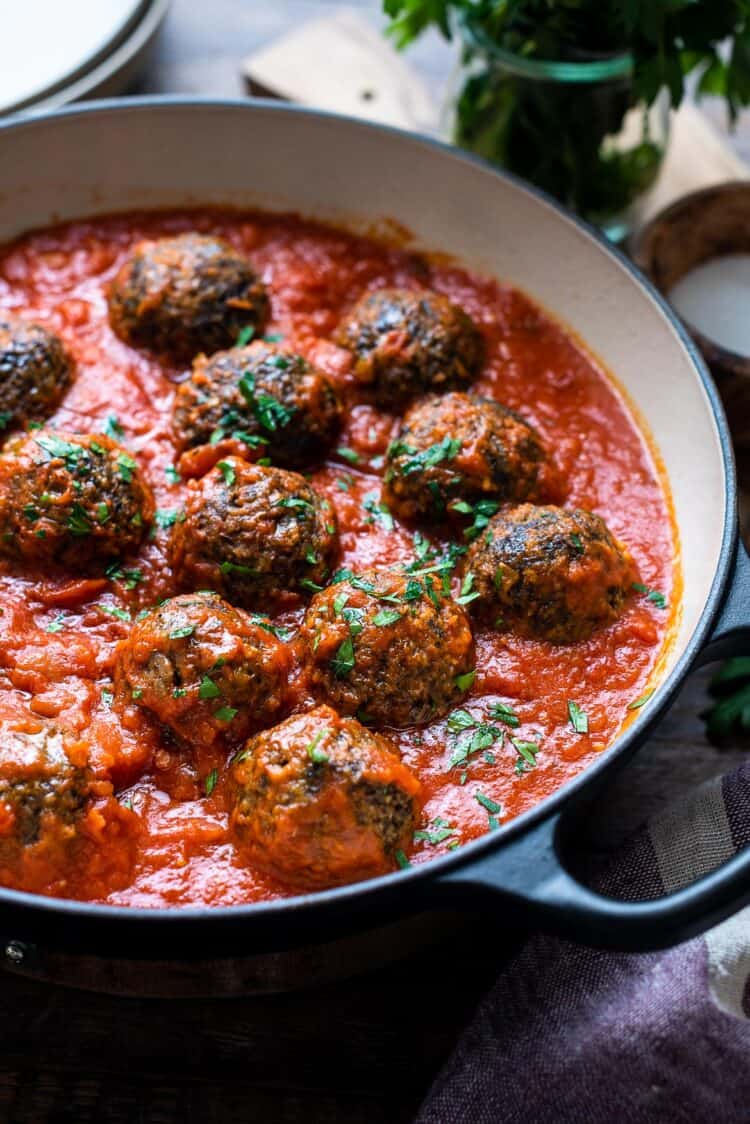 More Plant-Forward Recipes
Even the meat lovers in my life admit that they don't miss the meat at all in this meatball recipe. If you're looking for more plant-forward recipes, check out my book. This recipe is just one of the many delicious recipes that will help you get more veggies in your life!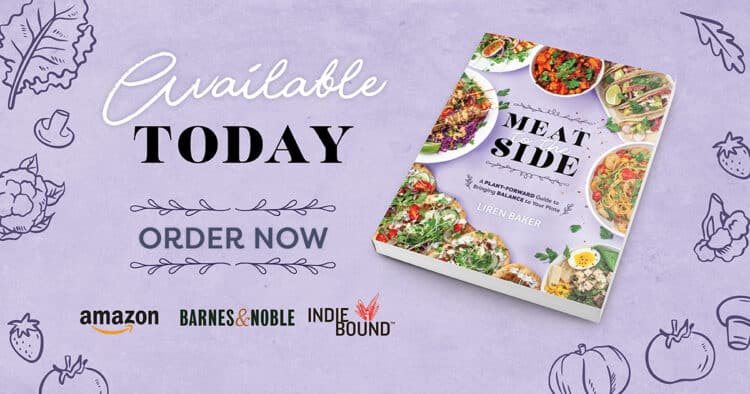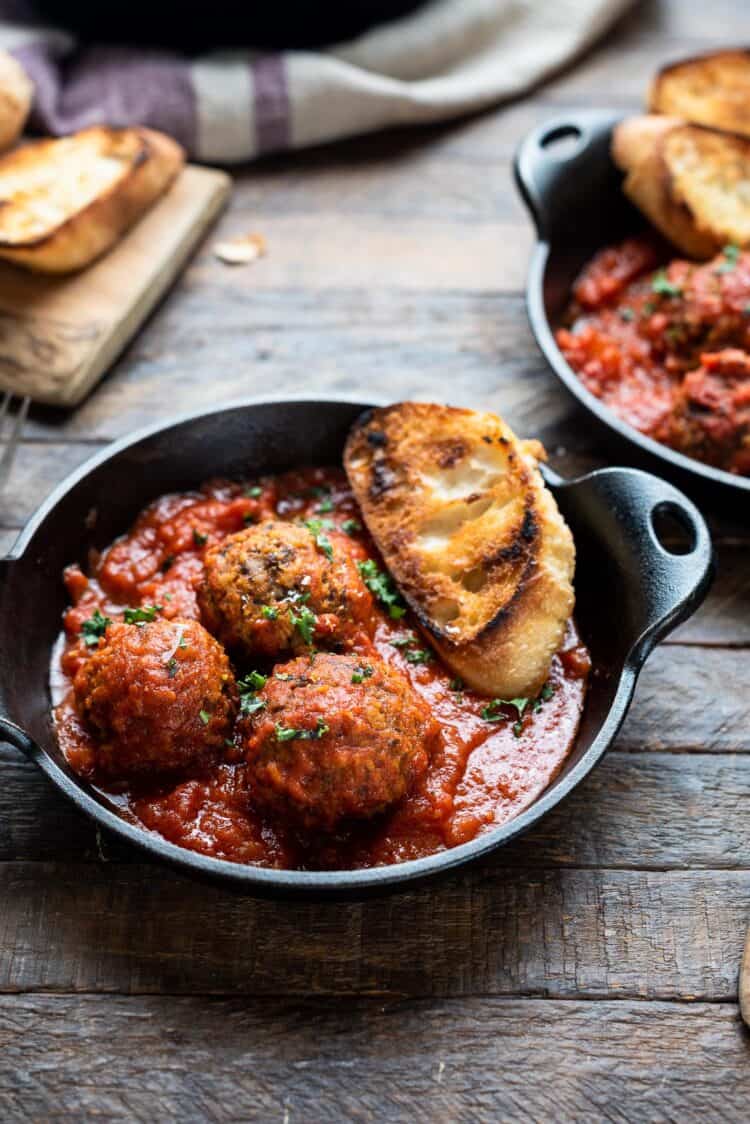 Mushroom Meatballs
Looking for vegetarian meatballs? Try mushroom meatballs! These meatless meatballs are made with mushrooms and bulgur for a hearty appetizer or main meal!
Ingredients
1/4

cup

medium bulgur wheat

1

tablespoon

extra-virgin olive oil

1

pound

cremini or white mushrooms

finely chopped

1/2

cup

finely chopped yellow onions

1

teaspoon

soy sauce

1

teaspoon

Worcestershire sauce

4

cloves

garlic

minced

1/3

cup

grated Parmigiano-Reggiano cheese

plus more for serving

1/2

cup

panko breadcrumbs

1/2

teaspoon

Italian seasoning

1

teaspoon

chopped fresh flat-leaf parsley

plus more for garnish

2

large

eggs

lightly beaten Freshly ground black pepper

1

(24-ounce) jar

marinara sauce

Toasted Italian bread

for serving
Instructions
Prepare the meatball mixture:
Place the bulgur in a medium bowl, cover with boiling water, and let sit until the bulgur has absorbed the liquid and fluffed up. Depending on the fineness/coarseness of the grind, this can take anywhere from 15 minutes to 1 hour. It should yield about 1⁄2 cup of hydrated bulgur.

Heat the olive oil in a large skillet over medium-high heat. Add the mushrooms and onions, season with the soy sauce and Worcestershire sauce, and cook until the mushrooms have wilted and most of the liquid has cooked off – about 7 minutes.

Stir in the garlic and cook for another 30 seconds. Transfer the mushroom mixture to a bowl and set aside.

Drain the bulgur thoroughly and add it to the mushrooms. Mix in the Parmigiano-Reggiano cheese, breadcrumbs, Italian seasoning, parsley, eggs, and a few grinds of black pepper.

Cover the bowl and place in the refrigerator to rest for at least 4 hours or overnight.
Cook the meatballs:
Preheat the oven to 400°F with a rack placed in the center of the oven. Line a sheet pan with parchment paper.

Using a small ice cream scoop or large spoon, scoop 2-tablespoon portions of the mixture onto the prepared pan. Using your hands, roll each portion into a ball, pressing to compact it.

Place the meatballs onto the prepared sheet with room around each.

Bake for 15 minutes, or until the meatballs are firm to the touch.

Bring the marinara sauce to a bubble in a large saucepan over medium heat.

Transfer the meatballs to the sauce and lower the heat to a simmer. Cover and let the meatballs simmer in the sauce for 45 minutes.

Garnish the meatballs with chopped parsley and serve with toasted bread.
Nutrition
Calories:
133
kcal
|
Carbohydrates:
13
g
|
Protein:
8
g
|
Fat:
6
g
|
Saturated Fat:
2
g
|
Polyunsaturated Fat:
1
g
|
Monounsaturated Fat:
3
g
|
Trans Fat:
1
g
|
Cholesterol:
66
mg
|
Sodium:
222
mg
|
Potassium:
343
mg
|
Fiber:
2
g
|
Sugar:
3
g
|
Vitamin A:
140
IU
|
Vitamin C:
3
mg
|
Calcium:
99
mg
|
Iron:
1
mg