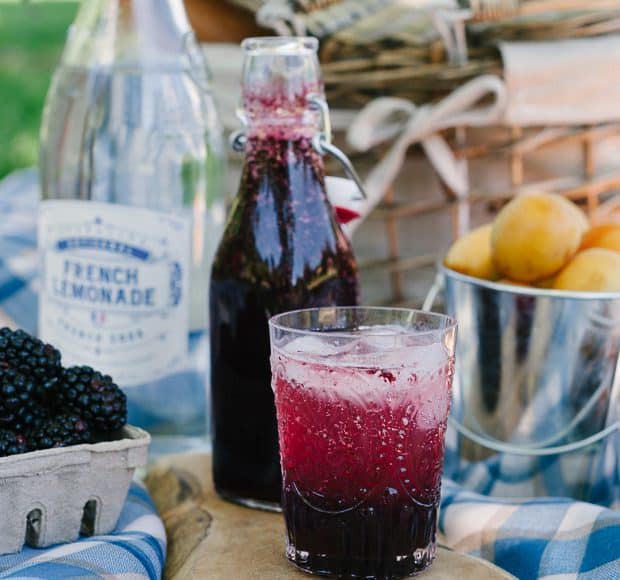 Simple Sundays | Blackberry Shrub Lemonade
Blackberry Shrub Lemonade is made with Blackberry Shrub Syrup and sparkling lemonade – just add a splash of rum for the grownup version.
Simple Sundays | Blackberry Shrub Lemonade
Blackberry Shrub Lemonade can be tailored for children and grownups alike. Combine this Blackberry Shrub Syrup with sparkling lemonade, or add a splash of rum for the grownup version.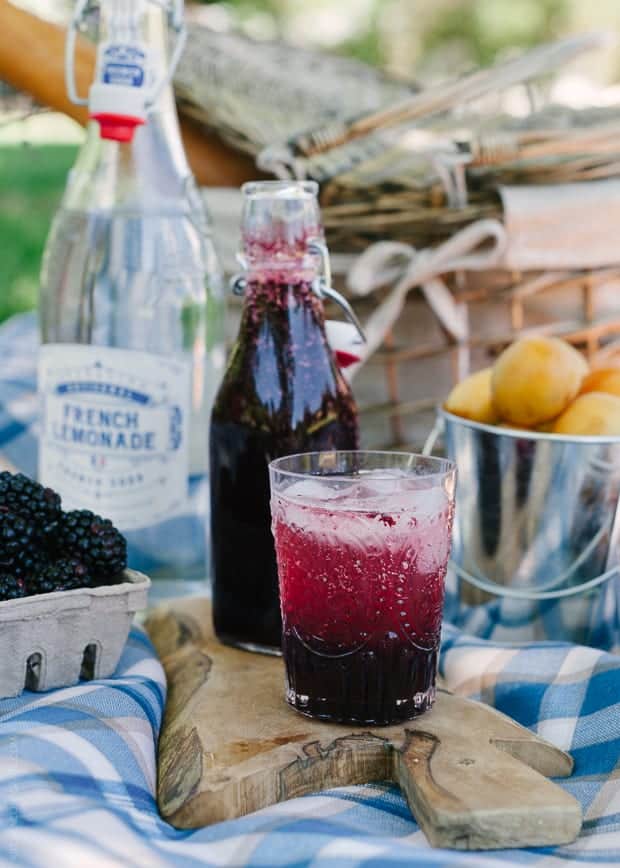 Summer Picnics
"Mom, that was the best picnic ever. I liked that," my little dude said as we packed up the baskets and folded up the blankets. I liked it, too. Loved it, actually.
The last couple of weeks, we have been getting used to a new routine. Or perhaps I should say, lack of one. Each week brings new adventures – there have been summer camps, surprise visitors, dinners with friends, and lots of downtime.
It's been nice not to have to be the morning drill sergeant, and better yet, not to have to pack lunches each night. I think of all the school year minutia, it's the lunch packing I dread most.
Packing a picnic is a different story. I nearly forgot the happiness a simple picnic can bring until the children and I lazed on a blanket under a shady tree at one of our favorite parks. There was a time when picnics were part of my every weekend, sometimes quite elaborate ones that friends and I would plan for outdoor concerts or days at the beach.
But my picnics with the children have been simpler. We have fresh fruit from our weekend market haul, a fresh loaf of bread, and our favorite cheeses, and charcuterie. I nestle the goodies in the basket and leave the assembly for when we get to our shady spot.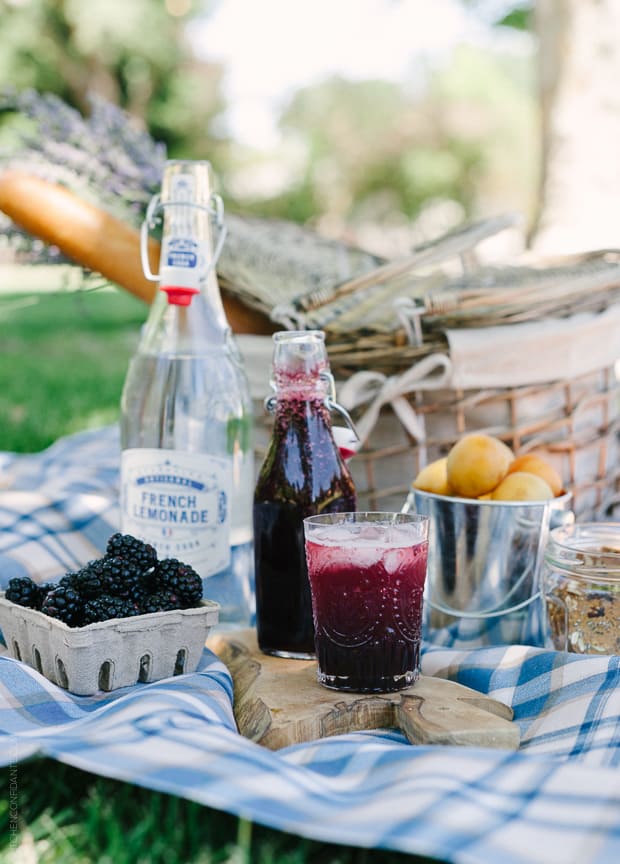 Blackberry Shrub Lemonade
It wouldn't be a picnic without something to sip, and for this picnic, I made a Blackberry Shrub Lemonade. Shrubs have been en vogue once again, and I'm loving how it makes use of extra or overripe fruits – or in my case, not-so-perfect blackberries (which happens more often than I would like).
I like to think of shrubs as simple syrups on steroids – the fruit is macerated in sugar with a spike of vinegar, resulting in a syrup rich with layered flavors; all you need is a splash of club soda for a refreshing drink. In this case, I used a sparkling lemonade, which received eager thumbs up from the kids.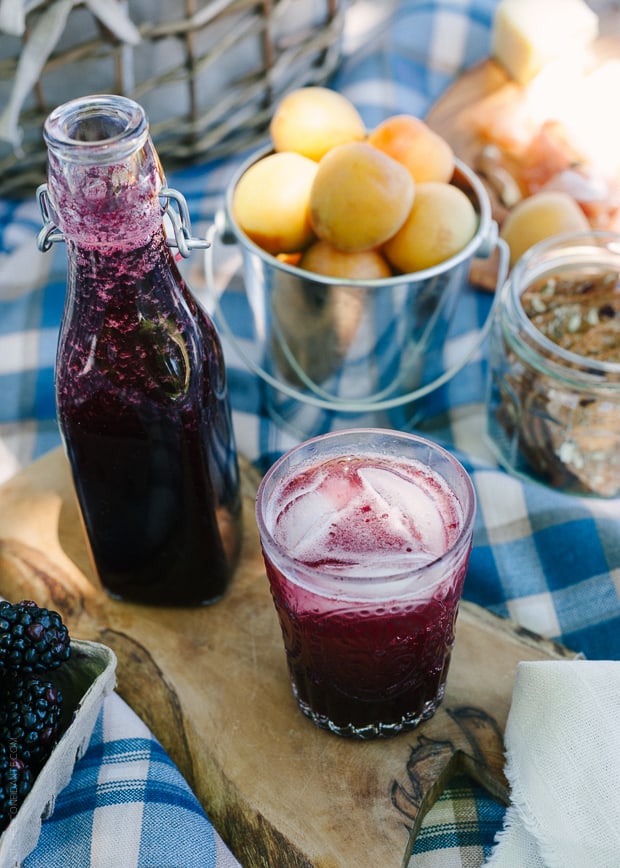 Now, don't you worry, I did not pack an alcoholic cocktail for the kids. But if I had not been driving, I would have considered bringing the rum for mine. When I got back home, I enjoyed the grown-up version of the Blackberry Shrub Lemonade by adding a good splash of rum. It brought the whole drink to another level. If I had a home with a wrap-around porch and rocking chairs, this is what I would carry in my hand as I rocked to the tune of summer cicadas at sunset.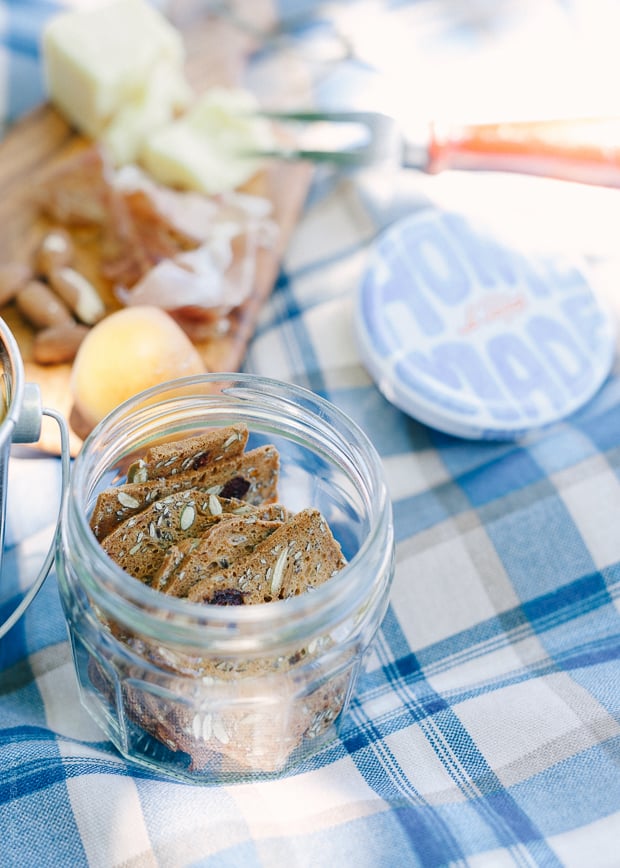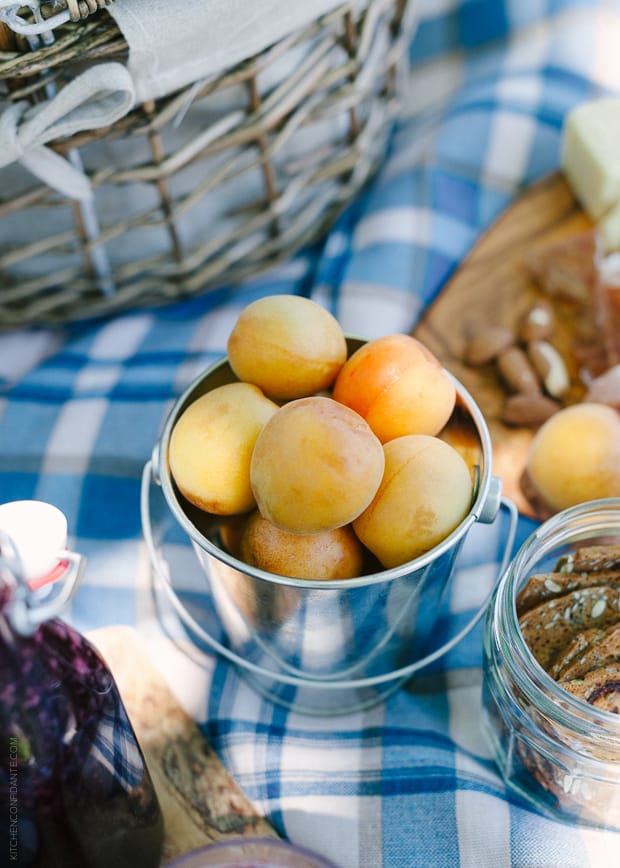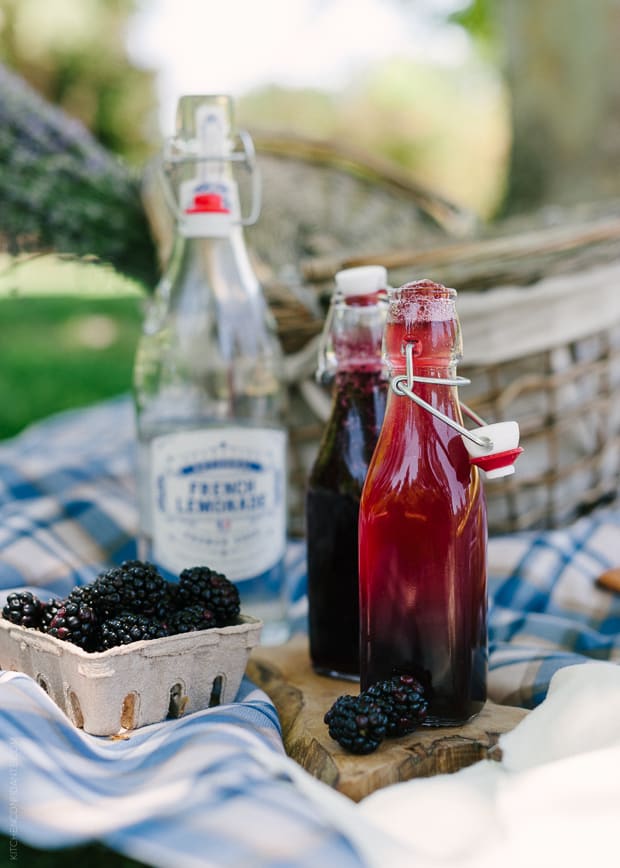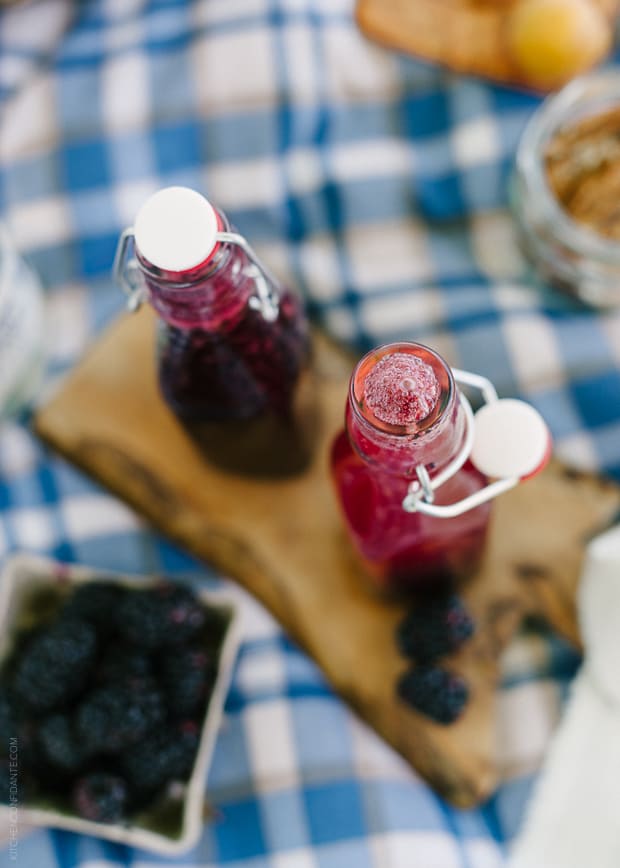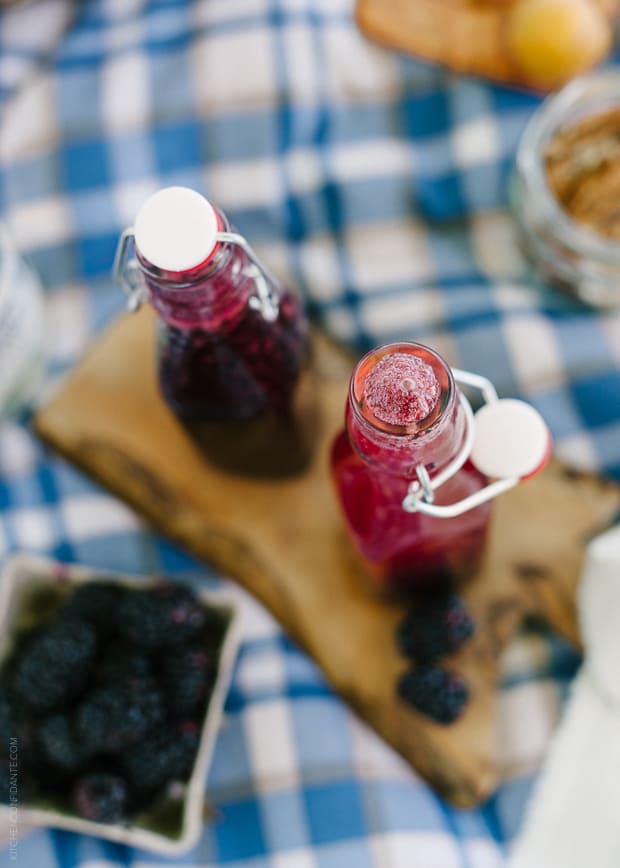 I made a promise to myself that afternoon: I am going to pack as many picnics as I can this summer. It doesn't have to be fancy, and it doesn't always have to have a shrub (though it probably will), but one thing is for sure: it will bring joy.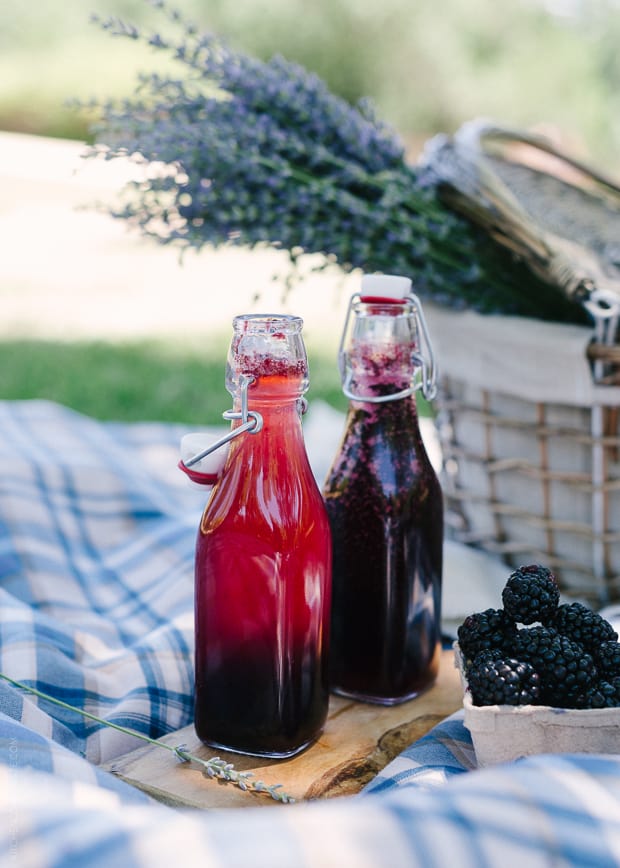 More Summer Beverages
Dalgona Coffee with Boba
Peach Sorbet Mojito Float
Blueberry Ginger-Basil Soda
Ginger Cantaloupe Sangria
Horchata Cold Brew Latte
Blackberry Shrub Lemonade
Blackberry Shrub Lemonade is a drink that can be tailored for children and grownups alike. A traditional shrub cocktail, of course, has a shot of liquor, but can be omitted for little ones so they can also say cheers to summer. If you are packing for a picnic and do not have far to go, you can even prep your cocktails in tall bottles beforehand for easier travel.
Ingredients
For the Blackberry Shrub Syrup:
2

cups

blackberries

1

cup

granulated sugar

2

tablespoons

white balsamic vinegar
For the Blackberry Shrub Lemonade:
1

oz

blackberry shrub syrup

2

oz

rum

omit for a kid-friendly lemonade

Sparkling lemonade
Instructions
Make the Blackberry Shrub Syrup:
In a medium bowl, combine the blackberries and sugar and mash using a large spoon, muddler, or potato masher. Let it sit at room temperature for about 2 hours or tightly covered in the refrigerator overnight. Press the blackberry juice through a fine sieve over a bowl, really taking the time to press every bit of juice from the berries. Stir in the white balsamic vinegar, pour into a sterilized glass jar and store in the refrigerator. This should keep for up to a month.
Make the Blackberry Shrub Lemonade:
Pour 1 oz blackberry shrub syrup and 2 oz rum (omit if making a kid-friendly beverage) into a glass, top with sparking lemonade and ice. Enjoy.
Notes
Nutrition information is for one recipe of the Blackberry Shrub Syrup. Add sparkling lemonade (plus rum for grownups) as desired.
Adapted from Blackberry-Rum Shrub, Saveur.
Nutrition
Calories:
926
kcal
|
Carbohydrates:
233
g
|
Protein:
4
g
|
Fat:
1
g
|
Saturated Fat:
1
g
|
Sodium:
12
mg
|
Potassium:
506
mg
|
Fiber:
15
g
|
Sugar:
218
g
|
Vitamin A:
616
IU
|
Vitamin C:
60
mg
|
Calcium:
94
mg
|
Iron:
2
mg