Horchata Cold Brew Latte
Treat yourself to a glass of Horchata Cold Brew Latte. Make your iced coffee even more special by making it with homemade horchata! This post is sponsored by Horizon Organic. The house is extraordinarily still as I type, aside from the pitter patter of little…
Horchata Cold Brew Latte
Treat yourself to a glass of Horchata Cold Brew Latte. Make your iced coffee even more special by making it with homemade horchata! This post is sponsored by Horizon Organic.
The house is extraordinarily still as I type, aside from the pitter patter of little kitten feet and the snuffles of Bruno, our lazy English bulldog. Just a few weeks ago at this time, my daughter would be tinkering on the piano, figuring out one of her favorite songs from Broadway, my son playing with a buddy upstairs. It was loud, and the house was full.
I'm not going to lie — I was sad when they started school again!


But you know what? I can hear myself think, and I actually have time to treat myself.
Now that we're all rising a little earlier, and the days feel a little more hectic, I could use a little something special — an iced coffee sounds perfect. But not just any old iced coffee, but a smooth, creamy Horchata Cold Brew Latte.
I'll never forget the first time I tried horchata, spying the large jar sitting next to the icy agua frescas at the little taqueria when we first moved to San Francisco. It was cool, cinnamon-y, and utterly refreshing. I am so excited to work with Horizon Organic to bring you this extra creamy homemade horchata; when it comes to making horchata, the variations are endless — for this recipe, I wanted it to be extra creamy, so there's lots of good, wholesome milk, brown rice, almonds and cinnamon, of course.
Horchata on its own is already a treat, but it becomes extra special when you pair it with cold brew coffee. With the kids back at school, and an icy glass of horchata cold brew to sip on, I'm ready for the day ahead. It's the perfect way to treat myself…I may even go snuggle the kitties, while I'm at it. And when the kids come home, they'll have a glass of horchata to greet them!
Visit Horizon Organic for more back-to-school treats on Facebook, Instagram, Twitter, and Pinterest.
This is a sponsored conversation written by me on behalf of Horizon Organic. The opinions and text are all mine.
You deserve a treat — make your iced coffee even more special by making it with homemade horchata!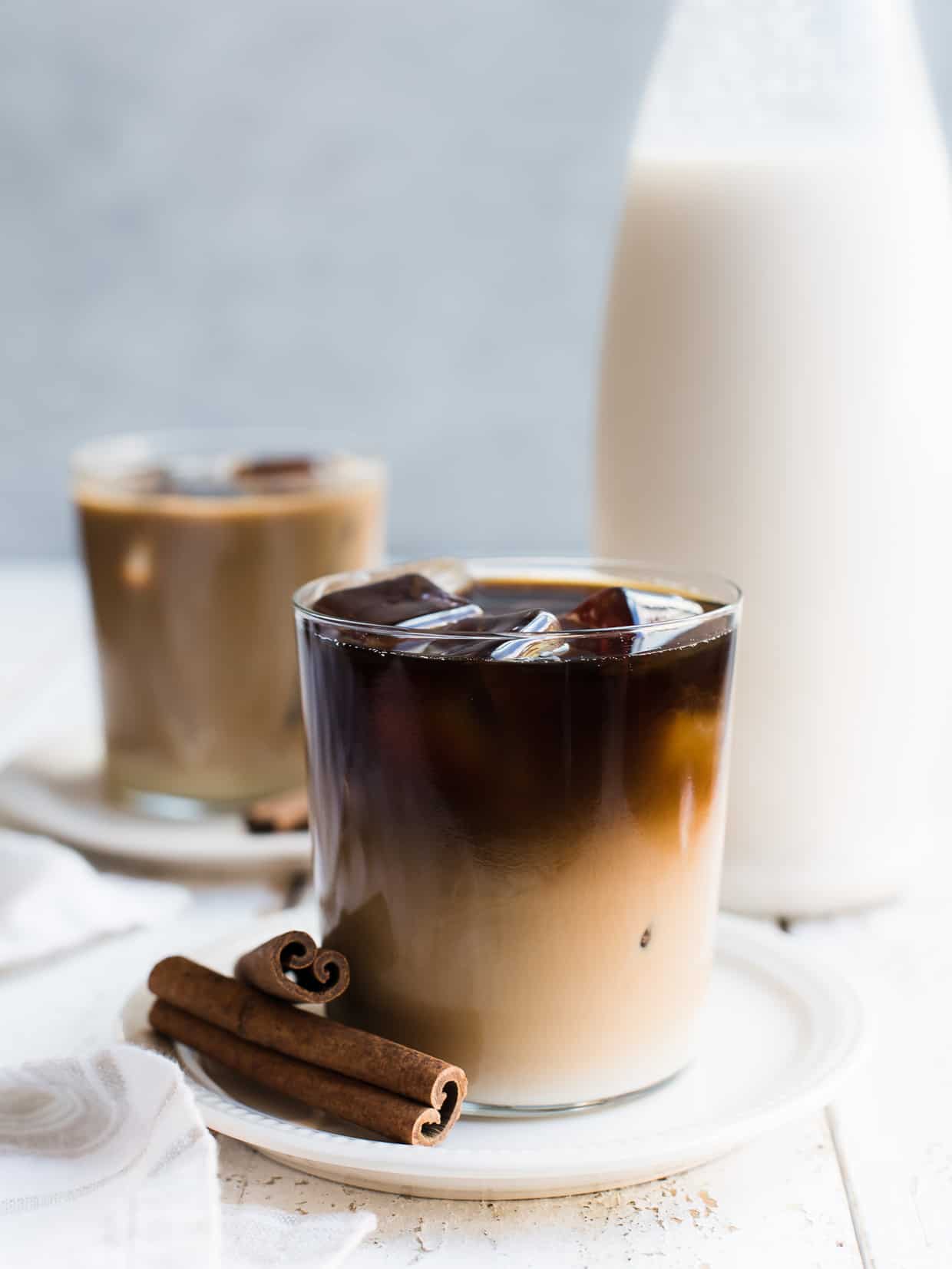 Print Recipe
Ingredients
1/3 cup uncooked brown rice
1 cup slivered almonds
1 cinnamon stick
3 cups hot water
2 cups cold milk
1/2 cup condensed milk, to taste
cold brew coffee
Instructions
Grind rice in a blender until fine. Remove blender jar from the motor.
Add the almonds, cinnamon stick and hot water to the ground rice and stir with a spoon. Let the mixture cool completely, then cover and let it sit at room temperature for a minimum of three hours, ideally overnight. I keep everything in the blender jar to make things easier.
After soaking, add cold milk and condensed milk to the rice/almond/cinnamon mixture in the blender then blend until smooth. If you want your horchata sweeter, add more condensed milk, to taste.
Strain the milk mixture into a pitcher or jar. Refrigerate until ready to enjoy.
Fill a glass with ice fill half-way with cold brew (use more if you want a stronger drink).
Shake or stir horchata well before using.
Stir in the horchata, garnish with a cinnamon stick and enjoy.