Simple Sundays | Cranberry Citrus Muffins
Cranberry Citrus Muffins are my way of finding winter cheer! The rain is pouring outside, and the kids are marveling at how it's raining sideways. "It's a carwash!" Meanwhile, Elf is playing in the background, and we are all content to be indoors. A morning…
Simple Sundays | Cranberry Citrus Muffins
Cranberry Citrus Muffins are my way of finding winter cheer!
The rain is pouring outside, and the kids are marveling at how it's raining sideways. "It's a carwash!" Meanwhile, Elf is playing in the background, and we are all content to be indoors. A morning movie is a cozy way to spend an extended sleepover. Plus we have two napping pups to keep us company.
Yes, two.
Our little family grew by one yesterday. And we are in love. Even Wilbur.
I've never been so happy to stay indoors, in my sweats. It's that feeling I love this time of year, when you are ready to wind down the year, and spend it with the family playing games, watching movies, working on puzzles and baking. Lots of baking.
The oven has been running non stop. Cookies, muffins, and roasts keep it busy. And on a day like today, it brings a little sunshine in some Cranberry Citrus Muffins.
These muffins really came about thanks to a special request from one of you on Instagram for cranberry orange muffins — I'm often making muffins on the weekends, so I was happy to make these to share with you! May it bring a little sunshine and coziness this winter! They're almost as good as puppy cuddles.
Cranberry Citrus Muffins bring a little sunshine and coziness on winter weekends!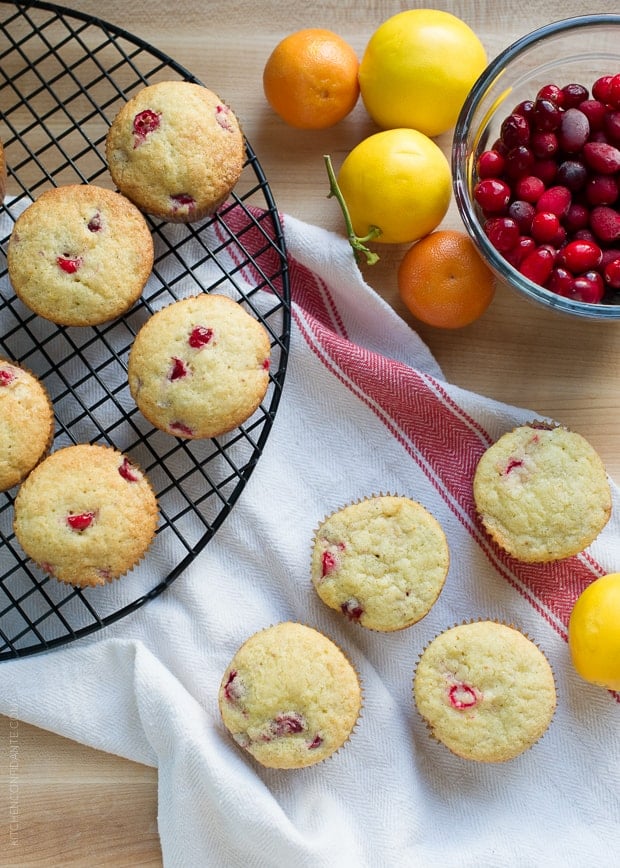 Print Recipe
Ingredients
2 cups flour
1 teaspoon baking soda
½ teaspoon salt
2 clementine or mandarin oranges
1 meyer lemon
½ cup unsalted butter
1½ cups sugar
1 teaspoon vanilla
1 egg
1 cup buttermilk
1 1/2 cups halved fresh cranberries
Instructions
Preheat oven to 350°F. Prepare 1 1/2 muffin pans by lining with cupcake liners.
In a medium bowl, whisk together flour, baking soda and salt, and set aside. Zest the clementine/mandarin oranges and Meyer lemon and stir into the flour mixture. Set aside the citrus.
In the bowl of an electric mixer, cream butter and sugar together. Add vanilla and egg, mix well. Squeeze the juice of the citrus and add 1/4 cup of the citrus juice into the buttermilk. Add the buttermilk and flour mixture in batches, alternating. Stir in the cranberries.
Spoon the batter into the muffin pans, filling to about 2/3 full. Bake for about 18 minutes, or until golden and a toothpick inserted in the center comes out clean and the cake is springy to the touch.