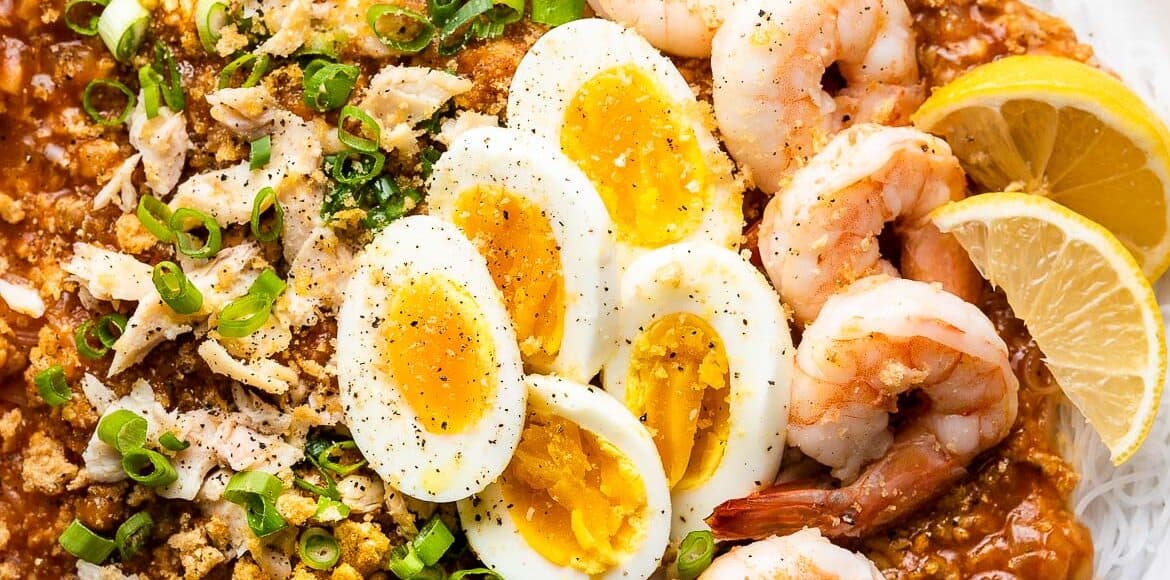 Pancit Palabok (Filipino Rice Noodles with Pork and Shrimp Sauce)
Pancit Palabok (Luglug, Malabon) is a Filipino rice noodle dish with a rich pork and shrimp sauce, similar to a ragu. Try this simple palabok recipe and learn the differences between Pancit Palabok, Luglug, and Malabon!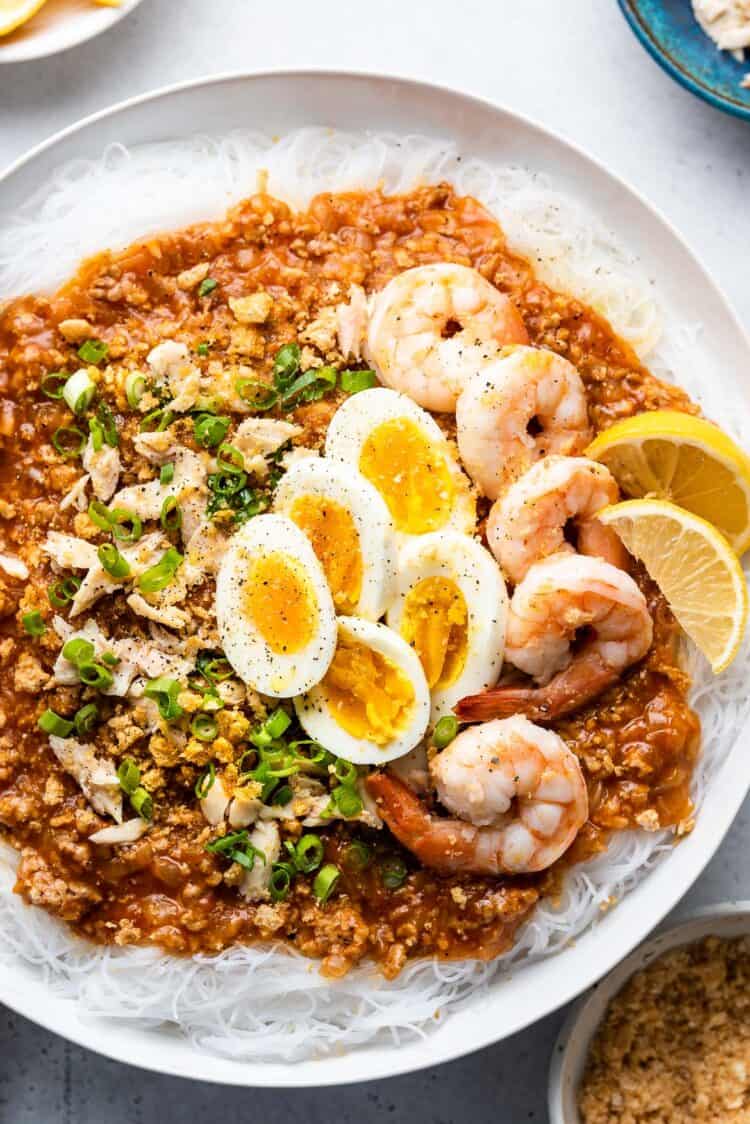 Pancit Palabok (Filipino Rice Noodles with Pork and Shrimp Sauce)
Pancit Palabok is a Filipino rice noodle dish with a rich pork and shrimp sauce, similar to a ragu, and is also often called Pancit Luglug or Pancit Malabon (learn the subtle differences!). Garnished with smoked fish, eggs, and crumbled chicharron, it's a classic dish that can be made with this simple palabok recipe! This post is sponsored by KA-ME.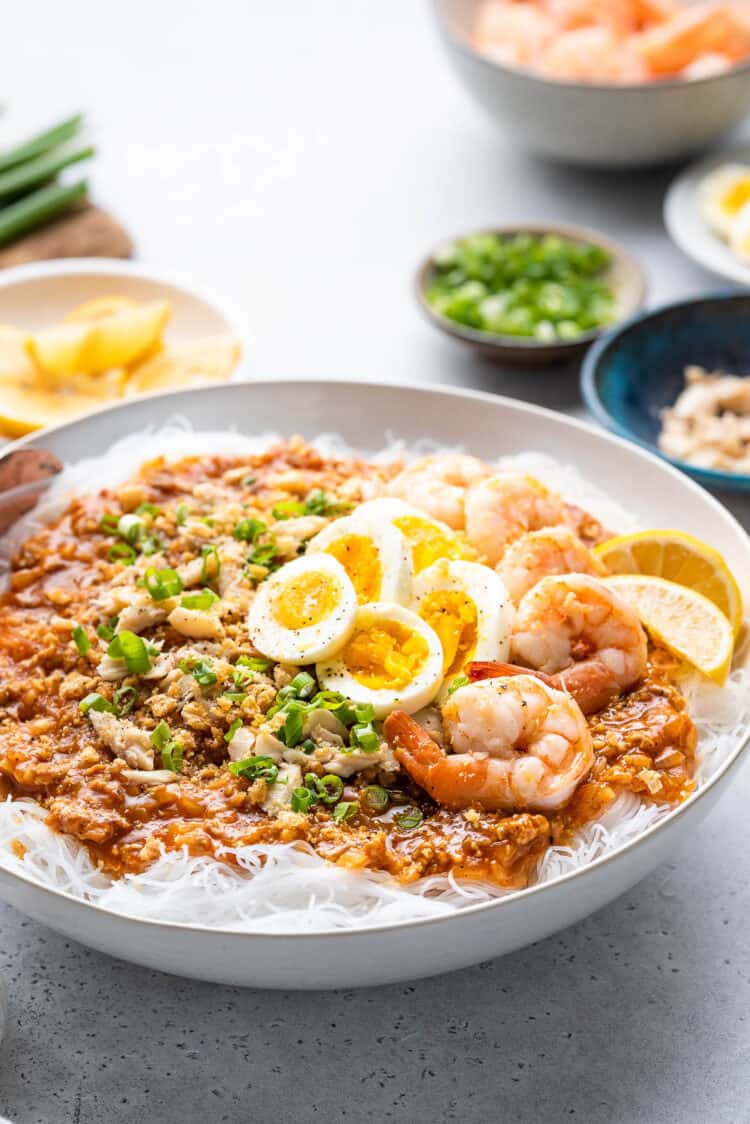 When it comes to pancit (Filipino noodles), each one of my titas (aunts) comes to mind. Just as each pancit has its unique flavors and personality, so do my titas who have mastered each one.
I think of my Tita Leah, who taught me how to make the best Pancit Bihon. And Tita Tess and her Pancit Canton. And today, as I write this, happens to be my Tita Lina's birthday. It is her Pancit Palabok that I dream of, twirls of delicious noodles dripping with a savory seafood sauce of complex flavors, the crumbled garnishes adding pops of flavor with each bite. I think of her version and how happy I was as a little girl at my cousin's house and palabok was on the table — now whenever I eat palabok that isn't Tita Lina's, it sadly is never the same. Hers is absolutely the best.
While I don't have her recipe (I still hope!), I have those flavors deeply ingrained in my tastebuds, and I have been on a mission to create a simple pancit palabok recipe that holds up to Tita Lina's gold standard.
What is Pancit Palabok?
Pancit Palabok is a Filipino rice noodle dish with a rich pork and shrimp sauce, similar to a ragu, but without tomatoes, and is also often called Pancit Luglug or Pancit Malabon. I explain the subtle differences below. The noodles are simply boiled in water, topped with palabok sauce, and garnished with smoked fish, eggs, and crumbled chicharron. It is a popular dish to serve for celebrations and special occasions, and one of my personal favorites.
Its eclectic mix of ingredients is a good example of the different influences on Philippine cuisine. The noodles, of course, came from the Chinese, and the achiote tree, from which annatto seeds are sourced to give the palabok sauce its color, was introduced by the Spaniards. Combine this with very traditional ingredients such as rich seafood, and you have a uniquely Filipino noodle dish.

What is palabok sauce made of?
Traditionally, a palabok sauce is made with shrimp stock, some pork broth, ground pork, and brightly hued from annatto (ahuete/atsuete) seeds. Much like a ragu, but without the tomatoes, the sauce has a base of onions or shallot and garlic. The sauce is thickened with a little cornstarch slurry and seasoned with fish sauce.
Since the sauce and the toppings may seem unusual to those unfamiliar, I thought a little primer or glossary of ingredients might be helpful.
Annatto – native to tropical regions, annatto seeds come from the achiote tree and are found in Caribbean, Latin American and Filipino cuisines. Mild in flavor, it adds a brilliant yellow-orange hue to foods. You can find annatto seeds whole, as a powder or in a paste, and may be labeled or spelled as annatto, achuete, atsuete, atswete, or achiote, depending on where you are located. In palabok, annatto seeds, powder or paste is diluted in hot water to release the beautiful color before adding it to the dish. Keep in mind that the paste may also include some other ingredients, such as garlic, but it is minimal and won't change the flavor of the dish too much.
Bihon – bihon are thin rice noodles in the Philippines and the typical noodle of choice for Palabok. The word "bihon" originates from the Hokkien term for vermicelli. If you are shopping at your local Asian market, bihon is very easy to find, but if you are looking for rice noodles at your local grocery, you can use vermicelli, rice stick noodles, or mai fun noodles. However, palabok may be made using thicker noodles, and I get into the nuances between other palabok varieties in the next section. Use whichever noodles you like best!
Chicharron – also known as pork rind, crumbled chicharron is sprinkled on top of the dish to add both umami and crunch. I adore the texture of the crumbled chicharron, but when making a vegetarian version, you could very easily use seasoned panko breadcrumbs. If you can eat meat however, do not skip this ingredient!
Fish sauce – known as patis in the Philippines, it is used in place of salt and adds not just saltiness but umami to the dish.
Tinapa – In the Philippines, tinapa is a smoked fish often made of milkfish (bangus). The flaked fish is also a delicious topping for palabok that adds a lovely saltiness to the dish. Look for tinapa flakes at your Asian market, or substitute with smoked trout which can easily be found amongst the canned fish (near the tuna and sardines!) in your local grocery store. If using smoked trout, discard the skin before flaking the fish and topping the palabok.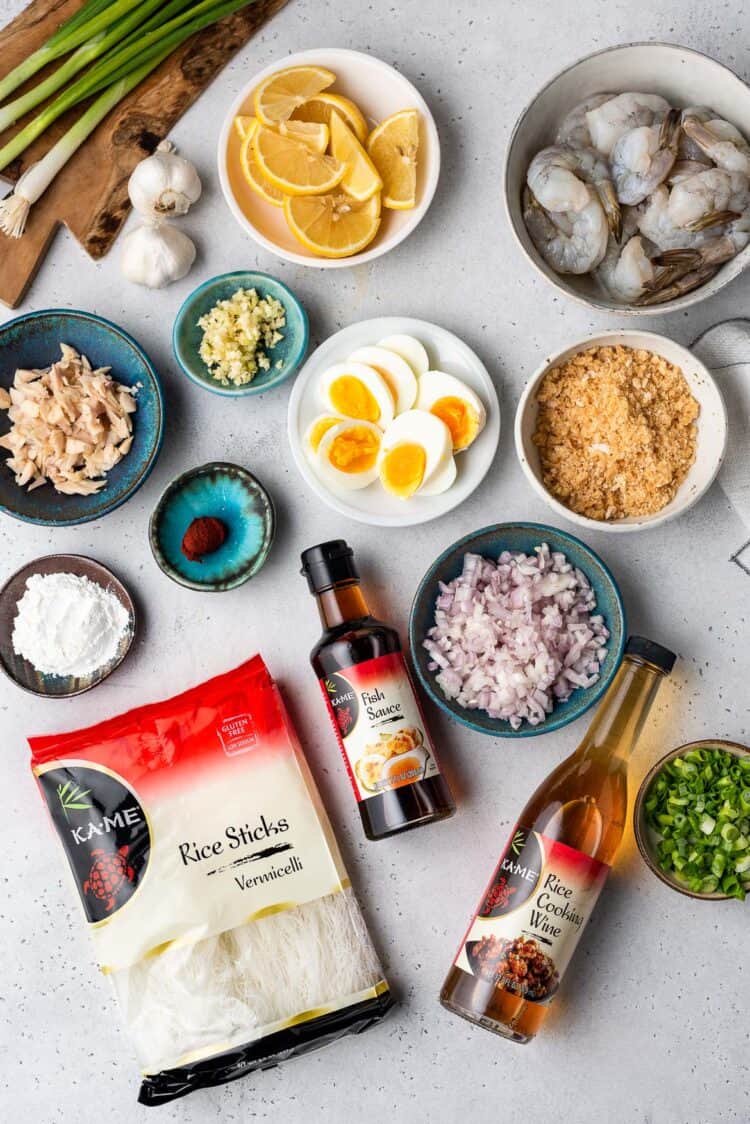 There was a time when finding the ingredients to make palabok felt daunting, or at least required a trip to my Asian market, which may or may not be convenient, depending on where I lived in the country. These days, however, I am so happy to know that I can find everything I need at my local grocery store.
I love cooking with KA-ME and am so excited to showcase how simple it is to make pancit with their ingredients! For 50 years, KA-ME has stood for the Key to Asian Made Easy, and I love that it is so easily accessible at my local store (and even online on Amazon!), saving me time!
When it comes to rice noodles, I am very particular about the kind I use to make pancit, and I must say, I found the KA-ME Rice Sticks (Vermicelli) works beautifully in my favorite pancit recipes, including this one. I prefer a noodle that doesn't break too easily and has the perfect texture, but with just the right amount of bite, and I think the KA-ME Rice Sticks are really perfect! They rival the noodles my mom used to always seek!
The KA-ME Fish Sauce, which is used like salt in Filipino cooking, adds just the right amount of umami, and I also used KA-ME Rice Cooking Wine in this sauce. Cooking wine may not be a traditional ingredient in palabok sauce, but I loved deglazing the pan with it after browning the ground pork and think it adds depth to the sauce.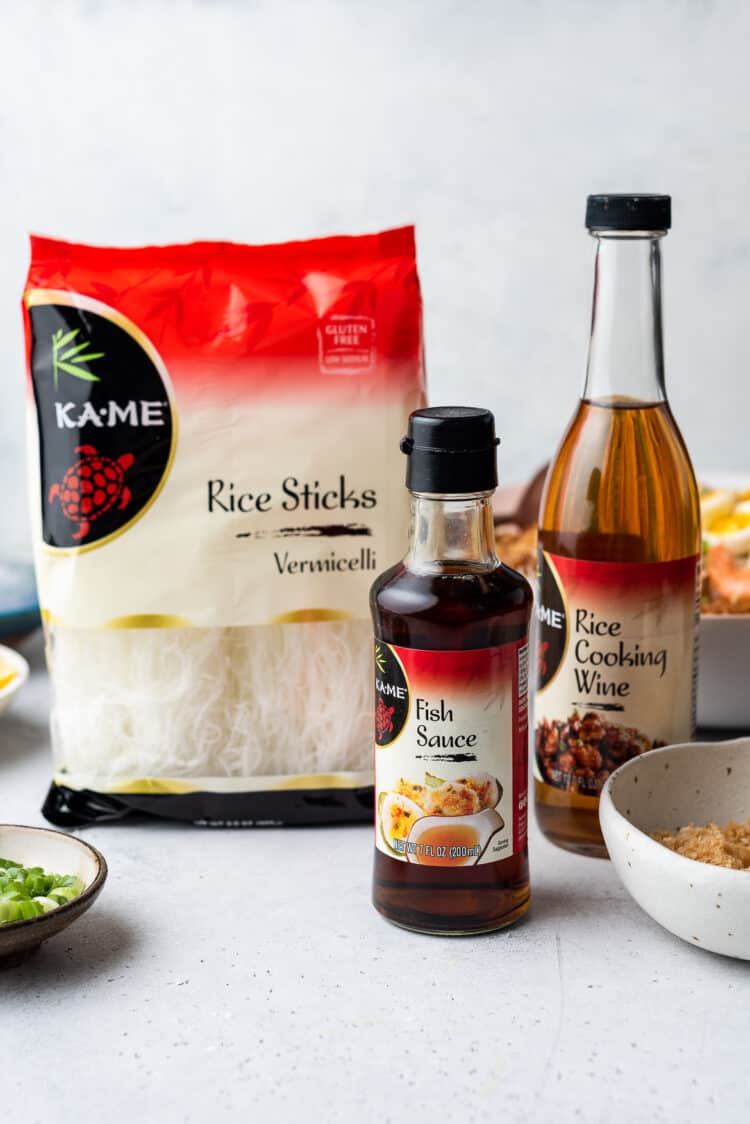 Visit the KA-ME website to learn more and find the products near you!
What is the difference between pancit palabok, pancit luglug and pancit malabon?
Pancit Palabok, Luglug and Malabon are very similar — in general, the palabok sauce is essentially the same between the three recipes (with a few differences), and the key difference is the noodle. Oftentimes, the names will be used interchangeably.
Pancit Palabok is made with a thin rice noodle called bihon. You may have heard of pancit bihon, and this uses the same noodle, but is topped with palabok sauce.
Pancit Luglug is made with cornstarch noodles, which are usually thicker than bihon noodles. Luglug refers to the process of immersing the noodles in boiling water to cook before it is topped with the sauce and garnishes. If you go to the Asian market and search for cornstarch noodles, it may be labeled as both "luglug" and "palabok." You will often find tofu used in place of ground pork.
Pancit Malabon is made with thick, tubular rice noodles, and refers to the city of Malabon in the Philippines. This version of the dish often features more seafood, such as squid or oysters, and in some cases, the sauce may also be made with crab fat.
How to Make a Simple Pancit Palabok
Making pancit palabok doesn't have to be an all day affair. I take a few shortcuts to make this very doable for a weeknight dinner.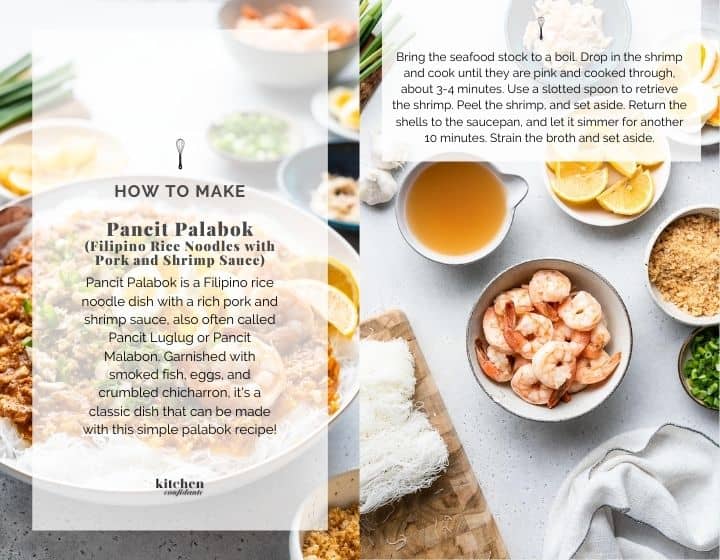 The key to a palabok sauce is a shrimp stock, and this really isn't too difficult if you are able to buy shrimp with their shells (and heads). I have found that this process is simplified by starting with store bought seafood stock, quickly cooking the shrimp in it, and giving the shells a little time to simmer in the seafood stock. But between you and me, if you skip the latter, you'll be just fine since the seafood stock already has a good flavor base. And if you're really pinched for time, you can skip this step and use a shrimp bouillon and water!
Some recipes will recommend using pork belly and creating a pork stock, which requires another layer of time. I skip this and simply use ground pork in the dish.
Once you have the shrimp stock ready, the rest is really very simple. Sauté the onion and garlic, cook the ground pork and deglaze the pan with cooking wine. Add the shrimp stock, a cornstarch slurry, dissolved achuete, and fish sauce. The sauce will thicken up very quickly.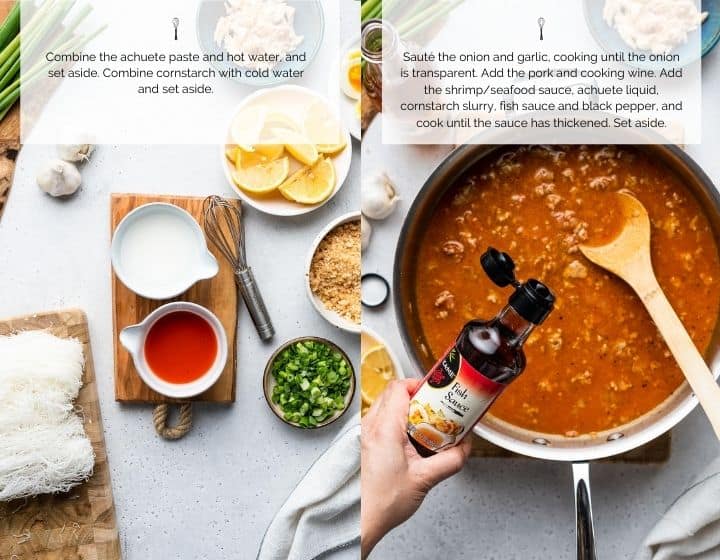 The noodles take just minutes to cook in boiling water. If you want another layer of flavor, you can cook the noodles in chicken broth, but water is just fine.
Once the noodles are cooked, drain and transfer to a plate, top with the sauce, and all the garnishes. Squeeze with lemon juice, toss, and enjoy!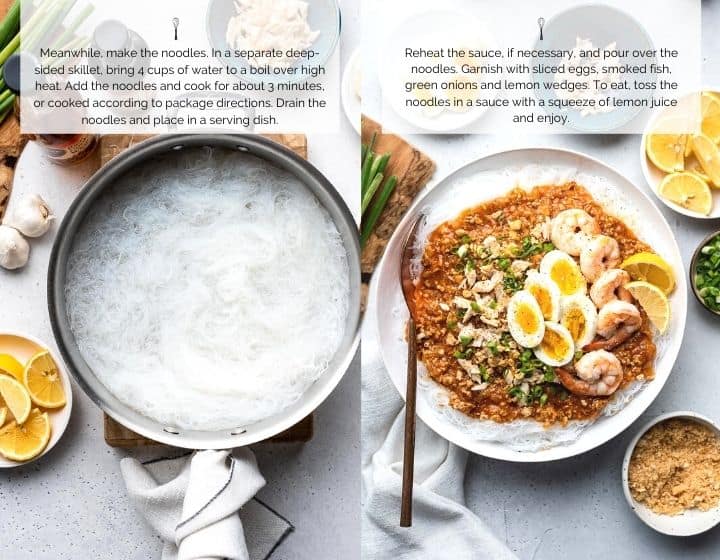 More Pancit (Filipino Noodle) Recipes
Vegetarian Pancit Bihon (Filipino Rice Noodles with Veggies)
Pancit Canton (Filipino Stir-Fried Noodles)
Pancit Bihon (Filipino Rice Noodles)
Sausage Molo Soup (Filipino Wonton Soup)
Chicken and Asparagus Sotanghon (Glass Noodle) Soup
Filipino Meatball Noodle Soup: Misua Bola-Bola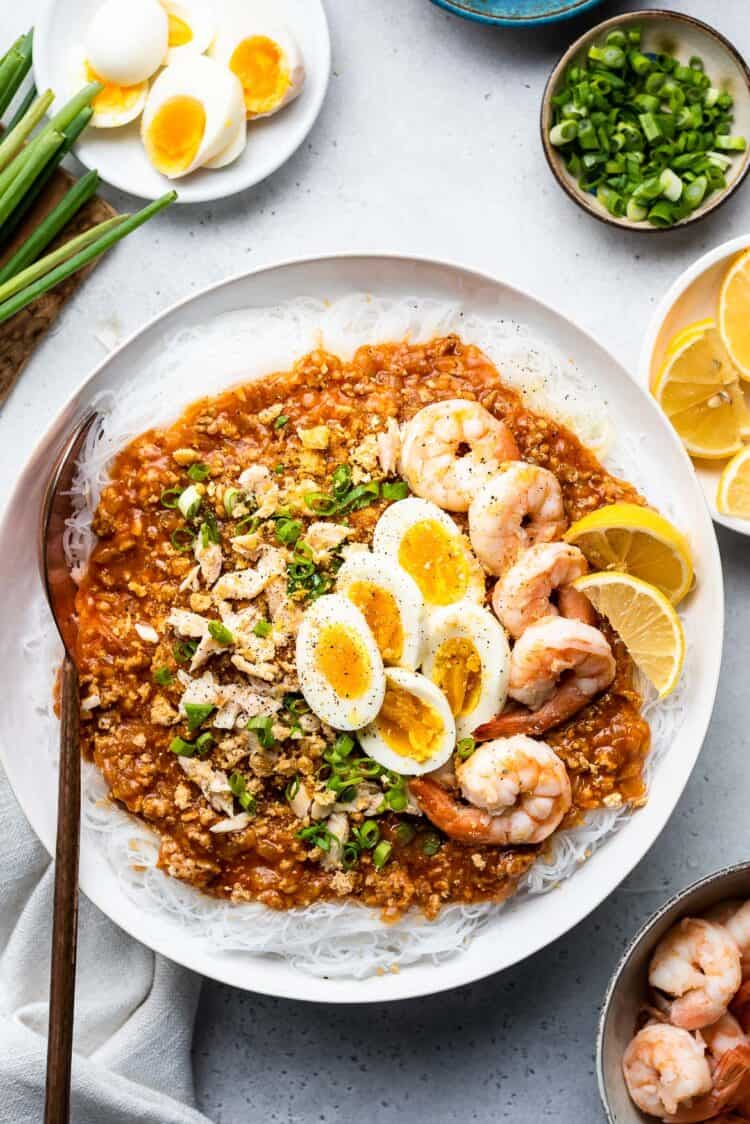 Disclosure: This post was created in partnership with KA-ME. Thank you for supporting brands that matter to me; sponsored posts such as this help behind the scenes at Kitchen Confidante. All opinions in this post are, as always, my own.
Pancit Palabok (Filipino Rice Noodles with Pork and Shrimp Sauce)
Pancit Palabok is a Filipino rice noodle dish with a rich pork and shrimp sauce, similar to a ragu. Also known as Pancit Luglug or Pancit Malabon. Garnished with smoked fish, eggs, and crumbled chicharron, it's a classic dish that can be made with this simple palabok recipe!
Ingredients
For the Palabok Sauce
1 1/2

cups

seafood stock

1

pound

16/20 shrimp

with shells and heads, if possible

2

tablespoons

olive oil

1

cup

finely chopped shallot

3

teaspoons

minced garlic

1/4

pound

ground pork

2

teaspoons

cooking wine

1

teaspoon

achuete paste

1/4

cup

hot water

2

tablespoons

cornstarch

1/4

cold water

1 1/2

tablespoons

fish sauce

plus more to taste

1/4

teaspoon

freshly ground black pepper
For the Palabok Noodles
4

cups

water

1

8-oz package

rice noodles
For the Palabok Toppings and Garnish
2

hard boiled eggs

shelled and sliced

1/2

cup

tinapa flakes or smoked trout

1/2

cup

crumbled chicharron

(pork rind)

4

green onions

chopped

Lemon wedges for serving
Instructions
Make the Palabok Sauce
Bring the seafood stock to a boil in a small sauce pan. Drop in the shrimp and cook until they are pink and cooked through, about 3-4 minutes. Use a slotted spoon to retrieve the shrimp. Peel the shrimp, and set aside. Return the shells to the saucepan, and let it simmer for another 10 minutes. Strain the broth and set aside.

NOTE: If you are pinched for time, skip boiling the shrimp shells substitute with shrimp bouillon dissolved in 1 1/2 cups water. If your shrimp are peeled and deveined, then use the stock as it is!

Combine the achuete paste and hot water, and set aside. Combine cornstarch with cold water and set aside.

In a large skillet, heat oil over medium-low heat. Sauté the onion and garlic, cooking until the onion is transparent. Add the pork, and cook for about 5 minutes, or until fully cooked. Stir in cooking wine.

Add the shrimp/seafood sauce, achuete liquid, cornstarch slurry, fish sauce and black pepper, and cook, for another five minutes stirring frequently, or until the sauce has thickened. Set aside.
For the Palabok Noodles
Meanwhile, make the noodles. In a separate deep-sided skillet, bring 4 cups of water to a boil over high heat. Add the noodles and cook for about 3 minutes, or cooked according to package directions. Drain the noodles and place in a serving dish.
Assemble the Palabok
Reheat the sauce, if necessary, and pour over the noodles. Garnish with sliced eggs, smoked fish, green onions, and lemon wedges. To eat, toss the noodles in the sauce with a squeeze of lemon juice and enjoy.
Notes
Recipes Consulted
Memories of Philippine Kitchens by Amy Besa and Romy Dorotan (Stewart, Tabori and Chang, 2006)
The New Filipino Kitchen: Stories and Recipes from around the glove, edited by Jacqueline Chio-Lauri (Surrey Books, 2018).
Quintessential Filipino Cooking: 75 Authentic and Classic Recipes of the Philippines, by Liza Agbanlog (Page Street Publishing, 2018)
Nutrition
Calories:
564
kcal
|
Carbohydrates:
74
g
|
Protein:
32
g
|
Fat:
14
g
|
Saturated Fat:
4
g
|
Cholesterol:
289
mg
|
Sodium:
1376
mg
|
Potassium:
470
mg
|
Fiber:
3
g
|
Sugar:
4
g
|
Vitamin A:
189
IU
|
Vitamin C:
8
mg
|
Calcium:
187
mg
|
Iron:
3
mg