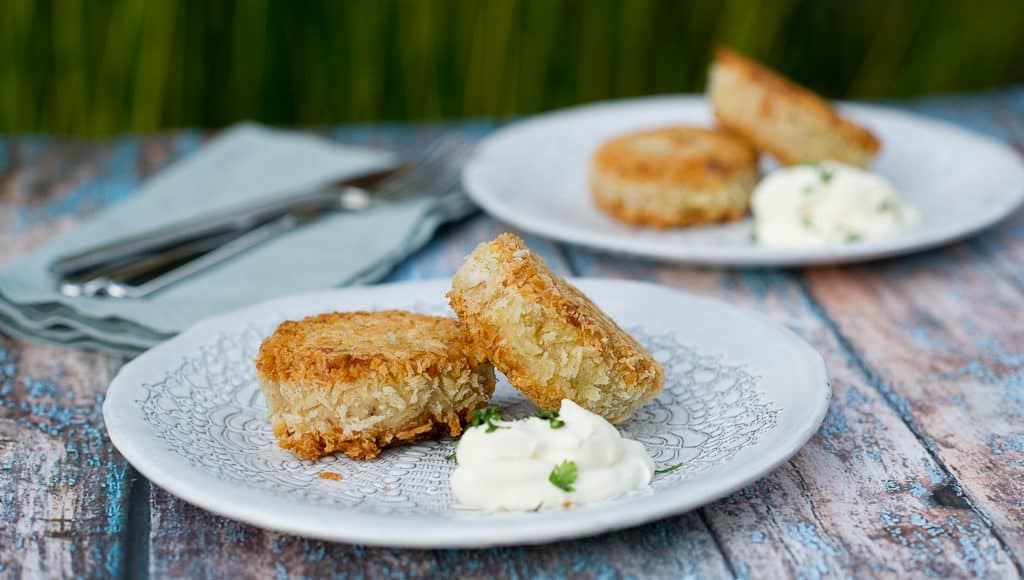 Crispy Cannellini Bean Cakes with Pancetta
It wasn't that long ago that a can of beans conjured up images of steaming pots of comforting chili, bowls of rice and beans, or even campfire beans with hot dogs. Not that that's a bad thing, but the idea of using canned beans for…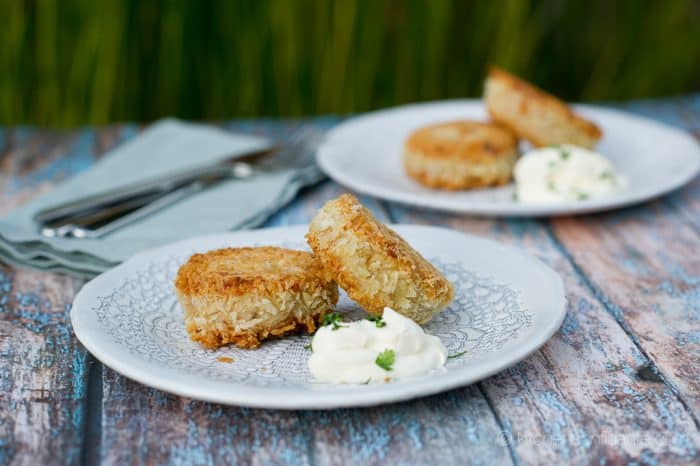 Crispy Cannellini Bean Cakes with Pancetta
It wasn't that long ago that a can of beans conjured up images of steaming pots of comforting chili, bowls of rice and beans, or even campfire beans with hot dogs. Not that that's a bad thing, but the idea of using canned beans for anything other than these humble meals never crossed my mind. Having these blinders prevented me from including canned beans into my diet for a quite a long time.
However, I have been making more of an effort to incorporate beans into delicious dishes, as they are so good for you. A few weeks ago, when we were entertaining friends for dinner, they asked for suggestions on how to incorporate these high protein nuggets into more of their family meals. It's comforting to know I'm not the only one. And truly, beans are so versatile, I have learned to really embrace them and create recipes that make them the star.
I am pleased to participate in this month's SideCar Series for Kitchen PLAY, where bloggers are paired with sponsors and products to create themed events and recipes. For November, I worked with Bush's Beans to feature Delicious & Simple Dinner Time Favorites with their Recipe Beans line.
On first glance, you might have thought that these crispy fritters are crab cakes, but cut into them, and you will discover a patty that is filled with a savory and creamy cannellini bean cake, and morsels of pancetta. Perfect with a salad, Crispy Cannellini Bean Cakes with Pancetta makes for a simple supper that is as elegant as it is comforting.
For more bean inspiration, check out BushBeans.com for more than 2,000 bean recipes.
Disclaimer: I have written this post and shared this recipe as part of my participation in the "Delicious & Simple Dinner Time Favorites" campaign in partnership with Kitchen PLAY's SideCar Series and Bush's Beans. I have been compensated for my time and cooking expenses but as always, my opinions are genuinely my own.
Cripsy Cannellini Bean Cakes with Pancetta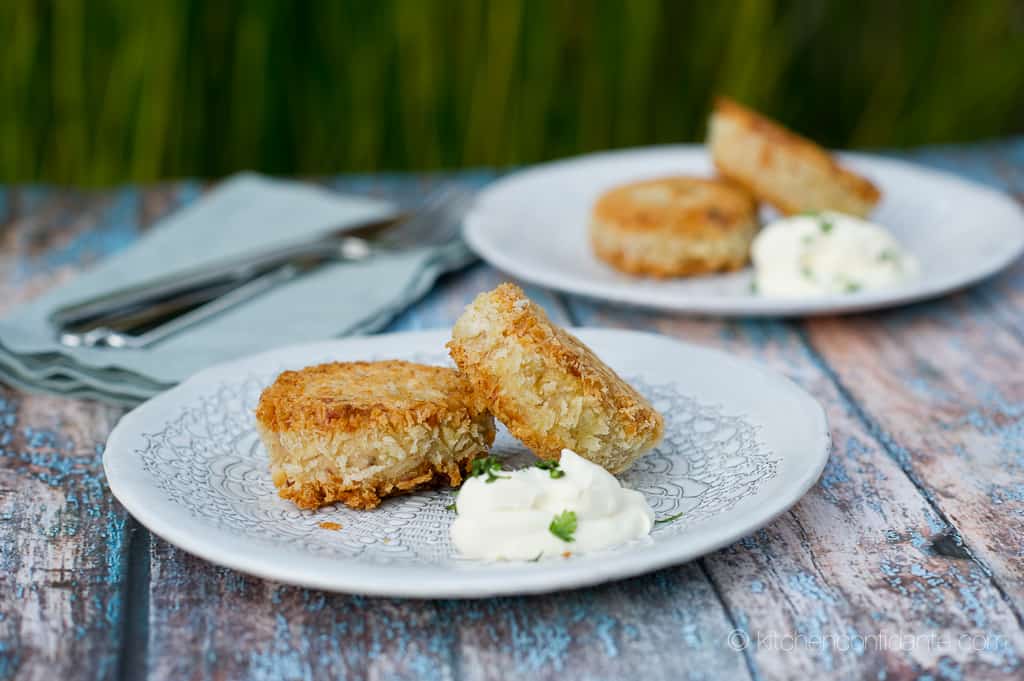 Print Recipe
Ingredients
2 tablespoons olive oil, plus extra for frying
4 oz finely diced pancetta
1/4 cup finely diced onion
3 garlic cloves, minced
1/4 teaspoon dried oregano
1/4 teaspoon dried basil
1/4 teaspoon paprika
2 15-ounce cans cannellini beans
1 1/2 cups panko bread crumbs
1/4 cup grated parmesan cheese
Kosher salt and freshly ground black pepper, to taste
1/3 cup all-purpose flour
2 large eggs, beaten
crème fraiche, for garnish
Instructions
In a sauté pan, heat 2 tablespoons olive oil over medium heat. Add the pancetta and onion and cook for about 4 minutes. Add the garlic, oregano, basil, and paprika, and continue to cook, stirring periodically, for another 3 minutes, or until the onion is translucent.
Place the onion mixture into the bowl of a food processor, along with 1 can of drained cannellini beans. Pulse until it is finely chopped, but take care not to make it too mushy. Add the second can of cannellini beans and give it 5 pulses.
Transfer the bean mixture into a bowl and stir in 1/2 cup panko bread crumbs, parmesan cheese and season with salt and pepper.
Use a standard sized ice cream scoop and your hands to form 1/2-inch patties. Set up a breading station with the flour, egg and panko bread crumbs. Lightly dredge the patties in the flour, dip into the egg, and then into the remaining panko bread crumbs.
In a large non-stick skillet, heat about 1/4 inch of olive oil over moderate heat. Fry the cannellini bean cakes until golden brown, about 2 minutes per side. Drain on paper towels. Serve with a dollop of crème fraiche.