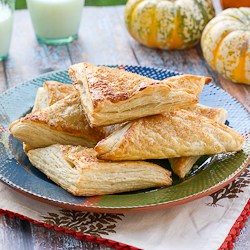 Simple Sundays | Pumpkin Turnovers
Have you carved all your pumpkins yet? What's your pumpkin carving style, I wonder? Triangles for eyes and a goofy smile? Or are you the type to sit and carve for hours? I'll never forget the first Halloween I spent with my husband, back when…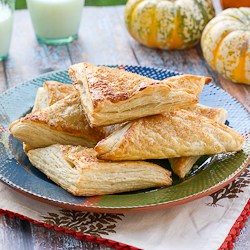 Simple Sundays | Pumpkin Turnovers
Have you carved all your pumpkins yet? What's your pumpkin carving style, I wonder? Triangles for eyes and a goofy smile? Or are you the type to sit and carve for hours?
I'll never forget the first Halloween I spent with my husband, back when we were newly dating. We carved pumpkins. Mine was pseudo fancy, but definitely not my best work. With a ton of papers and the grad school noose weighing around my neck, I didn't have time to give my jack o'lantern the TLC it deserved. But as I studied and wrote that autumn afternoon, my hubby carved and carved for hours, creating quite a mummy masterpiece.
Nowadays, we include the kids in the carving, and they're finally at an age where they have fun with fancy stencils and funky designs. We will probably spend a good afternoon carving away this weekend.
If, in your pumpkin escapades, you find yourself with a little extra pumpkin puree, whether it is homemade or store bought, turn that precious orange goodness into a filling for these buttery turnovers. I always find myself with a little extra pumpkin from other recipes, don't you? Well, don't let it go to waste – these puffy pockets are just the thing.
Enjoy your Halloween weekend, everyone! I'd love to know how you're spending the holiday. Carving pumpkins? Dressing up? Trick or Treating? Pumpkin Turnovers?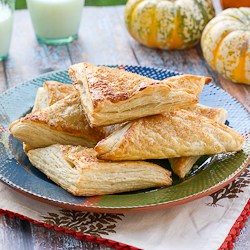 Print Recipe
Ingredients
3-4 oz of pumpkin puree
1/3-1/2 cup brown sugar (to taste, depending on your pumpkin)
1 oz light cream cheese
1/4 teaspoon cinnamon
1/8 teaspoon ginger
1/8 teaspoon nutmeg
1/8 teaspoon salt
puff pastry, cut into 4-inch squares
1 egg
turbinado sugar
Instructions
Preheat the oven to 400°F.
Allow frozen puff pastry to thaw on the counter while you make the filling, about 10 minutes.
In a small bowl, whisk together the pumpkin puree, brown sugar, cream cheese, and spices until smooth and well incorporated. Place in the freezer to chill while you prepare the puff pastry.
Cut your puff pastry into 8 4-inch squares. Place each square on a baking sheet lined with parchment paper or a silicone mat. Whisk the egg and lightly brush each square with egg wash. Take the chilled filling and place a heaping tablespoon in the center of the pastry. Fold pastry over diagonally, and seal the edges with your fingers. Fill each pastry. Lightly brush egg wash over the tops of each turnover and sprinkle with turbinado sugar. If preparing ahead of time, you can freeze the prepared turnovers until ready to bake.
Bake for 15 minutes, or until the pastry has puffed and is a golden brown. Remove from oven and cool 10 minutes prior to serving.