Chocolate Banana Quinoa Muffins | Simple Sundays
Use leftover quinoa in a chocolate muffin that is worthy of breakfast! These muffins are oil free and gluten-free, too. I have a song stuck in my head. "Maybe far away Or maybe real nearby He may be pouring her coffee…" We watched the remake…
Chocolate Banana Quinoa Muffins | Simple Sundays
Use leftover quinoa in a chocolate muffin that is worthy of breakfast! These muffins are oil free and gluten-free, too.
I have a song stuck in my head.
"Maybe far away
Or maybe real nearby
He may be pouring her coffee…"
We watched the remake of Annie the other night. All of a sudden, I was a second grader again, belting out Tomorrow in the bathroom, the acoustics bouncing it out to my grandmother, who would gently call from down the hall, "Nene (a Tagalog term of endearment meaning "little girl,") save your voice for Broadway."
Looking back, she must have endured a very noisy visit with us that year.
Have you seen the new Annie? I wasn't sure how I would like it – it's always tricky with remakes – but in general, I kind of liked it. I still love the original best, and while I wasn't crazy about the cinematography, they brought the musical up to speed, and captured the hearts of both my kids. The music is just as catchy, and they managed to embed a couple of earworms I can't seem to shake. If that's any measure of success, then it was a hit.
Speaking of hits, help yourself to a muffin. These Chocolate Banana Quinoa Muffins are my own remake of a chocolate muffin, but one I am happy to serve (and eat!) for breakfast. Deep and dark from cocoa powder, these muffins are full of leftover quinoa and bananas, and with no oil or butter. I also used gluten-free flour, which worked very nicely. My kids gobbled them up, and couldn't believe that these dark chocolate muffins, studded with gooey chocolate chips, were chock full of good stuff! The muffins disappeared quickly, and then came the question:
"Can we have it again tomorrow?"
"Maybe," I smiled.
Chocolate Banana Quinoa Muffins
Use leftover quinoa in a chocolate muffin that is worthy of breakfast! These muffins are oil free and gluten free, too.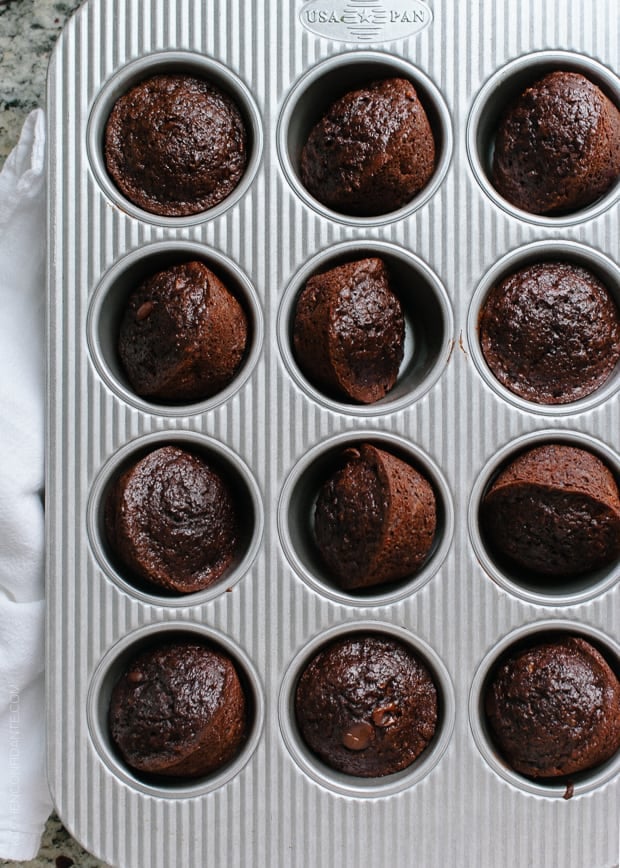 Print Recipe
Ingredients
1/2 cup gluten free all-purpose flour (I used Trader Joe's)
1/4 cup cocoa powder
1/3 cup brown sugar
1/3 cup granulated sugar
2 teaspoons baking powder
1/4 teaspoons baking soda
1/2 teaspoon salt
1 cup cooked quinoa
1/4 cup chocolate chips
1 cup mashed bananas (about 2 large bananas)
2 large eggs, lightly beaten
Instructions
Preheat the oven to 350 degrees Fahrenheit. Lightly spray a muffin pan with baking spray (I used coconut oil spray).
In a medium bowl, whisk together flour, cocoa powder, brown and granulated sugars, baking powder, baking soda, and salt. Stir in quinoa and chocolate chips. In a separate mixer bowl, mix mashed banana and eggs until well blended. Mix the banana and egg mixture into the flour and quinoa mixture. Using a standard sized ice cream scoop, distribute the batter into the greased muffin pan. Place in oven and bake for about 18 minutes, or until a toothpick inserted into the muffins comes out clean.
Notes
The information shown is an estimate provided by an online nutrition calculator. It should not be considered a substitute for a professional nutritionist's advice.