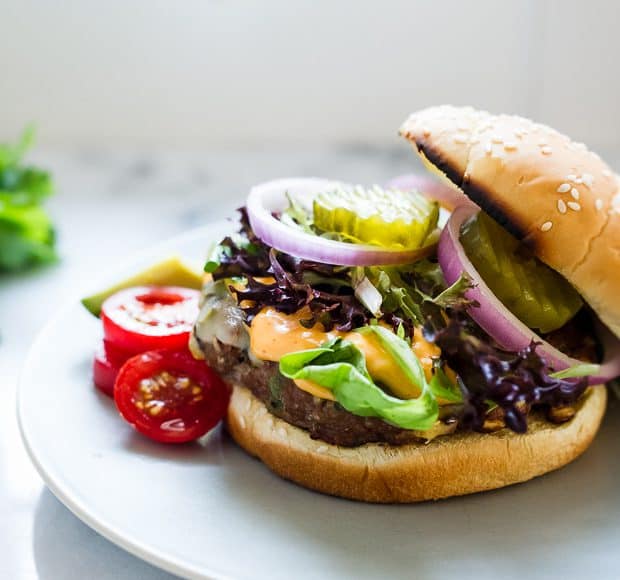 Cilantro-Sriracha Turkey Burgers
I was slicing some nectarines and peaches, the juicy slivers slipping between my fingers as I dropped them in a bowl. I brought it to the table, laying it down next to the fragrant watermelon. A juicy tomato caught my eye, and I popped it…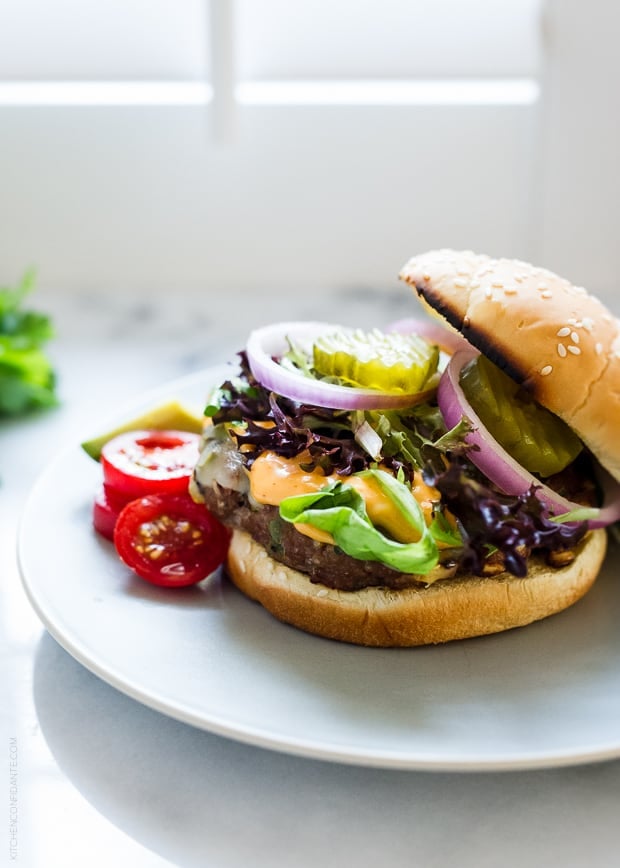 Cilantro-Sriracha Turkey Burgers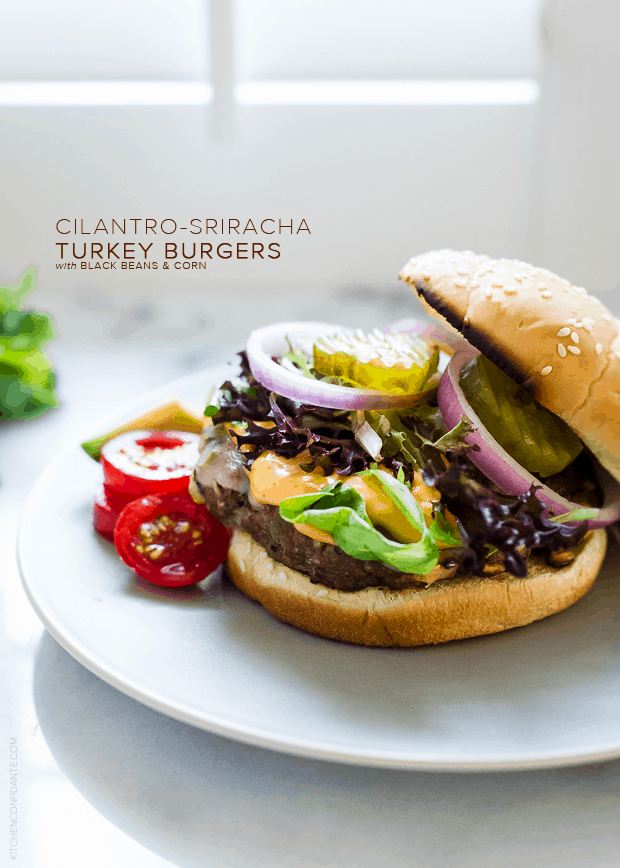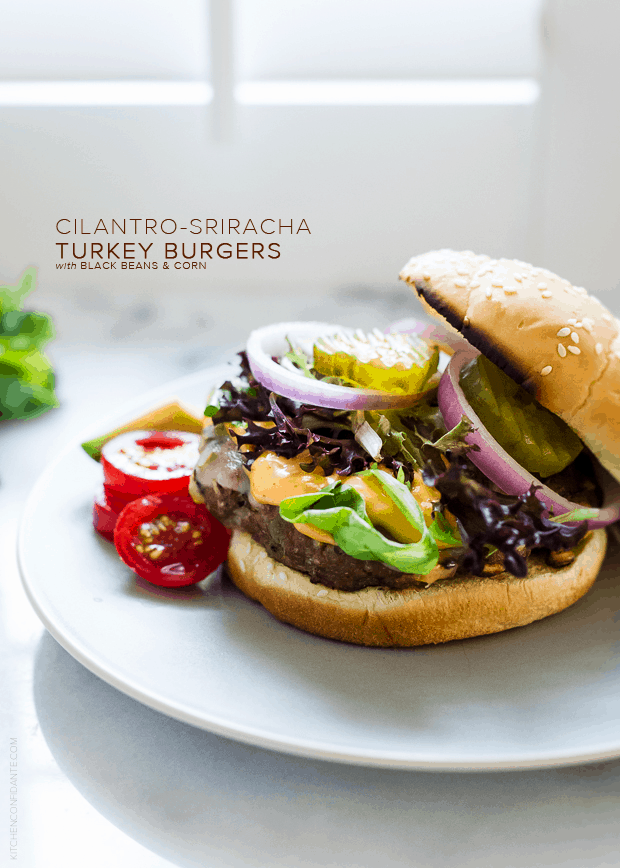 I was slicing some nectarines and peaches, the juicy slivers slipping between my fingers as I dropped them in a bowl. I brought it to the table, laying it down next to the fragrant watermelon. A juicy tomato caught my eye, and I popped it into my mouth.
Pretty soon we won't be able to enjoy these, I remarked to my husband. We started thinking about all the summer fruits and vegetables we will miss, and the meals prepared on the grill. A summer of fresh eating has spoiled us, and while I just might be ready to head into comfort foods and baking, I will miss these light and vibrant meals.
But hey, it's not over yet, and Labor Day is just around the corner. We have lots of outdoor meals on the grill left, and the sweet fruit is still plenty. We were in a burger sort of mood recently, and we put the grill to good use, flipping some Cilantro-Sriracha Turkey Burgers.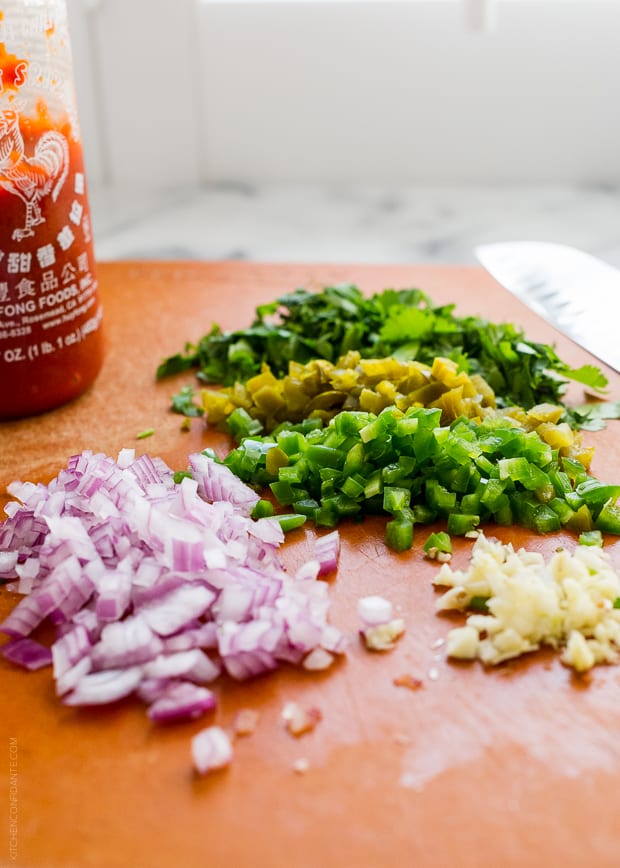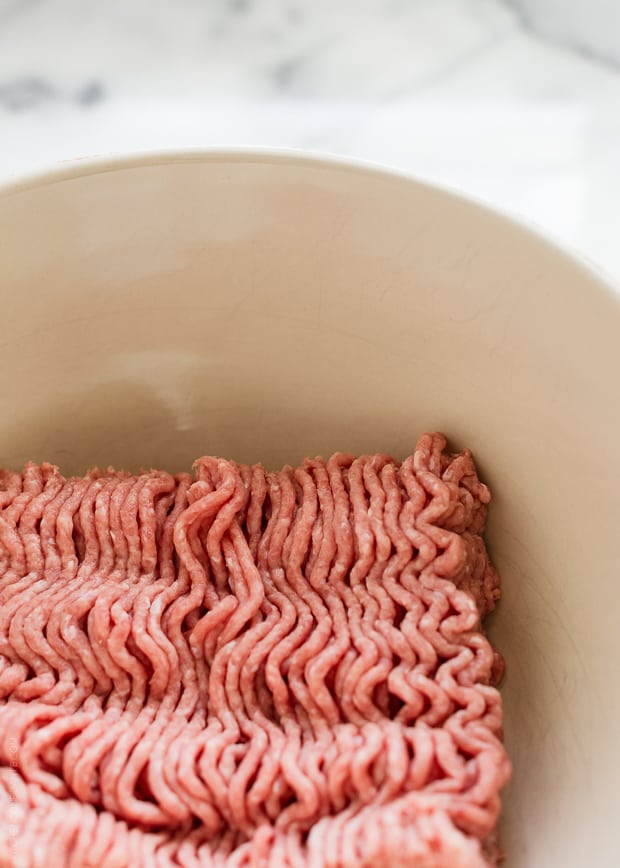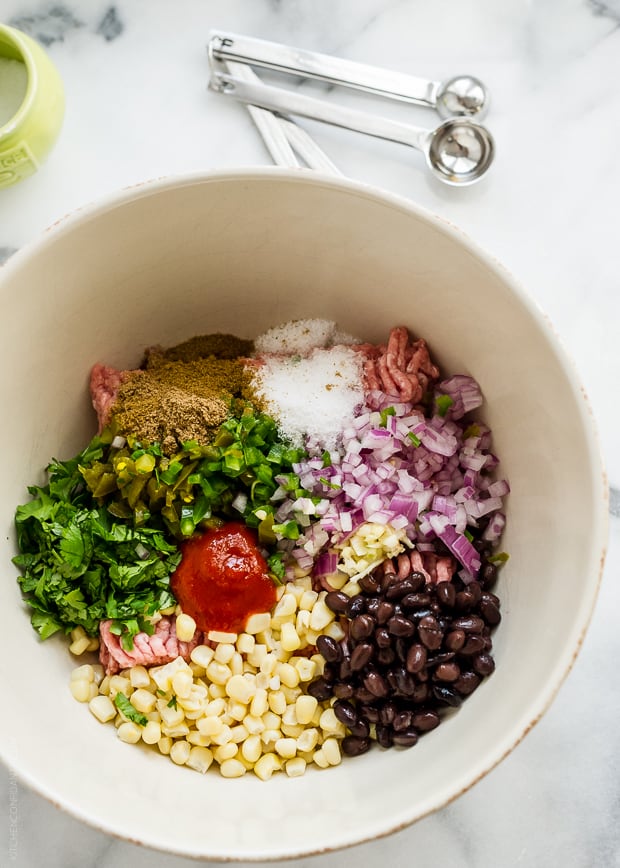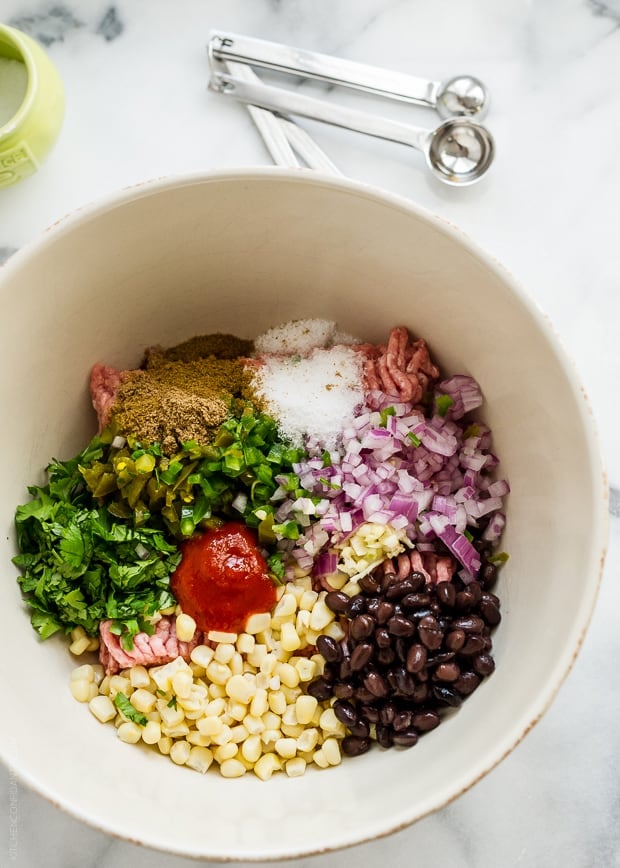 These turkey burgers are no ordinary burgers. They are loaded — bursting — with all things summer. Sweet kernels of corn, a bundle of cilantro, black beans, the heat of jalapeño peppers, fresh and pickled — it's like a salad in a burger. And then there's the extra punch. Sriracha. My well used bottle is low, but there was enough to give these Cilantro-Sriracha Turkey Burgers incredible flavor. I have to admit, I haven't enjoyed a turkey burger – any burger – as much as I enjoyed this one in a very long time.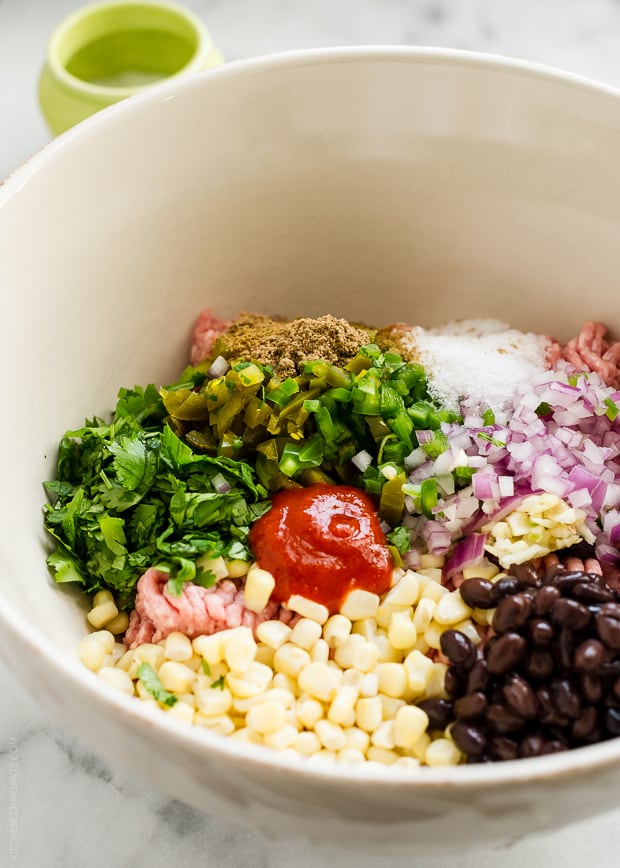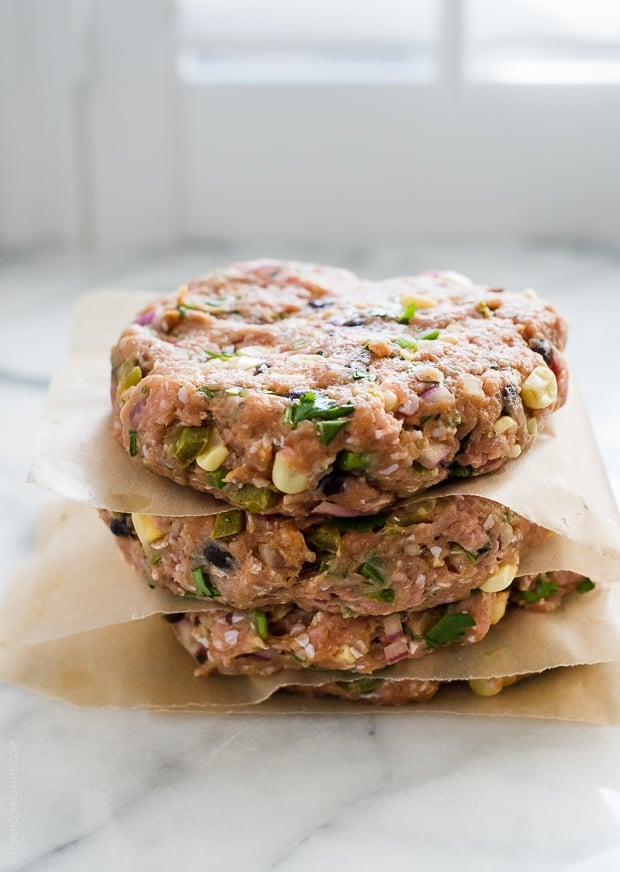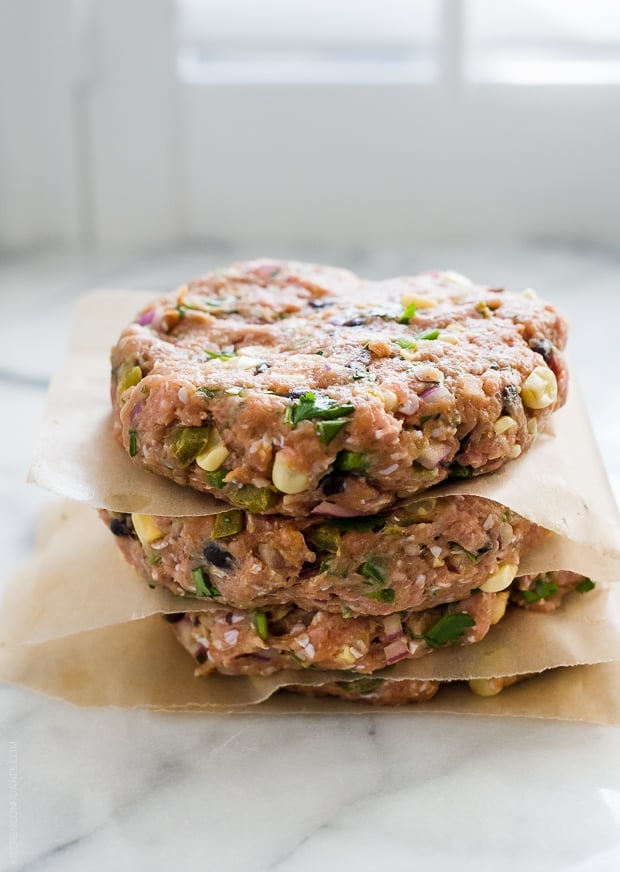 If you're looking for a delicious way to enjoy what's left of summer on the grill, I hope you try these burgers. Slather on some Sriracha Mayo, top it with pepper jack cheese, layer on the avocado, pickles and tomatoes. Squish it all down and take a big bite. Enjoy this season while you can!
And to help you in your late summer festivities, I'm pleased that you can win a $100 Whole Foods Gift Card. Just think of all the deliciousness you can create for Labor Day! Good luck!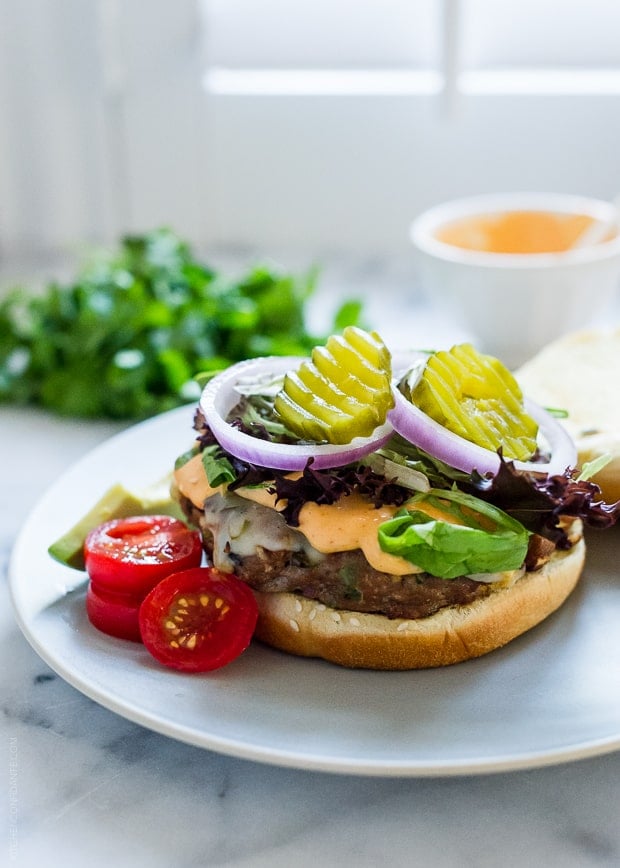 Giveaway
I would love for you to win a $100 Whole Foods Gift Card to use for your Labor Day celebrations! Ready to enter? Here's how:
Please leave a comment below and share: What summer foods do you love most?
Entries/Comments accepted until 10 pm Pacific, Thursday, 29 August, 2013.
One winner will be randomly selected and notified by email.
This giveaway is now closed. Congratulations to Sarah on her winning comment!

Disclosure: This giveaway was sponsored by Whole Foods. One winner will receive a $100 gift card provided by Whole Foods. I was not compensated in any way to write this post. As always, all opinions are my own.
Cilantro-Sriracha Turkey Burgers with Black Beans & Corn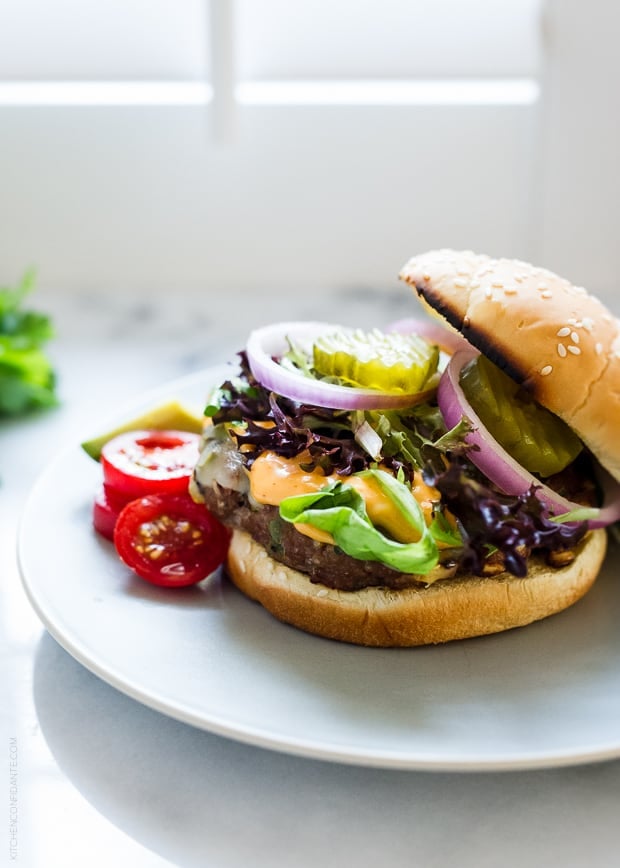 Print Recipe
Ingredients
Turkey Burger Patties:
2 pounds ground turkey thigh meat
1/2 cup corn kernels (fresh or frozen)
1/2 cup black beans
1/3 cup chopped cilantro
1/4 cup chopped fresh jalapeño
1/4 cup chopped pickled jalapeño peppers
1/4 cup minced red onion
1 1/2 tablespoons sriracha
3 teaspoons minced garlic
1 teaspoon cumin
1 teaspoon coriander
1 3/4 teaspoons course salt
Freshly ground black pepper
Sriracha Mayo:
1/4 cup mayonnaise
1-2 tablespoons sriracha (to taste)
5 hamburger buns
Garnish:
avocado
tomato
lettuce
red onion
pepper jack cheese
condiments: Sriracha Mayo, ketchup, mustard, etc.
Instructions
Preheat the grill to medium heat.
In a large bowl, combine the turkey, corn, black beans, cilantro, fresh and pickled jalapeño, red onion, sriracha, garlic, cumin, corainer, salt and pepper - try not to overwork the meat. Gently form into five patties and press the center of each gently with your fingers to help the turkey burgers cook evenly.
Make the Sriracha Mayo by combining the mayonnaise and sriracha in a small bowl until combined.
Cook the turkey burgers directly over the heat, with the lid closed, for about 10 minutes, flipping once. Serve on a toasted bun with desired garnish.
Inspired by and heavily adapted from Southwestern Turkey Burgers with Salsa Slaw, Way to Grill by Jamie Purviance (Sunset Weber, 2008).