Simple Sundays | Honeyed Fig Trifle with Goat Cheese Mascarpone Yogurt Cream
Just like that, it was over. I had grand plans, at the start of the summer, for loads of lazy days with the children at the pool, at the park, and letting time follow its own pace without looking at a clock…or even a calendar.…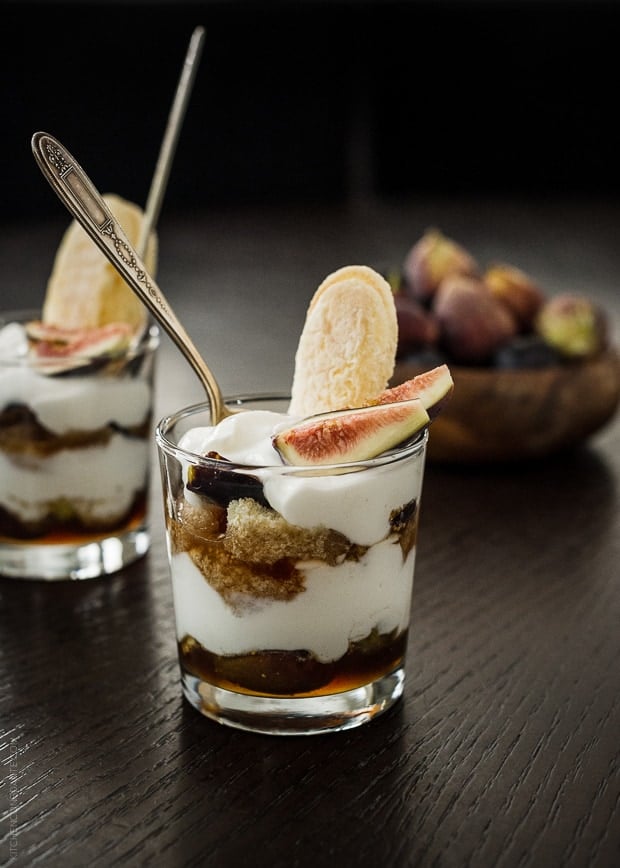 Simple Sundays | Honeyed Fig Trifle with Goat Cheese Mascarpone Yogurt Cream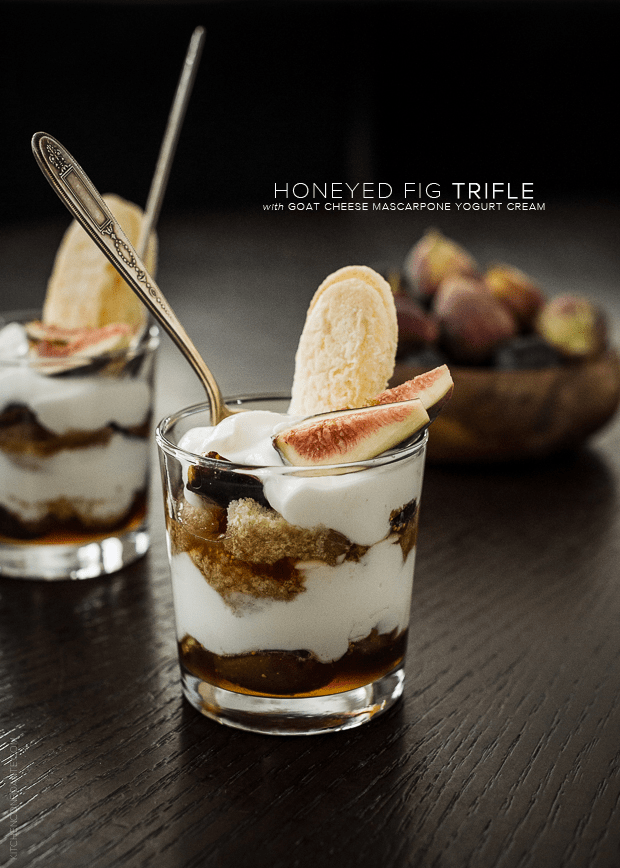 Just like that, it was over.
I had grand plans, at the start of the summer, for loads of lazy days with the children at the pool, at the park, and letting time follow its own pace without looking at a clock…or even a calendar. Then summer camps were scheduled, back to back to back. Swim classes were scattered throughout. There were long days of soccer, and lego building, and dancing, and acting.
There were trips to see family – to celebrate an ever expanding family, to hug Papa and Grammie. There were playdates with friends. And in between getaways and a calendar full of activities, there were many trips to the library and piles of books read. But somehow, we never made it to the pool or the park as much. And time was minded, much of the time.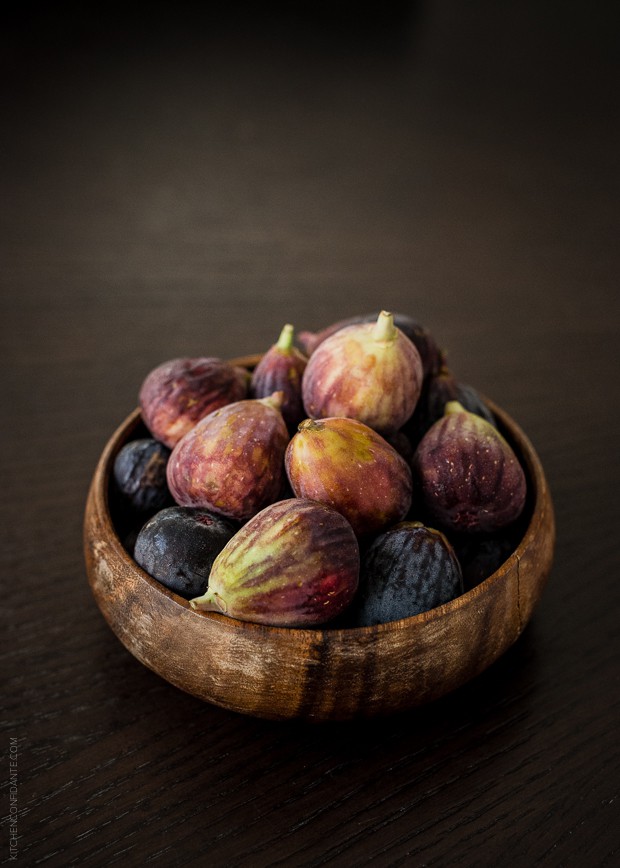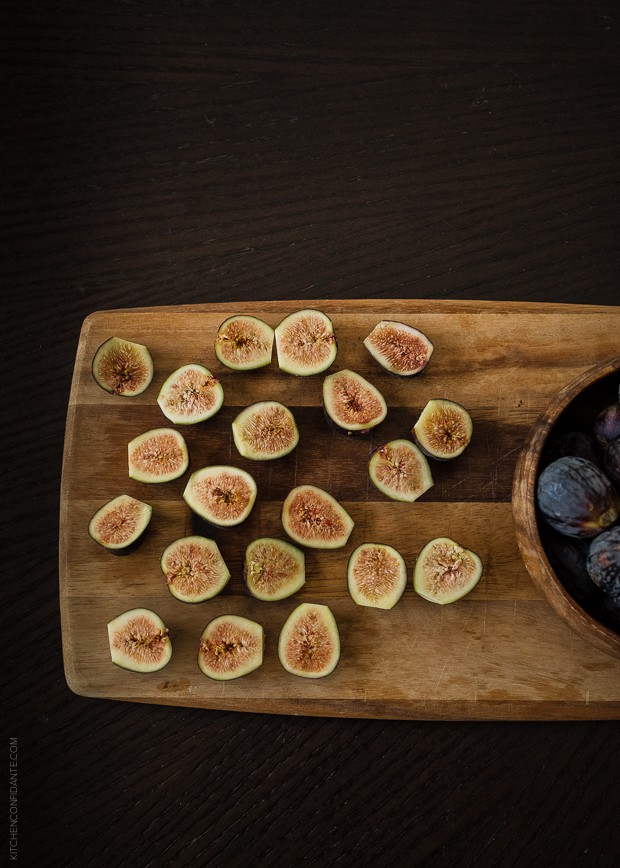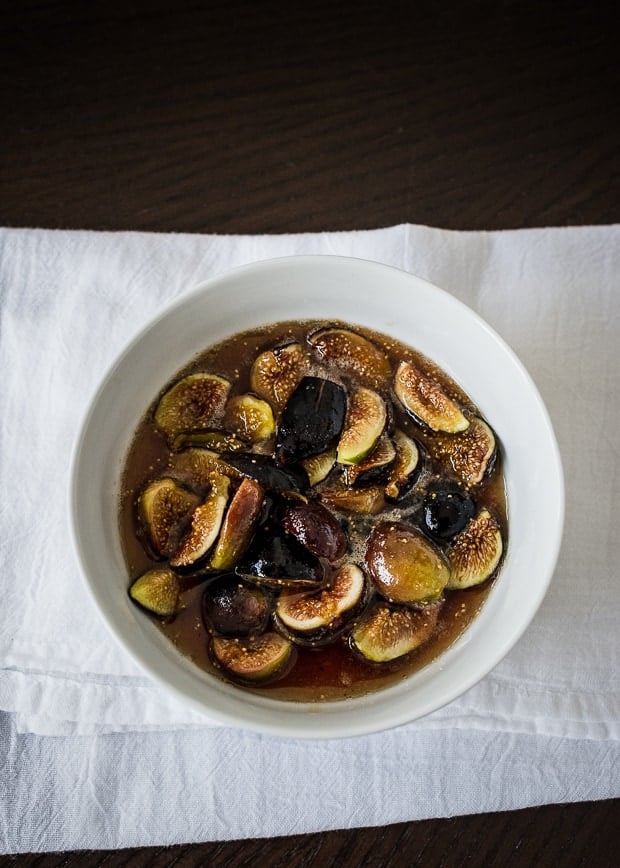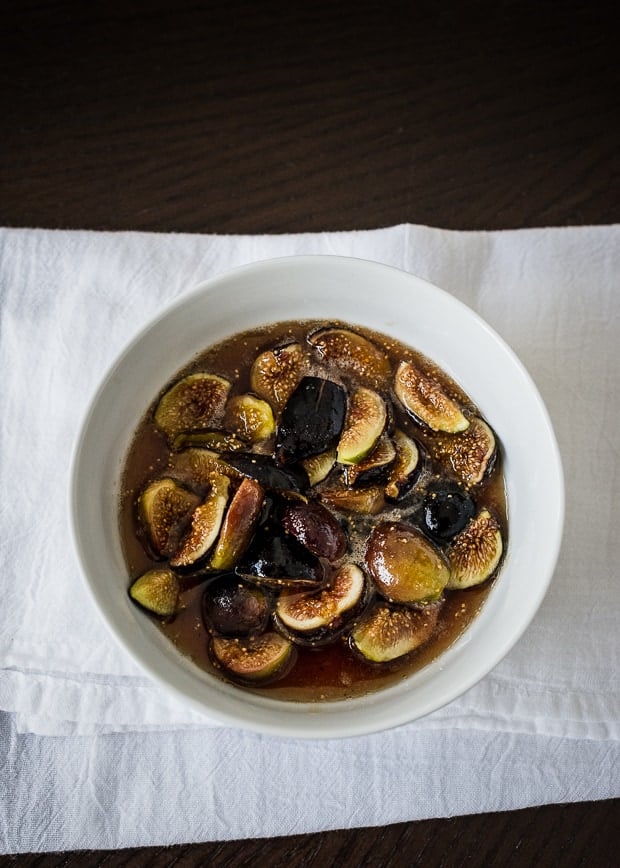 It's hard to believe that summer vacation is over for my little ones. It's hard to believe that my little ones are not so any longer. As of Tuesday, I have a fifth grader (what!?) and a second grader (sigh). I could have sworn preschool graduation was just two months ago.
The winds have changed, and quite literally, too – mornings are chillier and breezier, and the leaves have already started to fall, our driveway coated with the curly brown leaves from the tree we share with our neighbor. The Japanese maple is softening in color, and each morning I look out the window to see its leaves glowing shades of mellowed red and amber.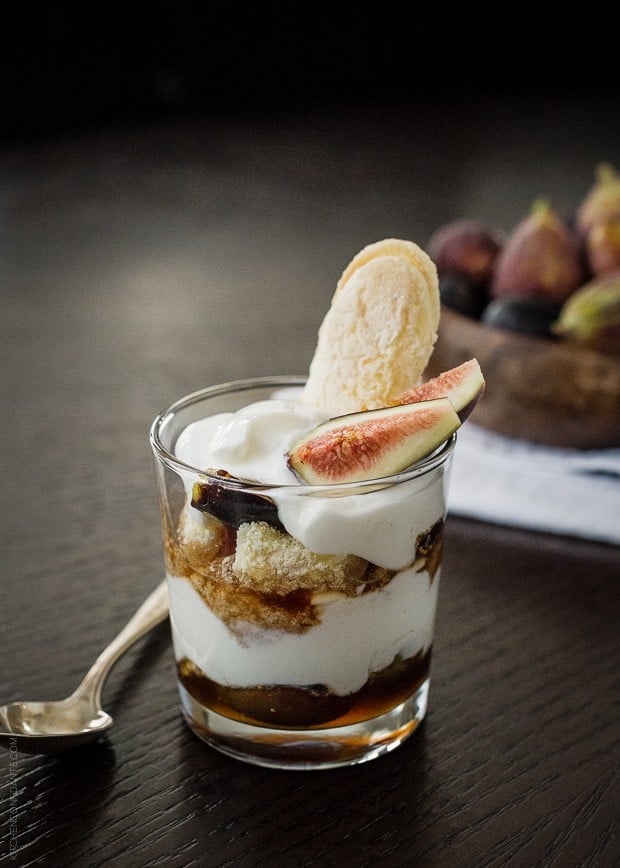 But there is one solace: I have figs. Inky black mission figs, one of my favorite fruits ever, are here, reminding me to savor them as much as I savor the final days of summer. Like all good things, figs come and go far too quickly.
Most of the time, I can't bear to do much more than to slice them up and eat them fresh. As you know by now, I'm happiest when I have figs with honey and goat cheese. It doesn't take much to satisfy my craving. But I thought I would take this simple combination and make it a proper dessert, and let me tell you, it is proper indeed.
Honeyed Fig Trifle with Goat Cheese Mascarpone Yogurt Cream layers the ripest figs caramelized in sweet local honey, flavored with vanilla. The seemingly sinful cream is good-for-you Greek yogurt, whipped together with dollops of mascarpone cheese and tangy goat cheese. Soaking in the juiciness are ladyfingers, dainty and light. As you dig through the layers with your spoon, its likely good enough for a breakfast parfait, but serious enough to have for dessert after dinner. And once your cup is empty, you are left thinking, "Boy, that went fast."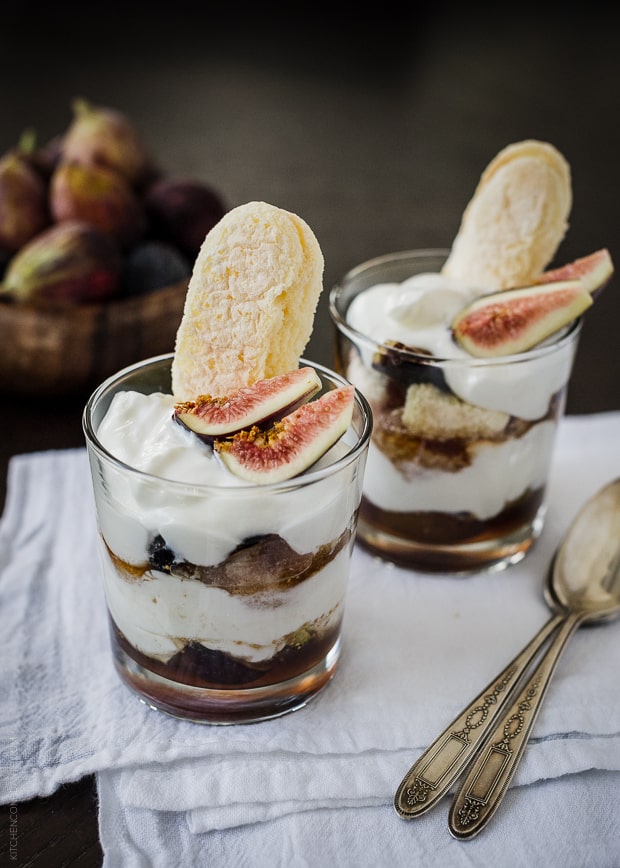 I hope you are savoring summer, wherever you are, while it lasts. Tell me, what will you miss most?
Disclaimer: I received a package from the folks at Chobani a while back to help me find ways to enjoy Greek yogurt in my kitchen. While I did receive this package, I was not sponsored to write a post. As always, all opinions are my own.
Honeyed Fig Trifle with Goat Cheese Mascarpone Yogurt Cream
Sweet, tangy, creamy and very figgy, this dessert is decadent but certainly not one you need to be guilty of enjoying. Greek yogurt takes the place of heavy cream in this trifle, and is the perfect balance to the honeyed figs.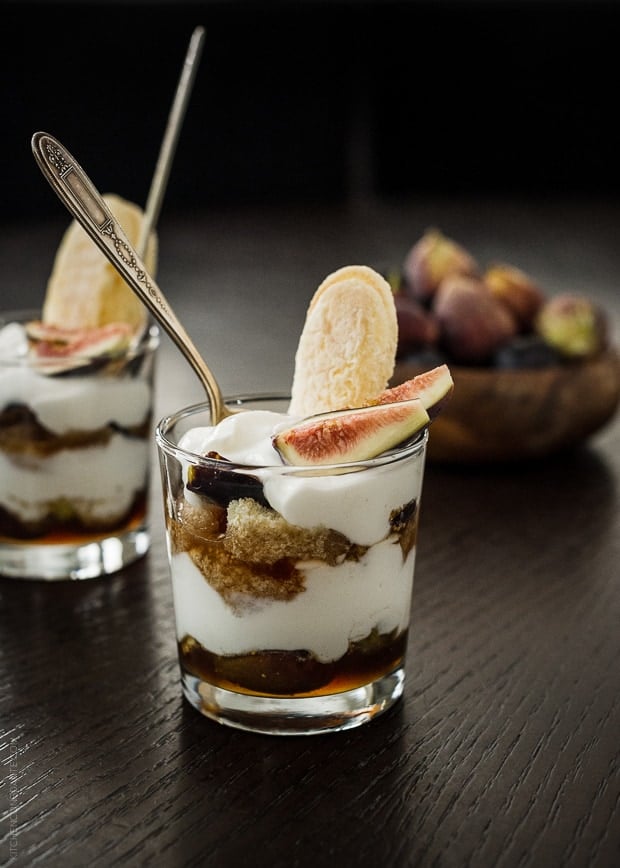 Print Recipe
Ingredients
1 1/2 cups good quality honey
2 dozen fresh figs, trimmed and quartered (reserve a couple for garnish)
1 teaspoon vanilla (if you have a fresh vanilla bean, that would be ideal)
1 1/4 cups 2% Low-fat Plain Greek Yogurt (I used Chobani)
6 oz mascarpone cheese
3 oz goat cheese
8-10 ladyfinger cookies
Instructions
In a heavy skillet or pan, heat the honey over medium heat until it starts to look glossy and begins to thin. Toss in the sliced figs, and swirl in the pan, letting the figs caramelize and bubble in the honey. Slowly stir in the vanilla. When the honey has deepened in color, remove from heat. This should take perhaps 5 minutes - keep an eye on it so it doesn't cook to quickly. Let cool completely.
Beat the mascarpone and goat cheeses in a bowl with a whisk until smooth. Add the greek yogurt and whisk until creamy.
Place about 3 tablespoons of figs and honey in the bottom of 4 6-oz serving cups. Add 1/4 cup of the yogurt cream mixture to each and smooth the tops. Crumble a layer of large ladyfinger chunks on top, followed by another layer of honeyed figs. Add one final layer of yogurt cream and top with freshly quartered figs and a whole ladyfinger.
If making ahead, cover each trifle with plastic wrap and chill in the refrigerator. This can be done up to one hour ahead.